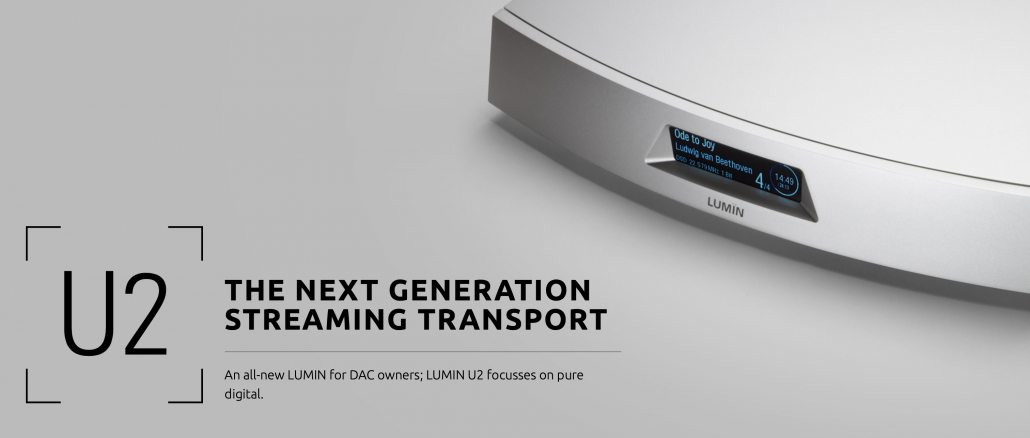 Lumin U2 Streamer Review. Not the Mini.
By Steve Huff
I am back with yet another streamer review and this time I am excited to tell you all about the brand new Lumin U2 Streamer. This is NOT The U2 Mini but rather the larger version, and yes, it sounds better to these ears than the smaller cousin, the Mini. Also, yes! Streamers can make a difference in the sound of your high end audio system, and not all streamers sound the same.
The Video Review!
First things FIRST.
The Lumin U2 is a streamer only. There is not a DAC involved here as the one sole job of the U2 is to stream so if you are looking for a streamer with a DAC, this is not the product for you. Lumin does have models with built in DACs going all the way to their X1 flagship which is a streamer and DAC for $13k.
As for me, I prefer to use a streamer with external DAC and this is because DAC tech changes constantly. I am testing one now that comes in for less than $3k and it sounds about as good as a $12k DAC I had in here over a year ago. So there will always be a DAC out there that meshes better with your system than a built in that we can be stuck with in an all in one streamer and DAC.
As for the Lumin U2, I have tested this unit with every output including the new galvanized direct coupled USB output made especially to go to your USB DAC. I have tested it with ROON, Tidal Connect, Spotify Connect and Airplay.
I have compared this streamer to the U2 Mini and U1 Mini as well as the recent budget powerhouse, the EverSolo DMP-A6. That little A6 is a fantastic streamer and while the DAC inside of it can not compare to anything over $500 the streaming function of the eversolo bested the $600 Bluesound Node quite easily and IMO matched the Lumin U2 mini as a streamer for SQ. See my A6 Review HERE. 
That A6 also has a great user experience with a nice 6″ display and fantastic App.
In the past I have heard streamers such as the $14k+ Grimm MU1 and the $16k+ Innuos Statement. Those two were the best streamers I have ever heard and if I had the cash either of them would have been mine. Alas, I can not afford that kind of cash on a streamer so I was hoping that this new Lumin would be "almost as good" as those higher dollar machines.
So how does the newest from Lumin do at the $5,000 price point?
Remarkable.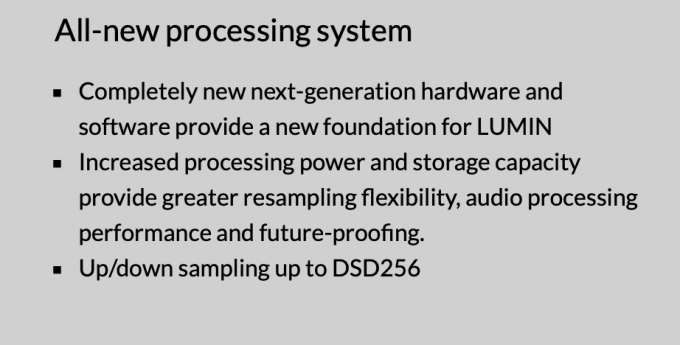 As of this writing in mid May 2023 my reference system consists of:
Focal Diablo Colour EVO Utopia Speakers
Weiss DAC 204
Mad Scientist Black Magic Speaker Cables
Audioqest Diamond USB (for DAC)
Shunyata Omega BNC Cable (for DAC)
Puritan Audio PSM 156 with several Ultimate Power Cables 
I also have a Pure Fidelity Harmony turntable but this was not used in this caparison, obviously.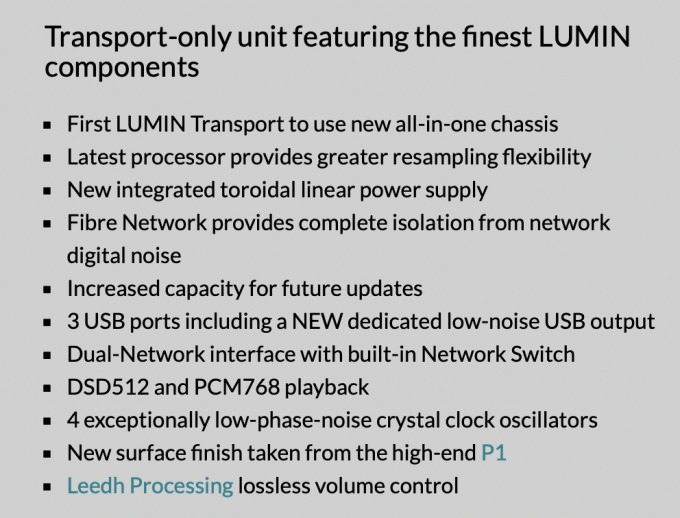 The U2 from Lumin paints a GRAND Musical Picture. 
As you can see above, Lumin has updated a few things since the previous gen U1. A new chassis (that some will say is not as nice as the older U1 chassis), an all new processor, upsampling to DSD 256, a new direct coupled USB out made sole for your DAC, a new power supply and DSD 512 ad PCM 768 playback.
Let me state right now that the Lumin U2 is one powerhouse of a streamer and while they still offer the previous flagship, the older dual box U1, Lumin says that the U2 is only bested by their U1X, which comes in closer to $10k and includes the Lumin X1 power supply.
The question has to be…How much better will that $4-$5k for the U1X will push you up the streamer ladder?
Well, it has to be small as the U2, for me, sits up there with the best I have ever heard. It's beautifully haunting at times. You can get better or different, sure but what I hear from the U2 is just remarkable and it leaves me wanting for nothing in a streamer.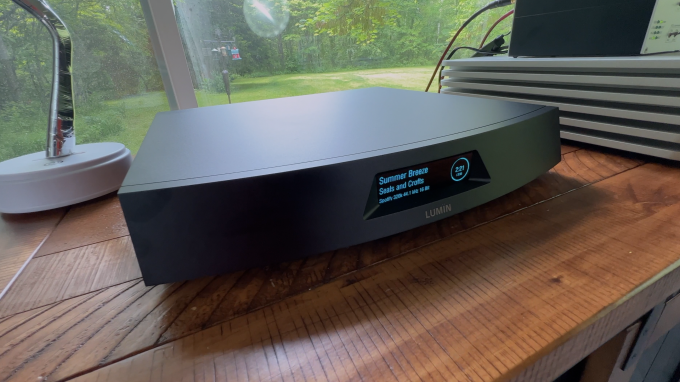 A Cool $5k
Some may say that $5,000 USD is way too much for "just a streamer" without a DAC and believe me, I get it. The truth is though that streamers do make a difference and if you have spent considerable cash on your system (tens of thousands) and you are using a computer or something like a BlueSound node to stream then you are truly missing out on just how good digital can sound. Digital can sound flat out unreal amazing with the right setup.
In 2023 there is no more digital grain, hash or edginess in the better streamer and DAC designs.
For low money, the Bluesound Node is great and I always recommend it to anyone starting with streaming or for those who are not ultra picky about every aspect of sound quality. It's great as a streamer but if you have a high end system, it does get better as you climb the streamer ladder without question. In fact the Node, as a streamer, will sound darker and warmer with less details, less imaging and a smaller soundstage than something like a Lumin U2.
The Lumin U2 and T+A DAC 200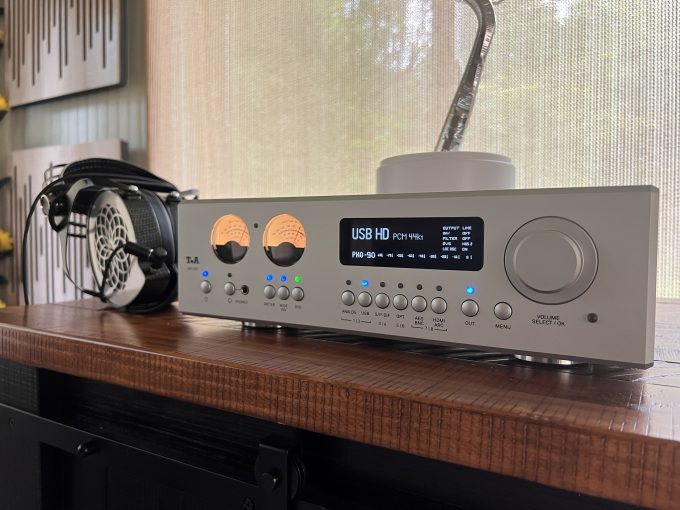 I started with the U2 going into the gorgeous T+A DAC 200 and it really allows this DAC to show me what it is made of. The DAC 200 sounded fantastic with the Node and the EverSolo was even better. The U2 though, is indeed on a higher level of digital playback.
With the U2 I am hearing that effortless flow like I remember from the Innuos Statement. The dead silence. The dynamics and detail. I am hearing spatial cues and inner details popping out much like I did with the Grimm MU1 streamer that comes in at $15k.
Whoa. Yes. This streamer has some serious mojo. I am not kidding. 
What sets the U2 apart from the older U1 Mini is that the U2 has much more life, breath and warmth. The soundstage is solid as a rock, and offers up such a detailed sound but this never comes at the expense of the emotional connection. There is beauty in the air, solidity and life. Nothing hides here but each sound has a roundness to it that keeps fatigue away as well. It's a very three dimensional streamer so when it goes into the DAC 200 which also excels at this, the presentation can be spooky at times.
The beauty of the U2 is that you can connect ANY DAC to it so if you upgrade your DAC in a few years, the U2 will be up to the task to make sure that DAC sounds its best.
Also, the U2 sounds richer, denser, deeper and has just a bit more magic than the U2 Mini.
HIGH END SPOTIFY with the DAC 200 and Lumin U2? 
Just streaming SPOTIFY using connect into the U2 is rather incredible, especially when using the U2 to upsample to DSD 256 to the DAC 200. If I can be 100% honest here, I love Spotify due to the app, the selection and the QUALITY! YES, the SOUND QUALITY!
While I have access to high res streaming and files, there is something sweet about the music streams from Spotify upsampled to DSD 256 with the U2.  It is just that with this streamer and DAC combo, using the Lumin to upsample to DSD 256 is rather special, even with Spotify. With this combo I found myself listening to Spotify more so than Qobuz or Tidal.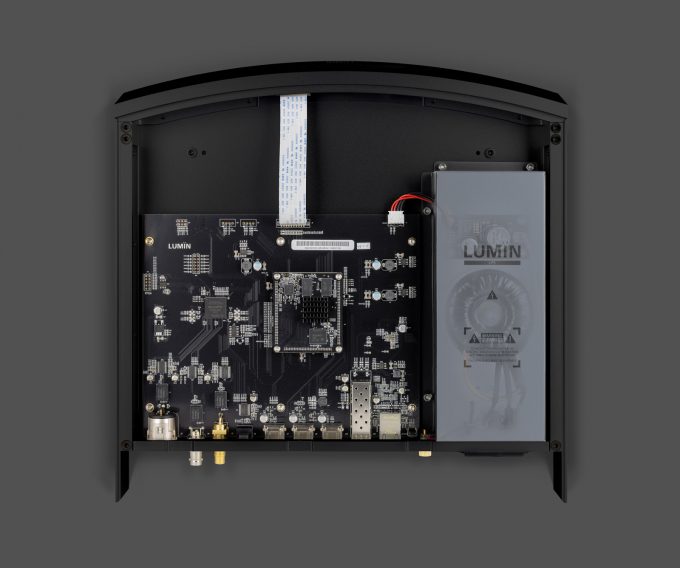 The Lumin U2 and New Weiss DC 204

While I was evaluating the Lumin U2 a package arrived from The Music Room. They sent me over the brand spanking new Weiss DAC 204 which is pretty much like the DAC section of the $9k 501 without the screen, DSP or headphone amp.
This shot the adrenaline up a few notches and I was BLOWN AWAY by the sound of this combo. It reminded me just how fantastic Weiss DACs are and this one sounds like a true HIGH END DAC yet it comes in at under $3k. It brings life, amazing detail retrieval and an incredible way of separating every sound within a super tall and wide soundstage. This DAC needs to be known as for the price and several thousand dollars above it, there is nothing that will best it at what it does. 
Where the T+A is special in the way it gently brings that musical flow with air and grace and a slight politeness the Weiss is about dynamics, power and also density. The 204 delivers Chord DAVE levels of detail but with more body to each note, string and vocal. This is one hell of a DAC and I will be reviewing it soon.
With the Lumin U2 there were some tracks where I slightly preferred the T+A and others the Weiss. Overall though for $2800 the Weiss is a MUST audition if you like amazing detail that is still extremely musical. This box has some magic to it and I hope many of you get a chance to hear it.
It's one of those pieces that you can buy for $2800 yet you will have a DAC that hangs with the $10k crowd in sound.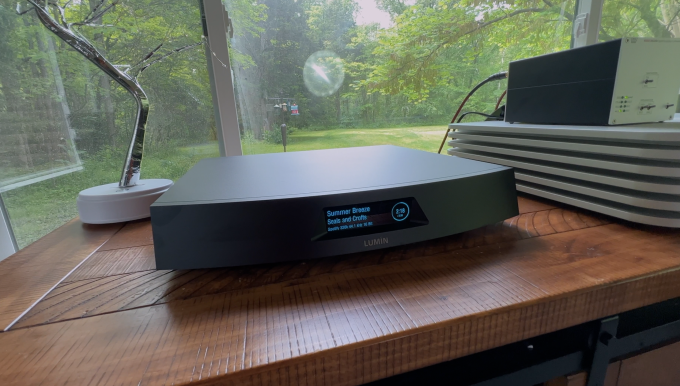 THE SLEEK U2
The Lumin U2 doesn't have any fancy displays (it's pretty plain and small), nor does it have any kind of touch screen, remote or dials/knobs. There is no WiFi here either as it must be hard wired. What this Lumin does have is a build quality that is second to none. While it doesn't look as sharp as the older U1 and it seems they cheapened out on the enclosure (the U1 was one solid piece, the U2 is not) by dong so this allowed Lumin to charge less for what may be a better sounding unit.
My reference system consists of some pretty high end gear. The U-150 Integrated, the Focal Diablo Utopias, The DAC 200, the Puritan PSM 156 and SEVEN Ultimate power cables, the Pure Fidelity Harmony turntable, my dual REL S/510's and the Weiss DAC 204 that I may just add to my DAC arsenal.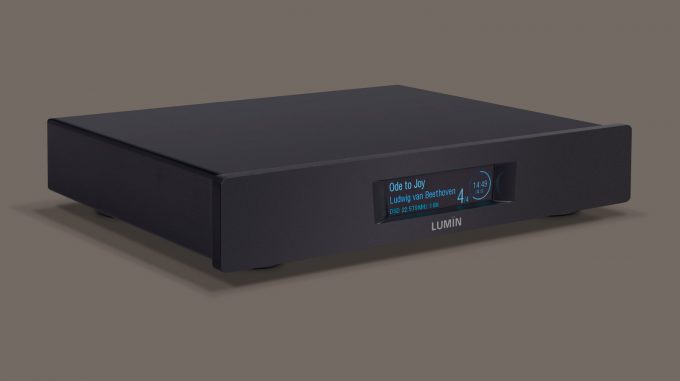 The Mini's
I was able to get a U2 Mini in for evaluation and when I tested this one it was almost identical to the U1 Mini in sound but it had some new features and some added warmth much like the U2. When I listened to the U2 Mini I used the BNC out with a very pricey $4k Shunyata digital cable. The sound was lively, sparkly and organic at the same time. Sounded lovely and I was about to commit right then and there as the Lumin experience is just rock solid.
I then had a friend who bought the newer and larger U2, and he was one of the first to get one. He took a long drive here and let me keep it in my system for 2-3 days. I noticed it was a more mature sound, more refined over the Mini. It had more warmth, solidity and the stage was absolutely amazing. Some of the best imaging I have heard but there was an organic life to the sound, a warmth without sacrificing details. I was impressed even though I only had it here for a couple of days.
I then put in the latest Bluseound Node Gen 3 (not the X) and again, when used as a streamer, the sound was darker, fluffier and less detailed than the Lumin streamers. It was nice, had full bass but was lacking in three dimensionality in a direct compare to the pricer streamers. The Node does very well as a streamer into a nice DAC but it doesn't have the details and wide open sound of the more pricey options.
I then received the EverSolo A6 and feel in love due to the $859 price and what it offered for that money. This little guy had an amazing display, wonderful app and while I wasn't a huge fan of the internal DAC of the A6 when I used it as a streamer in the same way as the Lumin I was bowled over. It was much more detailed than the Node and sounded a bit more beefy and energetic vs the Lumin U2 Mini! I loved the display, the build and the app. This  was not as refined as the larger and more pricey U2 but I said "this is all I need"!!
Well, I ended up ordering a Lumin U2 from Upscale Audio and I let it run 24/7 for a solid week before settling in and evaluating it. 
When I sat back down to compare with more focus it was evident that the U2 was a much more refined streamer than the A6 or the Mini version. The sound was at a level of refinement close to those $15k streamers. When paired with the DAC 200 or DAC 204 it was sounding a lot like those big money streamers.

I tested each output first to find the best sounding for my setup and gear. 
Using the BNC out was VERY nice with a $4k cable and VERY good with a $50 cable. 
Using the new USB out with a $600 USB cable was ASTONISHING and bested the BNC out. 
Testing the AES out was second best. Optical was my least favorite. 

Using the new direct coupled USB out, made just for using with your DAC, was excellent. This alone, for me, is enough to say that the U2 bests the older and nicer looking U1… FOR ME. The much more pricey U1X doesn't have this new USB out. The U2 Mini does not have this output either. I was really surprised at how wonderful this USB out sounded into my DAC so Lumin did do something here to improve this output. The U2 is the only Lumin streamer with this output that I am aware of.
In fact this setup reminded me very much of my time with that $15k Innuos Statement and far surpassed the lower tier streamers when it came to just about every facet of sound but mostly warmth, body, details and listening in three dimensions.
The U2 Mini was spectacular as well, but it was not as good as the U2. The Mini does do better than the Node.
The DMP A6 was as good as the Mini but can not best the U2 in any way when used as a streamer.
With all of the digital front ends I have owned or tested in house, I can easily say that this combo of DAC 200 or Weiss 204 with the Lumin U2 is among the finest I have heard Digital sound. The U2 for me sits at a point where diminishing returns really start to kick in. You can pay $7k more but you may only get 5% improvement.

Smooth, liquid, effortless. 
The U2 also has the new fiber input that some are saying is next level. This is another way to keep noise from your system and it's only available in the new Lumin streamers and the older flagship X1 (with DAC).
Black or Silver?
When I had the U1 Mini I owned the silver version and loved the look. I decided to go with black for the U2 and regret that choice. Lumin products look so good in silver and the black looks nice but the silver is nicer, IMO.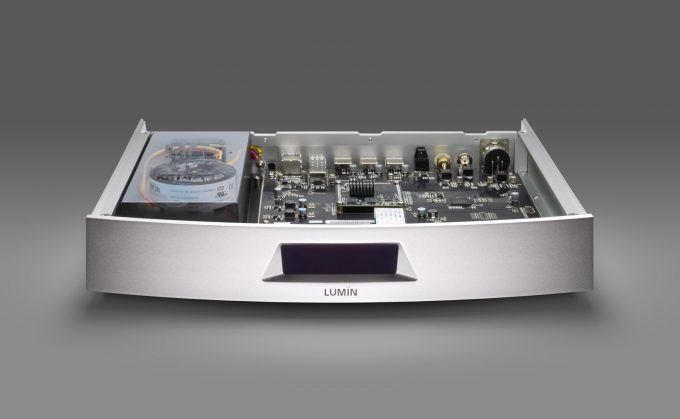 UPDATES
Lumin is one of the best companies when it comes to updates. Seeing that these are meant to be hardwired only (no wifi for max sound quality) they are always connected to your network. This means that when an update is ready, it is done automatically. Lumin is always improving their streamers and they do this with firmware updates while we sleep. I love this aspect as my older U1 Mini was getting updates quite often.
I never had one hiccup with the U1 Mini and I expect the U2 will offer me the same benefit. Lumin gear is pretty solid in this respect.
THE APP
The Lumin app is OK. I have never been a fan of it. I much prefer the apps from Bluesound, EverSolo, etc. The app works, but it just doesn't look very nice or seem so easy to use when you first download it. The good thing is you can run the U2 with ROON, which is a much better solution or you can use the connect apps from Spotify or Tidal.
ROON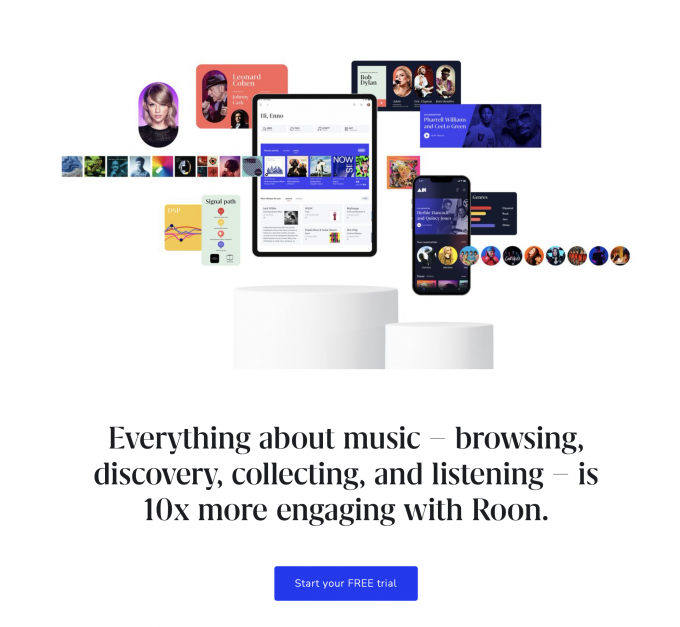 I love Roon but I do not always use it. ROON is just about the finest music software I have ever used and it allows for quality streaming from Tidal and Qobuz as well as serving up any local files you may have. It's like the Lightroom of Audio ; ) Music management and radio, it's a must for any passionate fan of digital streaming.
Setting up ROON is easy with the U2. You need a core (which can be a laptop or something like a Roon Nucleus, which I highly recommend for Roon). Once set up it may be the only app you will ever need. It's not cheap but well worth it if you enjoy streaming every day or several times per week.

CONCLUSION
So this personal journey to find a streamer that I could live with for the next year or two was very interesting. I say "year or two" as being in the review business I get to hear a ton of gear and eventually I will hear something I like better I am sure. Maybe. Maybe not.
The Lumin U2 is one of those products that are truly high end in looks, sound and build. It delivers the goods just as a streamer and bested al of the others I have tried up to $5k. It creeps very close to the streamers I have heard that cost double or more.
The U2 by Lumin is one of the best streamers I have heard. The key to success with the U2 is your DAC. If you spend $5k on a streamer I would expect that you have a DAC that can hang within the same company. I would never buy a $5k streamer for a $500 DAC. This streamer can hang with ANY DAC made today, and get the most from it.
The U2 is dead quiet, runs cool, is super refined and delivers Digital music that sounds more like a super charged ANALOG playback without the hassles.
Silky, sweet, smooth, detailed, three dimensional, emotional and beautiful are just some of the words that describe this piece. You may find better but you will pay dearly for the small improvements you may or may not find. I believe my streamer journey ends here, at least for now : )
The Lumin U2 is a bonafide winner and worth the investment if you stream digital music and love it. If you use a Node or one of those plastic $100 streamers from Amazon yet you have a really good high end DAC then you are indeed missing out. Your digital can sound better and the U2 sits in the high end streaming sweet spot with incredible looks and performance.
This is easy, I highly recommend the Lumin U2 if you are looking for high quality and high end digital streaming. Period. This is almost as good as it gets for streaming. You can get even better but believe me, it will cost you dearly. If the $5k price tag is too much, the U2 Mini is also fantastic and brings you the Lumin experience.
Highly Recommended.