The Paranormal: How to talk to the dead. My experience and evidence with EVP, Spirit Boxes, Ghost Boxes and Spirit communication
The Paranormal: How to talk to the dead. My experience and evidence with EVP, Spirit Boxes, Ghost Boxes and Spirit communication
Join me on Facebook HERE and YouTube HERE
Before I even say Welcome and introduce myself to you let me state something to you with 100% fact. Wether you believe it or not, yes you can talk to the dead. Spirits who have not crossed over yet..spirits who are stuck and yes, even evil and sometimes demonic entities. I don't do this for money, I don't do this for fame. I do this because what I have discovered after doing this for a while is that it is absolutely 100% real, without a doubt in my mind as well as others who have joined me on my trips and sessions. My name is Steve Huff and I am a Photographer, Blog owner and Paranormal Investigator with my Son Brandon. 
Take a look at the video below which was put together in November of 2013
-
and one of our videos from August 2013 – creating the light for spirits. Amazing evidence in this one
If you do what I do, how I do it, you can realize the reality of all of this as well. Nothing I post here is fake, made up or drummed up from a crazy mind. I do not have the time to sit around and fake videos of Paranormal activity when 95% of my time is taken up by my full time job of running this photo website. Yes my friends, it is all actual fact and evidence. You can choose to open  your mind and believe or if you are a non believer that is fine as well. I am not trying to convert anyone to being a believer if their mind is closed and can not comprehend the facts. Everyone has a right to their beliefs but mine come from actual experience with evidence that I have recorded for all to see and hear and I have also had INTENSE personal experiences during the 2nd half of 2013, things I never dreamed could be possible I have seen, touched and heard. I know many people and those who know me well will tell you I am sane, smart, nice, caring and above all – NORMAL.
With that said, sit back, relax and enjoy this article. It was written from the heart as I am truly passionate about this field because I find it absolutely incredible and amazing. I just wanted to get the fact embedded that what you read and see and hear on this page is 100% real with no trickery involved at all. If you have interest in this field I urge you to go take a look at and subscribe to my Paranormal YouTube channel which houses some of the most amazing evidence captured by anyone. Check it out HERE.
Welcome. My name is Steve Huff and this is my photography related website. You probably landed here by using a google search for Paranormal, Ghosts, EVP, Electronic Voice Phenomenon or Spirit Boxes instead of finding your way to this page via a camera search. If so, that is great as that is how I hoped it would happen. Google treats me well most of the time because I have one of the larget photography blogs on the internet that I built from the ground up. So when I write a post here google picks it up quickly and it can help me get my experiences out there to others who are interested in this field. If you found this because you are a follower of my Photo and Camera reviews then you will probably think I lost my mind but that is not the case and I suggest you hold off on any opinions until reading and seeing what I offer here. Again, this article, story and evidence presented here is not about photography but instead The Paranormal. Things that are out of the ordinary. Things that can not be explained. Ghosts? Spirits? Entities? Aliens? Maybe.
With that said, you are most likely here because you are someone who is into the ghosts, spirits, or ITC..spirit communication.  These days with so many TV shows (and irritating as hell youtube guys who copy these shows..I mean, really? Show some originality as copycats get nowhere fast) out there dealing with this subject you can never really know who to trust and what is indeed real or what is fabricated for the all mighty dollar. With Zak Baggins on Ghost Adventures oozing with drama and excitement I often wonder if he is excited about the investigation or the millions of dollars he is most likely making with his TV show that is now in season 7.  Even so, I am a fan of the show as it provides entertainment and while I used to think all of it was fake, I now know that this is not the case. I really do not care if you believe or not as I know that in order for a true skeptic to believe they would have to have a real experience on their own, like I did and now continue to have almost on a daily basis.
Let me explain…
It all started when I was 7…
All of my life I have been interested in spooky things and haunted locations, and I remember that all of this seemed to have started as a small child when I had an intense experience in a hotel room while my parents slept. It was late, it was dark but I was awake because I head a noise. I remember there were two beds and I demanded I sleep with my dad in one bed while I told my sister to sleep with my mom. I was a bit creeped out in this old motel for some reason.
I can remember with crystal clarity  as I was jumping on my father trying  to wake him as a man stood at the side of my bed, lifted his fist and said "you want this". He was then gone just as fast as he appeared and when my Mother and Father woke they both thought I was dreaming, My dad turned on the light, checked the room and told me all was secure and to get to sleep. But I can assure you this was no dream. I know what a dream is and I know what reality is and that man was as real as any man alive today..as real as I am sitting here now. I do not know who or what that man was but when I look back now I believe that MAYBE, just maybe it was a spirit or ghost. If you read on you will find out why I say this.
In any case, that night is one I will never forget for as long as I live and it is etched in my brain like it was yesterday. I was only 7 or 8 but I can still see the man's hair, his evil shifty eyes and his fist which he shook at me while smirking. I was pretty much scarred for life that night and to this day I reminisce to my Mother about it. After 30+ years of me going on about it I think she finally believes me that there was something in that room with us, lol.
For some reason it was after that night that I started becoming interested in ghosts and spirits but the problem was I was very skeptical my entire life up until about 7 months ago. How could I be skeptical you ask? With the man shaking his fist at me in our hotel room? Well, at that time I thought that man was a "man"..a burglar who broke into the room to kill and rob us. Today I feel differently about who or what that was but like I said, this new belief I have did not happen until recently.
Back when I was 9 I remember being in the Library with my Mom and I was looking for books on ghosts. I always wanted to go to haunted houses and as I grew older I always told everyone that I wished a ghost would appear at my bed, because only then would I believe in any kind of afterlife or ghost. I was 100% sure there were no such thing as ghosts (little did I know) and it took 35 more years for me to have my next other worldly experience…
Me and my son Brandon at Monti's in AZ investigating and getting EVP's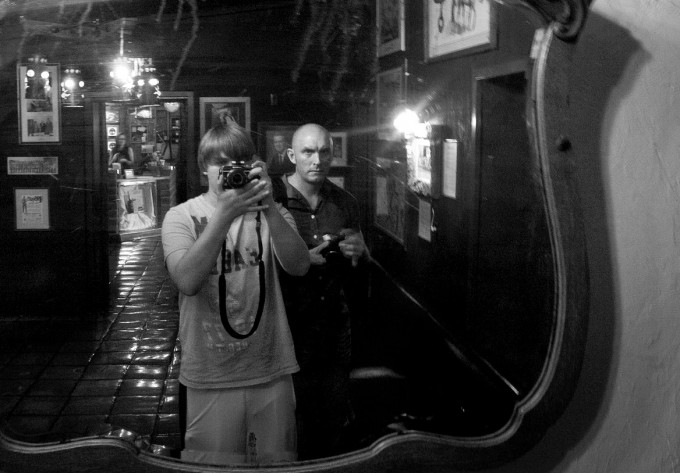 -
and here we are at the Jerome Grand Hotel in Feb 2013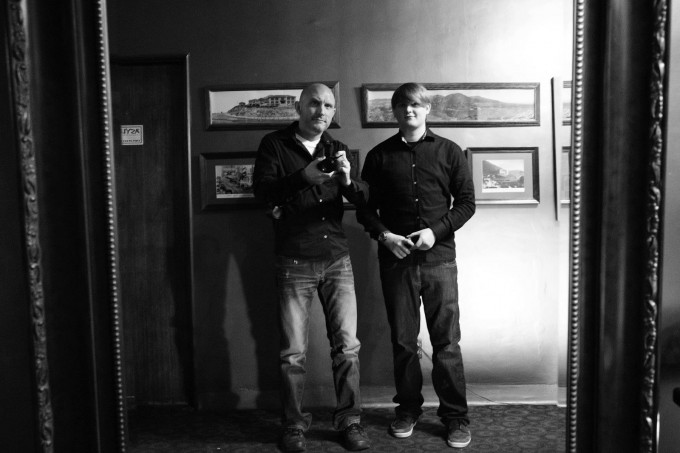 The Death of my Father in March of 2000
In March of 2000 my Father Otis Huff passed away from an advanced cancer that had spread through his body and bones. I saw him wither from a 235 lb man to a 100 lb man. It was a hard thing to witness, especially as at the time I was sort of in a denial about the whole thing. My dad was always the strong figure in my life. Tough as nails. He grew up as a rough and rowdy boy in the hills of Kentucky and even after he married my Mother and  during my boyhood life he kept up his rough and rowdy ways until he hit 50. Then he became gentle and much different. He stopped going out to drink, he calmed down and became much more mellow, he no longer car home all beat up and bloody from bar fights. It wasn't until he hit 50 that I was able to even really talk to him because most of my early life I was scared of his temper. He never beat me, and never hit me though I did get some old fashioned spankings every now and then when I misbehaved. Even so, I always loved my Father deeply. He was very strict but also taught me some life lessons that were very important later in my life.
I remember the day he passed away very well. I was staying at my parents house because my mom knew this may be his last night so I wanted to be there. It was me, my now ex-wife and my son Brandon, who was only 4. Around 6am my mother woke me sobbing to tell me he was gone as she had held his hand during his last breath. We all gathered around his bed and cried. That is when it hit me..my dad was gone, forever.
Later that night I was in my home which was about 10 minutes away from my parents house. My house had a nice big comfy basement  with a couch in front of a fireplace and my dad loved to lay on that couch and he did so on many occasions. I remember walking in my basement talking to him as if he could hear me, letting him know that even though we had our differences in the past while I grew up that no matter what, I always loved him. I was crying and just letting it all out. I then went up to bed, laid down and fell asleep. At around 3:10 am my now ex-wife woke me up saying the water in the bathroom sink was on full blast.
I woke up, walked out of my room and down the hall. The bathroom sink was blasting red hot water at full force and the mirror was all fogged up. How did this happen I wondered? How could a sink turn on by itself? Why the hot water? Was it my Father trying to get my attention? I then heard a loud bang coming from my basement and a rustling in the kitchen. I went and grabbed my wife and we grabbed my son and she demanded we leave the house as she was scared to death. To be honest, so was I.
We left that night and drove around for a while but if that happened today I would have pulled out my recorder and asked some questions. But looking back I have no doubt that this was the spirit of my Father trying to communicate with me. Back then I made an excuse for what it could be, saying things like that just happen sometimes and I left it at that. The fact is that a faucet turning on by itself has never happened in my life before or after that night. NEVER EVER. In that house or any other I have lived in or owned.
UPDATE Oct 2012: Did I communicate with my Father via a spirit box?  Keep reading and I will post the video below…
WHAT I NOW KNOW AND WHY: Spirits, Ghosts or some sort of intelligent entities do exist, and we can communicate with them..yes, really.
To the average Joe who reads that line, well, it will sound like I am insane or off of my rocker and to be honest, I get accused of this every now and then from youtube viewers who see my EVP videos as they are confident I fake them, lol. I used to go around and laugh at those who said they believed in ghosts and always said "when I have my own experience, I will believe" and for any skeptic out there I am sure you feel the same way as I used to. But let me tell you…when things start to happen to you (and they very well could if you start to dabble into Paranormal Investigations) then you could switch from skeptic to believer within a single little moment in time. A breath on your neck, a whisper in your ear, a shadow on the wall that streaks by, EVP's captured in your home with voices saying your name and your family members names. These things have all happened to me in the past few months and I am lucky that my son also has witnessed and heard these things as well, at the same time I have. If he didn't I would think I was insane. My fiancee has also experienced these things in my house, her daughters as well.
So how did all of this happen in the past 7 months?  Well…it all started with something called a "Spirit Box" and this is how it happened…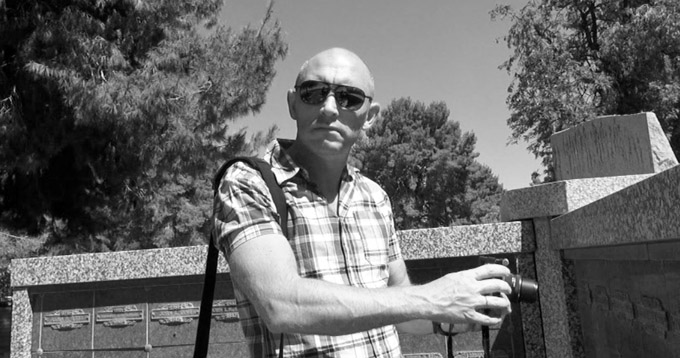 One day my best friends sister sent me an e-mail asking me about Orbs. She knew I always had an interest in ghostly things, or at least that I was always wanting to have an experience for full on proof that they exist. Her e-mail stated that her mother in law was convinced she had ghosts in her house due to "orbs" seen in her photos. Well, anyone who knows anything about this will tell you that 99.7% of orbs captured on film or via digital camera are actually blobs of dust reflected off of the flash and lens. They show up as little orbs on the image. I told her this as the photos were a classic case of "flash dust". I even went around my house kicking up dust as I walked and snapping some flash photos and I too had orbs! Well not really, just the dust balls.
To prove my point even further like any good skeptic should I researched youtube for videos on how these orbs appear in your photos. I found one of two guys showing the dust theory and emailed my tests shots and video link over to her and told her that her mother in law had a dust problem. She chuckled and said she would forward that message to her mother-in-law.
BUT THIS IS THE NIGHT MY LIFE TOOK A TURN INTO THE DARK SIDE – Almost as if I was guided to it by some unseen force (yes, sounds overly dramatic but man oh man is it true)
As I researched youtube I found a video by a man named Stephen Hill who called himself the "Ghost Box Guru". I immediately asked myself "what the hell is a ghost box"? I clicked over to his video and watched..and within a minute I said "what kind of bullshit is this guy trying to pull" and "is he faking this"? He had this device which was a modified AM/FM radio. It was set to a fast scan rate so it scanned and skipped over channels at a very fast rate but you could hear the noise and scanning. He would ask a question like "Who's here"? You would hear static and then a name would pop out. He would ask several questions and get direct replies as if this box was some sort of magic trick. Voices would yell out his first name on a regular basis. He claimed to be an "Electronic Medium" and even wrote a book about his experiences that I did indeed buy and read. It creeped me out but my interest did not fade.
I did my research and found out that a "Ghost Box" or "Spirit Box" is basically a modified radio that scans through the channels at a very fast rate and by doing so, this would supposedly allow spirits to use this for communication. A bit of white noise, some pieces of radio jabber being manipulated and you have ghostly communication.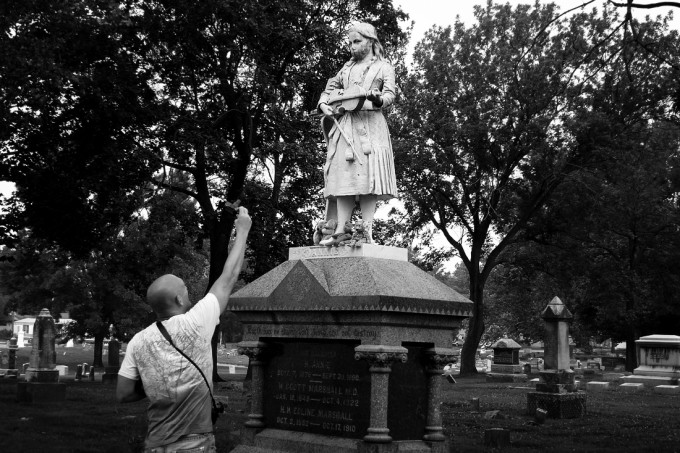 I called bullshit immediately and set out to prove it was nonsense. Yep, I am weird like that. I do it with cameras reviews as well showing how underdog cameras can outperform big dollar cameras. I always like to prove my points, and often do just that. So I set out and ordered a P-SB7 spirit box which is a box made specifically for spirit communication and the more I researched the more  I dug up. I found out that the very 1st ghost box was made by a man named Frank Sumption. He made a device called a "Frank's Box" and he makes a couple every year for mediums or friends. He never sells them and they are EXTREMELY RARE and hard to find. His story is that spirits told him how to build this device..I thought "What a nut"!! But I wanted one..I wanted a REAL Frank's Box.
I searched e-bay, asked around in the Paranormal forums and message groups…nothing. Then I decided to search my local Phoenix AZ craigslist. Wow. There it was, a real Franks Box for sale and about 20 minutes from my house! What are the odds? $150 and it was mine. When I look back at that day it was almost like it was meant to be. I mean, what are the odds that the moment I get intrigued with this "Ghost Box" that I learn about the hand-made and extremely rare "Franks Box" and I just so happen to find one for sale 20 minutes from my house? Just seems hard to believe but it was real, and so was the official Frank's Box that I brought home with me. With a P-SB7 spirit box on the way from Amazon and my Franks box I did my very 1st session and I was a bit amazed at what came out. It appeared to not only be responding to my questions with quick little answers but my name was also said several times "Steve". I asked who was with me and a name blurted out "PAUL"..Then a "Be Careful" from a woman with an odd accent.
Hmmmm. Maybe there was something to this. I immediately was drug in full force to this as if I were being pulled into it by some unseen force into an underworld of spirits, ghosts and some kind of intelligent beings. I started to feel like I was being manipulated and made to really dig into this research. It became an infatuation. Something I always wanted to do. Every day and every night I turned on these boxes and attempted communication. For weeks I did this and then before I knew it my son, who lives with me 4 days per week was also sucked into it. The answers from the box were getting longer, more detailed and then one night I received a threat with one voice coming in saying "Don't fuck with me Steve Huff". This is when it started to get creepy and made me feel uneasy. Now keep in mind all of this was recorded to video, in real time. You can see these sessions I speak of on my "Huff Paranormal"  youtube channel.
I started to research more and more and found that many who get into using these boxes get sucked in, addicted and my big question is WHY? It was almost as a force was pulling us in..like we were being manipulated and forced to do these sessions with the spirit box. For several months my son and I were doing almost nightly sessions and the responses and activity was getting more intense week by week until it hit a point where we were both frightened by what was happening. Before I tell that tale, take a look at a compilation of just SOME of the spirit box  responses I have received in our earlier sessions.
Keep in mind my name, Steve Huff, my son's name Brandon Huff and my deceased father, Otis Huff. All of these names appear as responses from the box as plain as day.
As I reviewed my sessions on video I realized I was getting some incredible responses that were much clearer and better than what I have seen from others. I went from skeptic to believer for sure as did my son. How could I not? But not only due to the spirit box sessions. After a few weeks of doing short nightly 10 minute sessions we started to get real EVP's (electronic voice phenomenon) in my house. Some of them are in the video above near the end and to this day, months later, I still get EVP's from the same male whisper voice whenever I record video or audio in my house. He is here with me at all times. He has attempted conversation and my son and I have even heard his voice with our own ears when the house is quiet. Keep in mind I am NOT joking or lying here. This stuff is as REAL as real can get. I can not stress this enough.
While recording box sessions I would get loud voices/whispers coming in saying various things. One said "Death Will get You" like it was whispering directly in to my recorder (it's in the video above). Another day that same voice said "Why Don't We Play" as loud as can be (also in the video above). As the EVP's came in it seemed like they were getting louder, stronger and longer. Again, take a look at the video above for many of these EVP's as these were all recorded as evidence.
Eventually I would hear voices in my house every day and one day while in the shower I heard a female voice as loud as can be coming from my bedroom. I jumped out of the shower, grabbed a towel and my recorder and turned it on. I asked "Is someone here? If so, talk into this black box in my hand"? A woman with an English accent replied into the recorder "Yes, I want to see what it does" as if she was curious about this box in my hand (my recorder). Simply Amazing.
A day later my son and I turned on a recorder/video and asked "Is the English Woman here today" and we got a loud "Good Evening" on the recording. I asked how many spirits were in my house and she said "600″. WHAT?? I looked at my son when we played that back and immediately got the chills. If there were that many spirits in my house then it seemed like we were attracting them like bees to honey……
My 1st Paranormal YouTube channel goes live…
Right after I started experimenting with the Ghost Box I started a new youtube channel named "SpiritBoxEVP" as I wanted to share my experiences with anyone who wanted to watch them. I was not out to have a huge youtube channel because my day job, THIS web site, keeps me busy well over 8-10 hours a day. I just wanted to share what I was capturing as I felt it was important and was something that should be brought to the attention of more people. At the same time my son and I were sort of addicted to using these boxes and getting evidence. The funny thing is  - we knew this was happening yet we kept going. We kept gathering evidence, shooting it and posting it to youtube. He even made his own channel called "spiritboxevpjr".
I soon had over 40 videos up and the channel was starting  to get subscribers. Within 30 days I had over 140 subscribers, which is not many at all but it was a new channel, 30 days old. I started getting e-mails, questions, and even threats. One person told me I was dealing with demons and I better stop. Another asked me if I could contact their dead Father. These were e-mails I really was not expecting to get. There were many asking me to contact their dead husbands or wives..it was bizarre. Almost as if people were thinking I was some sort of medium, which I never have claimed to be..ever.
My thoughts at the time were that ANYONE could do this and get EVP's and responses from the box but little did I know that was not the case. I do not know WHY my son and I can so easily capture these otherworldly voices and responses but we can literally get these ANYWHERE. In a restaurant, in a hotel room, at a park. No need for a location to be haunted as it is my belief that there are spirits EVERYWHERE, living in another plane of existence parallel to ours. I mean they are EVERYWHERE. Your home right now, where you work, and anywhere you go.
-
The AIR was thick in my home..you could "feel" something was with us
That is what my son would say every week when he came to stay with me (He is 16 but splits his time between me and his Mother). He would come in and say "it doesn't feel right in here, the air feels thick". I knew this as by this time we were both was hearing voices regularly in my bedroom, kitchen, and office. The feeling was not really uneasy or bad, it just felt like we were being watched all of the time, and believe me, we were.
One night before my son came I was home alone as I often am and had just heard some bangs in my kitchen. I ignored them because if it was a spirit or being trying to scare me, I was not about to let it do so. I went to bed, turned out the lights and sit off the TV in my room. Within 15 seconds of me laying my head on my pillow I hear a loud whisper directed  toward my right ear saying "Steve, WAKE UP"! This was the same male voice that you can hear in the EVP's from my home in the video above. The same guy who said "Why don't we play" , "Brandon's here every week", "Death will get you", all of which were recorded onto AUDIO and VIDEO and heard by anyone who watched it. (In other words, these voices were not and are not imaginary).
THIS I could not ignore and I jumped from my bed, turned on the light AND my TV and even though I was dead tired (it was about 2:40 AM) I managed to sit up and awake for at least two more hours before falling  to sleep with my TV on. The next day my son came and I told him what happened and he wasn't to thrilled about it. Remember, he is 16 years old and while he can hear these voices now just like I do, and capture some amazing EVP's himself, he gets more spooked than me most of the time. After the chill factor wore off we decided to investigate more because like I said earlier, it just kept pulling us in and in an in.
So  we decided to do a late night cemetery stroll to see if we could get any EVP's from gravesides. I have had GREAT luck at cemeteries before with loads of class A responses. More than I have ever seen ANYONE get, even the TV show guys so I knew we would get something if we went late at night as the ambient noise would be lower. We were not disappointed but we were also creeped out as we left when we heard what appeared to be a wolf howling near us. When we listened back  to the audio at home though we did not hear a wolf, we heard a woman saying "What are you thinking"?
 I am called a "Big son of a Bitch" from manually scanning a shortwave radio…
All hell breaks loose
By this time we started to notice our minds were being manipulated to hear certain things as we have had many experiences when reviewing EVP's where he would hear a whisper and I would hear a demonic type of voice. Then the voices would switch on us in real time where I would hear the whisper and then he would hear the demonic growling voice. We started to worry as these sorts of things could really start to mess with your sanity over time. We soon realized words COULD get manipulated when we reviewed a clip I shot while we were both in the cemetery late at night. He was about 20 feet from me trying to use a spirit box. I could not hear him or his box on my video and I was doing an EVP session at a grave.
After we were back home reviewing the video footage there was a point when his spirit box froze on a hispanic radio station and there was a man singing, in spanish, with an accordion. It played for a few seconds and then moved on. On HIS video you hear the SPANISH song. If you listen careful to MY footage you will hear that all of the sudden, at the same time that his box froze on that channel..all of the sudden his audio was audible on my video – you hear the same male voice singing, the same accordion and overall tune but instead of spanish you hear english and the man is singing "Can You Help My Ba-By Live!!!!"
We both heard this as plain as day but when I sent the file to my 100% at the time skeptic friend who had his mind closed to the possibility of anything paranormal going on he said he heard the same spanish song in my video as well. WHAT?!?!? Were these spirits manipulating our minds and sending these messages only to us? At that point we freaked little because if our minds can be manipulated to hear things that really were not there, what would be next? Would we see things? We decided to stop doing this then and there. It was about 2 AM, in my office when we both decided to sell our equipment, cancel our youtube accounts and stop doing this, for good. I did NOT want my mind or brain to be manipulated.
So my son sat at his laptop and immediately started listing all of his equipment for sale on e-bay. A hole hard case full of goodies like a MEL meter, P-SB7 Spirit Box, REM-POD, and 3 recorders along with other goodies. I sat at my computer determined to cancel my youtube account but before I did this I went around the house and did a cleansing with Sage. I demanded any evil or manipulative spirits to leave. By this time I noticed my son was behind me videotaping this process. At one point I say "I demand any evil spirits or beings to leave this house in the name of Jesus Christ" and on the video you hear a hard and low deep growl say "NO"!
After the cleansing I sat at my desk again ready to delete my whole account. As I did that my whole body felt like electricity was going through it – like a surge pushing through me. Even my hands were tingling..my face..my feet. I looked at my son and told him and it happened again, like something was going through me or hitting me or either trying to MAKE me delete my account or make me NOT delete the account. After the third rush I hit delete and all of my work..my videos..my account. It was gone with no chance of ever getting it back.
The next day was uneventful. We thought that whatever was here in my house had left as we had no feelings, heard no voices and the house felt good. Clean. Later that night we sat down to watch a movie and mid way through, we hear what sounds like a sonar going off – beep – beep – beep…
I get up and for the life of me could not pinpoint where this was coming from! We started to search the house so all lights were on, movie was paused and we searched the house. As I walked by my attic doorway the sound intensified. My son said "Uh Oh"…you did not do a cleansing in the attic. I just looked at him and said "well, I have to go up there and check it out". So I opened the attic door and peeked my head inside. It was pitch black and hot up there but the sound was NOT coming from the attic. I was relieved because I really did NOT want to go up there, especially after reading Steven Hills book about his Attic encounter.
Brandon taking a pic of himself in a mirror after asking if ant spirits can show themselves in the mirror with him – Monti's in Tempe, AZ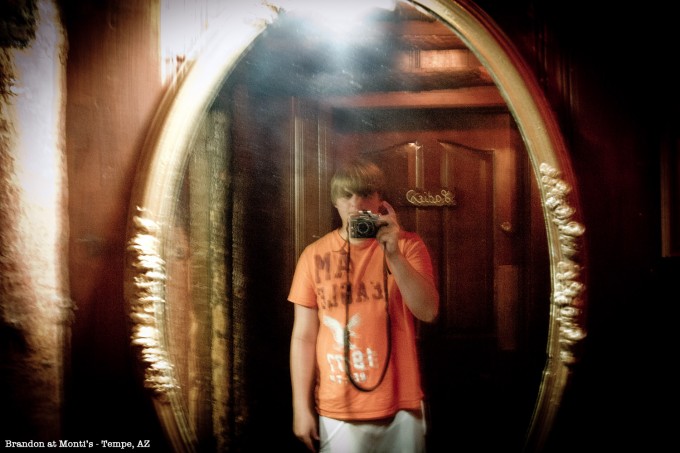 So we started to search more and my son said "I FOUND IT"! and the sound was coming from his closed and latched hard case with all of the equipment in it that he had just the day before listed on e-bay. When I picked up the case and put it to my ear I heard (as did he) what sounded like a wind storm going on in the case! It was surreal. I went to my front door because whatever was in this case was not going to be let out in my living room! I was freaking because just months prior I would have looked at myself NOW and said I was insane, but after experiencing the things we experienced with EVP's, voices, and manipulations I knew ANYTHING was possible. So out the door we go. I sat the case down and slowly opened it up. When the lid was opened it was clear what had happened. My sons spirit box had turned on ALL BY ITSELF in the case. Now, I am not sure what made the sonar sound or the wind sound but when the case was opened it was static from the box. But what turned it on? It was in a LOCKED case!
We came back in the house and my thought were that whatever was here did NOT want us to quit. They wanted to communicate..as if they thrived off of it. It is my belief that they get power from us talking to them, and the more we talk, the more power they gain. The more power they gain, the more they can do and the more activity you will get. At this time my son went to his e-bay page to see if anyone was bidding on his case of ghost hunting goodies. He wanted to sell them badly as this radio turning on by itself spooked him. As he was on the computer I was on the floor petting my dog. My mind was trying to figure out what turned on that radio in a latched closed case! My iPhone was about 3 feet from me on the floor when we heard it make a beep sound we never heard it make before.
We both looked at each other, looked at the phone and saw it was lit up. I sat up, picked it up and there it was…somehow, someway..a text was written in a text box and it read "What all is he selling…where to go and why…Anderson thanks you". WTF?!?!? Keep in mind that what I write here is 100% truth and as it happened. I am not making ANY of this up, at all. I was thinking we got in too deep here and whatever we conjured up in my house did NOT want us to leave. What to do..what to do…
More coming soon on what happened after these events and how we got back to investigating and doing research and even getting into water ITC session, which have been absolutely mind blowing.
Just a few of the many EVP's I have gotten at gravesides. The question is, do spirits really hang around their graves? I really would not think so but maybe they are EVERYWHERE or can be ANYWHERE at any time. I think we need to think outside the box a bit. The fact that these voices can be captured onto digital audio is one thing but do you really think these spirits have to be right at the location we are recording them at? I don't. Use headphones for this one, it's a must for  the best clarity.
TO BE CONTINUED! I will add to this soon and finish what I need to say –  
but you can subscribe or check out my Youtube  Channel with all of my Spirit Box and EVP videos HERE. I highly recommend opening your mind and watching them all. Of course the close minded individuals who hear the EVP's and ghost box sessions will still deny it but that is OK. I am not out to change anyones mind about this because I know the facts and truth, and that is all I need. I also do not care if you believe or not as I know what  I need to know for my personal peace. Plain and simple :) 
I am working on a very special video that may take a while but it will have some of the most incredible evidence that I have personally seen anywhere..stay tuned. If you have any questions, you can email me HERE.
-
Soon… more on "Water ITC" – just one of the many images captured in moving water during a session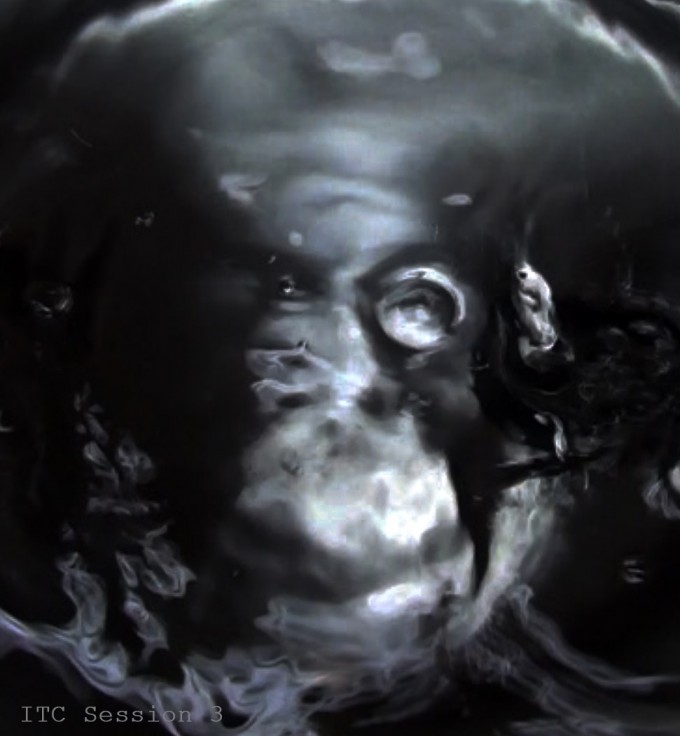 -
During a spirit box session a voice told me  to "take some pictures" (this video is on youtube). I stopped and took a few around my house and a few in this mirror. Right as I felt the electric feeling in my body I fired this shot..take a look. Not only was I told to go take pictures, a face showed itself in THIS one photo, right when I felt the presence. I also shot 6 more in this mirror after to attempt to recreate this with zero luck.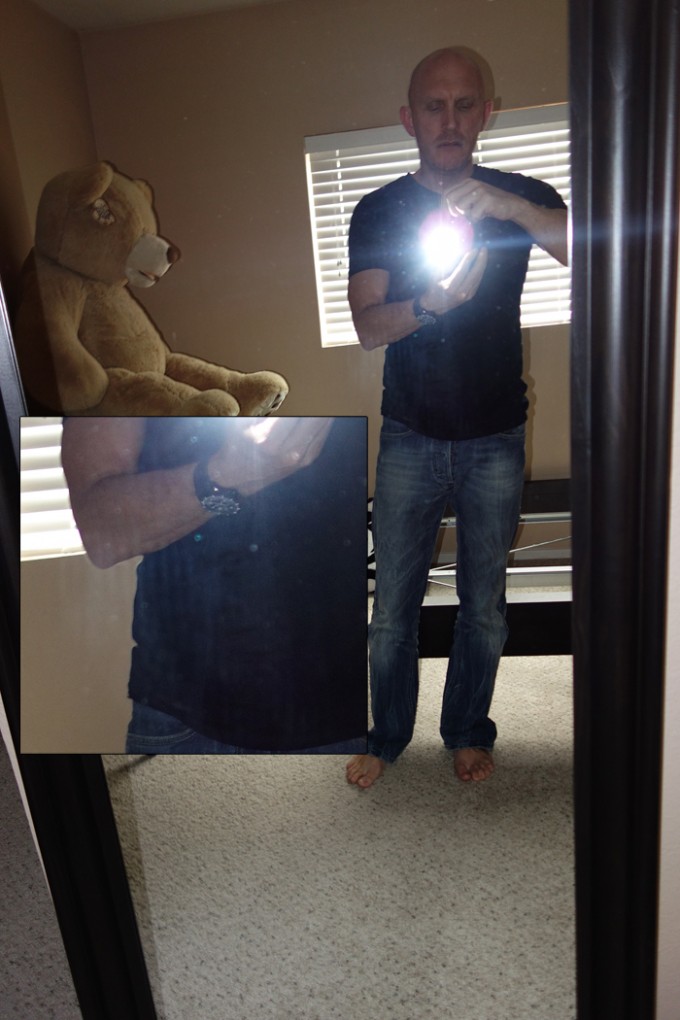 August 2012 Update!
It is now August 2012 and much has happened since I last wrote on this page. To make a long story short my son and I both have gotten back into this and in our spare time we investigate and do sessions at home and the evidence we get is better than ever. We feel connected to whatever this is and it is absolutely mind blowing what we see, feel, and hear on a regular basis. I feel blessed. Whatever was in my home that was bad, evil, or negative has been long gone and we now get nice voices coming through mostly every time. Many ask for help and we have now come up with the idea that these voices are indeed spirits that are stuck in some kind of realm where they have not or can not cross over. They seek our help to get them where they need to be and one one occasion it appeared to be successful as I was asked for help by the same voice coming through the ghost box. I said a prayer to help them cross and I received a "Thank You" and never heard that voice again. Keep in mind that I am not a religious guy and never have been, so this is all new to me.
This is truly incredible what is happening and we have been learning so much and also have become active in groups where others have the same experiences that we do. It has been very eye opening for a former skeptic as myself to experience these things as well as experiencing them with my son, my friends and fiancee.
Like I said in the beginning of this article, all of this is 100% real and fact. What I write here and present to you is the truth, plain and simple. I present it in the best way I know how to help educate others who are interested in the Paranormal. As for skeptics, they will never ever believe any of this unless they experience it for themselves. I know because that used to be me. These days I feel sorry for them though as they have NO IDEA what is out there due to being close minded and unwilling to accept any of these things as fact, even though there is a ton of evidence to prove otherwise. All I know is that I will continue on with this until the day I die, and when I do get to that point I hope my son is next to me with his recorder in hand! One thing all of the has done for me is made me believe in a God, a heaven, a hell or at least something that is out there beyond this life. I never really 100% did believe this because it was not tangible, it was not physical, and therefore…not real. I have become a person who no longer  really fears death as I know that is not the end. There is much more out there after this life on earth and when my time comes I look forward to seeing what it all is.
A very cool Paranormal Spirit Box Station my son and I made..it works well…sort of a modern day Thomas Edison "Telephone To The Dead" (Yes, Edison believed in this as well and was working on one before he died)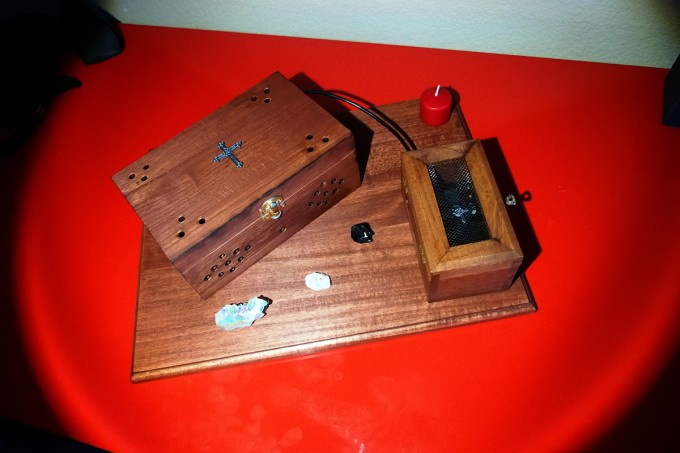 Thanks for reading this, I hope you gained some knowledge and enjoyed what I had to say and show. To keep up with what I do you can subscribe to my "Huff Paranormal' YouTube channel because I upload new videos quite often. My son and I even designed a "Paranormal Spirit Box Station" that is giving us some great results.
Check out the video using our Paranormal Spirit Box Station #1 and our "basic box" below:
August 9th 2012: UPDATE: I Can See Clearly Now…yes I found the answers. 
Something that I never thought would happen has happened to me. I found many of the answers as to what all of this may mean (what I am going through anyway) and what has been happening to me and why. It is so odd because just two days ago I was telling my best friend that I could do this for 30 years and not find the answers. But last night I had a life changing experience that blew me away and opened my mind up to more knowledge about the afterlife and the intense reality of it all. The answer as to why I am capturing so many EVP's no matter where I go is simple. I have many spirits attached to me at all times because for some reason or another they think I can help them cross over.
In the spirit world there are those who have crossed over and  those who are earthbound spirits. The earthbound spirits have not found or ventured to the light yet and have somehow become lost. Many are looking for the light and some are being held back by evil or demonic spirits. This is why many of my ghost box sessions have them pleading for help. They need my help and believe I can help them. The great thing is that now I found out exactly how I can help them cross over and will start doing this as often as I can.
I also found out I do indeed have medium abilities, something I never claimed or would have claimed to be able to do. But this is reality and fact so I am accepting it. Last night, for the 1st time in my life I did something that I would have called myself crazy for just a year ago. Something I never believed in has happened and I am blown away by this. Last night as I lay in bed in the darkness I met and confronted and saw one of my spirit guides. Her name is Lillian and when she approached me my whole top of my head felt warm and tingly. She told me that when she is with me she will do this so I know it is her. A way to distinguish her from spirits or evil spirits. She uttered the words "loooveee" in a long chorus voice. She told me that she can be with me whenever I desire to help me cross over the spirits who are lost.
It is like I have been chosen to do this. The more I think about it, the more it makes sense. Take a look at this video I shot in Sedona at the Chapel on the Hill. When I recorded it and viewed it a few months ago I scratched my head and said "Why are all of these spirits in the chapel and why are they speaking of the devil"?
The answer is so clear now and was shown to me last night. When my son and I walked in the chapel we carried in MANY spirits with us as well as an evil not so kind spirit. A negative energy. When we entered you hear a spirit voice say "he is here to give us life" "The opportunity is now" "Take It" – then 'They are all gone". Watch the video below and use headphones if at all possible to hear them clearly:
When I walked in, with spirits attached to me they saw this as an opportunity to get to the light, through one of the most holy places in America, The Chapel of the Holy Cross in Sedona, AZ. They took that opportunity and crossed over. This is fact as it was shown to me last night. Again, I am in no way a crazy man or insane. The fact is that this is all reality and I feel so amazingly blessed to have these experiences now. I always thought Mediums were all fakes, scam artists and full of BS and I know many are. But some are very real folks. Real as you sitting here reading this page. I am now connected to the spirit world in a way I never thought possible and it excites me, energizes me and even scares me just a little.
I am heading back  to this chapel TODAY (August 9th 2012) and will document it all on video. I will instruct them before I go in to cross over when inside. I will bring them to the light. I am expecting many EVP's once inside and it will be interesting to see what they say because if they are crossing over, and say so, it will be the 1st time in history with real video and audio proof of lost spirits crossing over. Keep an eye here and my youtube channel for updates on this (the video has been uploaded on my youtube channel HERE). I am going to call on Lillian to help me with this (my spirit guide).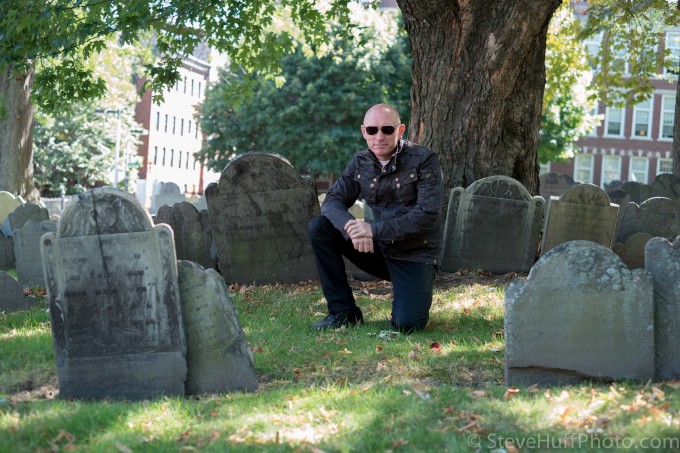 So in a nutshell, spirits are lost and need help. No ghost reality show is going to help any of them. No fake medium is going to help and no one who is not sincere in their intentions can help. Gizmos, meters and gadgets will not help. I am someone who is not in this for money or fame. I feel a legitimate connection and am going to devote my spare time to helping these spirits cross over as I somehow feel pushed to do so, just as I felt pushed to build these new boxes and put crosses on them and add angel crystals. Someone is helping me along the way.
Houses may be haunted but they are haunted by those spirits who are lost..who need to be helped to cross over and yes, even evil spirits who are angry and bitter. I no longer open myself up to those evil spirits and they know not to mess with me. From here on out, it's all about helping those along the journey when I can and continuing my communication sessions. I will document all I can for you to see as well.
Time on this earth is all a learning experience, this I now know with every fiber of my being. The best is yet to come.
The latest box that I was somehow compelled to make. I decided to call this the "crossing over angel station" as it will aid in me helping those lost spirits who need to cross. Also made an Ouija board and the radio often gives verification of what was said on the board. Amazing.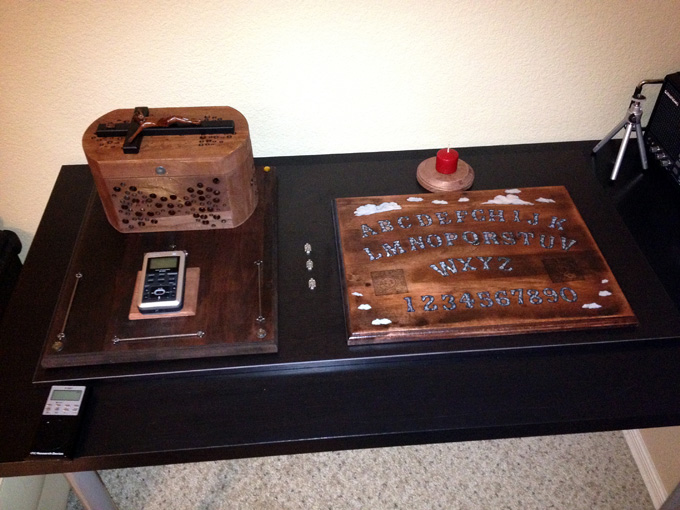 UPDATE OCTOBER 2012: Did I make contact with my father? See the video below:
After trying to contact a few loved one for some of my youtube viewers with some success I decided to try and contact my Father who passed in 2000. Below is the result of this attempt.
-
UPDATE FEBRUARY 2013 – Using a radio to talk to the dead but NOT by scanning the channels. Instead, by setting it to a frequency with ZERO reception or chance of radio bleeding through. Check it out:
After we stayed all night in the Jerome Grand Hotel we came back home and tested a new way of communicating and I was blown away at the results. I took a radio, set it to AM and out it on a frequency with no broadcast or station.  Just static and click. Not really white noise, but NOISE. No voices, no radio, no scanning. What resulted is simply amazing and we are going to pursue this even further in 2013 to see how far we can go. This is called DRC – direct radio communication, and it is REAL:
See my interview about my experiences in "Voices to Vision" Paranormal Magazine!
Head over and LIKE my new Facebook Page "Huff Paranormal" where you can post questions, your own evidence and chat with others!
Steve Huff
PS – I have been getting a few e-mails asking me if I would be available for investigations of homes, and haunted locations. I am a busy guy but if it is something worthwhile I would be more than happy to join someone on an investigation. Also have been asked to contact deceased family members of some of those who see my videos. I think the best and only way for me to do this would be if you were local to me and we could meet and do a session together. So if you are in the Phx, AZ area and want to meet up let me know. No charge from me on this as it is all new territory for me, so it would be more like experimentation. Thank you.
An investigation of room #11 at Cosmopolitan Hotel in Old Town San Diego that me and Brandon did…WOW!
-
and below, our return visit there for TWO nights on Halloween 2012
-
and our stay at the Jerome Grand Hotel
Join me on Facebook HERE and YouTube HERE