–
–
I had a few comments posted in my Leica 35 summarit lens review (see that review here) and 6 e-mails asking me for a comparison against the Zeiss ZM 35 Biogon F2 lens. These two 35mm lenses are considered by many Leica M photographers, but the Zeiss is a bit faster with a maximum F2 aperture and is less expensive! The Zeiss is much like the Leica 35 Summicron (pre-asph) in regards to speed and it  sells for about $1000 new. The Leica is a little slower at F2.5 and comes in at about $1700! So is the Leica worth the extra $700? I'll let you decide.
Since I have both of the lenses here right now and had the requests asking me for a comparison I got the itch to do one. These were quick so no tripod!  What these results tell me is that there are color differences between these two lenses more than anything. The Zeiss ZM line has always produced pleasing, warm results. Leica tends to lean on the neutral to cool side.
This is not meant to be a great photo because it is not. Basically, I saw this pink truck with its cracks and rust and thought it would make a good subject for a comparison for color and detail. I pulled up behind it in my car and shot these from my open window. Keep in mind these were both shot at 2.5, ISO 160 with the same shutter speed which was 1/250th of a second. These were converted from DNG using ACR 5.6 with everything set to defaults. In other words, no color tweaks, no sharpening, etc. What you see is what came out of the camera.
First the Leica resized to 1100 pixels wide (click image for 1100 version) – CLICK HERE FOR FULL SIZE FILE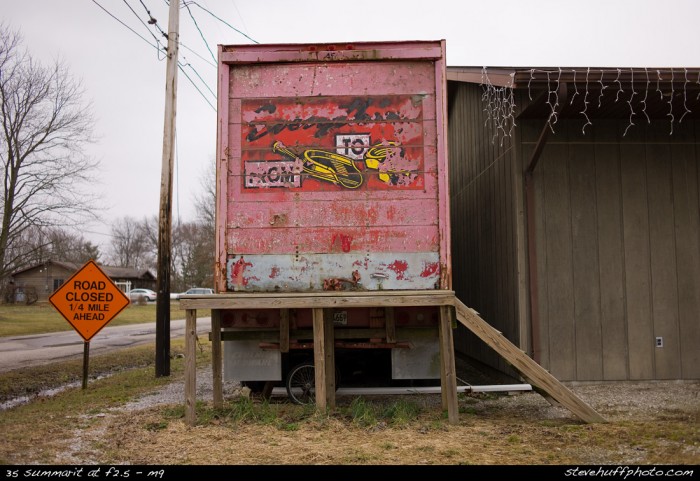 Now the Zeiss, click for 1100 pixel wide version – CLICK HERE FOR FULL SIZE FILE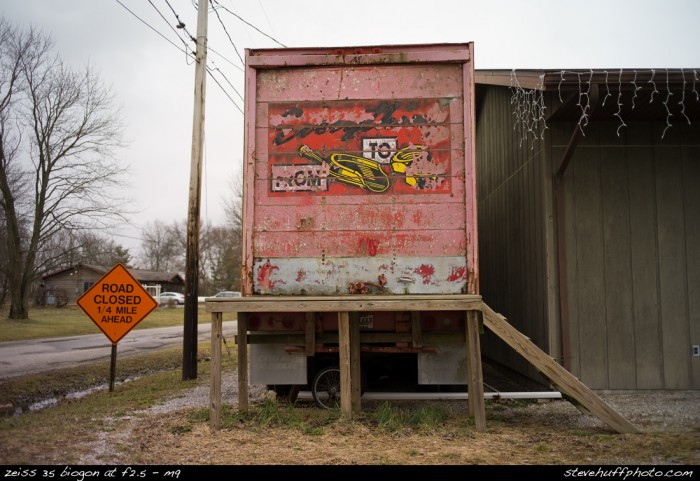 and now some 100% crops in case you do not have a high speed connection for the full size files: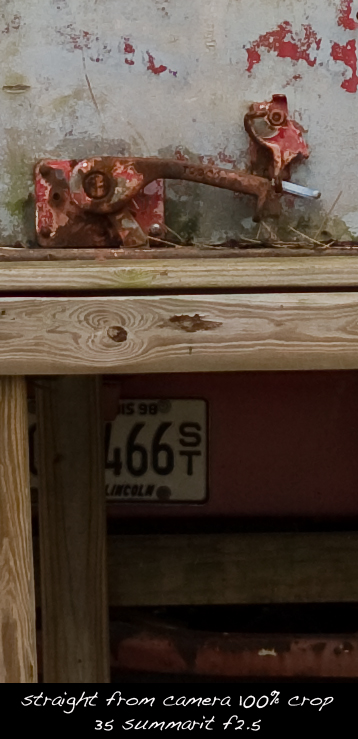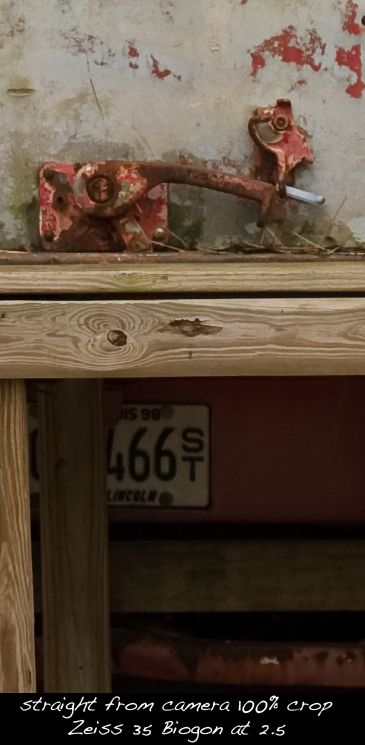 To those who checked out the full files, what do you think? I see the warm/yellowish color cast on the Zeiss, but I see that in ALL Zeiss glass. It's part of their look. As for detail, the 35 summarit looks to be a little better but the Zeiss is also good. I see vignetting on the Zeiss but did not set up the M9 lens menu with a lens choice.
Here is one more comparison and this time I set up the Zeiss as a pre-asph 35 summicron.
First the Leica 35 Summarit. F2.5, ISO 160, 1/1000th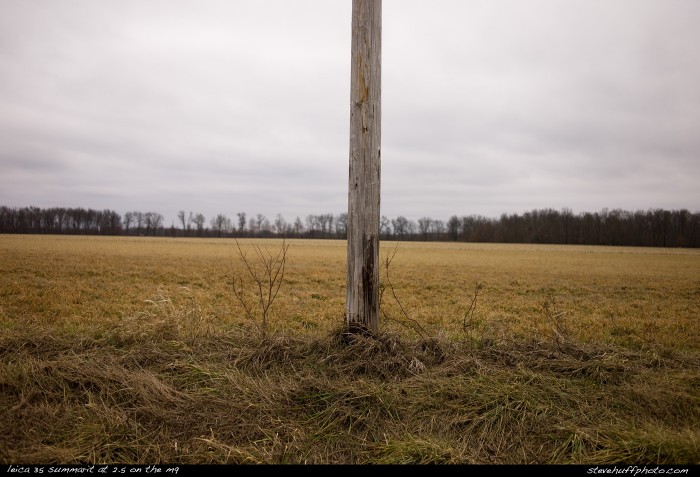 Now the Zeiss with same settings but the lens set up in the M9 as a 35 Summicron pre-asph.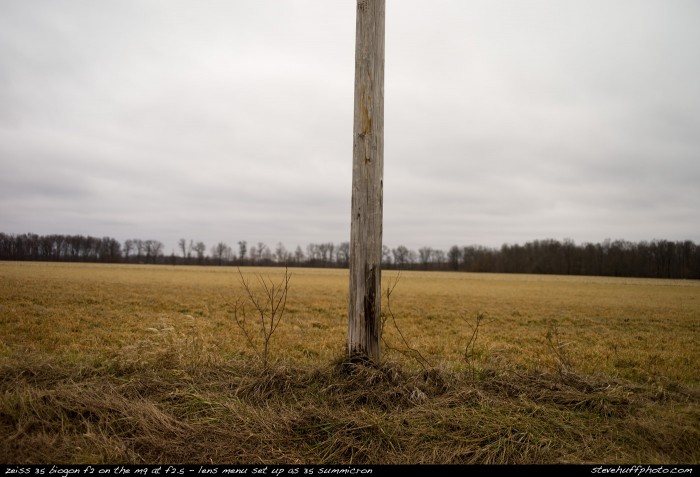 and the crops. Again, straight RAW conversion with defaults.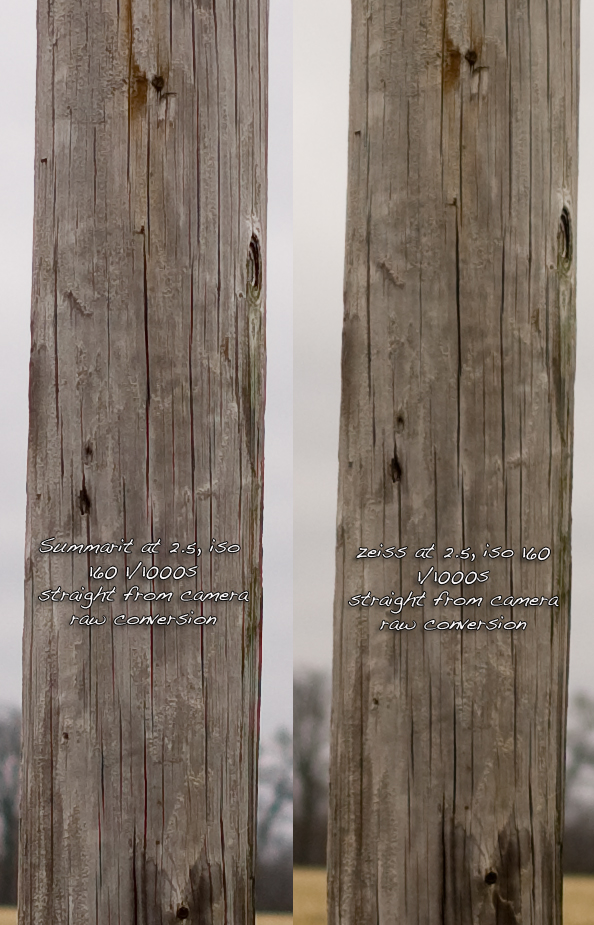 I see the same thing. The 35 Summarit is sharper and more neutral where the Zeiss Biogon is softer and puts out warmer color. But it appears there may be some CA with the Leica crop. Look inside the cracks of the wood. I see some purple 😮 I do not see this in the Zeiss version. Wonder why? Also, you can see the Zeiss was indeed in focus by looking at the crop with sharpening added. This was not added in CS4, but ACR 5.6 during the conversion. Many were trying to say it was OOF but it was not. Remember, the original crops had NO sharpening applied in the RAW conversion.
As for build quality of the two lenses, the Leica seems to be made better. It feels more solid and the focusing is also solid. With the Zeiss I feel a little bit of play in the focus. I also felt that with the Zeiss 50 Planar. But the Zeiss I have here is a loaner and has been around the block a few times, so who knows? Both are good lenses and the Zeiss is close to being half the price of the Leica. It's a bit softer and produces warmer colors. Also, it can vignette, especially at F2. All of the images here were shot at F2.5 to remain equal with the summarit.
UPDATE: This "quick" comparison has now turned into a not so quick comparison, he he. Anyway, here is one more from both lenses. These had slight sharpening applied this time:
Leica, straight from camera – light was HORRIBLE yesterday…F2.5, ISO 160, 1/500th – Click here for full size file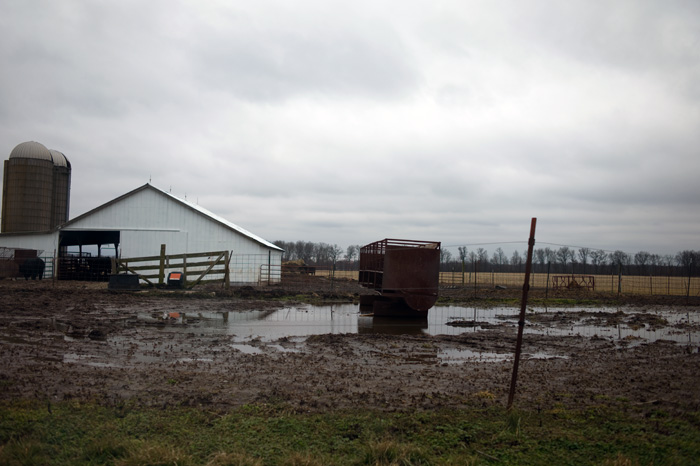 Now the Zeiss, same settings..Click here for original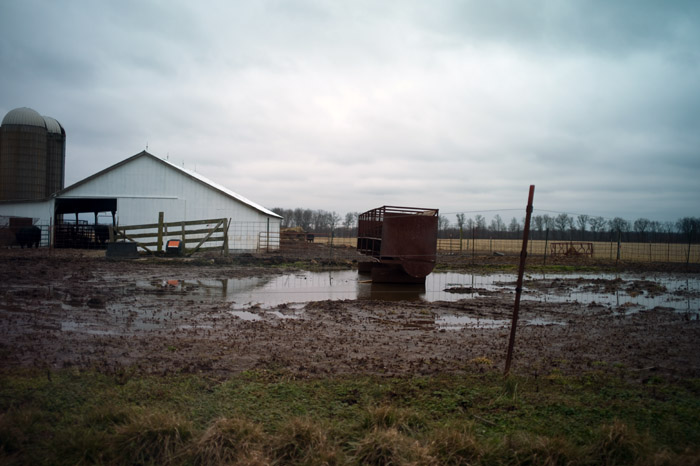 Zeiss ZM Biogon 35 F2 at B&H Photo
Leica 35 Summarit F2.5 at B&H Photo
HELP SUPPORT THIS SITE TO KEEP IT GOING AND GROWING!
Remember, anytime you follow my links here and buy from B&H or AMAZON,
this helps to keep my site going. If it was not for these links, there would be no way to fund this site, so I thank you in advance if you visit these links. I thank you more if you make a purchase! I have nifty search bars at the upper right of each page so you easily search for something at either store! I currently spend 14 hours a day working on this site and the only way that I can pay for it is with your help, so thank you!
If you enjoyed this article/review, feel free to leave a comment at the bottom of this page and also be sure to join me on twitteror facebook! Also, you can subscribe to my feed at my subscribe page HERE and read these posts in your browser or news reader!  Thanks so much for visiting my site!