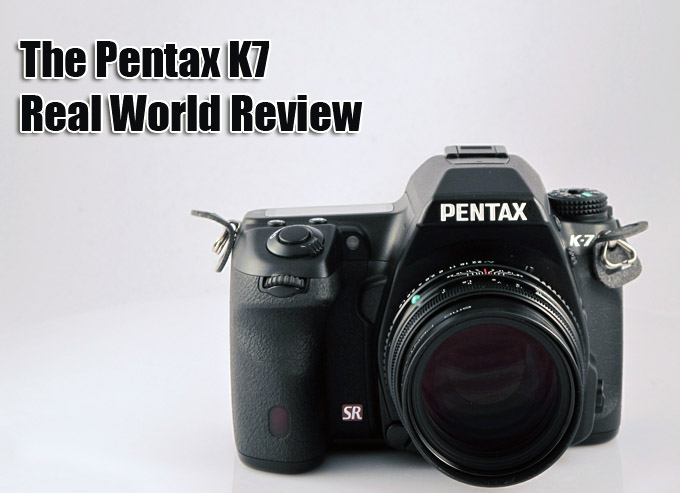 Pentax K7 Real World Review in Photos – I have had the pleasure of having quite a few cameras come  through my home in the past few months. Compacts, DSLRs, and all kinds of lenses. Some cameras that I try I do not care for at all so I send them right back. Sure I could write up a horrible review but why? I only want to write about cameras and gear that I enjoy and that I feel are worth writing about. For example, I have had a Canon G11 here for a few weeks and just cannot grow to like it. Sure, it has a nice body but for me the image quality just does not do it for me. I achieved much better IQ from the Leica D-Lux 4, which is the same as the $340 Panasonic LX3. Also, with its lack of HD video I just could not get along with it. I think there are much better options out there in the compact camera market. I think the G11 should be a $300 camera, not $500.
But I am not here today to write about the Canon G11. I am here today to talk about the Pentax K7 DSLR which has been out for a while now, but it is new to me and I have sort of fallen for it! Why? Well, for the past year or two I have not been a huge fan of any DSLR's but this is only because I am not a fan of large bulky cameras. I am a small guy and when I have a big camera I never take it with me anywhere. It's just too much of a hassle and burden and I do not enjoy it. The Pentax K7 has now changed that. It is the first DSLR I have had through my hands that I actually really enjoyed and have been taking with me everywhere. It is a small 14Mp DSLR, it has a solid pro build, it is weather sealed with 77 seals, it has a great 100% viewfinder, amazing battery life, every feature you could ever want as well as 720P HD video. Oh, and Pentax also makes some VERY nice prime lenses that are small and fast. Just how I like them. The best part? The K7 can be had for under $1000. Yep, a direct competitor to cameras like the Nikon D300 and even the Canon 7D but smaller and cheaper. Hmmm…this could get interesting!
A foggy morning down the golden road – Pentax K7 and Pentax FA 77 Limited lens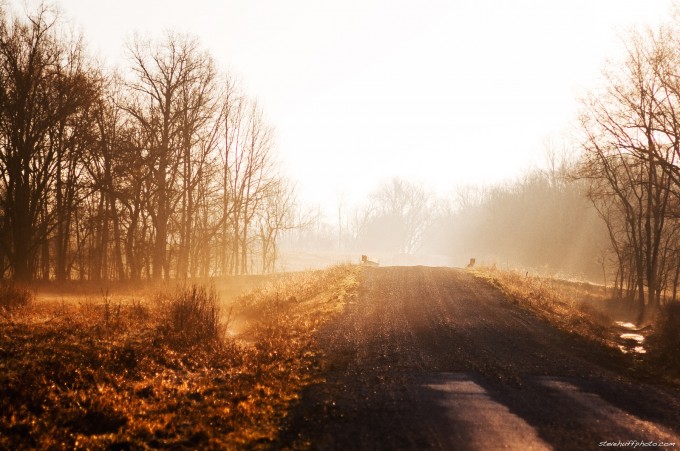 Being a Leica shooter I am used to small cameras and small lenses that give me gorgeous files and quality but a DSLR it is not. The Leica M9 is a rangefnder camera and is my camera of choice due to its quality, size, feel, and simplicity but the Pentax has the size, the features, and the versatility that only a DSLR can give. My Leica can not do AF, it does not do video, it does not have any Macro or telephoto capabilities. I thought that the Pentax may be a great companion to my Leica M9 for those times when I want a big zoom, or a macro, or to just get in closer with my lenses. Truth be told, there are at least 3 or 4 times per year that I wish I had a DSLR and I do not really want to spend big bucks on a Canon 5DII or D700 system. Both AWESOME DSLR's but for my minimal use, they are not only out of my budget, I find them large and heavy when a good lens is attached.
So after some research and reading about how many happy Pentax users there are I decided to investigate. I found that the Pentax K7 was the top dog in the Pentax line so I had to try one out. When I opened the box I was pleasantly surprised at just how small but solid this camera is. It's a mini tank and it has great ergonomics. I remember the day I got it…I was shooting and testing and told my wife that this was it! This is the DSLR I have been looking for to add as a sidekick to my M9! It's funny how excited I sometimes get when I try something new for the first time. The bad thing is that usually the excitement fades and I end up finding things about the camera that I do not like. The only camera that has held my passion and excitement is the Leica M8 and M9 and to some extent the Olympus E-P2. Every other camera got old quick for one reason or another wether that was size, weight or quality.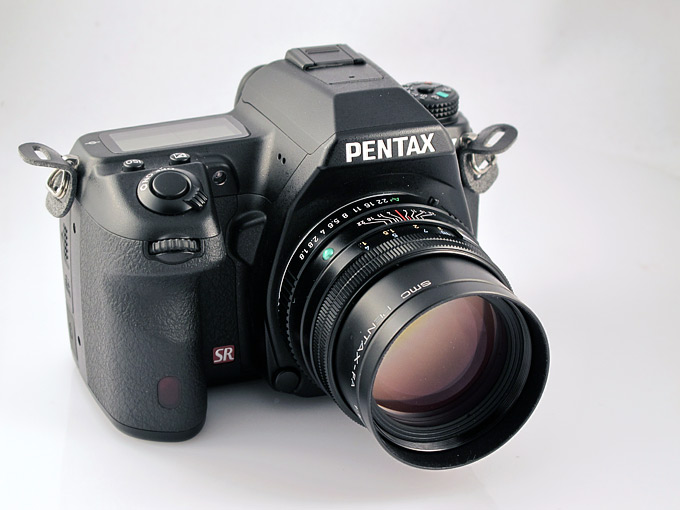 I have been shooting with the Pentax for over a month now and I am still enjoying it. Before I get into my review lets first go over the specs of this Pentax beauty…
---
The Pentax K7 Features:
Packed with features, the Pentax K-7 Digital SLR Camera brings next-generation technology to the time-tested, world renowned family of Pentax SLRs. Compatible with every Pentax K mount lens (some 25 million are out there), the durable, magnesium alloy body houses a newly-developed 14.6 megapixel CMOS sensor for rich color, sharp contrast, and the very best in image quality. The PRIME II processing engine allows for fast 5.2 frames-per-second shooting – great for wildlife, fast action sports, and adventure photography. Fortified with the 11-point SAFOX VIII+ Autofocus System and Advanced Shake Reduction Technology, the K-7 keeps all of your subjects in sharp focus, even in low-light.
High Definition Video Capture, perhaps the most sought after feature in SLR Digital Cameras, comes to the Pentax System in big way. Smooth 30-frames-per-second 1024p and 720p video are as easy as point and shoot. HDMI output from the body makes sharing your photos and movies on an HDTV possible with a single plug. An onboard internal mono microphone allows you to capture spontaneous audio with video, and the 3.5mm stereo input offers higher quality options for professional applications. From family vacations to professional wedding video, the Pentax K-7 offers everything you need to capture next-generation photos and video!
14.6 Megapixel CMOS Sensor
The K-7 Digital SLR uses a low-power, low-heat 14.6 megapixel CMOS Image Sensor, which yields less image noise and longer battery life. CMOS technology also allows a higher density of circuitry at the pixel level allowing for greater sensitivity, higher tonal range, and superior image quality.
Tough, Rugged Body
Lightweight and highly durable, the Pentax K-7 is weather resistant, dust-proof, and can even operate in extreme cold environments (14°F / -10°C). The stainless steel chassis provides a tough, protective frame while the magnesium alloy shell blocks outside interference–ensuring consistent signal processing for high-quality, low-noise images.
Compatible with All Pentax Interchangeable Lenses
Over the last 60 years, Pentax has manufactured over 25 million lenses. The K-7 can use them all. The camera provides backward compatibility with K, KA, KAF and KAF2 mount lenses directly and is also compatible with screw-mount 35mm-format lenses and Pentax 645 and 67 system lenses with optional adapters. Whichever lens you choose, be assured that your photos will show the warmth, style, and beauty of the Pentax optical system.
Advanced Shake Reduction Technology
The Pentax Shake Reduction (SR) System is an electromagnetically controlled stabilizer built into the body to ensure shake-free photos with any lens. Unlike traditional two-way stabilization systems, SR compensates for movement in three directions–horizontal, vertical, and rotational. By detecting handheld camera shake, sharpness is dramatically increased when using telephoto lenses, working under low light conditions or in any instance where unwanted shake may affect a photograph.
HD Video Recording
The K-7 is the first Pentax SLR to feature full HD recording capability. 1024p or 720p videos are captured at a smooth 30 frames-per-second with sound. Attach an external microphone or wireless receiver for more professional audio options. Full HD playback on your HDTV is easy using an optional HDMI cable.
Live View Mode
Live View mode, with contrast AF, Face Detection, and optional histogram, grid, and bright/dark area display, allows you to quickly compose your images without having to position your eye against the viewfinder.
Electronic Level Indicator
Finding the perfect horizon is fast and easy using the K-7's built-in Electronic Level Indicator. From dramatic portraiture to wide landscape photography, the level indicator is truly an indispensable tool for hand-held and tripod photography.
SAFOX VIII+ Autofocus System
Nine cross-type sensors, 2 wide angle sensors, and a dedicated AF assist lamp combine for fast one-shot autofocus, as well as AF tracking. From close-ups of flowers to a fast play on the court.
---
"Working Hands" – Pentax K7 with Pentax FA 31 Limited 1.8 Lens. Converted to B&W with Silver Efex Pro.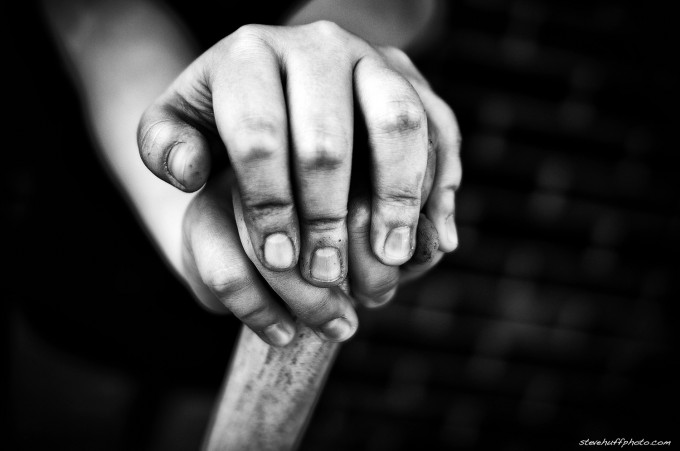 Listed above are the main features of the K7 but it is so much more than that. This DSLR is one of the most customizable cameras I have ever shot with, and it is easy to customize. It took me a few days of going through the somewhat generic looking menus but now it is a piece of cake to set up and configure. Here is my first look video I posted a week ago in case you missed it. It is nearly 10 minutes and goes over the camera and its menu.
In the above video you can see how nice the camera looks. I really like its external dials and buttons. This makes it easy to change settings without having to go to a menu to change your settings. The nice thing is that all of these dials and buttons feel solid and have solid clicks, just as a pro camera should have. I also like the battery door which is solid and has a twist out latch. The body of the K7 gets an A+, ESPECIALLY at its price point!
My review here will be another "Real World" review and not a test bench type of review. Basically, the camera and my opinion of it as a photographer, not a gear geek. I will let the camera results speak for themselves here and not by showing a chart that shows how much resolution the camera really pumps out. So I hope you enjoy it.
Pentax K7 with the 18-55 Kit Zoom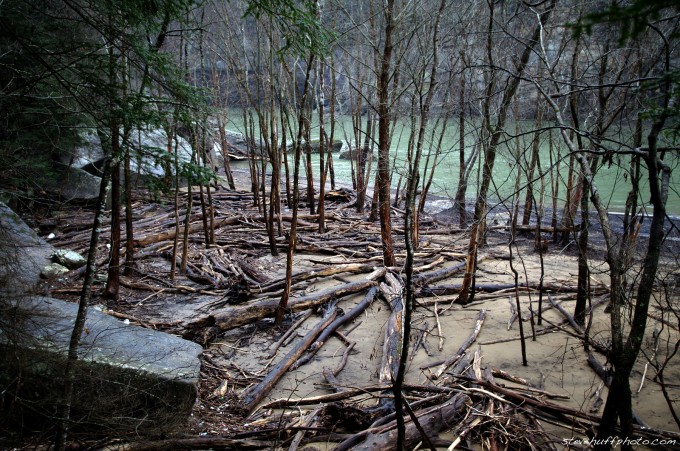 Could This Be The One?
After a few weeks with the K7 I can say that I was almost there! One night after about 3 weeks of use I was sitting at my computer ready to hit the buy button for this camera along with a couple of lenses. I have only a small budget for a DSLR and for the price of a 5DMKII body only I could buy the K7 and two or three nice primes. I was about ready to do it when I started reading about the newer Pentax Kx.
I was enjoying my time with the K7 immensely but I kept hearing that the newer, cheaper Pentax Kx had better image quality, especially at higher ISO. It is true that the K7 does not have the best high ISO performance. Once you hit 800 you can see it creeping in and higher than that it starts to get ugly. At least in my living room test shots it did. Only problem with the Kx is that it does not have the nice solid build of the K7, the top LCD is gone and it is more of a starter DSLR. When it comes to cameras I not only enjoy the image taking capabilities but also the feel and build. I find that when you use a nice feeling camera that you really enjoy holding and looking through then it inspires confidence. With confidence comes better results. But at $530 WITH a newer version of the K7 kit zoom I could not ignore the Kx. So I did not hit that buy button because I want to try out the Kx before I decide.
UPDATE: Just found out he Kx only takes AA batteries which means for me, it is not an option as I hate buying batteries or being out of them.
K7 High ISO Quality – Good or Bad?
Most of you reading this probably are already aware but the one slightly negative thing I found with the K7 is it's high ISO performance. It is not up to the NIkon D300S or the Canon 7D which are this cameras competitors. It lags a bit behind and as I already stated and by ISO 800 you start to see noise creep in to your images and the noise is not really the most attractive noise I have come across (when shooting in low low light). The K7 is not a DSLR you would want if you were looking for a low light camera. Sure it can do lower light with a fast lens but you will get some grain and noise.
But what the hell. Noise Schmoise….I said SCREW IT! I want to see how it does when taking some "real" photos. I have said it a million and one times…a camera is made to take photos. It is not made to take pictures of brick walls (though I do that from time to time anyway) or newspaper text. So I called up my Mother and said "Hey, lets go exploring!" We took a drive and found an old burned up house. It appeared the fire was recent and we carefully went inside as nothing was blocking it off and the doors were burned off. I set the K7 to ISO 1250 and took some shots…
The next three shots were all at ISO 1250 with the bundled kit zoom lens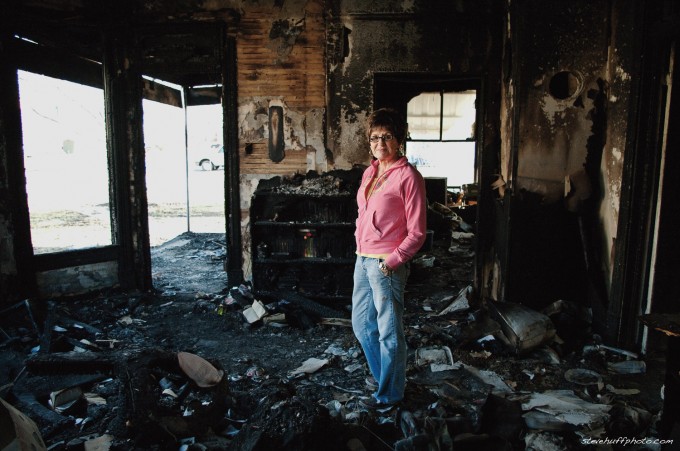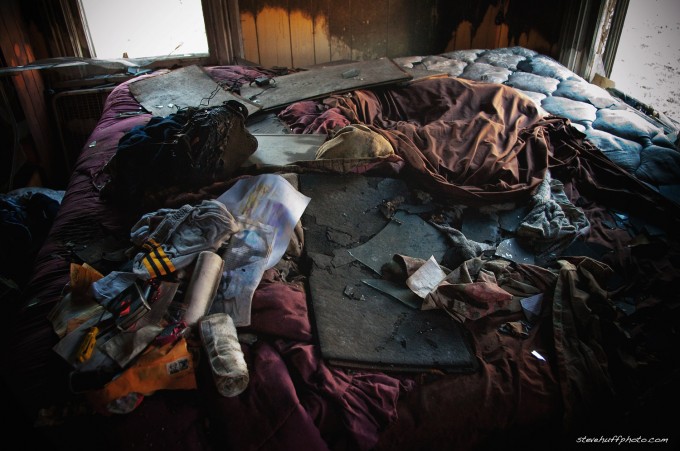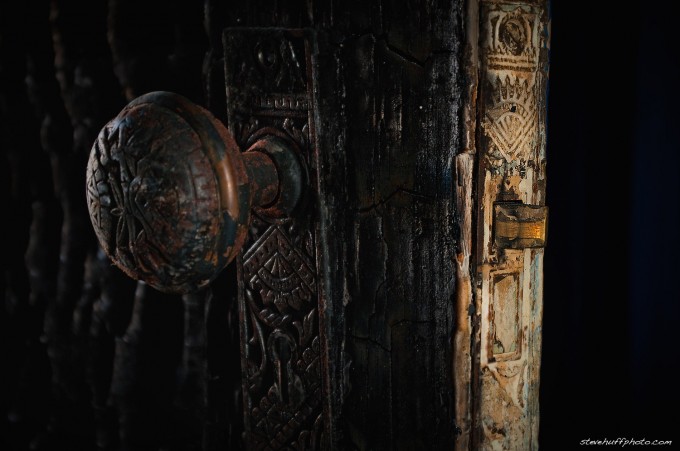 Sure these are resized (click them for larger views) but I had no issues with ISO 1250 out in the real world and as a matter of fact I was surprised by how good the images were. I am sure I will still have those of you wanting to see higher ISO testing so for those that want to see higher ISO's in a more "testy" kind of way, here you go…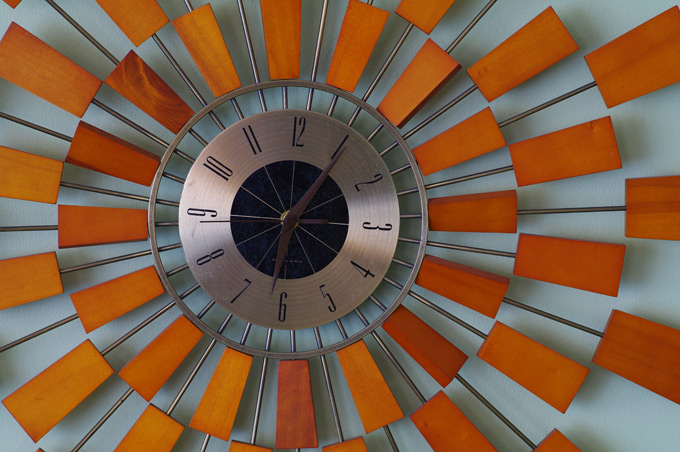 Now in these samples the high ISO does not look so bad at all huh? I would go up to 2500 if I had to and is what I am used to with my Leica M9. The M9's highest ISO is 2500 and I have used it many times. With the K7 that would be my limit as well.
So while the high ISO may not be up to D300s and Canon 7D standards, its not awful. All of this ISO talk had me going back to the Canon D30 (not the 30D) and I remember how noisy it was at ISO 400 yet we were all so thrilled with its 3MP and $2500 price tag.
One thing to remember with high ISO shooting though…the darker it is where you shoot, the more noise there will be. My samples above were shot in my living room in the evening but it was not dark out. Some light was coming in to the house but no direct light. If you shoot the camera in dark areas, say at ISO 3200 or 6400 then this is what you will get…
ISO 3200 in VERY low light – my office with all lights off. It looks bright due to the slow shutter speed and high ISO. This was ISO 3200, 1/8th second at F1.8 with the 77 Limited.
CLICK HERE to download the full size out of camera file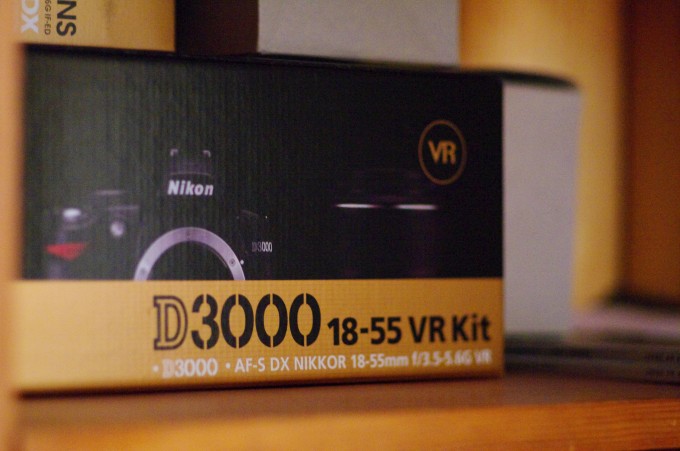 ISO 6400, 1/20s, F1.8 77mm – CLICK HERE for full size OOC file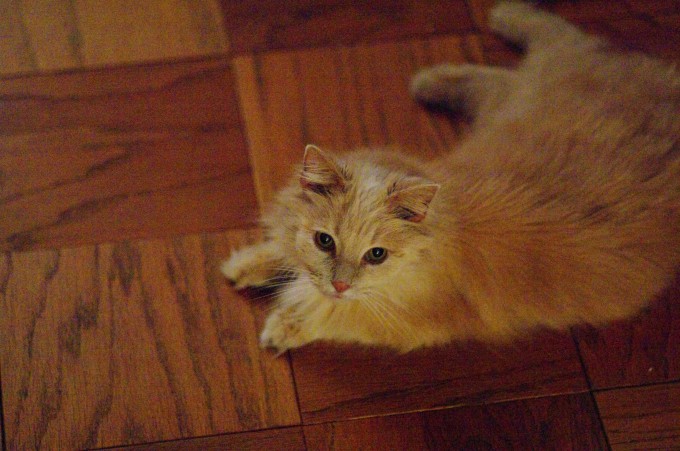 My thoughts on the K7's image quality..
One word. Superb! For the money, under $1000, this is one of the best DSLR's out there, if not the best. I already have talked about the tank like build, the weather sealing, the great ergonomics, and hinted about the battery life, which is up there with the Nikons. I shot a load of images and video and never drained my 1st charge. As I write this I still have charge left on the battery. I have had this for a month! So yea, this camera has so much going for it and I have found that it is a true "photographers camera". Pentax seems to get it and if they could somehow manage to take this K7 body and put in a full frame sensor…wow, now that would be a camera to beat.
As it is, the K7 has an APS-C sensor which is smaller than full frame but larger than micro 4/3. This means that the K7 has the potential to deliver better IQ than cameras like the E-P2, GF1, and GH1 but it may not have the quality, dynamic range or quality of a full frame sensor camera. In plain English, the bigger the sensor, the better the IQ. The K7 has the same size sensor as cameras like the Nikon D300s, D90, etc. As for the image quality, I feel it is right up there with the Nikon and Canon crop cameras. The Pentax has natural colors and probably the best Auto White Balance I have seen on any digital camera to date. Seriously. The AWB is better than my $7000 Leica M9 AWB. Also better than the Nikon D300s I had through here recently.
Overall, the quality of the images from the K7 are stellar at ISO 100-1000. After 1000 we start to get the noise and slight color loss, but shooting at lower ISO's will give you rich colorful images with nice skin tones, great reds, and an overall natural look. All of these things can be customized in the K7 but what I am showing you here are all pretty much out of camera results. I do shoot RAW though for best quality.
Here is some gorgeous out of camera color with the K7 and Limited 31 lens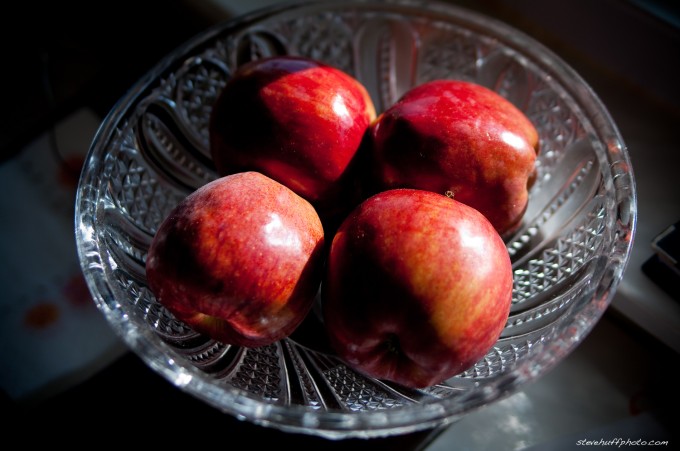 The 77 Limited 1.8 wide open at ISO 640 – Natural colors and beautiful rendering. Some purple blooming but this is a digital thing, not a lens thing.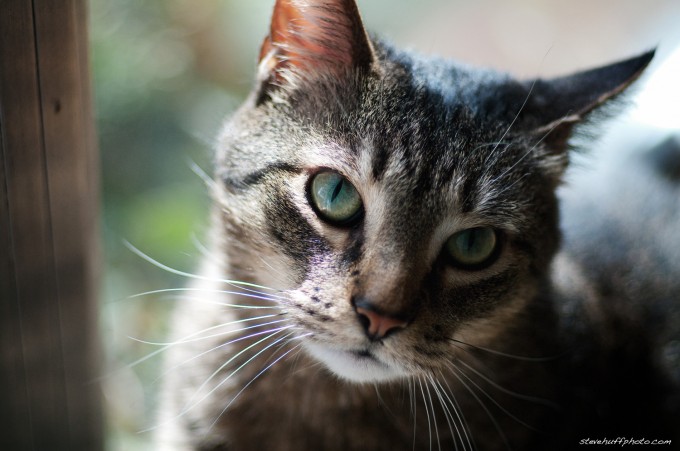 The 31 Limited at 2.5 where it starts to really come into its element… (you can click here for the out of camera full size file)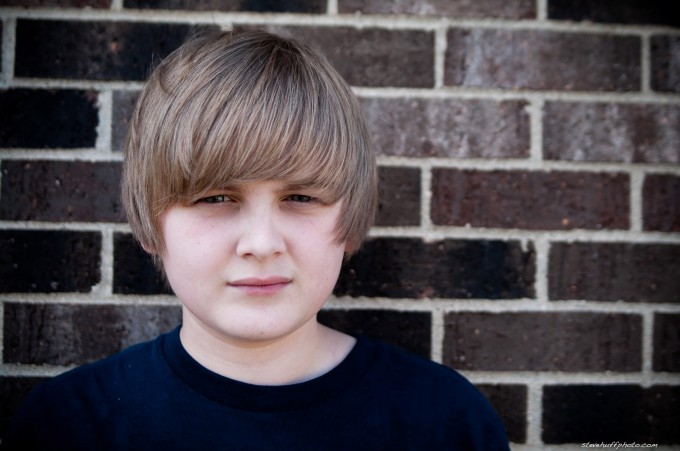 Even the kit zoom looks great. Shot at F4, 1/60s, ISO 100, 26mm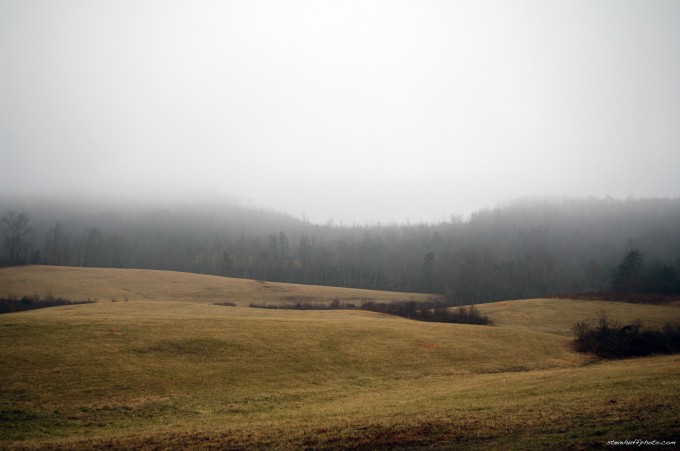 So I have no complaints at all with the image quality of the Pentax K7. In fact, it is one of the most pleasing and enjoyable DSLR's I have shot with in the past couple of years.
Other things I like about the Pentax K7
Besides the magnesium allow over stainless steel build, superb feel, customization options, and all of the other good stuff I also like the following:
The shutter: Wow. This shutter reminds me so much of the old Olympus E1. NOT the E-P1 but the original 5 Megapixel E-1. It is quiet, smooth, and silky. No clunk-n-chunk like the Canons and Nikons. Why can't every camera manufacturer make a shutter this nice sounding? When I hear it I think "silk". Very smooth. Also, it is a 1/8000 shutter rated to 100,000 "fires".
The LCD: 3″, 920,000 pixels. Looks nice, sharp, colorful..really do not need anything better than this on any camera.
DNG RAW: I love shooting in DNG as it is widely supported. Thumbs up for this option in the K7. Yes, it is an option as you can pick between DNG or PEF.
Want action? The K7 can do 5.2 FPS. No it is not 8 FPS but for me, 5 is PLENTY. Depending on what you need to catch it may be enough for you as well.
Shake Reduction – This is in body and works VERY well. When recording video with the wider end of the kit zoom it almost looks like you are using a steadycam. Very nice.
Kit Lens: The kit lens while a cheapie is actually quite good. The first DSLR kit lens I actually like. No it's not like a Canon L but it does the job nicely.
Customization: You could spend a couple of hours getting this camera set up to your exact needs and wants. It has it all, and this is pretty cool.
External Buttons: No need for menu digging. Everything you need is a button click or dial twist away.
Metering: The new 77 segment metering works well. I had no issues with under or over exposure when using the multi-segment metering.
Viewfinder: 0.92 mag with a 100% view. Nice.
Dust Removal: The K7 has a built in Dust Remover and this is ALWAYS a good thing. We all hate sensor dust bunnies.
AF: Focus is fast and locks on accurately. When I use the FA lenses, AF is slower but the kit zoom is fast. It's not Nikon good but its very good.
Battery Life: Battery life seems to last a loooong time. Bravo for this.
Electronic Leveler: The K7 actually rotates the sensor to make your images level. Amazing!
RAW button: More cameras should have this. One press of the RAW button and you can go from JPEG to RAW to JPEG/RAW.
The Video: I find the video quality VERY good on the K7 and prefer to shoot in the 720 P mode.
Lenses: I never  realized how many GREAT lenses are out there for the Pentax line. I am talking about primes. The DA and FA line of primes all seem to be stellar lenses and is what I would be buying with the camera. They are made extremely well (the limiteds) and while are not up there with Leica quality they are better than most in regards to build, and they are SMALL! The 77 1.8 is VERY small, very Leica like, and I like it better than the legendary Nikon 85 1.4 on a Nikon camera.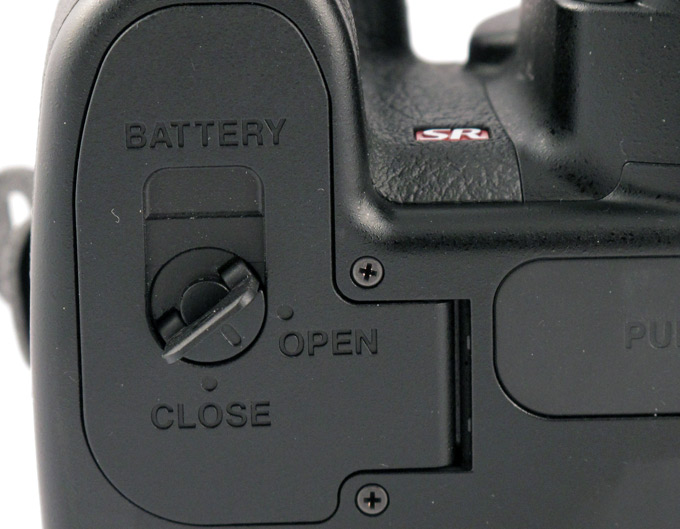 Some things I dislike about the Pentax K7
Live View: I find live view clunky on all DSLR's, not just the Pentax K7.
Movie Mode is a little Clunky: I would like to see 24 FPS and 1080P and a more streamlined interface. A dedicated movie record button would be nice.
Menu System: This could be improved. When I first received the camera I thought the menu system was a bit generic but I have gotten used to it. Still, it could use some help.
HDR mode: Pure sales gimmik IMO and gives less than desirable results.
Speaking of the K7's HDR Mode…YUCK!
I tested it out and figured since I did try it that I might as well post the samples here. I did not like the HDR mode at all but some of you may enjoy it.As I stated above, I think its a gimmick to sell more cameras. I would never ever use it.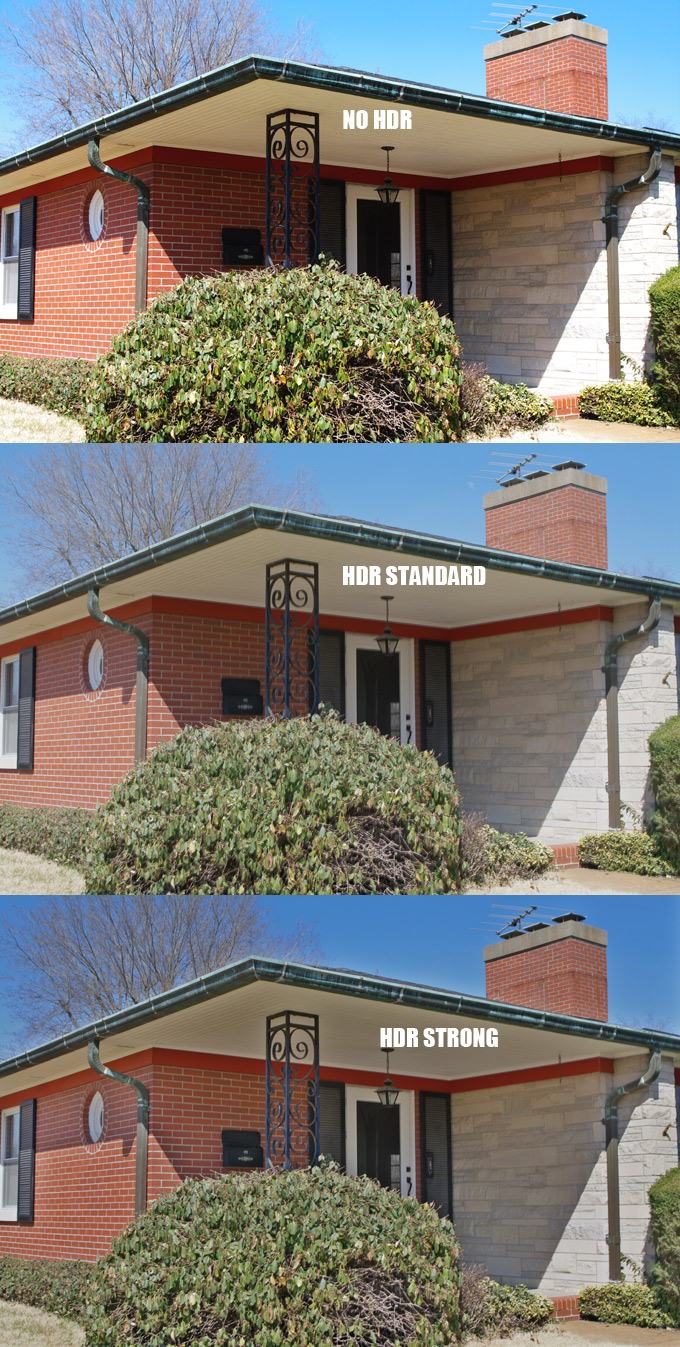 Ahhhh…Those gorgeous Limited lenses…
I was able to get a hold of two FA Limited lenses this week and absolutely love them! The Pentax FA 31 and 77 Limited 1.8 primes are beautifully made, nice and small and give great color and quality. The 31 is softer than the 77 wide open but by F2-2.5 it really sharpens up. I love the color and contrast of these lenses and can EASILY recommend them to any Pentax user. To me these two FA Limiteds, (especially the 77) are the equivalent of Canon L glass. Basically, these are some of the lenses Pentax users lust for, and for good reason.
IMAGES OF LENSES HERE
Some images from the 31 and 77…
31 at 1.8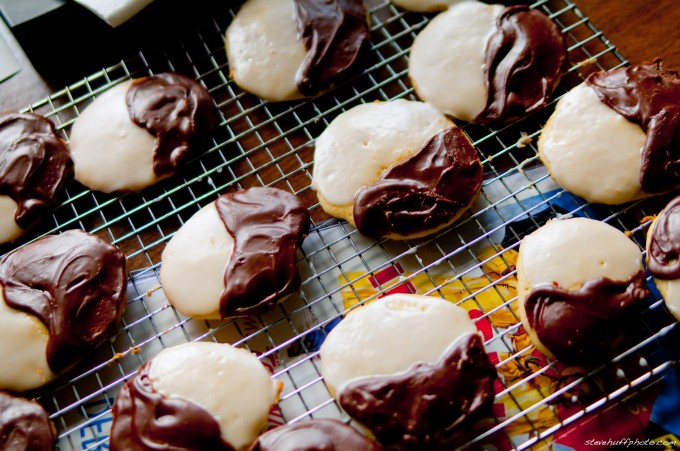 77 at 2.8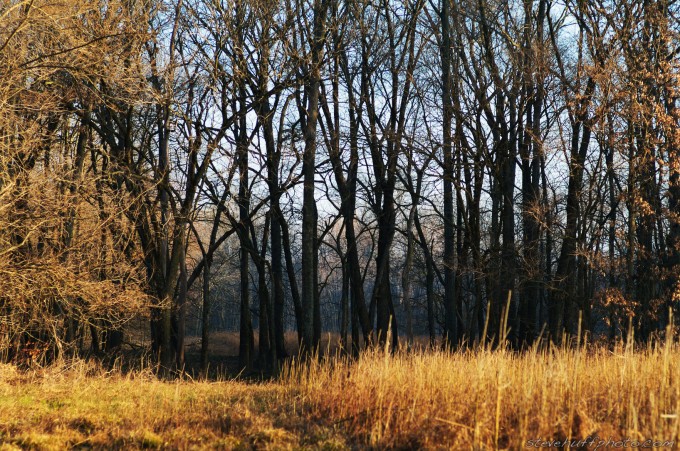 31 at 1.8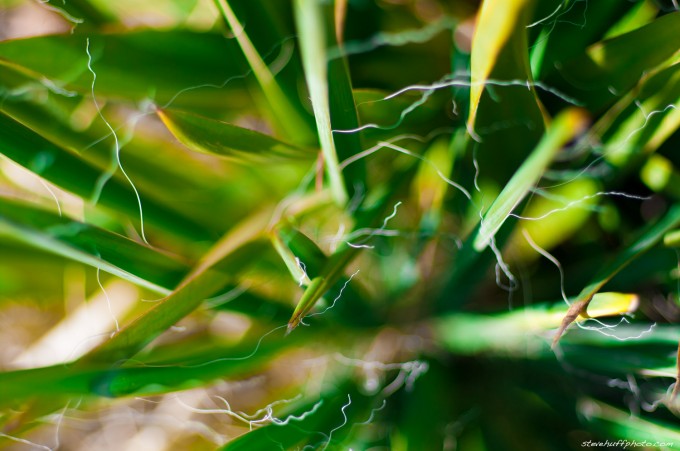 77 at 1.8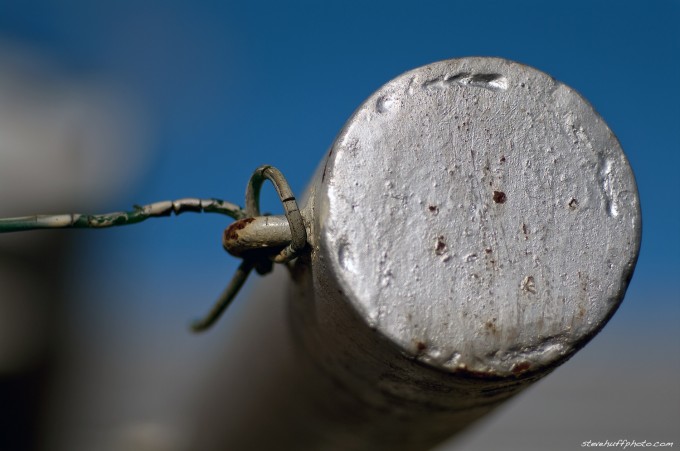 77 at 1.8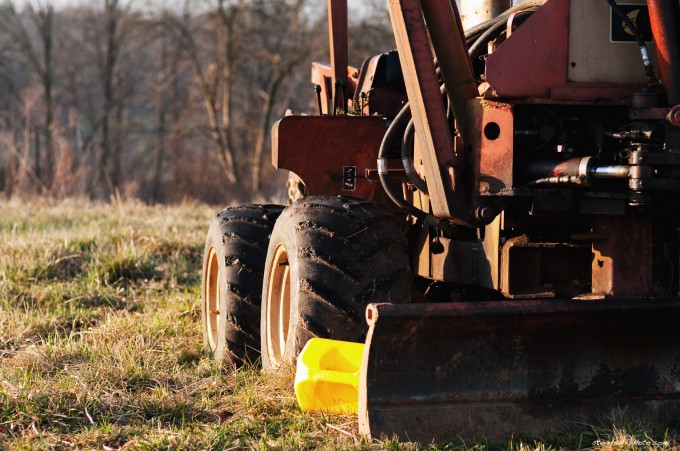 31 at 1.8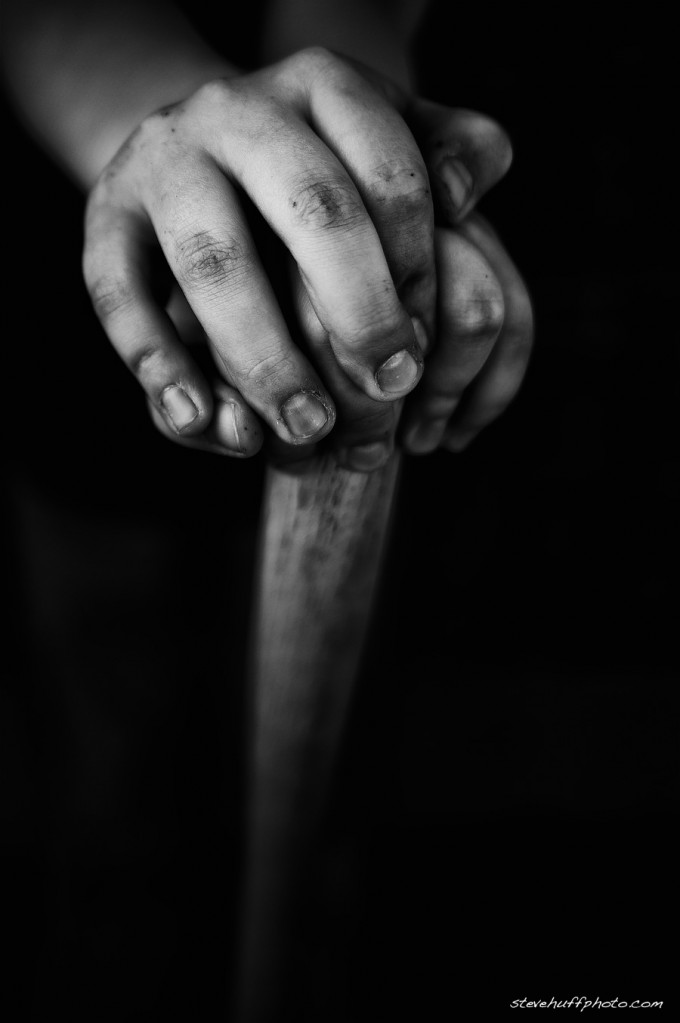 HD Video
The Pentax K7 is another DSLR with HD video capabilities. BUT, are they any good? The K7 has options for a non standard 1536X1024 as well as standard 12870 X 720, or 640X416. These are saved as Motion JPEGS. No Auto Focus while shooting and Pentax skimped here as all recording is done via a MONO built in mic. You can add a mic by using the 3.5 stereo jack on the camera, so if you really want better sound the options are there. I found the video to be VERY good on the K7, especially when shooting with a wider angle. The image stabilization works VERY well. Much better than the Olympus E-P2 in body IS. Here is a quick video samples showing some test video. I did not have anything cool to shoot so it is just stuff around my house but you can get the idea of how the video looks.
I recommend setting the youtube player below to 720P for the best looking image quality.
BTW, you can manually set the aperture before you start shooting so if you want those cool shallow depth of field effects in your video, it is easy to achieve with a fast lens set wide open.
My Bottom Line Conclusion
My time with the Pentax K7 has come to an end and if you have not already noticed, I really liked it. No, I really really liked it. Honestly, the ONLY weakness I have found with this camera is that it's high ISO is not up there with the equivalent Nikon and Canon DSLR's. Even with that said, the ISO performance is not as bad as many make it out to be. Overall I feel that  this is the BEST DSLR you can get for under $1000. PERIOD. It's build, features, quality, video, and size/weight all add up to make this a bargain in the DSLR world. If you are looking to get into a DSLR system and are not yet committed to a particular brand AND do not want to spend a fortune then I highly doubt you would be disappointed in the Pentax K7. I may end up with one myself really soon or I may wait it out, who knows. But for those who want a camera NOW and have been on the fence then I can highly recommend the Pentax K7 and of course any of the FA or DA lenses.
Will I abandoned my M9 for one? NO WAY but I may buy one to add as a companion to my M9 for those times when I want macro, telephoto or video. It has what I have been looking for in a DSLR and that is SMALL size, SUPERB build and HIGH quality!
Buying the Pentax K7
You can buy this camera at B&H Photo HERE and you can also buy it at AMAZON
. By using the links here to make a purchase you will be helping to support this growing site so Thank you!
Here are a few more images during my time with the Pentax K7. These are all with the Kit Zoom, 18-55.
18mm, ISO 500, f5.6 – Straight from camera color!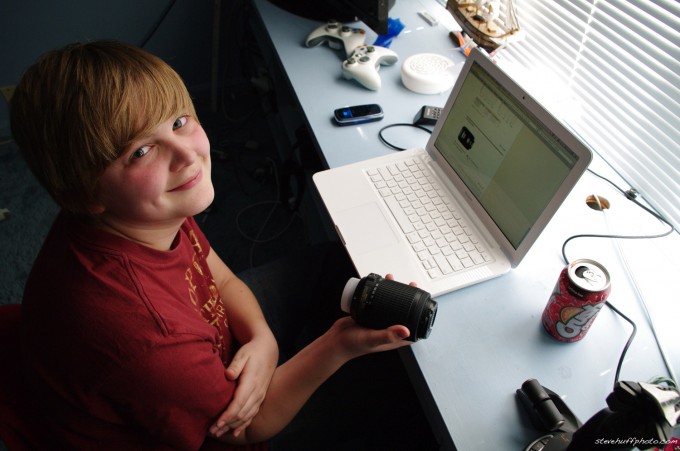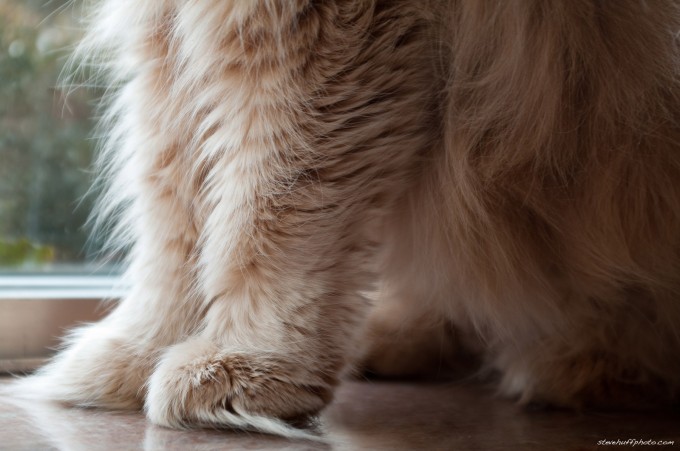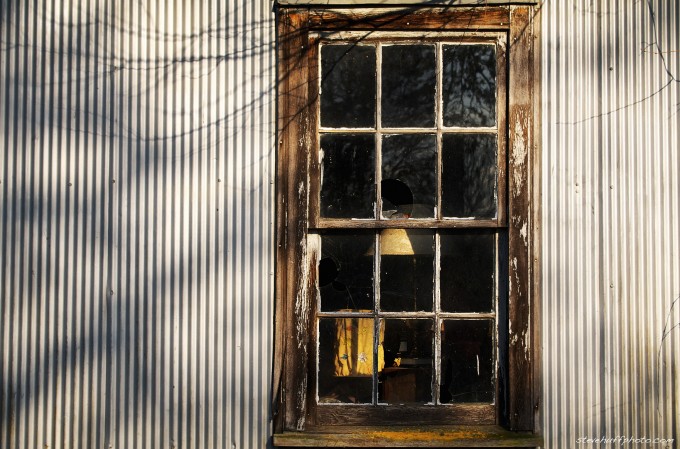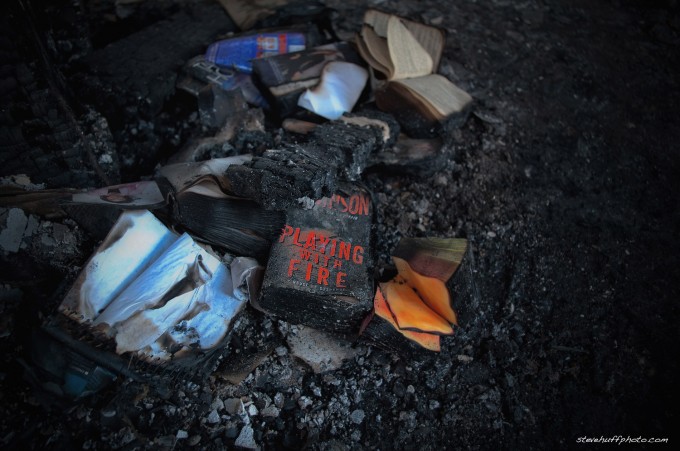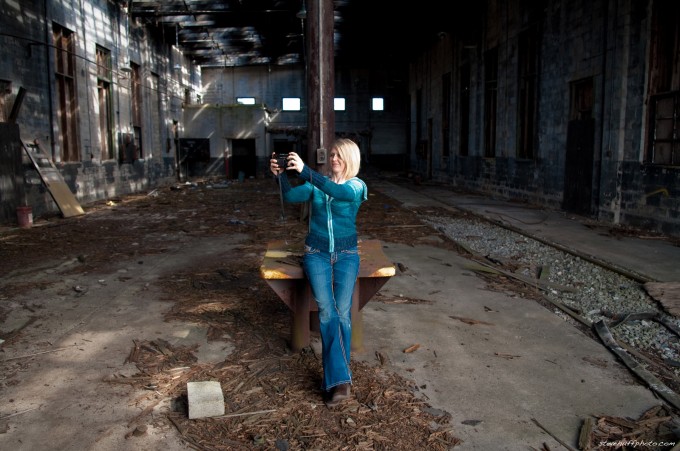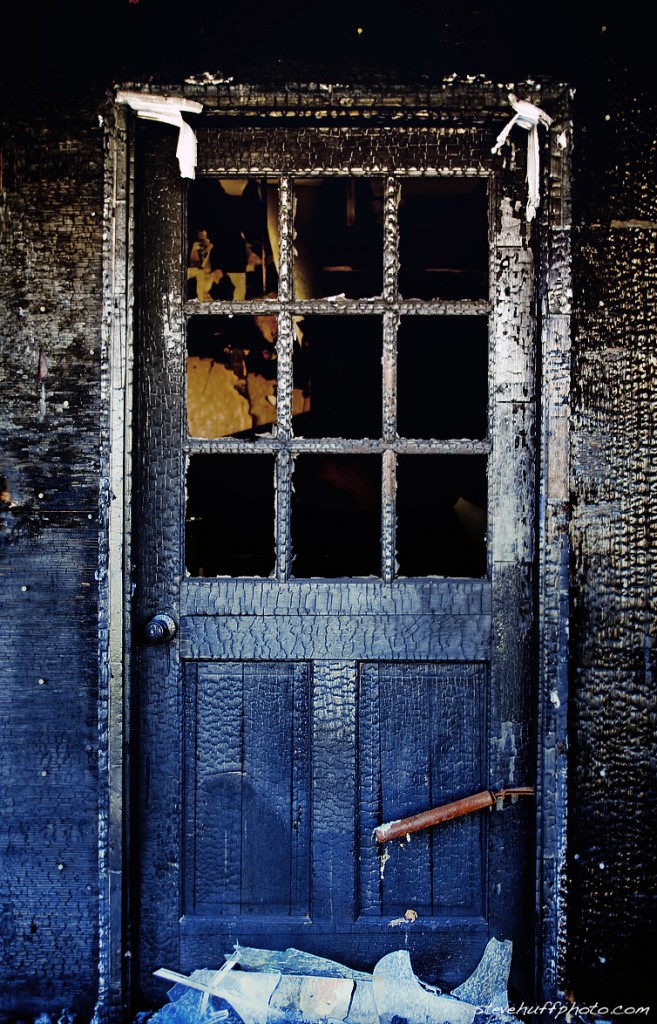 HELP SUPPORT THIS SITE TO KEEP IT GOING AND GROWING!
Remember, anytime you follow my links here and buy from B&H or AMAZON,
this helps to keep my site going. If it was not for these links, there would be no way to fund this site, so I thank you in advance if you visit these links. I thank you more if you make a purchase! I have nifty search bars at the upper right of each page so you easily search for something at either store! I currently spend 14 hours a day working on this site and the only way that I can pay for it is with your help, so thank you!
If you enjoyed this article/review, feel free to leave a comment at the bottom of this page and also be sure to join me on twitteror facebook! Also, you can subscribe to my feed at my subscribe page HERE and read these posts in your browser or news reader!  Thanks so much for visiting my site!
[ad#Adsense Blog Sq Embed Image]