I'm back at home and hard at work processing images from the Olympus E-Pl1, the Leica M9 and even scanning some film! I bought an EL-CHEAPO scanner to try out, the Epson V500. My thought is that I wanted to see if I could even deal with scanning negatives and if so, i would sell the 500 and buy the 750 Pro or search for a used Nikon coolscan. I am surprised at the V500. When scanning at 2400 dpi the files are very very nice and they seem just as nice as my old Nikon Coolscan V I had years ago. I think I will end up buying the EPSON 750 Pro soon unless I find a nice used Coolscan model.
Anyway, before I sit down to hours and hours of staring at this glaring screen and writing my heart out I thought I would post a "just for fun" pop quiz! Below you will see two images side by side. CLICK ON THE IMAGE TO VIEW IT LARGER and then tell me which one you think is film, and which is digital. One of the shots below was shot with the Leica M9 and 50 Cron. The other was with the M6 and 50 cron using film and then scanned on the V500. The M9 image was converted from RAW. Both were shot at F2 and ISO 160.  I may be posting a few of these side by sides just to see if you guys can guess. Should be fun 🙂
So which one is film? Which is digital? To me it's easy to see the differences but at the same time, they are very similar. Just vote in the poll below and choose which one you think is FILM! I will post the answer this evening sometime! Also, feel free to leave a comment about which one you like the look of better and why.
I will say right now that the full size scan looks bad in comparison to the full size 100% M9 shot but my guess is that it is due to the scanner. I have used it for about 10 scans only and am still getting the hang of using a flatbed to scan film. BTW, if anyone has a NIkon coolscan V, 5000 or 9000 for sale let me know! OK, on to the images…
MAKE SURE YOU CLICK THE IMAGE BELWO TO SEE THE LARGER VERSION!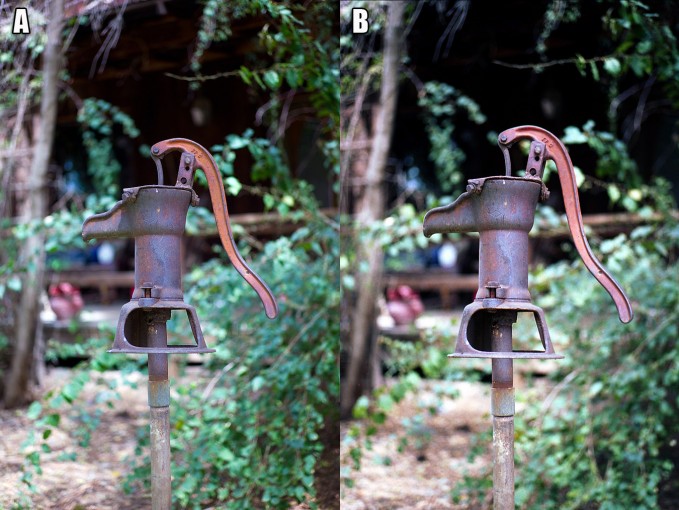 [polldaddy poll=3013655]
UPDATE:
Well, 533 votes today and 62% of you said that "B" was the film shot and it is indeed the shot taken with the m6 and film. I see a difference in the look but the M9 can pull loads of detail within its files. I'm having loads of fun with film and decided to order the Epson V700 scanner with a bunch of film. Provia, Velvia, Neopan, as well as a few other C41 films. The M6 makes for a great companion to the M9 when you want to get away from digital for a while. Shooting film feels good. It's classic, it's nostalgic and it's fun. It also happens to be expensive and time consuming but also very rewarding. Me, I decided to shoot film for my personal use for a few months. No digital for me unless I am testing a camera or working. 🙂 I will be writing about the Epson 700 scanner soon as well as sharing images taken with various film stock. Of course my digital reviews will still be coming, and the next one up is the E-PL1 THIS WEEK!
Anyway, here are a few from today shot with Ilford XP2. I scanned these on the Epson V500 (which is for sale at $149 shipped, used for 3 hours today) and they look pretty good to me! I just want the 700 for the ability to scan more at one time.