Max is Back! Yes, the stevehuffphoto.com "film guru" as I now call him is here again with a great little article on a film that many of you know and love, Kodachrome! It's no longer made but you can get a little taste of what it is all about right here. Thanks Max!
Kodacrome: the way it was…and still is.
By Max Marinucci
You may say, "Max has gone nuts! Why waste time writing and reading about a now defunct film stock?" Well, this is not a memorial of sort or simply a trip down memory lane. The story behind it, and the implications related to how we photograph and think today are indeed far reaching, if you care about photography, of course.
Kodachrome was around for 75 years and so many of us grew up with it. Our parents and grandparents used it with the simplest of cameras and some of the images still around today will amaze us with their beauty, bright colors and distinct look that only Kodachrome can give. As far as color accuracy, I have yet to see a film that comes close to it. Those reds, orange, yellows, golden browns, when properly exposed can be just breathtaking. I am sure Kodachrome detractors will forever argue that Velvia 50 is a better film and, as always, beauty may be in the eye of the beholder. Having said that, the reality is that Kodachrome was a unique film giving a very distinct look and comparisons are unfair.
Invented in the early 1930s by God and Man  (two professional musicians, named Leopold Godowsky, Jr. and Leopold Mannes) it was available in a variety of formats, and from ASA 8 to 200. The popular versions of 25 and 64 ASA were the 35mm staples of every photographer, including the likes of Steve McCurry, whose portrait of the "Afgan Girl" is guaranteed to send shivers down the spine of EVERY mere mortal.
This was no ordinary film, as it is essentially a black & white emulsion, with dye couplers added at processing time. For this reason, it is a difficult and very expensive, laborious film to process but also one to give a very sharp, and unique, almost 3D look that is unachievable by any of the E6 emulsions. Unfortunately, K14 processing requires a very specific and technical knowledge of the film and complex, large machinery. Today there is only ONE lab in the world, and appointed by Kodak, to process any remaining stock of Kodachrome until December 31st 2010: Dwayne's Lab in KS. After that date, anyone holding a roll of Kodachrome will simply be stuck with unrealized memories and a worthless roll of film.
Kodachrome 25- My mother – picture taken by my father in 1964 (one year before I was born) with his Zeiss Ikon camera.
Kodak came to the decision of stopping production and announced it in June 2009, due to a decline in sales that had been going on since the 1980s and 1990s, caused by the advent of E6 emulsions and processing, Fuji Velvia in particular, and finally Digital, which was the last nail in the coffin. Unfortunately, even though film in general is making a comeback with a younger generation that has been spoon-fed nothing but digital files and bringing forth once again an appreciation for it as a timeless medium, with superior archival qualities and unique looks, it is too late for good old Kodachrome.
Recently I have been scanning old slides shot by my father in the early 60s and, aside from some dust, they just look breathtaking. I immediately came to the sad realization that I have failed to record my own children younger years on film. Today, very sadly, I would not even know where to look for those 10 years old  (and probably VERY crappy looking) digital files that are likely stuck on some old computer, hard drive or unusable floppy disk, or simply lost forever. The truth is that we live in a society that "consumes", chews up, spits out and quickly moves on to the next thing. Digital cameras are not built to be used or last for a generation but only to perpetually exploit our weaknesses and longing for some sort of perfection that never comes, simply because we don't know where to look. For anyone who is not a professional photographer (and some of them still shoot plenty of film) the digital nightmare will eventually rear its ugly head. Will my children, in 40 years, look in old, useless hard drives or computers to find their childhood memories or will they simply take out a box with thousands of slides that look as good as new and they can still make beautiful prints from? This is what it comes down to, for me: archivability, storage solutions, and the uncertainty of what the future will bring, is enough for me to stop using digital to record my life, what I see with my eyes and want to keep a memory of. It is as simple as that. Besides the fact that I will be saving thousands of dollars on useless, obsolete digital gear, my time will be better spent by using what I already have and making sure that I leave something behind that can actually be enjoyed and appreciated one day in the future.
Kodachrome 25 – My father – Picture taken by my mother in Athens, Greece, 1964. He's holding a Zeiss Ikon "Ikophot" Light Meter, which I now have. Still working fine!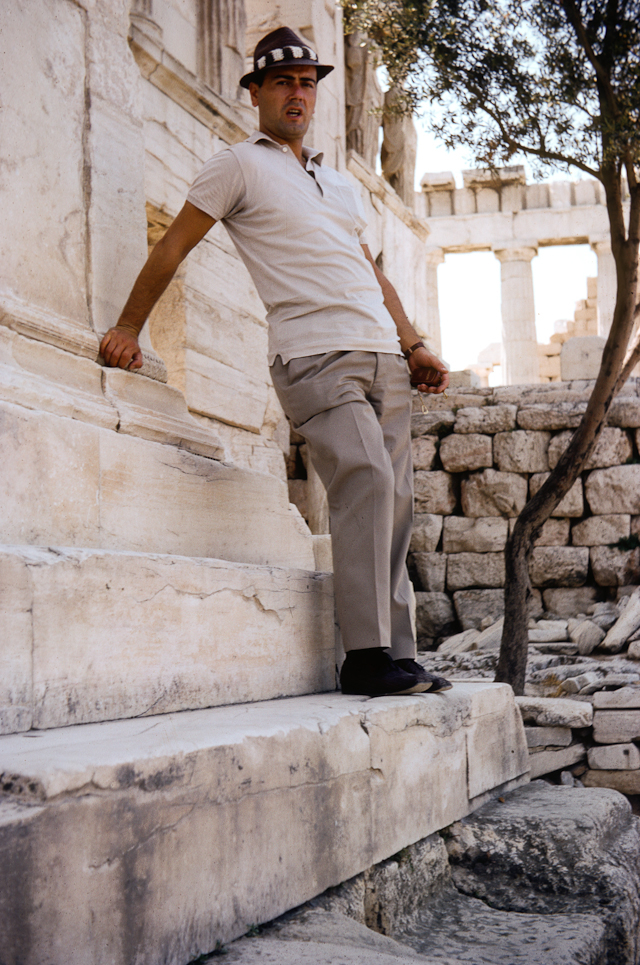 Let's face it, we are not all professional photographers who need to shoot rapid fire and can't digest what would be an enormous processing bill if we were to shoot film for every paying gig. For me, it has stopped being about the quality of digital versus film. I prefer film because TO ME it looks better than anything digital, it is more economical when I factor TIME (which is my most important asset) and because it allows me to MAKE a picture instead of simply just taking one and then go blind in Photoshop hoping for some magic. More importantly though, it gives me a tangible product which I know my children and grand children will have a much better chance at enjoying decades down the road. Who knows, maybe they will even be able to make money off some beautiful prints after I'm gone 🙂
Kodachrome 25 – The new generation – My daughter on a beautiful late afternoon spring day – Nikon FM3A with Nikkor 60mm Micro, 81A Warming Filter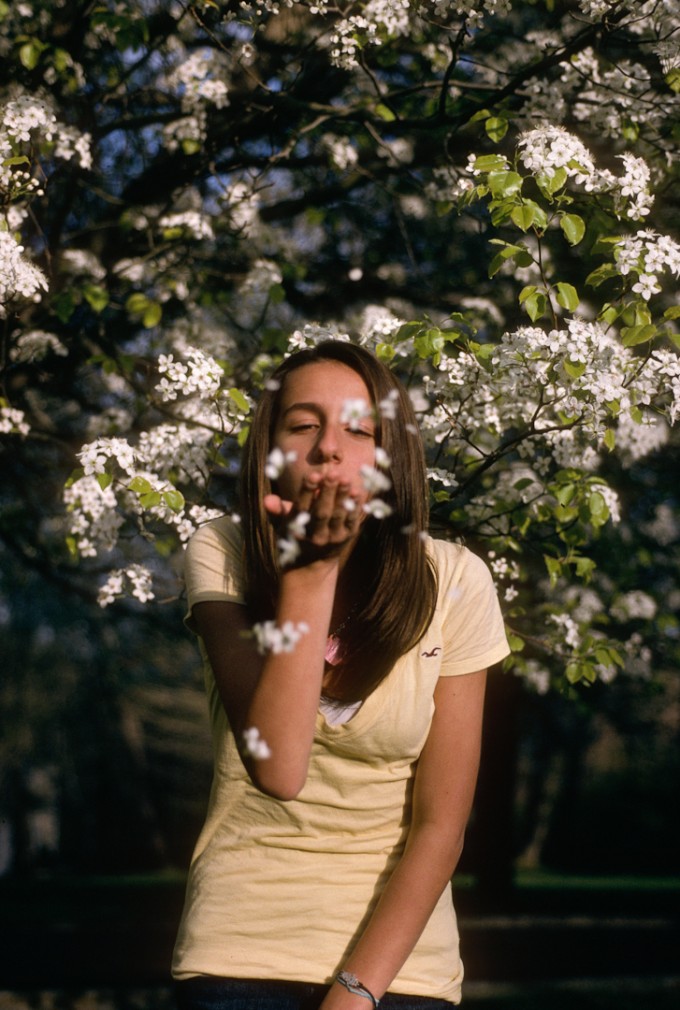 The demise of Kodachrome is not about the loss of a breathtaking, uniquely beautiful film stock, but something that simply brought forth the realization that pictures taken 50-60 years ago retain the same magic as the day they were taken and I can still hold them in my hands today. I can project them, admire them in full glory on a light table, scan them, post them on the web, and print them. My future may not include Kodachrome but, the past recorded on it, has made me realize how important it is for me to record my life on film, whether being Velvia, Elitchrome, Portra, Tri-X and the many other great stocks still available today.
Long live film!
Kodachrome 25 – Kodachrome in all its sunset glory! The last few rays captured with a Leica M7 and a 35mm Summilux Aspherical.

Kodachrome 25- Taken a few minutes earlier and once again displaying those beautiful pastel warm colors. When the light is right and with proper exposure, Kodachrome can make still make you gasp in awe. Leica M7 with a 35mm Summilux Aspherical.
For more Kodachrome examples, visit my Kodachrome Tribute Page on Flickr..http://www.flickr.com/photos/leicaman/sets/72157623426141341/
I will keep on posting some of my takes until December 31st 2010.

[ad#Adsense Blog Sq Embed Image]