Hi there Steve,
First of all I want to let you know I have been a very regular visitor of your site, mainly thanks to the way you review the equipment and also partly because of the passion you write with concerning Leica. I have the same sentiments 🙂
I whish you all the best for the near future considering the recent events in your life and I'm hoping that your work [the site!] can be a very big help in this situation.
But on to this daily submission:
I have been shooting since 13 years old and I started out with a Nikkormat FTN from the 60's, all manual yes 🙂 I still love that camera, have it in my closet, but since it's become extremely impractical to get film/slides developed in the region where I live I cannot really use it anymore. That is also part of why I'm drawn to a manual Leica like the M9 which would give me the best of both worlds: old skool shooting and digital workflow 😉
Many years ago I became very interested in the combination of photography with urban exploration: looking for and entering abandoned, empty mines, factories etc… I have also seen some of your images that could fall in the same category. The textures, the detail and the atmosphere all inspire me shoot.
But for the daily submission I have picked 3 particular images:
The first one was taken when I was shooting a train-graveyard with all decommissioned locomotives and carriages. While I was walking through the wrecks, the owner of the place suddenly stood in front of me and I sensed a slight hostility [of course I was kinda trespassing…], but he saw my equipment and sort of relaxed. It so happened the site was visited often by youngsters to hang out and sometimes there was something vandalized. But I put my camera aside immediately and started talking to the guy. It was lunchtime and he had a big sandwich with him so we sat on the track and talked about the trains and their history. He with his sandwich and me with an old chocolate bar I found in a pocket somewhere. Turned out he was a machinist himself and he had bought some of these wagons and locomotives in order to restore them. Turned out what I thought was scrap, was actually in railway world still in good condition to be salvaged and restored! Hence his fear for further vandalism. But he was really relaxed after that and I could take all the time in the world to continue shooting, I even got him to pose for me on some shots. On this particular one he is seen in a small wagon from about 1900, which he uses to sleep over and keep his gear in when he is on site. He had decorated the worn wall of one compartment with a poster trying to make it all more appealing 🙂
So it just shows that sometimes you can get that much further by showing some general interest in the people and for a second there putting the camera aside… [I actually learned quite a lot about trains during that talk!]
I asked him to sit on his bed so he was nicely lit from the daylight.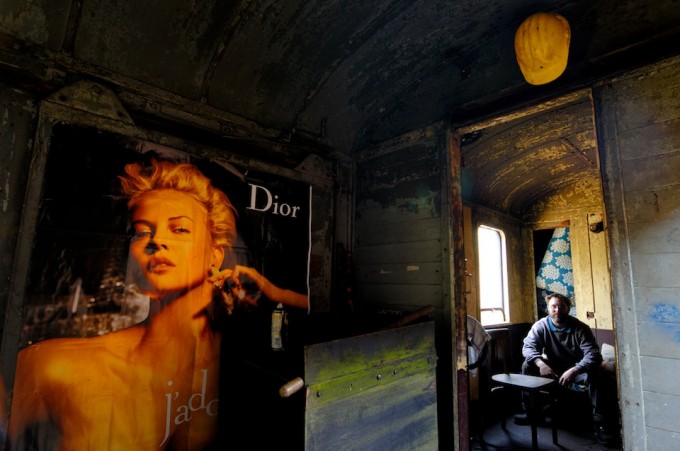 Nikon D2x
Tokina 12-24DX, shot at 12mm
-0.3ev exposure with ISO 160.
f/8 and 0.8 seconds [using a tripod]
The second image I'm showing is from an old abandond car graveyard. It is located near a military base and this site was used by the service men to dump their cars 50-60 years back. There was no mention of environmental issues back then 🙂
I have a lot of images from this site I really like, but I do like this one in particular because it has a lot of depth in it. It kinda mimics the Leica look IMO which I really like. I did some local blurring and conversion to grayscale was done with SilverFX pro.
Nikon D2x
Nikon 17-55DX shot at f/8 and 20sec on tripod [it was actually pretty dark under the trees and it was overcast]
ISO 100
The third image is one from an old abandoned mine in South of Germany. There is a lot of industrial heritage over there because during the beginning of the 20th century it was the heart of the coal and steel industry.
What you see on this image is actually one huge locker room. Each worker put his shoes and clothes in one of these baskets and then it was lifted up to the cealing using a chain. This way it saved up a lot of space! I really liked that place because with the light and the unusual scenery it offered a lot of creative options…
I desaturated the image and then overlayed a scrached layer in Photoshop to accentuate the age of the place.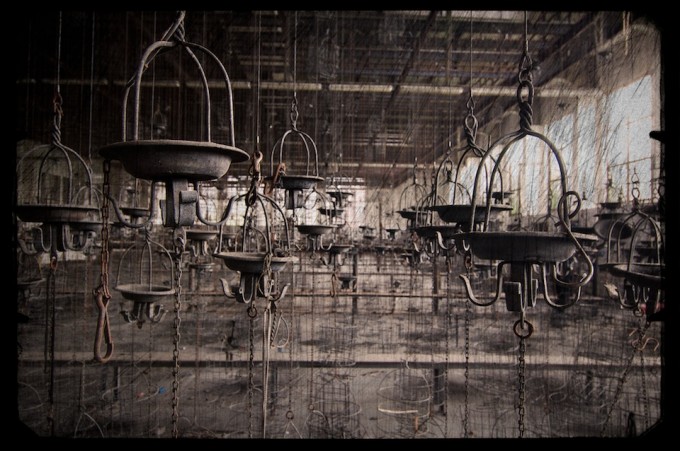 Nikon D90
Tokina 12-24
f/6.3 @ 1/6th second on a tripod
ISO 200
Thanks for the great site you put up and I hope I can continue to visit it for years to come!
All the best!
Geoffrey Van Beylen
[ad#Adsense Blog Sq Embed Image]