Steve,
I immensely enjoy photography, but since it's strictly an amateur hobby for me, I don't spend much money on cameras, upgrades, editors etc… So I carefully research cameras before I make a purchase, which is only every 3 or 4 years. Then I buy something small & versatile, as we do a lot of hiking, backpacking & skiing. My rule is that it must be able to hang around my neck all day, or fit in my pocket without strain and deliver the best IQ for it's small size. The Canon Gs have given me this for years.
You know a but is coming, so now the but part… this summer I re-learned a lesson, based on the 'ole axiom we all know – the best camera is the one you have with you. Except what if the one with you isn't a camera at all, but a freak'n phone? An iPhone4 to be exact. I brought mine on a ten-day vacation with my wife, backpacking and all.
It's so easy to shoot with this thing, I found myself reaching for it despite having my Canon G7 close by in the other pocket. Not only does it take great pics, but you can turn on spot metering/spot focus, HDR, self-timer and more. Tilting the phone just a little bit up or down can completely alter the light balance in the shot for great creative changes. It's crazy good and the wide angle is sweet. The JPGs are fine for modest post processing as well.
My wife Sara took this out of the car window driving through the Oregon drylands, east of Bend. The sepia treatment and graduated tint (to bring out the darkness in the clouds) were applied in Picasa. IPhone selected Metering Mode- average, ISO 80, exposure – normal, shutter – 1/1314.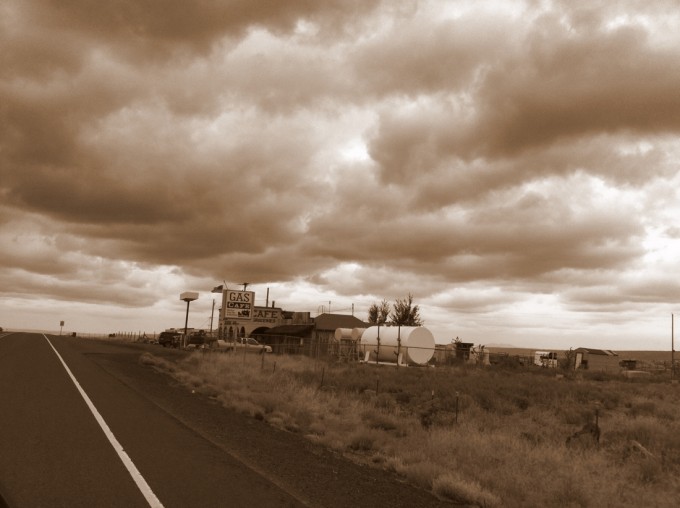 This shows how well spot metering/focus works, accomplished just by touching the spot on the screen where you'd like it to be! I selected Metering Mode- spot, by clicking the screen showing the brightest spot of her cheek.  The iPhone selected ISO 80, exposure – normal, shutter – 1/196. Look how I was able to get the setting sun lighting half of her face, exclude the light in the rest of the restaurant and how nicely the camera phone captured that soft light.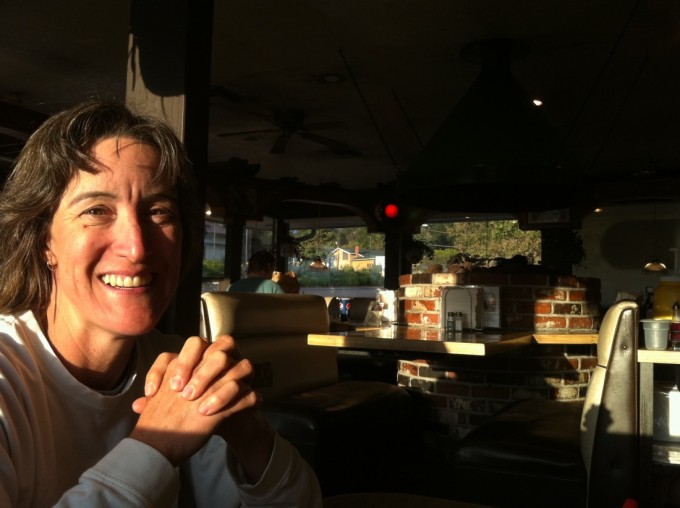 This is one of my favorite landscapes captured with the iPhone. I used a warmify filter in Picasa and denoised it in iPhoto after moving it the Mac. I exposed for the brightest clouds by clicking on the largest, whitest, brightest one (on the screen). The iPhone selected ISO 80, exposure – normal, shutter – 1/2011. I took the exact same shot with my G7, but actually like the colors better from the iPhone. It seems to be tuned for a warmer tint, which appeals to me more.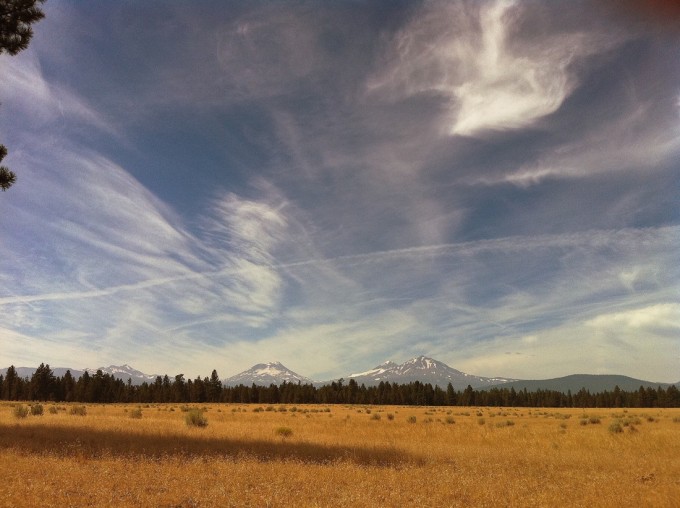 I have many more great iPhone photos, but haven't put them online yet.  I'm really amazed.  My iPhone camera saw more action than my G7, I took about 600 pics in a week long vacation.  And the iPhone photo IQ is so good, now my wife is considering getting one, just because of the camera.