Steve,
I hate your site!
Because of your site I am lusting for a Leica M9 or a Leica X1.
Because of your site I am now trying to shoot my Nikon D90 and my Panasonic LX3 rangefinder style. Meaning I turned off the annoying beeping AF sounds as well as the LCD at the back of the camera and am now focusing manually.
Because of your site, I sold all my Nikon zoom lenses and have focused in Nikon Primes. I currently have a 24mm 2.8 (36mm equivalent), 35mm 1.8 (52.5mm equivalent), 50mm 1.8 (75mm equivalent) and 85mm 1.8 (127mm equivalent).
I wish I could afford an M9 or an X1. But being from the Philippines, multiply the current prices of an M9 which is almost $7,000(USD) by P43(PHP) and you get the picture : (
Two years ago I was excited to discover that a Leica D-Lux 4 was similarly made by Panasonic. Since I was saving to upgrade my Nikon D70 to the D90 I was again short for the elusive Leica brand. So I settled with the Panasonic LX3(after all it is "like a" Leica : ).
After discovering this site last year I am once again haunted by the Leica brand. Like everyone else here…I long to shoot with just one camera and two lenses…heck I will even settle for one… the 35mm Summarit. I do shoot professionally on occasion, mainly still life and portraiture. I am an AD man by trade. Lately, I am focusing more on my photography. I love street shooting which is probably why I am lusting for a Leica M9 or M8.2 or an X1.
While I don't have the budget for the X1 I will try to shoot RF style with the gear that I do have. Recently, I bought an external VF for my LX3, a 25mm Voitlander and it has helped me compose well. Below are some shots I took(recently) with just the LX3 while on my honeymoon in Macau and HongKong.
I challenged myself to just shoot wide open at F2 at 24mm. As usual, the LCD was off as well as playback(after each shot). I will shoot for the day and review my shots at night. I guess in a way I was simulating shooting with film on a Leica RF.
BELOW, Title: On a gloomy day ( It rained on our first day in Macau)
This shot was a happy accident. I just wanted to get a shot of the moody rain with the bridge and some buildings on the horizon, when this man walked in my frame. Details: ISO 80, F2.0 24mm, Aperture priority, Panasonic LX3. Shot in color, processed in Photoshop and Silver Effects pro.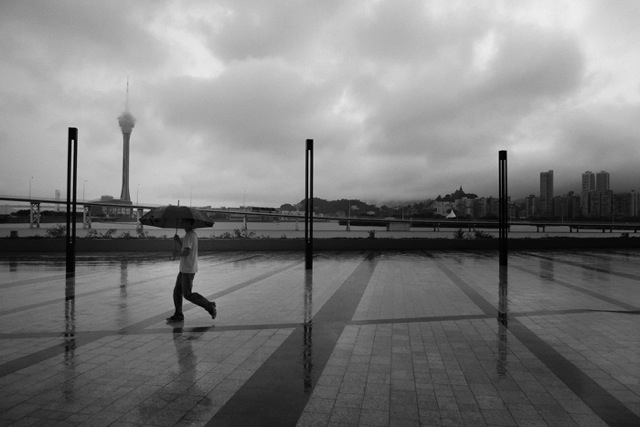 BELOW, Title: Waiting for the bus. (Hong Kong, Kowloon side)
My wife was shopping and I was bored. So I stood in front of this street and liked the perspective lines of the words "Bus Lane." This is what I mean by focusing on composition. When looking through an external VF all that's left is how to compose a scene. I enjoy this kind of shooting.
Details: ISO 80, F2.0 24mm, Aperture priority, Panasonic LX3. Shot in color, processed in Photoshop and Silver Effects pro.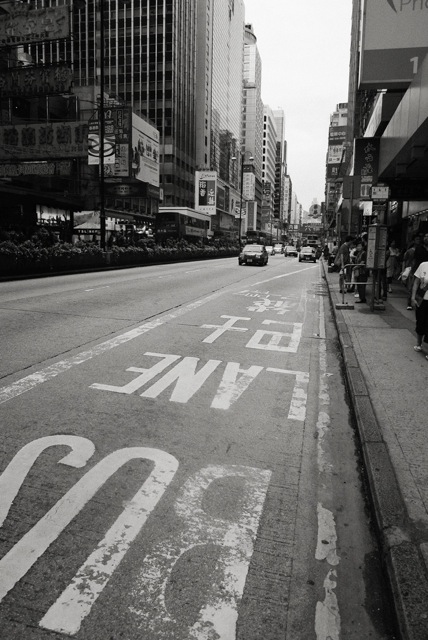 BELOW, Title: Venetian Macau
Again, waiting for my wife while she shopped. This was at night so they turned down the lights to simulate evening light. There was a small spotlight at camera left and it gave interesting shadows on the people walking by. I like the way the LX3 handles lowlight. There wasn't much post processing done here except convert to B&W using silver effects pro. I was surprised at the 3D or hdr(ish) effect of this scene. Tip always shoot in RAW and in Color. I like the option of converting to b&w later.
Details: ISO 400, F2.0 24mm, aperture priority, Panasonic LX3.