The Apple TV – The Best $99 I have Spent All Year  – Steve Huff
Apple TV? This is a PHOTO blog Steve! Why am I writing about an Apple TV? Well, I am writing about the new Apple TV because it freaking rocks. It rocks not only for TV shows and movies but also for personal photo viewing. It's actually pretty  amazing and for $99 it is a NO BRAINER in the world of home entertainment. Besides, I like writing about stuff that I REALLY like and if I can let others know about something that is a screaming deal for what you get then so be it! PLUS, this little guy is great for photo viewing…read on for the details.
I admit, I have been an Apple fanatic since 2001 or so and have seen their stock prices go from under $50 a share to over $300 a share where they are today. Apple seems to do almost everything right these days. A freiund of mine who used to be a hardcore windows/PC guy is now 100% Apple. Apple TV, Apple IPad, Iphone, Ipod, etc. He claims that Steve Jobs (Apple CEO) has come from the future to create these products because they are just THAT good.
I have no problem stating my opinion that Apple computers and products have always been just about flawless for me. Their computers never let me down, never become loaded with viruses and always perform blazingly fast. I have been using my 27″ Imac since the week they were first released and it has been the best computer I have ever owned. To this day it is speedy, clean and problem free and it is on 24/7.
But let me get back to the Apple TV because I truly think that EVERYONE should own one of these. Well, anyone who has a high speed wireless internet connection and an HDTV at their home should. This little black box hooks up to your TV with ONE cable. A simple HDMI cable. You must have a HDTV with an HDMI connection. Once you plug in the apple TV the start up screen begins and you basically set it up with your wireless network information. It will find any and all wireless networks within range and you simply enter your password and the Apple TV will now be connected and ready to use.
It Can Save You Money
It comes with the new metal style Apple remote and these normally sell for $25 each, but Apple included it with the $99 Apple TV. Pretty cool. I used to have satellite service that I paid $139 a month for. The problem is, I would usually watch only 2-3 channels and found that I was paying all of that cash to watch a couple of shows every week. Since buying this new Apple TV I was able to CANCEL my Satellite TV and now my total TV bill is $9 per month.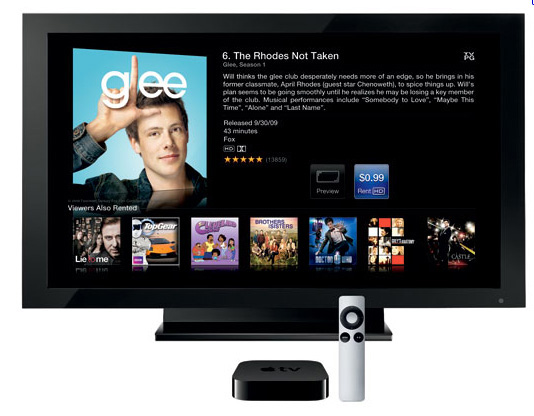 –
The Apple TV for TV shows and Movies – $9 per month for unlimited use!
These days I just watch my local channels for news and some TV shows and I signed up to Netflix for $9 a month and can now stream any movie or TV show I want, anytime, in real time direct to my Apple TV. I can watch an entire season of some goofy brain rotting reality show or I can watch a movie at any time of the day. No waiting for a specific time. If I were a hardcore TV watcher (and I am not) I could watch hundreds of movies and shows and the price would still be $9 per month. So for TV and movies, the Apple TV with Netflix has me covered. So at this point, this little black box has saved me $130 per month right there! The only negative with this is that Netflix does not have EVERY SINGLE TV show out there available for streaming nor every movie. BUT they do have THOUSANDS to choose from so it would be pretty hard to not be able to find something to watch if the mood struck you.
–
You Can Also RENT The Latest Movies
If Netflix isn't your thing (and I think its the best thing since the Leica M9, LOL) Apple also has the latest movies and shows available for RENTAL. If you want to rent you just click a button and you are charged anywhere from $1.99 to $4.99 depending on movie, release date and if it is in HD or not. The Apple rentals can get pretty pricey but sometimes there is a movie I just HAVE to see and this is much easier than running out to rent a DVD somewhere or looking for it when it is hard to find. The option is there so that is pretty cool.
–
You also have access to other cool features – Viewing photos, media…
WIth the Apple TV you can also view YOUTUBE videos (for free of course) and also stream content from your computer using Itunes. Let's say you have some home movies on your computer. You just connect your computer to Apple TV using a passcode that the Apple TV unit displays on the TV screen and bingo! You are now connected and can now stream your movies from your computer to your Apple TV for viewing on your main TV. This is cool but what is even cooler is that if you have an Ipad, Iphone or Ipod touch you can use AIRPLAY to stream content from your device to the Apple TV. Just last night I was viewing my photos that are on my Iphone on my HDTV and sharing them with friends. It was so much fun and amazing how I was able to just sit at my couch, pull up photos on my phone and BAM, they instantly appeared on the TV in HD quality. You can even create slideshows and view them in HD quality. You can also use your Ipad, Iphone or Ipod touch as a full featured remote by downloading the free Apple Remote app.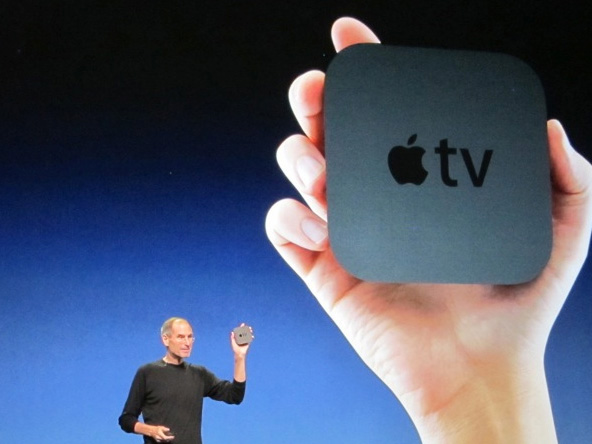 –
It's WELL worth the $99 and makes a GREAT gift for Christmas as well
The Apple TV for me has replaced not only my Satellite TV that I was paying $139 a month for, it has also replaced DVD rentals (Thanks to Netflix and Apple Rentals) and has added the ability for me to share photos with family and friends quickly and easily. Add in youtube functionality (which is always fun) and the ability to stream all of my music from Itunes direct to my main HDTV system using either my Imac or Ipad or Iphone and what we have is one hell of a $99 black box. BRAVO to Apple for not only improving upon the old Apple TV but lowering the price from $300 to $99 AND including the new metal remote. If you are still looking for that last minute gift idea, think of the Apple TV. Just make sure the person you are buying for has wireless internet and an HDTV!
Sure there are other options like the Roku which can offer you even MORE in regards to TV shows but less for your own media. Then there is the $200 Boxee which looks cool but again, you lose some of the cool Apple TV features while gaining more TV show features. But for an Apple Fanatic like me there was only one choice and I am thrilled with that choice! You can read more about it at Apples web site here.
You can buy the Apple TV at B&H Photo HERE. They can still get it delivered by Christmas Eve! The Apple Retail Stores also sell them if you have one local. Amazon is currently sold out but they have many 3rd party merchants
who have it available.
[ad#Adsense Blog Sq Embed Image]