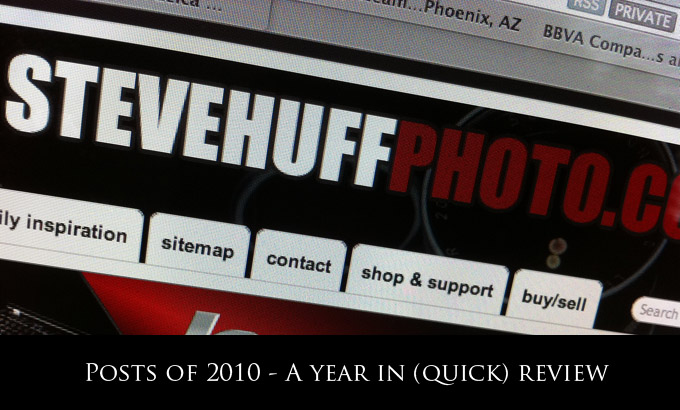 Some great posts from 2010, year in review
By Steve Huff
2010 FLEW by for me and while it had its ups, it also  had its downs. One thing is for certain… there were some AWESOME posts in 2010! The past year also brought the new forums , the free buy/sell section , and even a new super fast dedicated server for the site 🙂 Even the Leica M9 image database is still up and running! There were photographer interviews, loads of informative guest articles and tons of discussion on all of it.
2010 brought me some cool photo opportunities. I made it in to Pbase magazine with a story on my old homeless project, I made it in to the Seal tour book and also had my European Seal tour images included with the new Seal CD Commitment for the deluxe LP version on Itunes. The TV brand Vizio is using one of my images on their boxes soon and I have been interviewed by several web sites and a couple of old fashioned newspapers. I shot a few weddings in 2010 and even held the first stevehuffphoto.com meetup in NYC, selling it out with 21 people attending.
All in all it was a GREAT year and while 2010 was the year in which my 15 year marriage ended I feel like it was also a new beginning for me and feel blessed that all of you come here every day. This site has become my life…my baby. I love it!
With that said, here are some of the hottest articles that were posted in 2010. You may have seen them all, but maybe you missed one so here they are! Enjoy!
–
THE HOTTEST POSTS OF 2010
My 1st Featured Photographer Interview with 18 year old Leica M8 Shooter Megan Baker – (She is trying to get to 1000 twitter followers and needs 200 more. If  you want to follow her on twitter you can do so HERE)
–
Another great interview was my Shelby Lee Adams piece. Controversial or not, I Love his work.
–
Ashwin Rao has submitted many great articles to date and this one was one of my faves. All about his Leica M9 and his travels. A must see!
–
My trip down memory lane with my Leica Digilux 2!
–
Amy Medina told us why she takes pictures EVERY DAY
My Leica S2 review was posted last year..what a camera..
–
Taking road trips…a great way to get motivated!
–
Film is NOT dead! My Leica MP review…what a camera. Also the new Fuji Medium Format GF670 was reviewed.
–
Low speed film with fast lenses. A great post by Max Marinucci!
–
My Seal European tour experience – Day 1 & 2, Day 3 , Day 4 & 5
–
Is the Leica M8 right for you? Even more from the Leica M8. EVEN MORE!
–
Images from most who attended the NYC meetup!
–
My Pentax K7 review was read by MANY (The K5 review by MONDAY, PROMISE!)
–
There were so many more great articles but these were some of the hottest and most viewed. Looking forward to many more in 2011!
[ad#Adsense Blog Sq Embed Image]