–
I'm not a photographer and I don't know much about photography. That said, I really have a passion for photography, and in particular travel photography. Sometimes I wonder if I'm travelling to take pictures or taking pictures while travelling. I don't have a lot of money and don't use expensive equipment. That is one reason for this submission. I think it needs to be emphasized these days that you don't need to have the biggest and the best to go out, have fun, and capture some great memories. I've never bought a photoshop type program – still using PSE ver 1 that came with my Canon G2 years ago. These shots were from a recent trip to Vietnam. Taken with a Nikon D5000 and 35 1.8 (just in case there is no EXIF – not really sure how to view or attach that).
Although not the smallest camera out there, it was an absolute joy to use and small enough to take anywhere. Using one of Nikons cheapest lenses, I think I did catch a few good moments and definitely some good memories. The great thing about the small, light and fast combo was that I could catch scenes in just about any kind of light. Anywhere. So fun to use. Quick and responsive. One lens and thats it. …I never knew primes could be so fun. Although I will probably never be able to afford that M9 and 50, it really doesn't matter. The only thing I need or want is a working body and a single normal prime.
A few from the trip:
Hanoi Nights
Fantastic city. Full of life. This is one of the street corners in the Old Quarter on a normal night. Sit back, relax, grab a beer and some "street eats", and watch the world go by. It's a fascinating culture and city, full of life and always moving.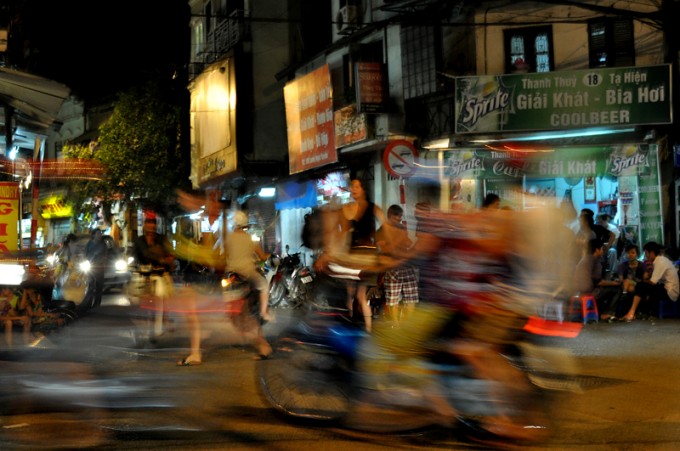 Bicycle
From Hoi An, Central Vietnam. Wow. One of my favorite towns I've ever visited (along with Debark, Ethiopia & Mut, Egypt). Culture, culture, culture. The Ao Dai, national dress of Vietnam, flowing on and along the streets everywhere. Some of the best, as well as cheapest, food I've ever had. Outstanding architecture, not to mention UNESCO World Heritage Site to protect it. This was taken at a corner cafe where again, the streets are full of life and movement.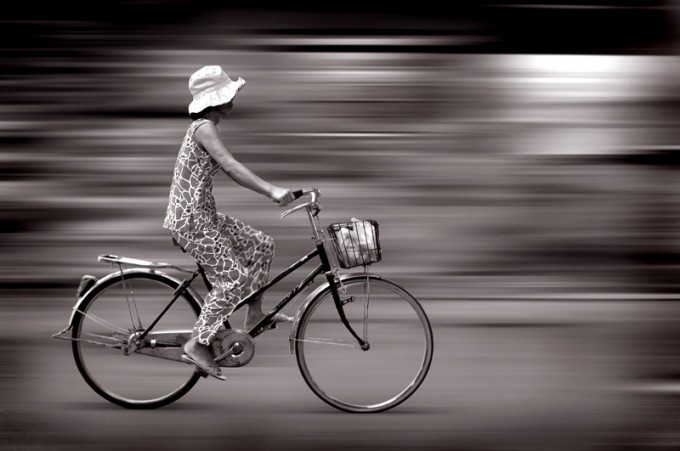 Market
Another from Hoi An. If you ever get tired of sitting and having the world rotate around you, get up and join. This was taken in the market. A mob of vendors, hawkers, buyers, strollers, and everything and everyone else you could imagine. A sea of conical hats and an area that attacks all the senses. I would take a walk through at least a few times a day. This is a shot I really liked. It really gives me the feel of being back there. No one really paying attention, everyone going about their daily lives.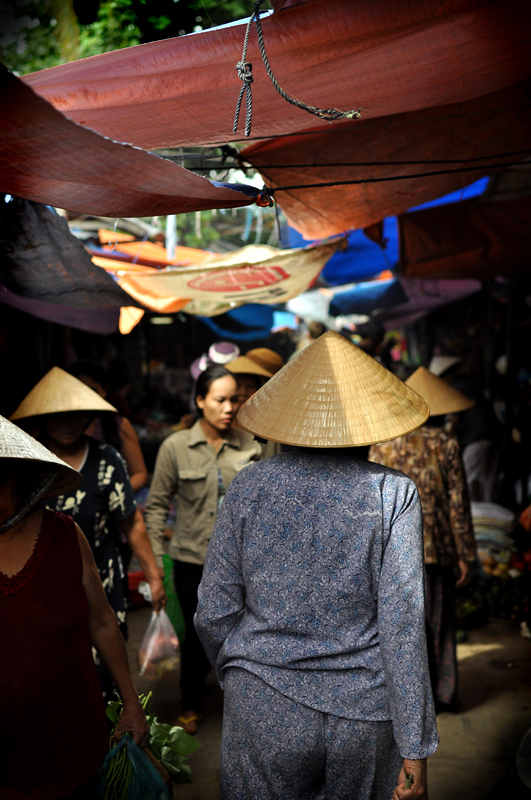 This was one trip I really enjoyed. Minimal camrea equipment to worry about and carry around. Just trying to get a good "feel" through the viewfinder. It was fun. I think that may an often lost "key" to non-professionals in catching a good photo. If your not enjoying it, why do it?
Thanks and kkep up the great work,
John