DISCLAIMER FROM STEVE: Just so everyone knows, I did not write this and I pretty much disagree with David's assessment here on the X100. I find the X100 to be a spectacular camera that has quirks, none of which slow me down or alter my photography when using it. My review of the camera is HERE.
I posted Davids thoughts of the X100 because, well, David's articles always bring another view to things as not everyone will always agree with me. Enjoy!
–
User Reports Article – (see the new User Reports section!)
An alternative view of the Fuji X100..
By David Babsky
A retro-styled digital camera like an analog classic? ..APS sensor, optical viewfinder, 35mm (equivalent) lens and great results? ..It must be the Cosina/Epson R-D1..!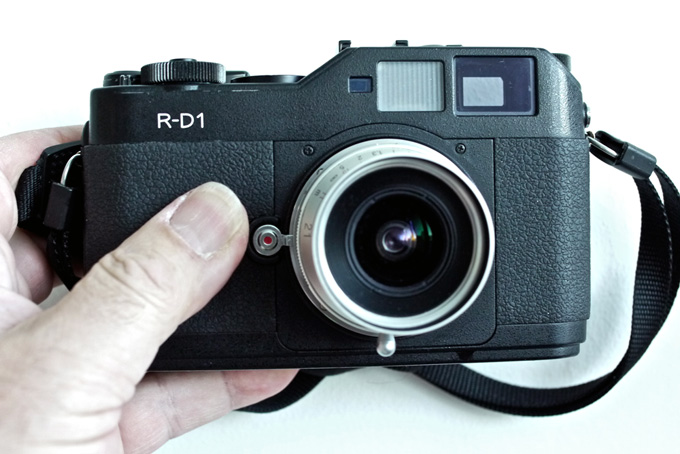 (CAUTION: These are personal opinions which you may not agree with ..the idea here isn't to upset people who've bought, or ordered, a Fuji X100, but to present other – just as valid – considerations of the X100. If you may be offended, then – as they say on TV – look away now! This isn't a criticism of any PERSON who wants an X100, but is a different assessment of the device itself..)
Seriously, the Fuji FinePix X100..? It's a camel ..not just an animal designed by a committee, but this quasi-retro, APS-sensor, 35mm (equivalent) automatic "rangefinder" seems – to me, anyway! – to have been kludged together by a quartet of salesmen from ideas scribbled on a Marlboro pack.
Its greatest strengths are its high resolution picture quality and its high resolution million-pixel electronic "hybrid" viewfinder; it's like the hi-def electronic finder of Panasonic SLRs, but can be swapped, at the flick of a lever, or the press of a button, to a simple "see-through-the-glass" optical finder with electronic info overlays. The full electronic finder lets you see exactly what the camera sees, WHATEVER lens is on the front ..except that – as we all know – The Fuji X100 doesn't take other lenses than its built-in f2 23mm (..equivalent to a 35mm lens on a 'full-frame' 35mm film or digital camera).
The electronic finder gives a preview of how things will look when you change colour characteristics, for example, or stop down to a smaller aperture ..and so does the normal screen on the back of the camera.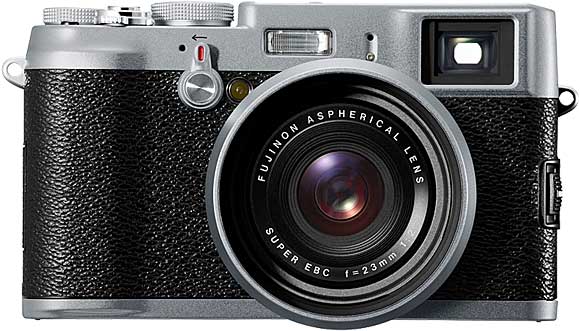 So why the optical finder? ..To pretend that it's not an electronic camera at all, but something from a 'purer', mechanical age, like the venerable Leica MP ..or like the teeny £80 ($130) pocket-sized Canon PowerShot A1200 which ALSO has an optical finder as well as an electronic rear screen (and – more than Leica ever managed – the Canon's optical finder ZOOMS along with its 4x [28-112mm equivalent] lens).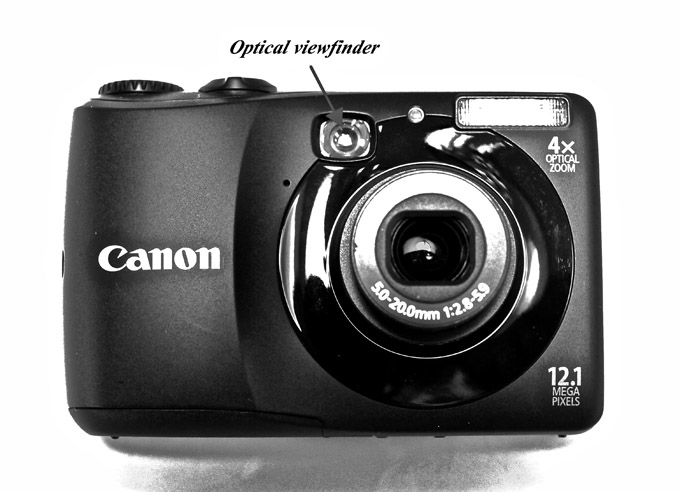 The X100 has two ways to switch between those optical and electronic finders: a lever on the FRONT of the camera – where it's awkward to reach, but it looks good to passers-by (to increase its "retro" cred) – and a button on the back of the camera which does the same job. (More "committee" design: you can just hear those marketing guys pushing "give them the old-style finder to look like a Leica, and have the hi-tech electronics like the Panny, we win both ways"..)
And here's what it's trying to look like; a mixture between a Leica M3 and an Olympus 35RC: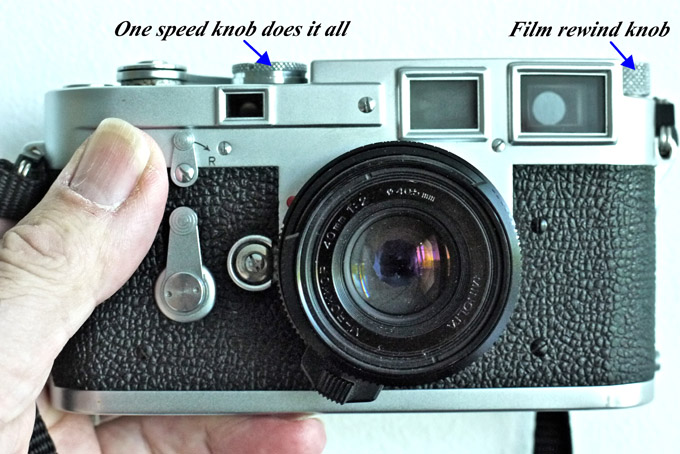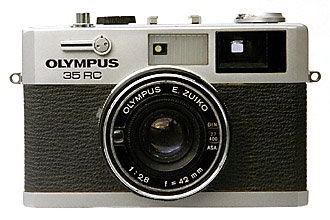 And how does the X100 perform? Sluggish autofocus, so sluggish shooting. The older, interchangeable-lens, noisier focal-plane-shutter Panasonic GF1 focuses and shoots faster than this autofocus in-lens leaf-shutter X100 ..and that's with the GF1 having to first CLOSE its cover-the-sensor shutter before opening it and then closing it again to take a shot. And the even older APS-sensor Epson R-D1 shoots INSTANTLY, of course – as do the digital Leica M8 and M9 – because it has no autofocus to wait for: squeeze the shutter and it fires with no delay whatever! (You can put the X100 into manual-focus mode, of course, but it uses a 'fly-by-wire' electronically-linked adjustment (like Panasonic's 20mm pancake lens, for instance) which focuses – unlike the Panny lenses – in awkward jerky steps, with little fine control.)
Here are some taxis I shot in London's Tottenham Court Road the other week: I squeezed the shutter button as the taxis came towards the centre of the viewfinder (for the autofocus to lock on) ..they were coming round the corner from New Oxford Street at about, ooh, er, 25mph. The X100 missed every one of them ..look; there they go, disappearing out of the frame.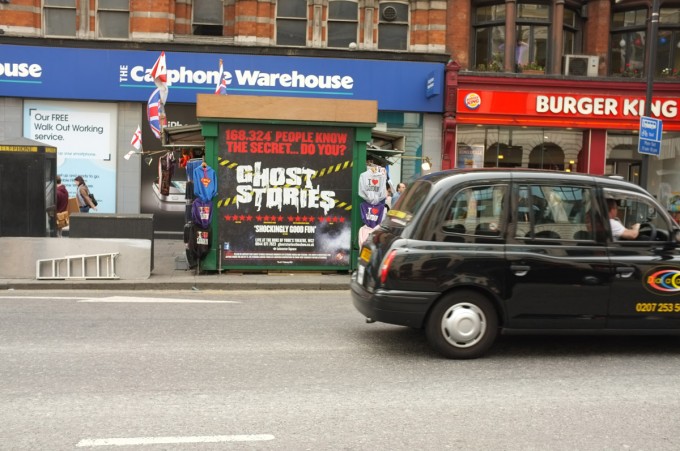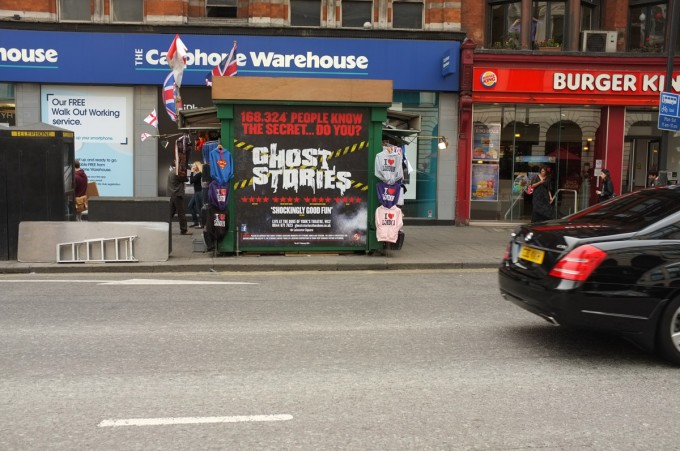 The GF1 nailed every one of them.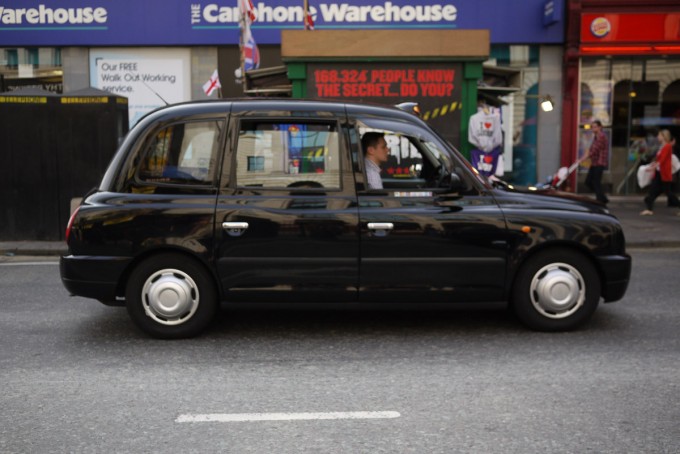 –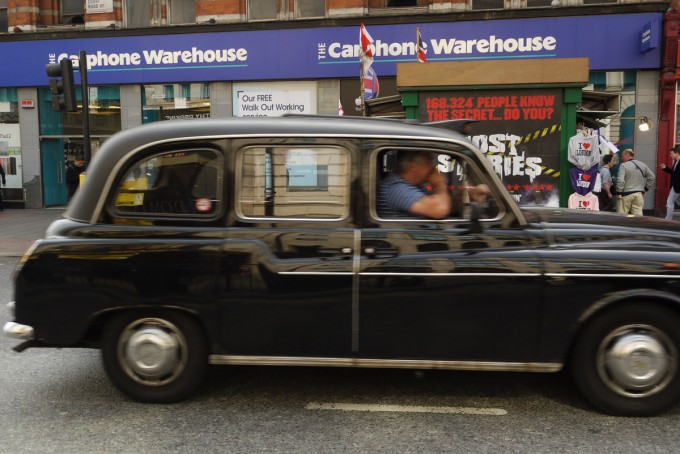 –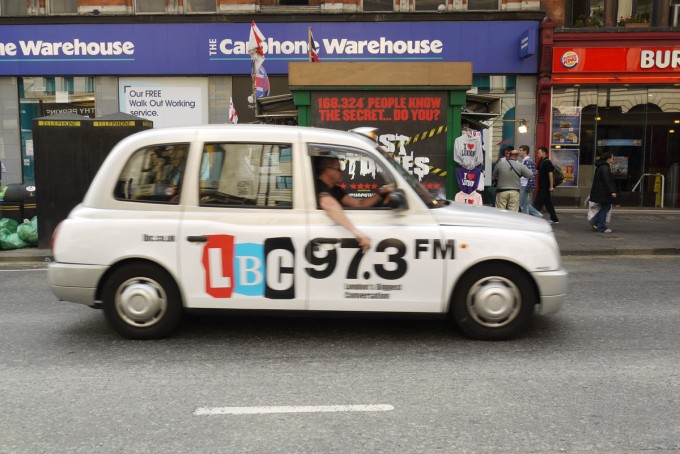 (Yes, I know they're blurred – that's because they were moving at 25mph, and I was shooting at about 1/200th.)
Here's the street sign which tells us we're in Tottenham Court Road: (shot with the X100)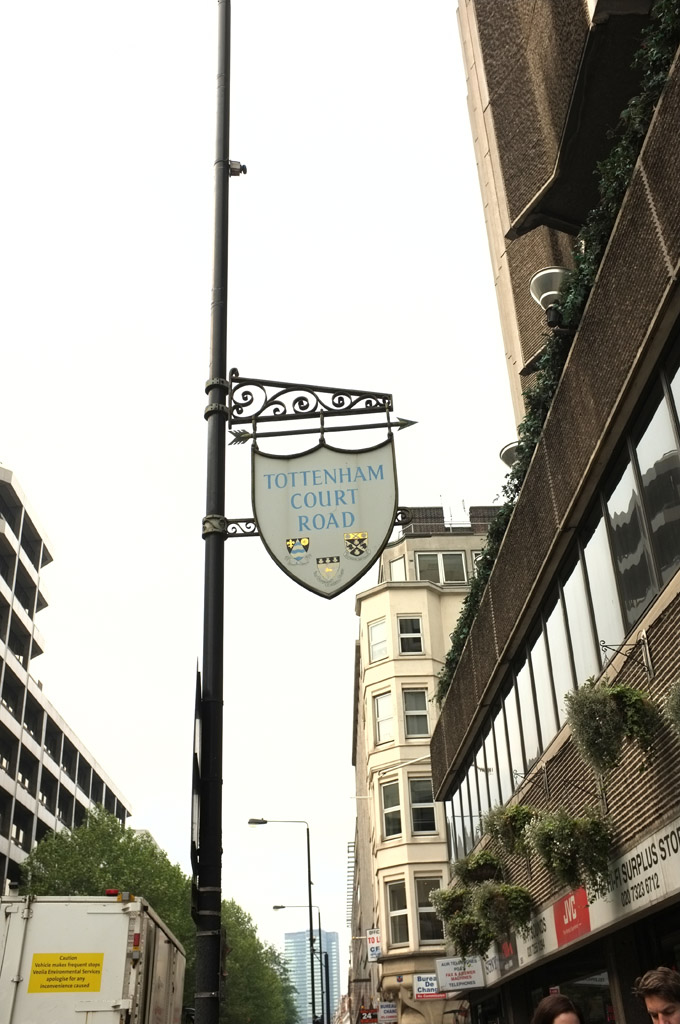 And here's the same sign shot with the slightly smaller sensor GF1: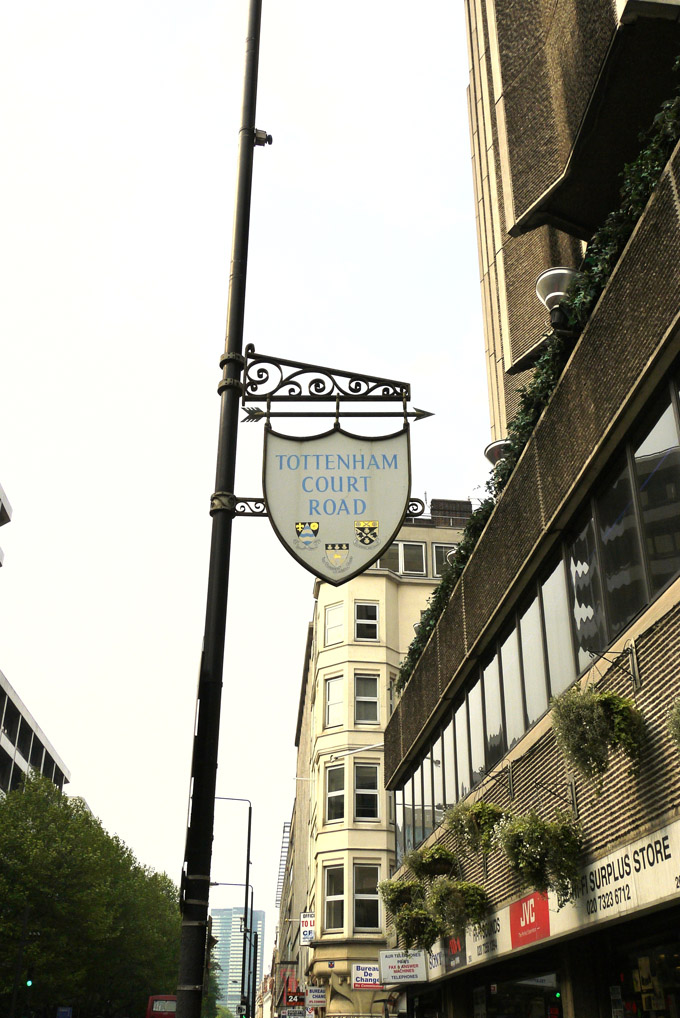 And here's the same sign again, also shot with the GF1: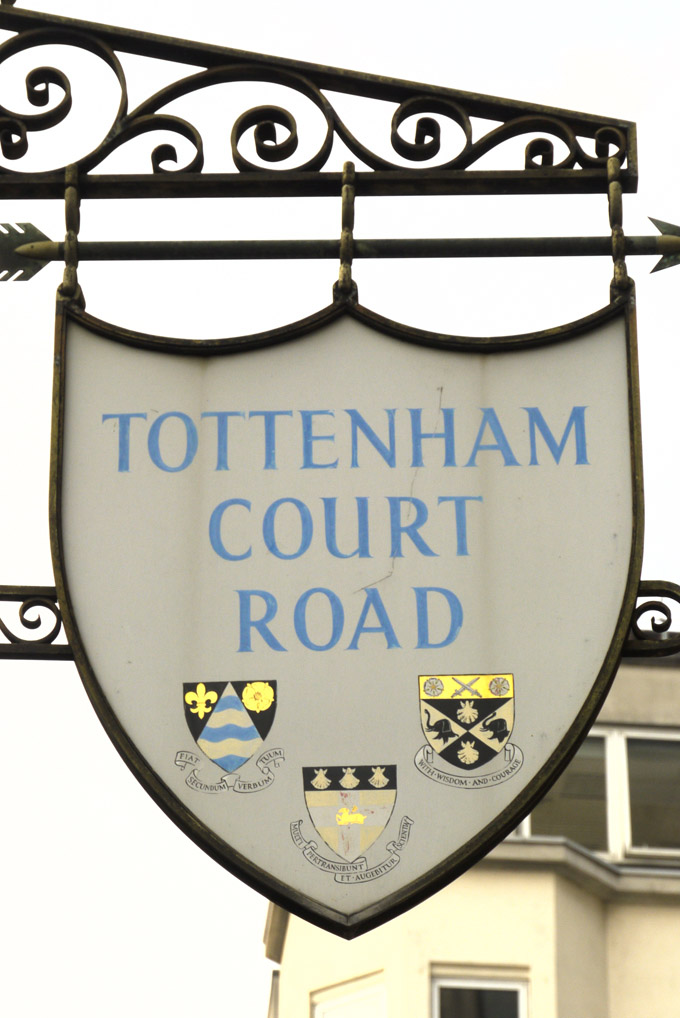 Spot the difference? ..The GF1 takes interchangeable (and zoom) lenses.
The X100's back-of-a-cigarette-packet design objectives seem to have been: "leaf shutter for minimal noise and for variable flash sync, 'hybrid' finder (optical with electronic overlay), retro styling, D-pad plus iPod-like selector wheel, RAW plus jpeg (..our own, special RAW that's incompatible with anyone else's..), APS-size sensor like the Leica X1 and M8 and Sony NEX for high quality pics (we may have to stick with one lens for the highest possible matched-to-the-sensor quality), chrome top-plate with big chunky knobs and a mechanical lever to look like a "serious" camera from another age".. And do all these separate concepts work together?
Taking each in turn: The in-the-lens leaf shutter's a great idea (silent, and sync-able with flash at high shutter speeds), but means that each lens – if there were to be more than just the one fixed lens – would need its own shutter ..like an old Hasselblad. Nothing wrong with that. (But the highest shutter speeds (1/4000, 1/2000th) are only available at small apertures, for which the shutter doesn't have to open very far, so the fastest speed at which the leaf shutter can open and close at the lens' widest aperture (f2) is 1/1000th. When using f2 for shallow depth-of-field, maximum shutter speed is 1/1000th, not 1/4000th.) Incidentally, having fitted a virtually silent leaf (central opening) shutter ..Fuji's camera menu then provides assorted pretend shutter noises for you to choose from! ..which surely defeats the object of a whisper-quiet leaf shutter! ..But it's a good marketing gimmick.
The 'hybrid' finder: we-ell, the optical finder seems pointless because the hi-def ELECTRONIC finder is so good (and shows 100% of what the lens sees) that there isn't any reason to switch to (and it's almost indistinguishable from) the alternative 90%-coverage optical finder. The optical finder's there just for that 'retro' look, but doesn't really achieve anything, except perhaps slightly longer battery life.
How's the retro styling? ..OK if you like that sort of melt-into-the-crowd-with-a-1970s-camera anonymity, but otherwise a blatant ploy to entice those who want to PRETEND that they're shooting with a "classic" camera. (Like the R-D1's retro styling, but with less conviction and dedication.) The 'mechanical' aspect (top-plate lever plus knobs and aperture ring) provides "classic" controls only for simple shooting; for everything else (choice of colour 'film stock' or B&W shooting, choice of RAW and/or jpg files, selecting neutral density filters, ISO selection, dynamic range and colour filters, white balance, bracketing, panorama shooting, movie shooting, self-timer, picture playback, etc) you have to push buttons and navigate through menus just like other digital cameras. The retro look is just for show. (The panorama mode IS worthwhile – it gives far higher resolution results than Sony compact cameras' low-res stitch-'em-together panoramas.)
The iPod-like scroll-wheel is awful; tiny, with hit-and-miss response. Sometimes it scrolls down through menu items ..other times it just jiggles or does nothing. Hopeless. Terrible design, much too small and far too fiddly. You can't really use it without taking the camera from your eye ..in which case you may as well be using the rear screen instead of the electronic finder. (Fuji's smaller F500 camera has a similar scroll wheel, but it's simpler and easier to use as it's OUTSIDE the scroll-wheel symbols, not INSIDE them like the X100's 'Command Dial'.)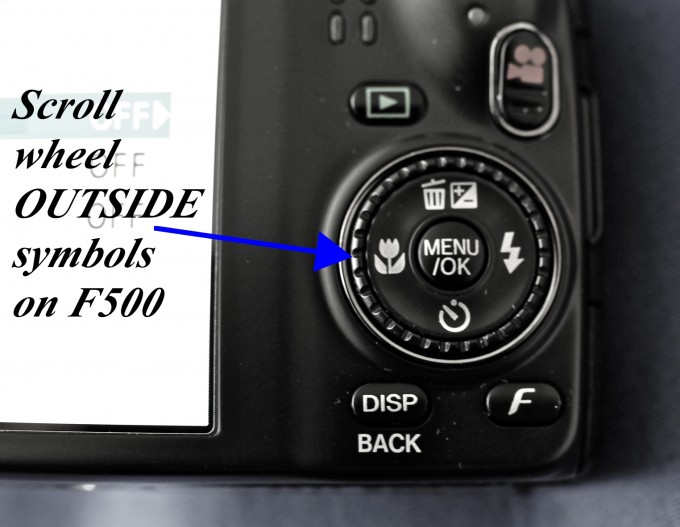 RAW shooting? Mmm, and it can be set to just RAW, just jpeg, or RAW+jpeg. But as the buffer's so small, you can shoot ten RAW pics in rapid succession, then wait 10 seconds for those to be written to the memory card, and the camera's unavailable for shooting during that writing period.
"Big chunky knobs"..? One for shutter speeds plus 'A' (automatic), and the other for ±2 stops over/under exposure compensation. The over/under exposure knob, though, is only for use when the camera's set to 'A' (automatic) shutter speed and aperture selection. To force over or under exposure when using manual settings (!? ..surely you just alter either the shutter speed or aperture!?) the instruction manual suggests "..Use the command dial to adjust shutter speed, the command control to adjust aperture.." (they're two separate dials on the back of the camera). The "command dial" (though the manual confuses them) is the poor, vertical iPod-like wheel and pad. The "command control" is the other horizontal wheel. The idea is, apparently, to keep the aperture you want (for depth-of-field) and shutter speed you want (for freezing or fluid motion) but be able to slightly under or over expose "..by ±2/3 EV from the selected value in steps of 1/3 EV". Simple, eh? Looks like another of "the committee's" suggestions: turning the aperture ring or the shutter dial only adjusts exposure in one-stop increments, "..so let's have finer 1/3-stop increments via two extra dials". It's needlessly and pointlessly over-complexified.
(Here, by contrast, is the simple all-in-one film-style shutter speed, ISO and over/under exposure dial of the 2003-vintage R-D1)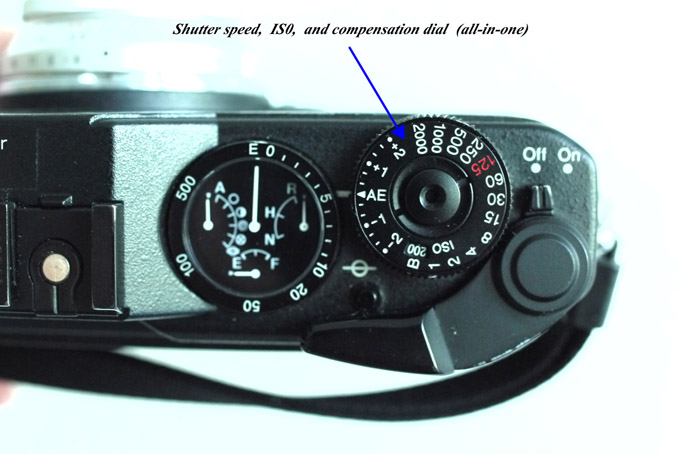 So besides the two top-plate knobs there's that horizontally scrolling (and push) wheel at the back of the X100 (which can be used for exposure compensation ..the "command control"), eight more buttons (plus another variable-function button on the top), the press-or-scroll pad on the rear (..the "command dial"), and a slider on the left edge (like an old-style film-back opener) for choice of auto or manual focus. The camera designer(s) just couldn't seem to choose whether to have buttons, knobs or wheels, or which of the controls does what.. any idea of simple 'usability' may have gone out of the window completely during those engineers' – beg your pardon; "photographers" – committee meetings.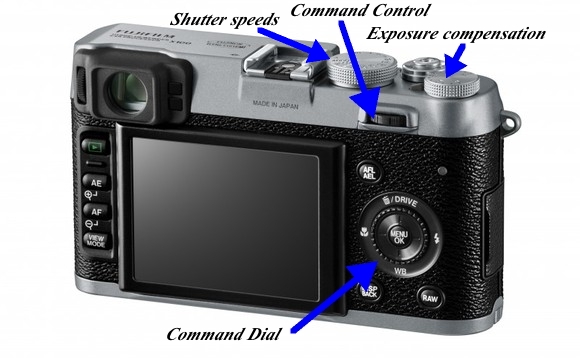 But here's the main consideration; PERFORMANCE: what are its results like?
If you allow for the slow-ish autofocus, and the pretty abysmal manual focus, the picture quality itself is truly excellent.
But we're talking about excellent with one lens. (Cue comments about Henri Cartier-Bresson only ever having used one lens. And how many did Don McCullin use? And Robert Capa? And Ralph Gibson? And Eve Arnold? And Arnold Newman? And Eric Hosking?) For £999 (about €1100, $1650) you're effectively buying an f2 23mm lens (behaving as a 35mm) with an APS camera attached to it.
(Of course, as it's roughly the price of the Voigtlander 25mm f0.95 (micro-four-thirds) lens on its own, you're effectively getting the X100 camera thrown in for free, so I suppose I shouldn't carp about its finicky buttons and menus!)
This is a camera (and lens) for people who want to use only a 35mm (equivalent) lens. Want to get closer to something? ..then walk. Want to shoot those interesting spiral chimneys on Hampton Court Palace? Forget it: you can't get close enough. Want to shoot those interesting cathedral gargoyles? Ditto. Want to shoot sports pictures or children running round? Forget it ..the auto-focus is too slow, and you can't get close. (You'd have to pre-focus on manual, and hope for the best.) Want to shoot portraits with an out-of-focus background? Forget it. There's a reason why 85mm and 90mm lenses are called 'portrait lenses' ..they don't make noses too prominent, and they produce great blurred backgrounds. They don't emphasise perspective the way that a 35mm does, or make noses look larger than life.
Although Cartier-Bresson may have stuck to just one lens, it seems to have been a 50mm, not a 35mm. People who use(d) just a 35mm were 'reportage' photographers; war photographers in Vietnam who didn't want to waste precious moments focusing, and wanted a wide view to put pictures in context: the casualty being slid into a helicopter, or the burning girl photographed by Nick Ut in 1972.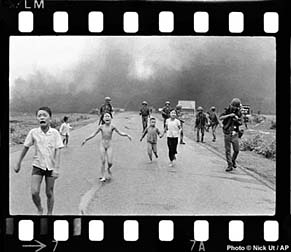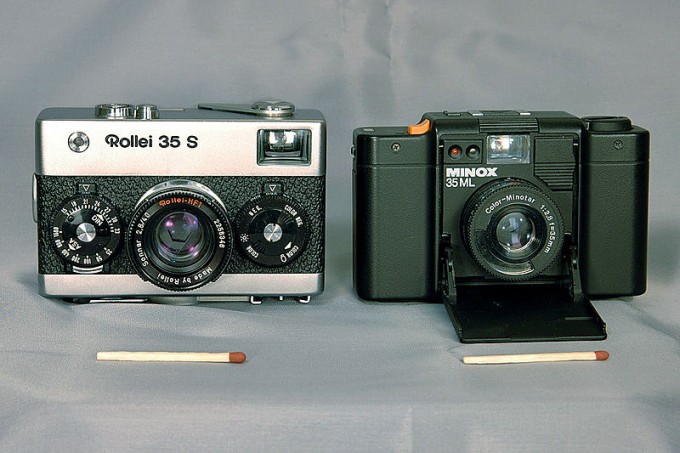 That 35mm (equivalent) lens, then, is for a wide-ish view ..not really for intimate moments; not to get close to someone ..nor wide enough to embrace a family group indoors. It's a 'compromise' lens; not perfect for wide shots, not perfect for close shots ..a 'this'll-have-to-do' lens. The camera is, in fact, a throwback to the (smaller) Minox 35 or Rollei 35 (though the Rollei had a 40mm lens – picture courtesy of Wikimedia Commons) but the X100 is a far larger package. There was some serious engineering in those little cameras, and today they cost far less than £999, and really do slip into a pocket (each has a retracting lens). And they're both ready instantly – you don't have to wait for a two-second warm-up. (Of course, their pictures aren't ready instantly: you have to develop them – or hand them in for development – and they need scanning for digital use. But I've just spent this weekend with an old Leica M3, and having only 36 shots on a reel, instead of an almost unlimited number on a 16GB card, hasn't upset me. Here's a selection.. plus a few from that APS-sensor 2003-vintage Epson R-D1 with a Leica 75mm lens on it ..approximating to a 113mm lens, due to the 'digital mark-up' of multiplying the focal length by 1.5x on an APS-sized sensor..)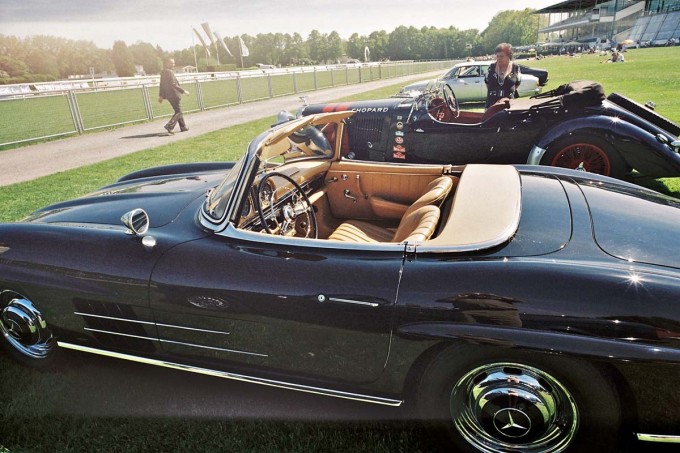 This was shot with a 21mm lens on the M3. I couldn't step back far enough to get the whole car in the shot. So I'd have got MUCH less of it with a 35mm (equivalent) lens.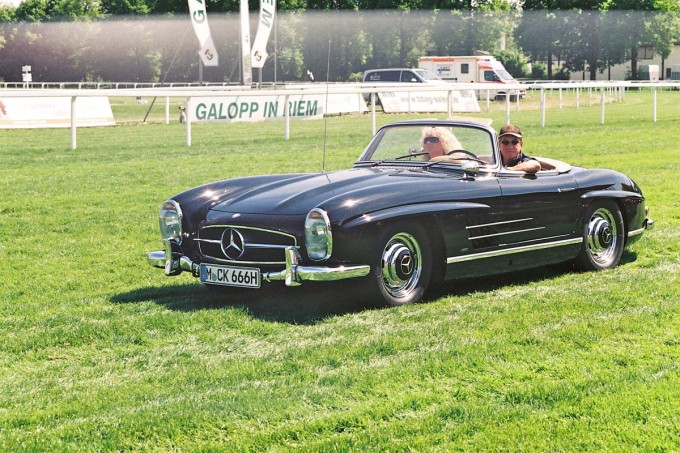 Same car doing a lap 'd'elegance' shot with a 75mm lens. The car would have been way off in the distance if shot with the Fuji's 35mm equivalent lens. (Yes, that's flare along the top.)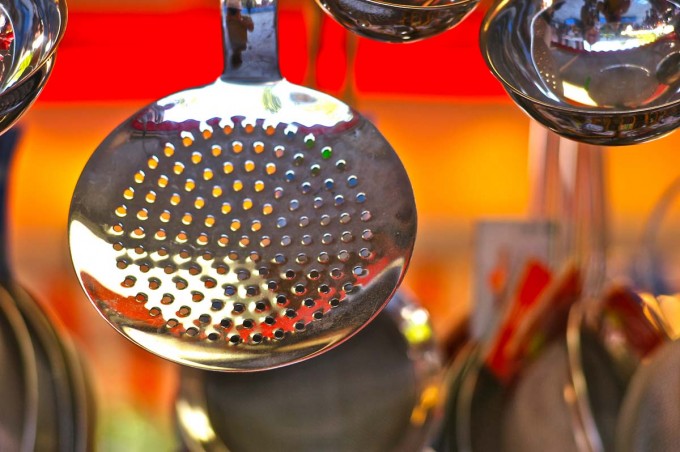 Epson R-D1 and the same 75mm lens – behaving as a 113mm on the APS-sized R-D1. I couldn't have got this perspective with the X100.
Cookie cutters at the fair: as above, and I still couldn't have got this with a 35mm lens.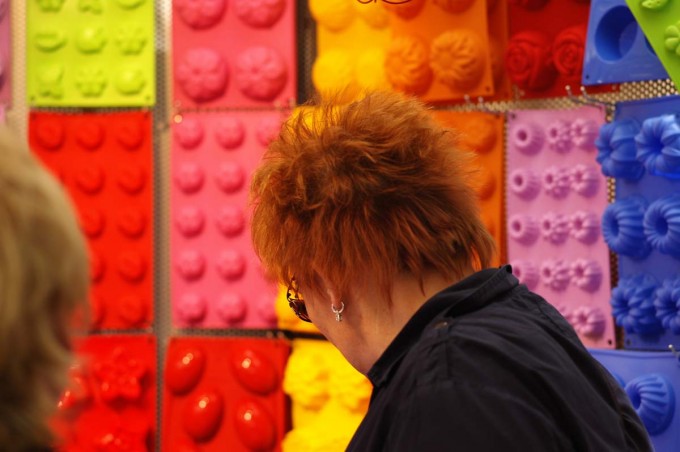 Couldn't have got this close, nor got this perspective, with a 35mm.
Two planes, shot with the 75mm (behaving as a 113mm) and R-D1. I couldn't have shot this with a 35mm lens!
(Of course, feel free to say that these pictures are rubbish, and that you wouldn't have wanted to take these kinds of shots anyway!)
Finally, this obsession with 'IQ' – Image Quality – isn't really what photography's about ..unless you're going to blow up your pics to three foot by two foot (one metre x .6 of a metre). Steve uses his pics to illustrate this website, some photographers earn their living by selling their photos to newspapers, magazines and advertising and PR companies. They need great quality.
But the average Jane and Joe like you and I, what are we going to do with our pictures? Put them on the wall, publish them on the web, clog up a hard drive with them? Email them to friends and family? We'll never see the full quality of good digital – or digitised – photos here on the internet. No electronic display can do justice to the fine detail and range of tones which a good paper print produces ..so why examine the minutiae of 'IQ' and lens resolution (which used to be my own paid job) when no web page can do justice to them anyway?
What's important is the photographer's mental image; what s/he chooses to shoot, and where they position themselves, which lens they use to get the composition they want, which aperture they choose, how they use the light. Steve has a terrific 'eye', and no matter what camera he uses, his pictures are always better than mine ..because he 'sees' better: he's got a better sense of composition, of the moment to freeze the action, of the magic that's in the air, of how to direct the viewer's eye. He could shoot with a pinhole camera and get far better pictures than I can ever do.
Lusting after a piece of hardware is OK in its own way ..like trainspotters want to see Nigel Gresley's "Mallard" in full steam, or bird-watchers want to see some rare or exotic species, or audiophiles want some rare or exotic turntable with a tube (valve) amplifier and (if they've any sense) some KEF loudspeakers. But all too often, the audiophiles don't care for the music, or the creativity which has gone into it ..they just listen for the absence of 'coloration'. And camera-lusters want the one which has this, that or the other new specification, without understanding that most of the bells and whistles are unimportant: it's vision, imagination, thought, point-of-view which makes a good picture. Every new digital camera's going to be superseded by a different – or supposedly "better", or more lust-after-able – one next month anyway. It's more worthwhile to concentrate on improving one's own eye than to keep spending money on new, expendable, obsolete-within-6-months hardware.
I find the restriction of having a single (35mm) lens is as much a restriction as having only an 85mm lens, or a 105mm or a 20mm. It lets me – and you – take a certain kind of picture (semi-wide) and nothing else. That's why I gave up my (convenient) Polaroid (instant images, just like a digital camera, but long before digital existed) and bought an SLR, so that I could swap lenses, or zoom in to get the shot I wanted.
I don't want to go back to those days of the fixed-lens Rollei, or the Minox, or the – and this is the nearest equivalent for an instant picture – fixed-lens Polaroid. (Those big b&w re-usable negatives from 'professional' Polaroids were extremely fine-grained, with wonderful detail and a great range of tone, by the way!)
I want flexibility, freedom to shoot with any lens at all. I want to shoot the pictures which I want to shoot ..not just the ones which Mr Fuji and that single 35mm lens allows me to shoot.
That's why – although I've spent quite some time with one – I won't be buying this slow, inadequately thought-out and compromised X100 pretend-"classic" camera. It may have faster focusing than the similarly restrictive Leica X1, it may have chrome knobs on it and an optical eyepiece, it may be nice and sharp (when correctly focused) ..but I want freedom, not restriction, in my life.
I WILL be paying one third the price of the X100 for its brother, the Fujifilm F500EXR (..or the 550EXR if I want the in-camera choice of Provia, Velvia and Astia). The F500 doesn't have the 'retro' styling, but it has the same ISO choices, shoots RAW at 16 megapixels, has FAR faster focusing with FAR less shutter lag, and has a 15x zoom lens – admittedly with only a half-inch (12.7mm) sensor. But at least it stops the traffic, in a more literal way than the X100 does!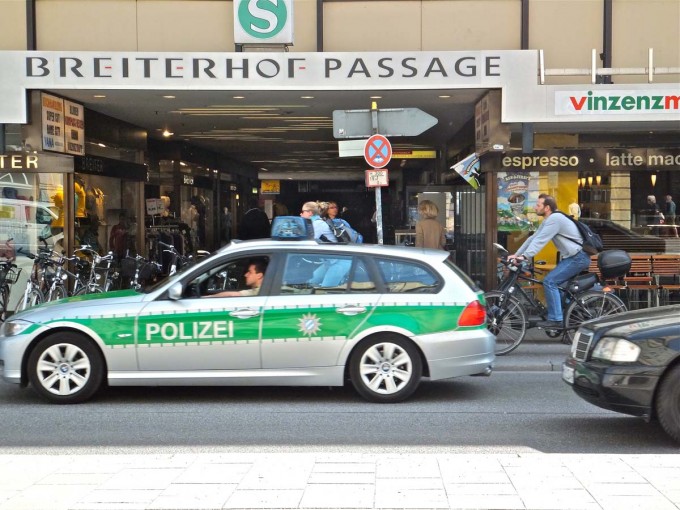 [ad#Adsense Blog Sq Embed Image]
HELP ME TO KEEP THIS SITE GOING AND GROWING!! IT"S EASY TO HELP OUT!
Remember, anytime you follow my links here and buy from B&H or AMAZON,
this helps to keep my site going. If it was not for these links, there would be no way to fund this site, so I thank you in advance if you visit these links. I thank you more if you make a purchase! I have nifty search bars at the upper right of each page so you easily search for something at either store! I currently spend 10-14 hours a day working on this site and the only way that I can pay for it is with your help, so thank you! Currently my traffic has been increasing but my funds to pay for the site has been decreasing, so any help would be GREATLY appreciated!
Even if  you buy baby food, napkins or toothpicks at amazon it helps this site, and you do not pay anything extra by using the links here. Again, you pay nothing extra by using my links, it is just a way to help support this site, so again, I thank you in advance 

If you enjoyed this article/review, feel free to leave a comment at the bottom of this page and also be sure to join me on twitter or my new facebook fan page! Also, you can subscribe to my feed at my subscribe page HERE and read these posts in your browser or news reader! Be sure and visit the all new forums on the site HERE!
The comments have been CLOSED on this article as it appears nothing constructive is being said. The attacks have all been made and I even had to delete a few of them. I posted this article as I am a fair guy. Not everyone will like or love the X100. It does have its quirks and many do not want to deal with that. I posted Davids article to show "the other sides" view of the X100. Meaning, from someone who does not like it as much as others do.
If you want to discuss this further, without name calling and being rude, you can do so here, in the brand new Fuji X100 forum.