Steve,
Here is my submission for a daily inspiration.  It is a long story, so
hopefully this doesn't disqualify it. I used my M8 camera and a 35mm f/2
Zeiss Biogon on f/2.8.  The shutter speed was 1/90th and 1/125th.
More pictures can be seen on my website troybradfordphotos.com.  I
have three blogs that are all tied together on this website (the main
blog, iphone photo blog and street photography blog).  Thanks for your
consideration.  Keep up the good work on your great website…
Thanks,
Troy Bradford
—
So last fall I was walking around my hometown Greenville, Texas looking for old buildings to photograph and use for backdrops.  I am peeking in a window when I hear this guy behind me yell "hey man, do you have some change to spare so I can get something to eat". I am not
one to carry around much cash but I had a couple of bucks in my wallet so I gave it to him.  As he started pedaling off, I realized something.  He was pedaling with one leg…  Of course, here I am with my M8 around my neck and I absolutely missed the "decisive moment".  I
struggled with this for some time.  As much as I wanted the photo, I kept asking myself how could I have asked him for a photo without disrespecting/insulting him.
Since that time I have decided that if I ever saw him again I would approach him, talk to him, try to learn a little about him, see if he needed some money to get something to eat and ask for that picture.  I am now a firm believer that both the giver and receiver can be blessed
if it is handled in the correct way.  I definitely use that approach with my street photography for certain situations such as this. Unfortunately, every time I have seen him as I was driving through downtown, I didn't have my M8 with me.  That is until tonight…  My son-in-law and I were passing through downtown on our way to scout some photo locations on the east side of Greenville.  Out of the corner of my eye, I saw the gentleman sitting beside his bike at the local Super Plaza.  My heart started racing because I knew that I couldn't let this opportunity pass without circling the block and stopping.  The reality of stopping and talking to a stranger, ultimately asking them to allow you to take a picture, makes me very nervous.  It is amazing how the adrenaline starts flowing in your body as you are approaching the stranger.
I approached him and asked him how he was doing.  I told him the story of how I first met him and how I still occasionally see him around the town.  We talked for a little bit and exchanged names.  He asked me to guess his age and I came pretty close (missed it by 2 years).  He was very gracious and let me take the pictures.  Of course the lighting was getting very low, as darkness was approaching, and I was shaking because of the rush of the moment.  But I think I still captured the moment and you can see a man who has lived through his own set of
hardships (some more visible than others).  I showed him the product on the screen and let him know that his facial features are perfect for street photography.  I shook his hand, gave him a little money to help him along and left.  What a great experience!  Every time that I meet/photograph someone who is making his/her way through hard times, I feel fortunate.  Fortunate of all my current blessings and fortunate that I took the time out of my life to meet this person and hear their story…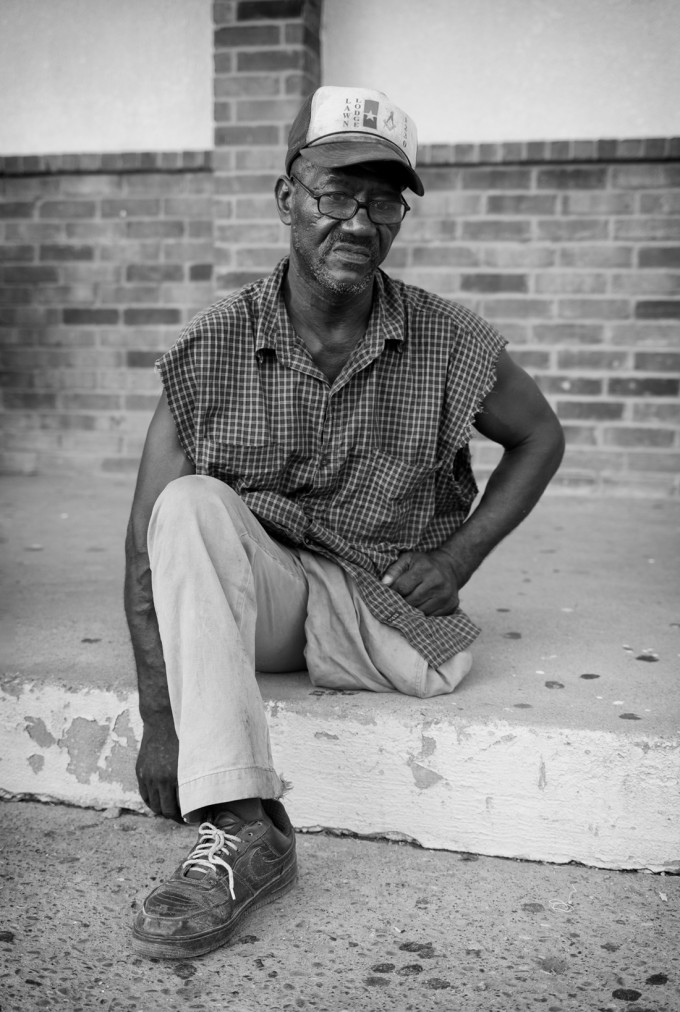 –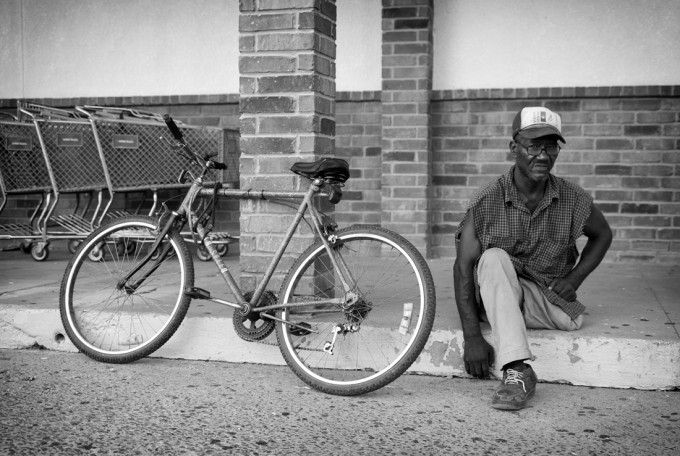 –
From Steve – Thanks Troy. Reminds me of the work I did years ago with my MP here . Thanks for sharing. 🙂