Skill and Luck
by Coen Wubbels
I admit, I am an addict. A grave one for that matter. You invite me to play almost any strategic board game and I'll probably leave my wife sitting at the dinner table to beat you at your own game. One of my bedroom walls used to be stacked with a dozens of obscure and ordinary games.
In 2003, my wife handed me a wooden box that once contained two bottles of wine, to be filled with my favourite games. "No more space in the old Land Cruiser" she said as we departed from the Netherlands on what has become the trip of our lifetime. [still is].
Mah-jong
I am attracted by board games, especially when they contain beautiful, handcrafted masterpieces. So I couldn't just walk by and ignore this game of mah-jong in Yunnan. I have always wanted to learn this mysterious game since I once bought an old bamboo set at a flea market. I was invited to sit down and for two days I tried to understand the principles as well as the language of the game. I failed at the latter.
I feel that when people are playing games they are either relaxed and joyful, or very concentrated and unreachable. In both cases they are focussed not on you, but on the game and their mates, and always let you snap some shots.
Ladies playing a game of mah-jong on the streets of Baisha, China. [Sony R1 35mm f/9.0 1/50]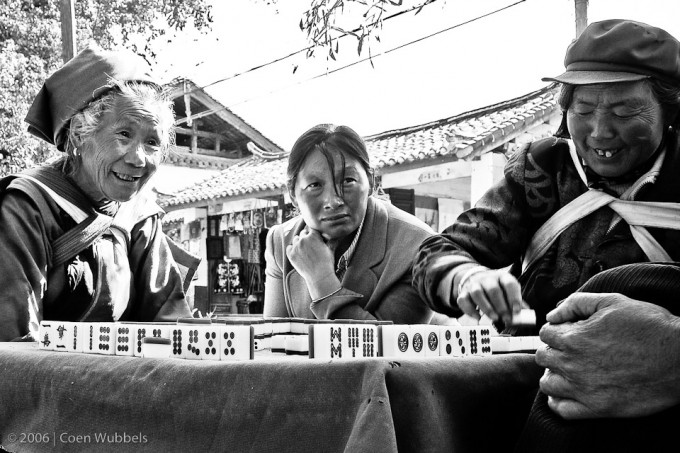 –
Chinese Chess
After having seen a lot of men playing Chinese chess in China, I managed to buy some wooden pieces and a silk scarf with the board printed on it, with the intent to teach myself this curious game. But alas, you need two to play and Karin-Marijke isn't fond of chess-like games. I assume it must be gathering dust somewhere in the bowels of the Land Cruiser.
Men playing Chinese chess in Lhasa, Tibet. [Sony R1 24mm f/2.8 1/125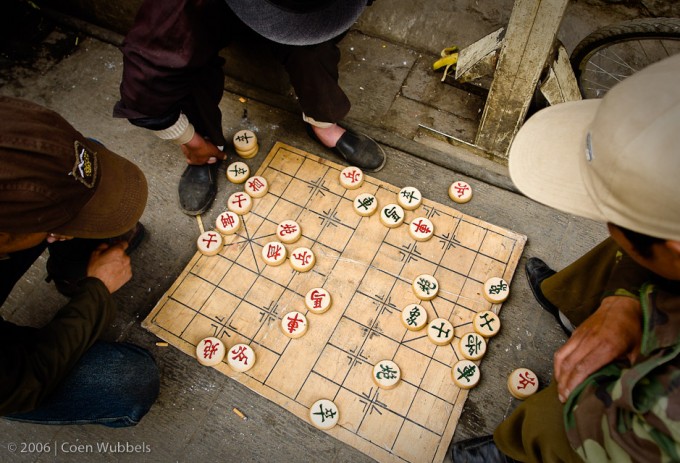 –
Dominoes
In some countries certain games are more popular than others, and crossing borders may bring completely different experiences. For instance, table football is seen almost everywhere in South America, but I can't recall ever having seen it in Asia. Checkers and chess are universal and when we entered French Guiana a few months ago, we saw some good, old fashioned dominoes.
Domino domination in Saint Laurent du Maroni, French Guiana. [Panasonic LX5 24mm f/2.8 1/100]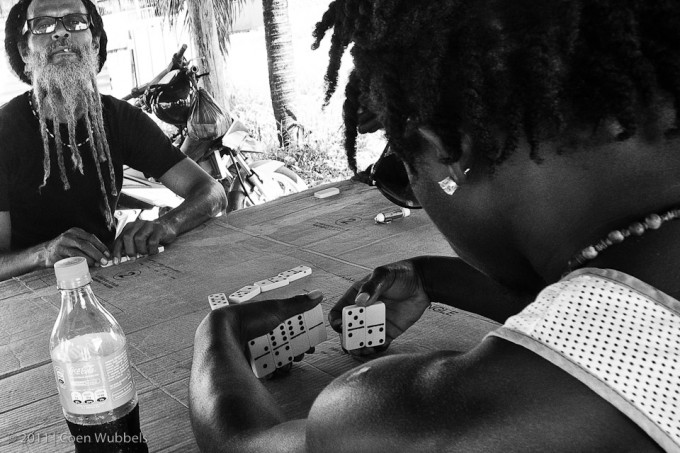 –
To see more of my work, do visit my new photocoen website, or if you want to know more about our Landcruising Adventure, visit our website or facebook page.
Adventurous greetings,
Coen
[ad#Adsense Blog Sq Embed Image]