Steve,
Thanks for committing your time and passion to your site. Many sites attempt to be all things to all people, and the biggest compliment I can give to you is that it's clear you are remaining true to who you are, and that comes across loud, clear, and consistently.
You and your site's community are responsible for me buying a M9 and 35 lux a few months back, and it seemed appropriate to give back to you and the community with some images from my first trip with this combo. First a quick background on me – I'm primarily a landscape shooter, and my main kit is a Pentax 645D. I love the 645D, but when you add a few lenses, sturdy tripod, filters, etc, the size and weight require serious commitment on my part, with a planned landscape shoot in mind.
The M9 is a terrific compliment to the big landscape kit. It is capable of high quality landscape images, while being lightweight, portable, and easy to take anywhere.
I just returned from a trip to London (with a 1 night stopover in Iceland) to take part of the 2011 Veolia Environnement Wildlife Photographer of the Year awards. I entered the competition for the first time, and was fortunate enough to be recognized for my Wave Abstraction photo taken in Hawaii earlier this year (gratuitous plug!). I made the decision to leave the big Pentax kit at home, and travel light with just the M9 and 35 lux.
This first shot was taken from our hotel porch in Iceland. We booked a 1 night stopover at the hotel at the Blue Lagoon, famous for their hot salt water and mineral baths. The temperature was just above freezing, and the wind was blowing over 40mph. I looked out the hotel room window, and light was just beautiful, illuminating the green moss on the black lava. I walked outside with the m9 in my bath robe, as we were getting ready for the pools. Needless to say, I didn't agonize over the details of the shot, as I was freezing!
Moss on Lava: M9/35 lux, ISO 200, f/4, 1/125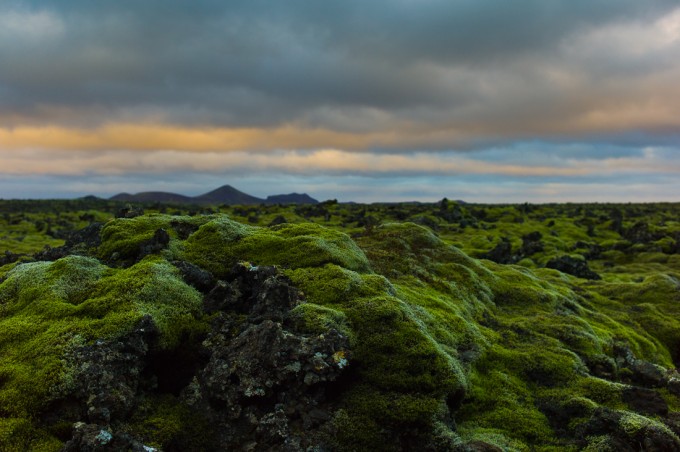 –
The 2nd shot was taken at the Portobello Market this past Sunday. The market is an amazing experience on Sunday's, as Portobello Road is shut down and filled with antique, food, & tourist vendors for a 2 mile stretch through Notting Hill. This is a street musician working in the middle of the hustle and bustle. I mistakenly left the ISO at 800 from some earlier indoor shots, so the settings weren't ideal (in case anyone is wondering about the ISO/shutter speed choice…).
Solitary Flipper Jam:

  M9/35 lux, ISO 800, f/1.7, 1/4000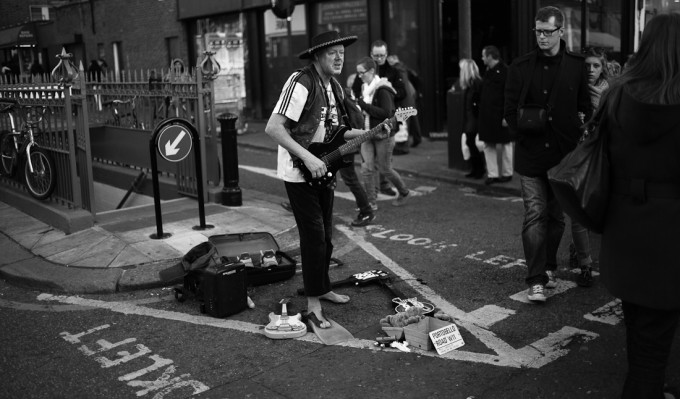 –
The last image was taken on our walk back to our rented flat from the market.  We stayed in a quiet residential neighborhood, and fell in love with this sign, as it both represented the pace of the neighborhood, and was a fun, different sign from what we are used to at home.  The sun was low in the sky, and I was shooting into it, so I positioned myself so the sign blocked the sun.
Life in the slow lane:

  M9/35 lux, ISO 80, f/1.4, 1/250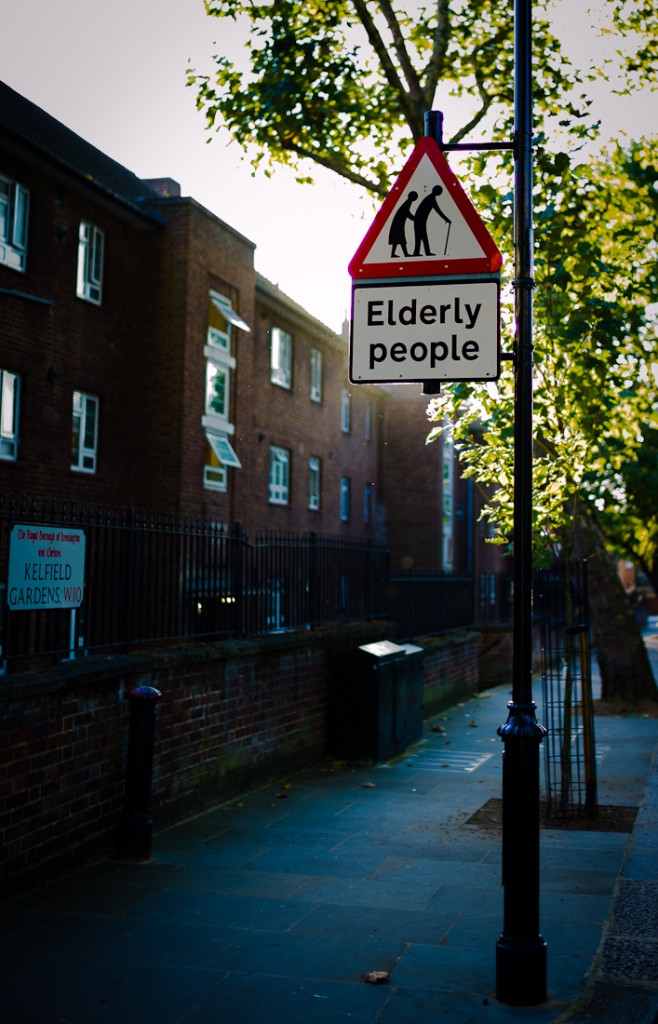 –
Thanks!
Laurence Norton
Seattle, WA, USA