Hey Steve,
I've been coming to your site since I got back in to photography early
last year. Your reviews and tutorials have been extremely helpful, but
my favorite parts of the site are your picture posts and the Daily
Inspirations series. They do their job extremely well. I am always
motivated to get out and push myself after seeing the excellent work
you and others are putting out!
I was introduced to photography in College. As an Art and Technology
major, I had to take a few photography classes. I learned the
fundamentals of shooting a good picture, but photography never
captured me in the same way as painting or graphic design.
I did not really take much interest until I was stationed in Lesotho
as a United States Peace Corps Volunteer. My wife and I were having
the experience of a lifetime, and our bottom-of-the-barrel compact
just wasn't up to the task of documenting life here. I started
realizing that I didn't dislike taking pictures; I disliked my camera.
We invested in an Olympus E-P1 and a Panasonic 20mm F1.7, and it
changed everything. All of a sudden, I couldn't wait to go out and
shoot pictures. For the first time in my life, I was going out
specifically to find things to shoot. It gave me a much-needed form of
self-expression at a time in my life that my work didn't require my
creativity.
While I fancied myself a landscape kind of guy when I bought the
camera, I discovered quickly that I loved taking pictures of people.
The Basotho people are great subjects; they are expressive, excited,
and anything but camera shy. Street and event photography have given
me some great opportunities to push myself as a photographer during my
service.
I have upgraded to an Olympus E-P2 with the wonderful VF2 viewfinder,
and have added a couple adapted film lenses to my bag. I revived my
parents' old Nikon E series 50mm 1.8, which has become my most used
lens. I also picked up a Konica 135mm 3.2 that is serving me well.
I post pictures regularly to my Tumblr account, Ruined Boots
(www.ruinedboots.tumblr.com) I also maintain a Flickr account
(www.flickr.com/brandiandwes/) with a more diverse range of pictures.
I am still getting my feet wet in photography, so I would love
feedback!
On to the pictures…
Dancer:
I shot this at Peace Corps Lesotho's 50th Anniversary Celebration. A
group of dancers performed a traditional Basotho dance as part of the
celebration. The amount of dirt and grass they kicked up as they
stomped made for some cool shots.
Olympus E-P1, Nikon E – Series 50mm F1.8, 1/4000, ISO 160
–
Muddy Boy:
I knew I had to get a shot of this kid when he ran up outside a school
where I was assisting with a training session. The pattern of mud on
his face was very striking. Just as I was pressing the shutter
release, he put his hand up in front of his face. It turns out he knew
better than I did how to make a great picture!
Olympus E-P2, Nikon E – Series 50mm F1.8, 1/640, ISO 200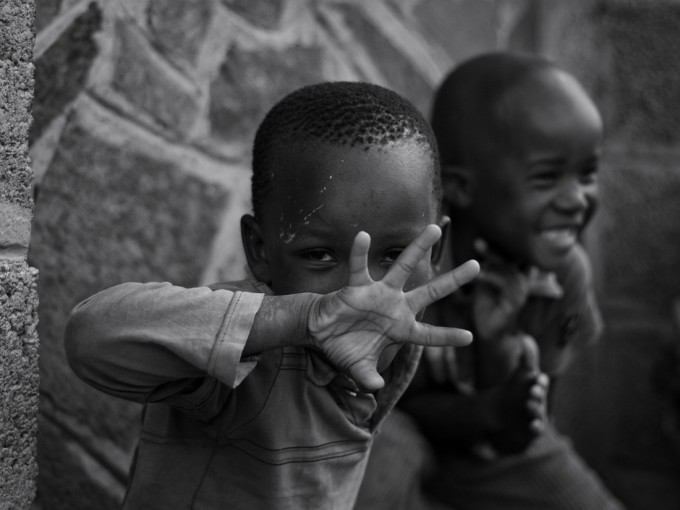 –
Flower Girl:
This young lady was a flower girl at the wedding of a friend's
daughter. The wedding was a real event, with dancers, singers, and a
dozen flower girls and ring bearers ushering the couple in to the
church. I snapped this as they proceeded in.
Olympus E-P2, Nikon E – Series 50mm F1.8, 1/2000, ISO 200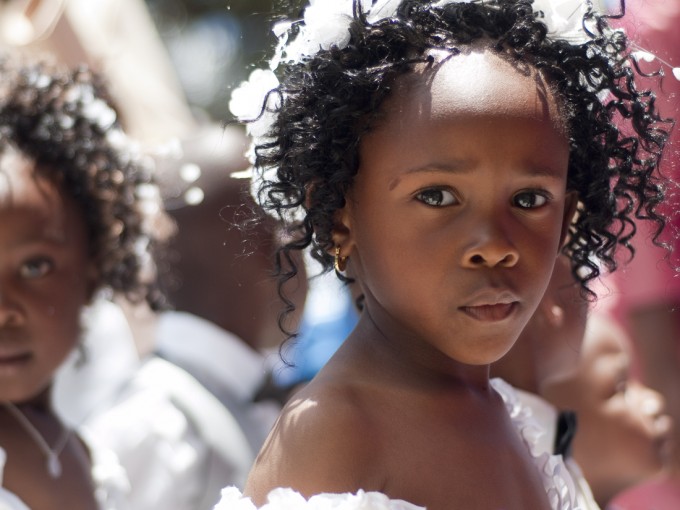 -Wes Helm