Hello Steve!
It's been almost 1,5 years now since my first feature on your site. There have been a lot of changes since then and there have been taken a lot more pictures!
First there have been a significant change in gear. I only carry one lens and one camera when doing some street photography. Really shrunk the setup down, it was kind of in the way of my photography. I was always looking for a better camera, more megapixels etc.
Since approximately a year I've been shooting film. I really enjoy shooting with a film camera next to my DSLR. It slows me down, don't let me take 500 images in one day and makes me excited to get the negatives back! The best thing of all, when you get your negatives back and you're scanning your images you'll see images that you forgot about so it's kind of a surprise as well!
So here are some shots I took this year (2013) in Antwerp, Belgium.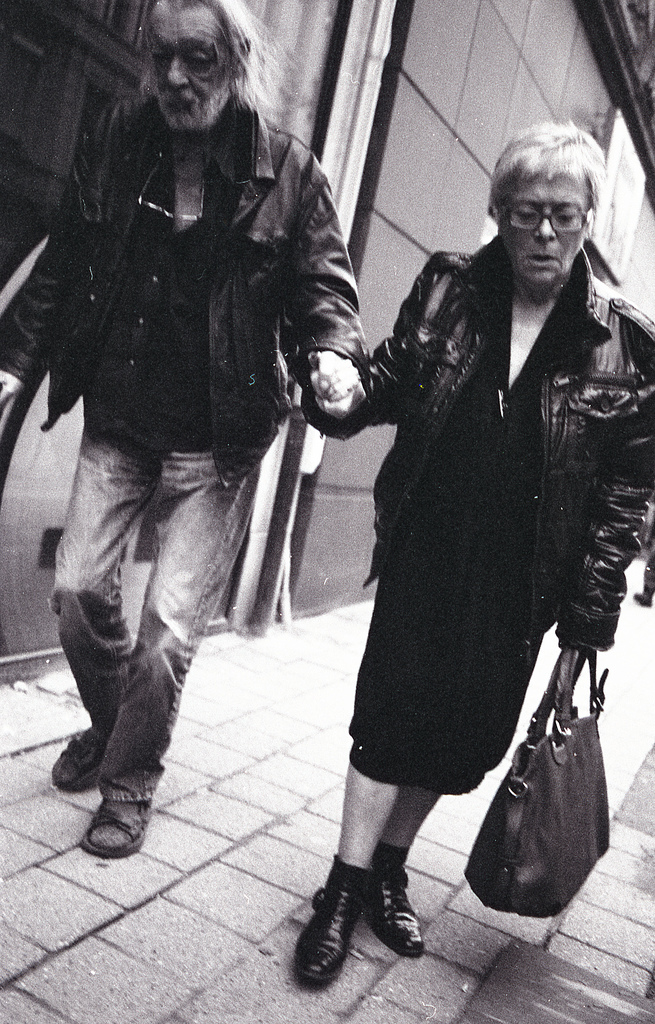 "A helping hand" – Antwerp, Belgium 2013. I saw these two walking down the street helping each other and I think it's a really touching photograph. Shot with the Leica MP and a Voigtlander 35mm 2.5. Shot on Kodak Tri-X 400.
"Small, big" – Antwerp, Belgium 2013 – After studying the beautiful work of Elliott Erwitt, my fascination with dogs on the streets has grown. Always looking for cool looking dogs (especially small dogs surrounded by large creatures called humans!). Shot on the Leica MP with the Voigtlander 35mm 2.5. Shot on Kodak Tri-X 400. I love the sharpness of the Voigtlander! Great BANG for the BUCK!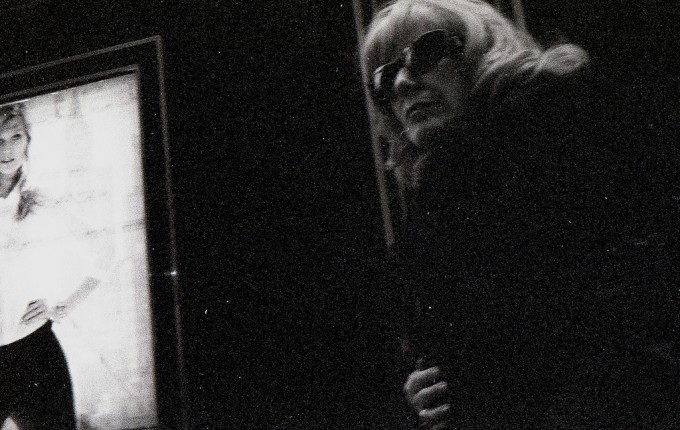 "Cosmo" – Antwerp, Belgium 2013 – I saw this rather extraordinary older Lady in a big fur coat wearing sunglasses (while there was no sun!) and I saw this advertisement with this young lady in the background with almost the same hair. I really like this picture with the grain and darkness. I also like the reflection on the sunglasses which makes it kind of evil looking. Shot on the Leica MP with the Voigtlander 35mm 2.5. Shot on Ilford Delta 3200 (Been experimenting with this film, sometimes the grain is too much, sometimes it really ads some to the picture).
As you've seen I've been using the Leica MP. This will be my one and only film camera for the rest of my life (sounds really dramatic, I know..). I'm using this camera with a lot of joy.
I've also been using the Leicavit on this camera (actually got it as a present when I purchased the Leica MP). For the people that are interested, here is a quick overview video of the Leicavit on YouTube which I've made some days ago (I was looking for some information about the Leicavit but I couldn't really find any useful video demonstration on how it works so I've made one myself):
[youtube http://www.youtube.com/watch?v=0xxu9z_Jgsw&version=3&hl=en_US&rel=0]
I hope you've enjoyed the pictures and the video of the Leicavit as well. And till next time! Mr. Huff; Keep up the great work on the site!! Really enjoy it, thank you very much!
For some of my other work other that street photography you can check these sites:
–
–