Don't forget to enter the new I-SHOT-It premium contest! 60 days to go!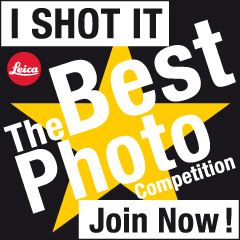 The newest Premium competition is underway and has been for 30 days at I-SHOT-IT.COM. A week ago or so they picked the grand prize winner of the competition who walked away with $25,000 US and a Leica Monochrom camera, and the cool part is that the winner came from this site! Because I posted about the contest, someone here saw it, entered his photo, paid his $20 and won $25,000 and the Monochrom. HOW CRAZY IS THAT?!?! The more that enter the bigger the prize.
So just wanted to let everyone know about the contest as they ALWAYS have them. They also have other contests with other prized like Leica X2's and other cool camera gear along with cash.
You can check out the new Premium B&W competition HERE and all of them are listed HERE.