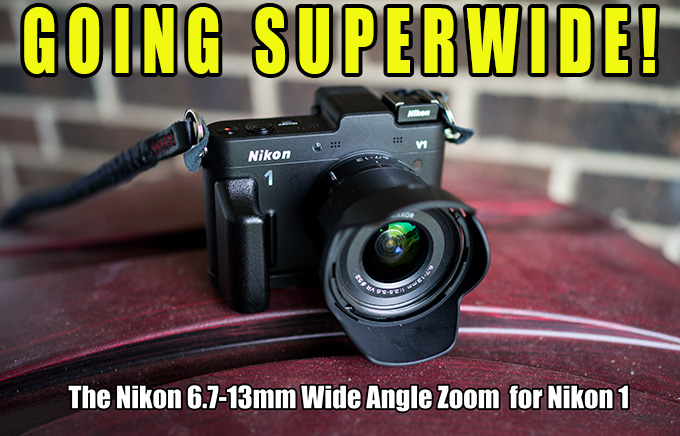 Going Super Wide: The Nikon 6.7-13mm Lens Review on the Nikon V1
You can order the Nikon 6.7-13 in Black or Silver at B&H Photo
The Nikon 1 system has been gaining acceptance and steam lately ever since Nikon cleared out the old Nikon V1 bodies at a crazy $249 price tag, WITH a prime wide-angle 28mm equivalent 2.8 lens! The result of that fire sale is that many people have this little beauty now and the good news is that Nikon has released quite a few cool new lenses lately that are higher up in the quality chain than the 1st installments.
Nikon V1, ISO 720, 6.7-13 at 6.7 and f/3.5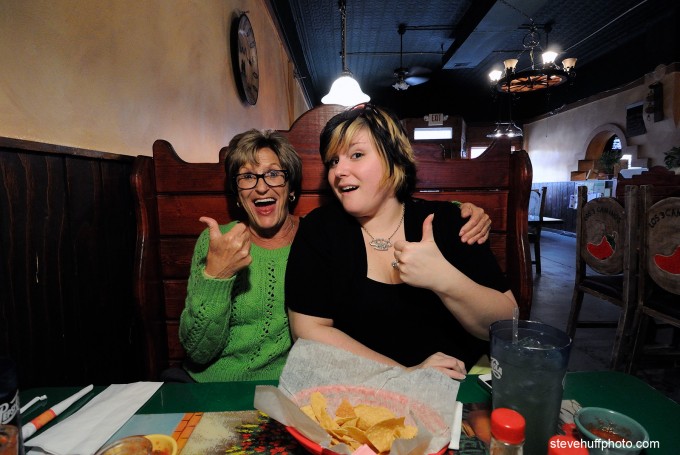 Sure, the old 10mm 2.8 and 30-110 Kit Zoom are fantastic but the newer lenses like the 18.5 1.8 and 32 1.2 are excellent and finally allows Nikon 1 owners to achieve a shallow depth of field effect in our photos. What does this offer? Subject isolation! The Nikon 1 system lacked these types of lenses for a while and now that they are here, many shooters are loving them. The 32 1.2 has sold out of black and silver for the last two shipments, and that is a $900 lens that the Nikon 1 haters said would never sell. I predicted it would, and it is. Because it is a jewel of a lens for the 1 system.
[ad#Adsense Blog Sq Embed Image]
The Nikon 6.7 -13mm lens for Nikon 1 is indeed a superb lens of image quality but keep in mind that due to the small 1″ sensor, this focal length equivalent will be like an 18-35 lens on full frame and coming in at just under $500, it is not cheap, but is it high quality? That is the question, because if a $500 wide-angle zoom is no good or just average, then no one is going to buy it!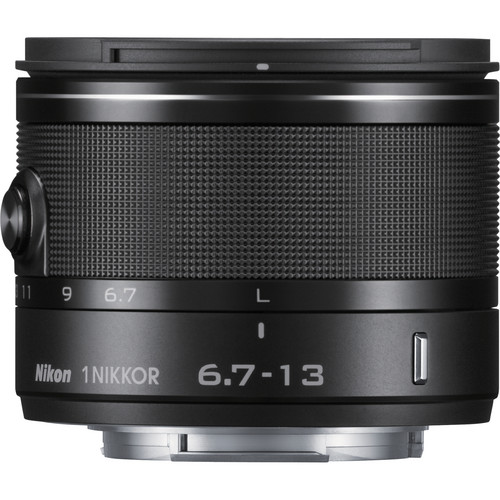 Luckily, this lens has been getting high scores among users who have bought it with some saying it is among the best wide-angle lenses  they have used!
The Nikon V1 and 6.7-13 Zoom at 6.7 (18mm). The lens is contrasty, has great color and is plenty sharp! Taken through my window wide open you can see the bug splat on my window but the colors look gorgeous.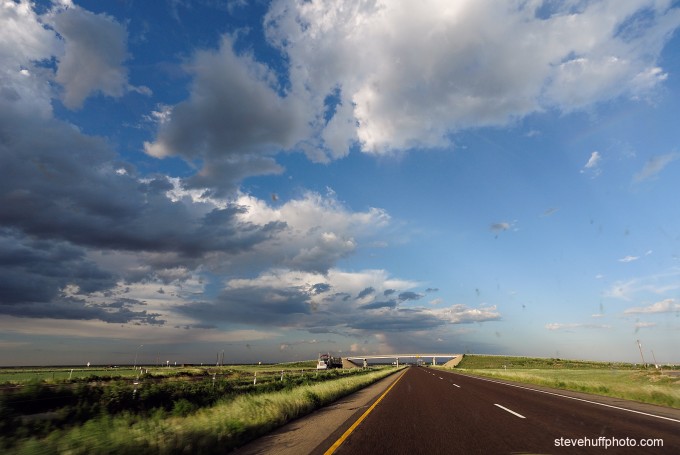 Build and Feel and AF Speed
The build and feel of the Nikon 6.7-13 lens is very nice. It is not as high quality as the 32 1.2 lens for the same system, but it feels better than the 18.5 or the 10mm or the 10-30 zoom. It feels more precise. It is smooth to zoom and feels great on the camera though it is on the light side and appears that it may be easily damaged. The finish is much like the finish on the Sony E-Mount lenses..which is..fragile. It comes in at only 4.5 ounces.
The AF speed with this lens on my Nikon V1 is very fast, almost instantaneous. Never a focus problem with the Nikon 1 and usually with wide-angle lenses, due to the large DOF, everything is normally in focus anyway. But the bottom line is that this lens has zero focus issues on the Nikon V1 and I assume it would be the same for the V2 or the J1-J3.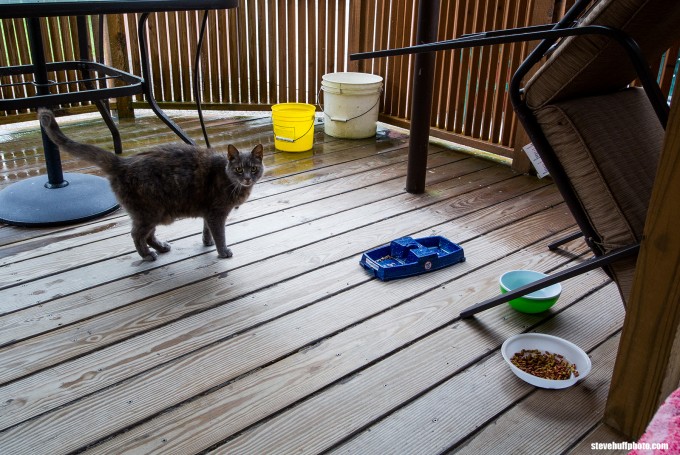 So build is good, but not pro-like build and the usability is fantastic. The hood is small and light and fits on the front easily. The AF is blazing fast as are most Nikon 1 lenses.
The wood and lines in this image are correct, the real building was ready to collapse and was warped beyond belief. The Nikon 6.7-13 rendered it with good color right out of the camera on the Nikon V1.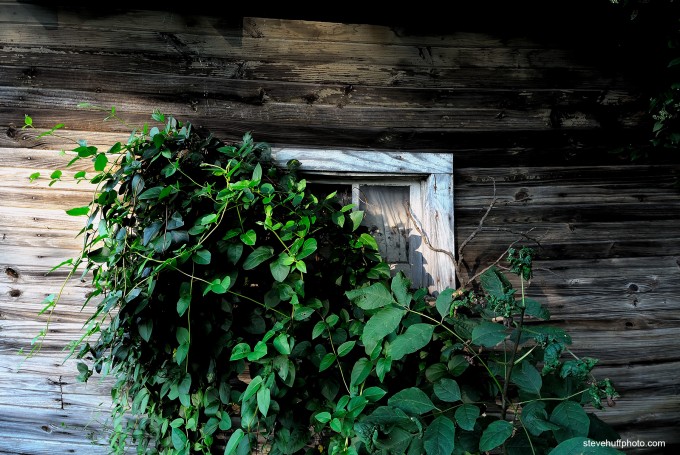 No Need for (aperture) Speed!
The Nikon 6.7-13mm Lens is not a fast aperture lens but it doesn't need to be. The range is from f/3.5 at the widest end of 6.7mm to f/5.6 at the longest end which is 13mm. The lens also has built-in VR (Vibration Reduction) to stop the shakes. Shooting wide, we rarely need the help of VR but if you are in low light this may come in handy.
The image below was shot at the widest setting of 6.7mm at f/3.5 at ISO 800 at 1/30th sec. Not much noise (for the V1), great color and as sharp as you can get for this sensor. The light was LOW here but you would never tell that from the photo. My eyes saw dark muddy dreary color, and very dim conditions. The camera recorded the scene nicely and very bright. Great colors as well. I processed the images you see in this review with Nikon Capture NX2 which I found gives me better color output than any Adobe product.
EXIF is embedded in each image if you want to see the settings. This was shot at 6.7 wide open in a dark area, ISO 800 and 1/30th of a second.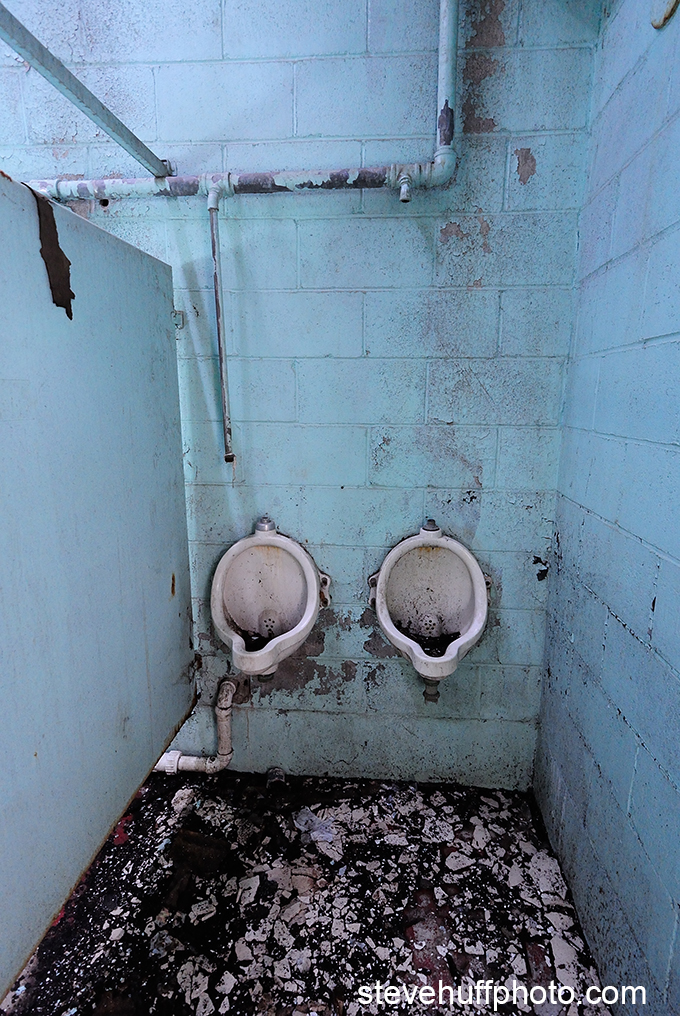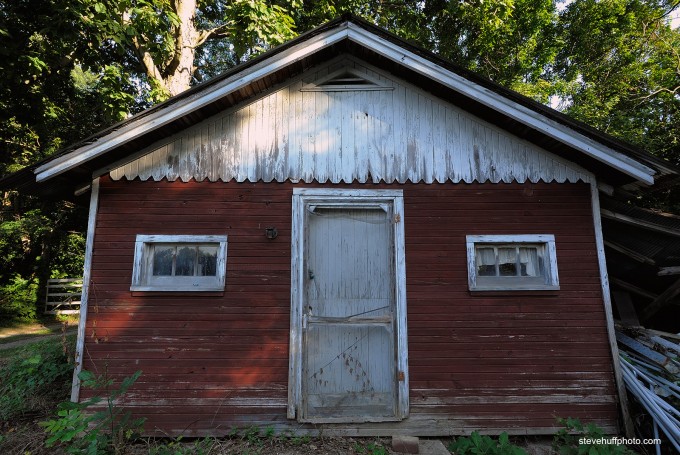 Shooting this lens on the V1 threw me for a loop a bit. When it arrived I was pleasantly surprised by the nice build and feel and as mentioned already, while not a solid pro build it is leagues better feeling and looking than the 1st zooms that Nikon offered for  the 1 system. It is smooth, silky, shiny and comes bundled with a hood and caps. For video, this lens rocks and almost provides a steady cam type of IS.
When shooting images it is sometimes tricky because when shooting at the widest setting it is very hard  to make an interesting photo, especially if you have little experience with super wides like I do 🙂 One thing that is easy for me to do is take a self-portrait and doing so at arm's length is a piece of cake with this lens 🙂
ISO 450, 1/30th second, f/3.5 at 6.7mm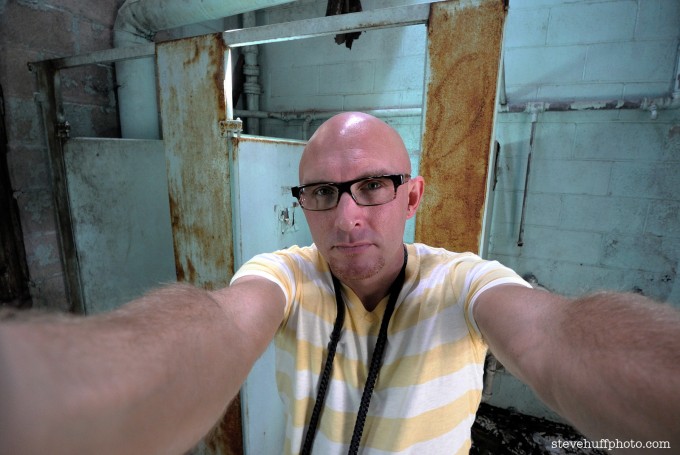 Putting it to the test – ROADTRIP!
My son and I recently hopped in my Mini Cooper Countryman and packed  two weeks worth of clothes and headed out from AZ to Illinois which is a long and tiring 1800 mile trip. We wanted to take some photos, visit with my Mom, and take a drive up into the mountains of Kentucky (which we will be doing this week and I will add more photos to this review within a couple of days) to visit more family.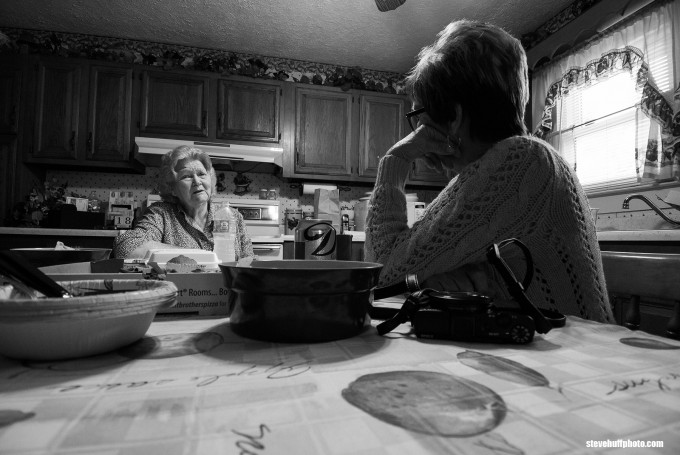 My son brought his Nikon V1 setup with his 10mm, 18.5 and 30-110 (and some of his 6.7-13 photos can be seen later on down in this review). I packed the V1, a Sony RX1R and RX100II, leaving the Leica M 240 behind. Why leave my Leica? Well, the last two times I did this trip I brought the Leica M9 and this time I wanted something different. So far, 3 days in, I have shot the Nikon V1 75% of the time. The lenses I have are the 6.7-13, the 10mm, the 18.5 and the 32 1.2. A complete setup and all I really need besides a long telephoto, which I rarely have a need for.
In a Mausoleum/Tomb with the 6.7-13 at the widest setting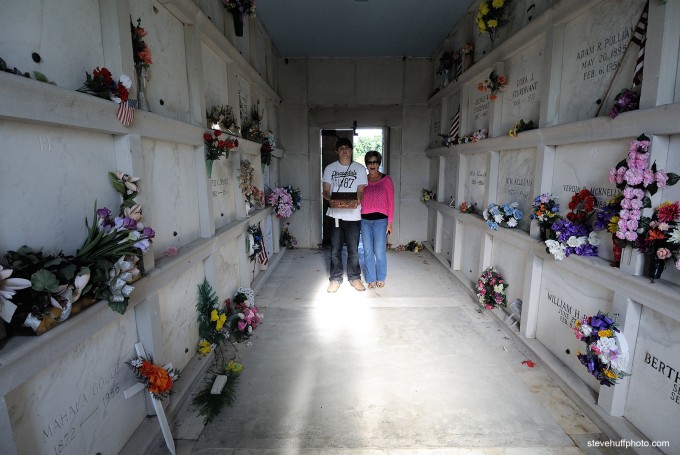 I found the 6.7-13 to be a fantastic lens to add to my bag and I actually enjoyed using it just as much as I do the Voigtlander 15mm f/4.5 on a Leica M. In fact, this lens gives nothing up in performance to that $600 Voigtlander prime and while this one does not give me a 15mm FOV, it does offer me 18-35 and that is good enough for my wide needs when using this camera system.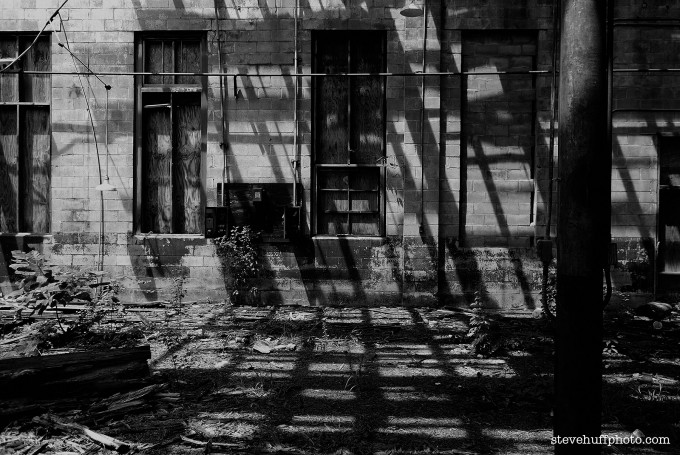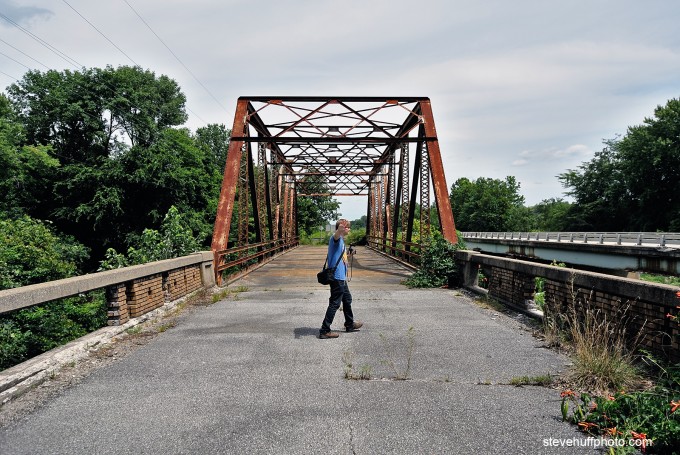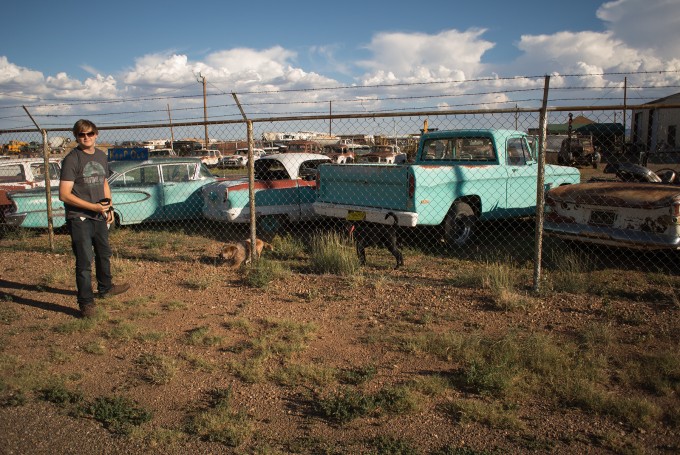 So, is this lens worth a buy? That depends. If you shoot Nikon 1 and love your Nikon 1 system AND you want something that will offer you a wider view than the 10mm prime (18 vs 28) then YES, most certainly!
As for me, after a week of using it I was unsure. After two weeks I was almost sold and after a few more days I was sold 100%. It stays with me and in my Nikon 1 kit.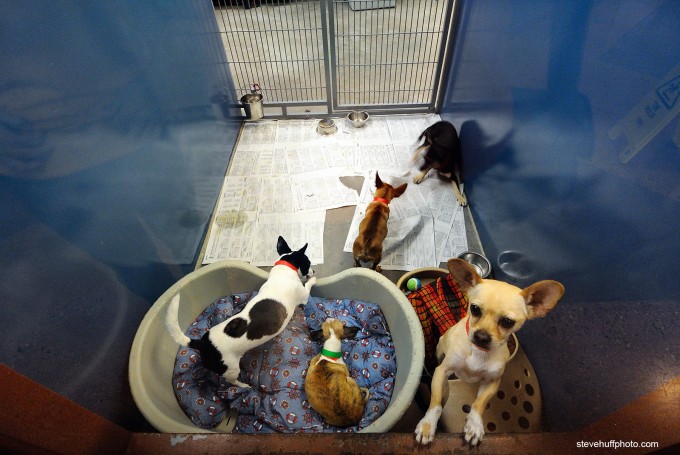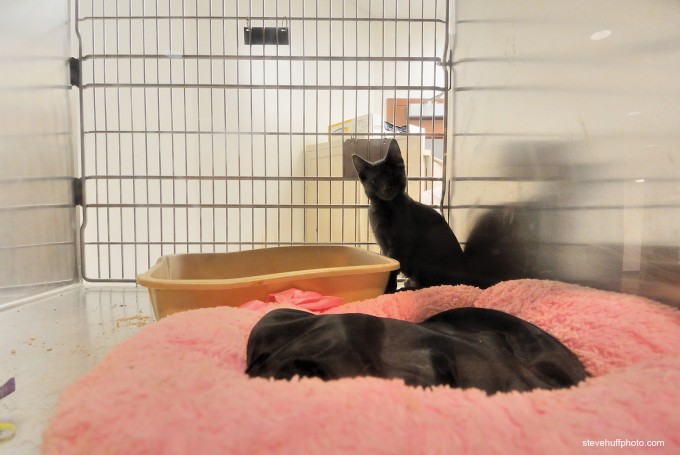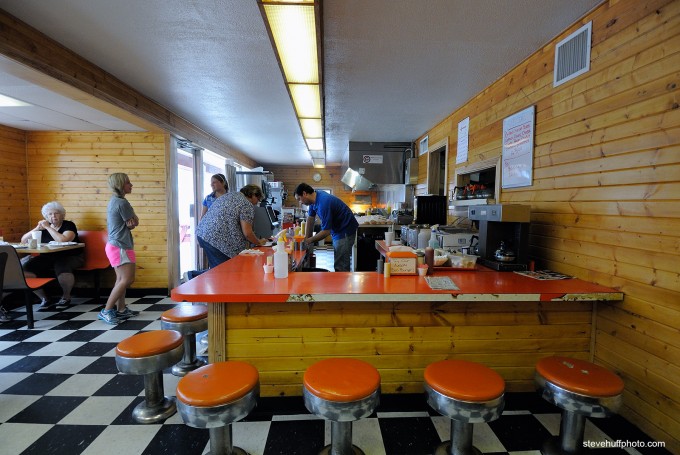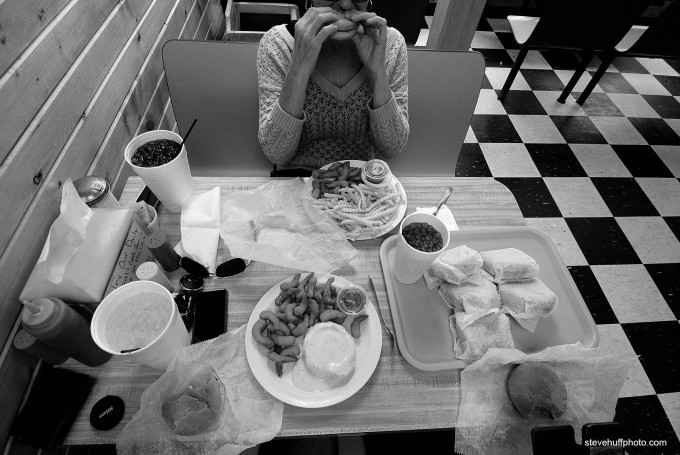 A couple of full size files from RAW
Below are  two full size files from RAW. I believe the best test of a lens is by taking real world photos, which is what we all do when we buy a lens anyway! We do not shoot resolution charts or oddball things, we shoot life, things we see, things we come across. Family, friends and the world around us. If a camera does that well then it is good to go!
Click on the two images below to see them full size. The 1st one was B&W from Capture NX2.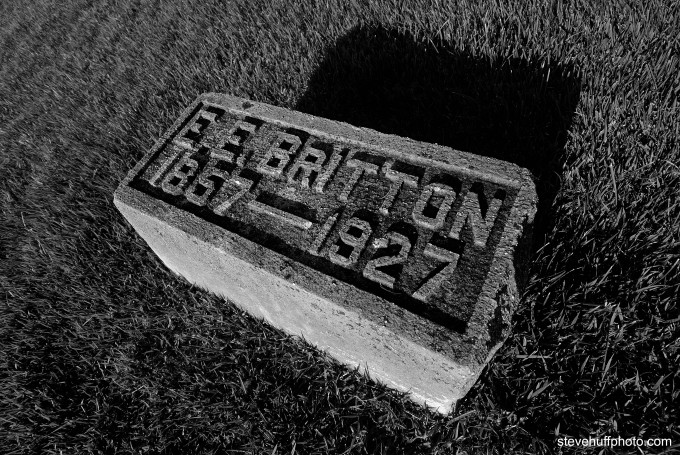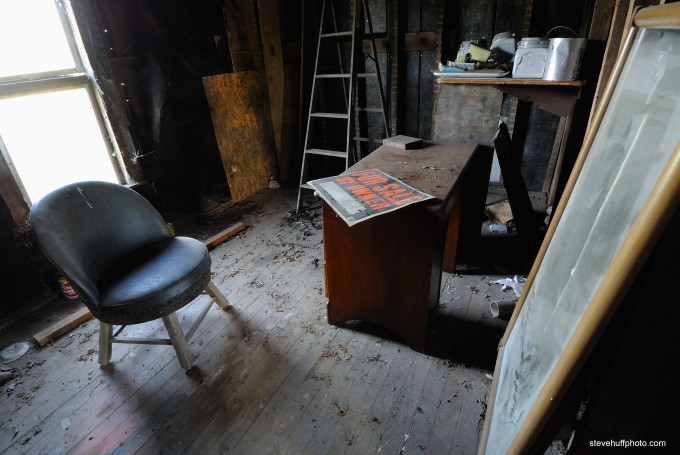 Is this a perfect wide-angle lens?
NO, the lens is not perfect (and not many lenses are) and if you shoot it and open RAW files you will see distortion in the lens, and in many cases it is quite severe if you are up super close shooting straight lines. Remember, this is in reality a 6.7mm lens at the wide end! There is barrel distortion up close but all is fixable with a click of the button in Nikon NX2. You can also fix the distortion in Lightroom very easily. Once corrected you will get crisp colorful high contrast files that are typical Nikon 1 in appearance and pretty sharp across the frame. Again, you will not see the soft corners normally associated with wide-angle zooms.
See how the cage bowls out? This is an uncorrected file and you can see that because I was up very close to the cage it made the distortion very obvious. But this is easily correctable with one click.
UNCORRECTED – Some distortion in the bars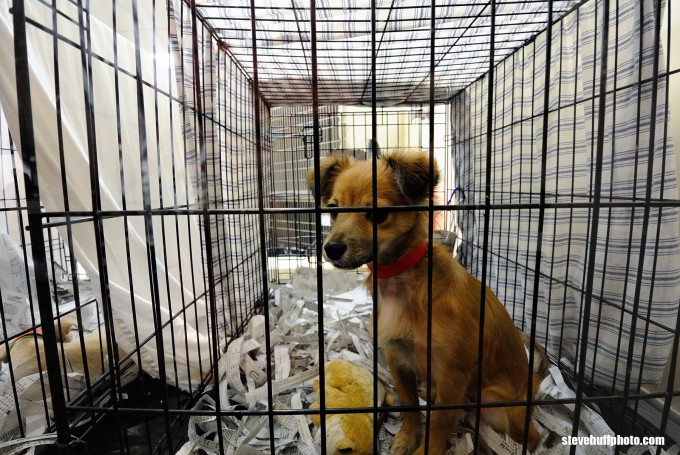 –
CORRECTED – One click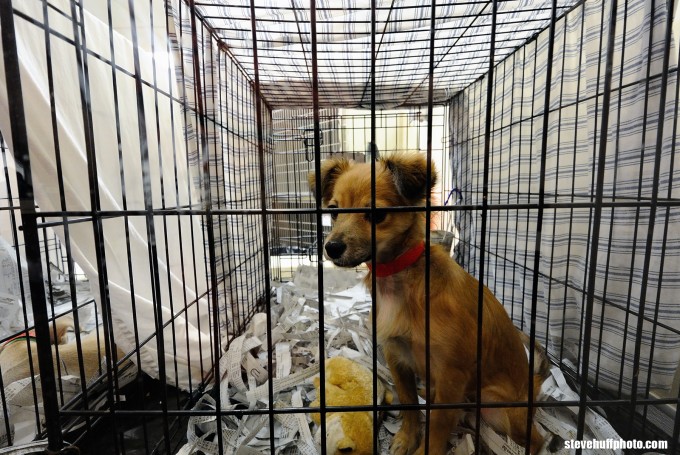 As long as you do not expect Leica $4000 performance in a $495 lens you will be just fine. For the 1 system, this is a welcome addition for all of you who love shooting wide and soaking in as much as you can into the frame. Just be careful of getting super close with straight lines at the widest setting of 6.7.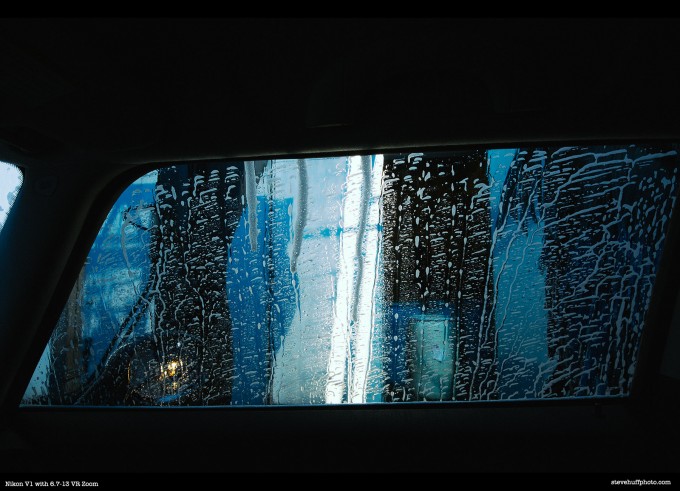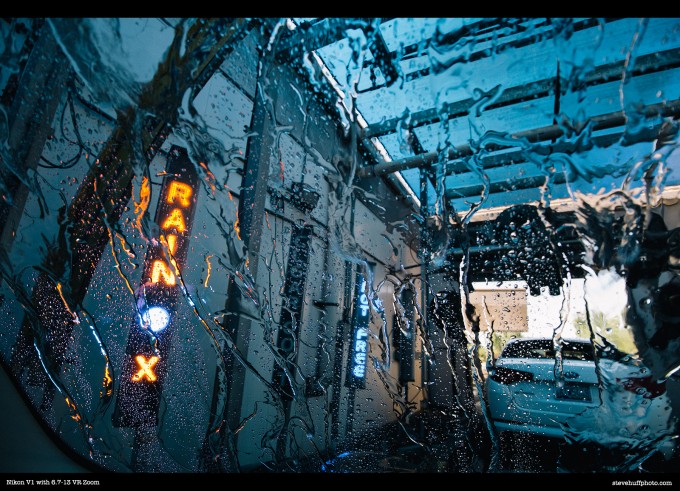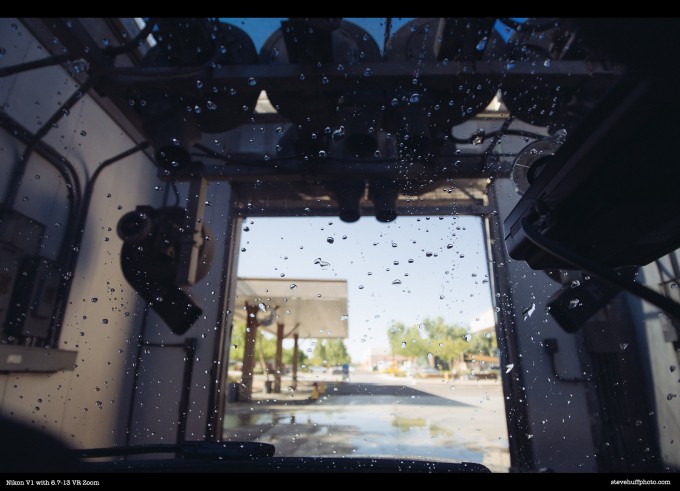 My son shoots a Nikon V1, and he loves the 6.7-13mm!
My son Brandon has been shooting a V1 for about a year or so and he loves it. He still owns an original Nikon D2h with a few lenses and he has now seen the light when it comes to size and weight. He owns the 10mm, the 18.5 and the 30-110 and he wants this lens too. Looks like he may be saving some cash soon.
Below are a few he shot with the lens on his V1 – no distortion correction on these, can yo tell? Probably not.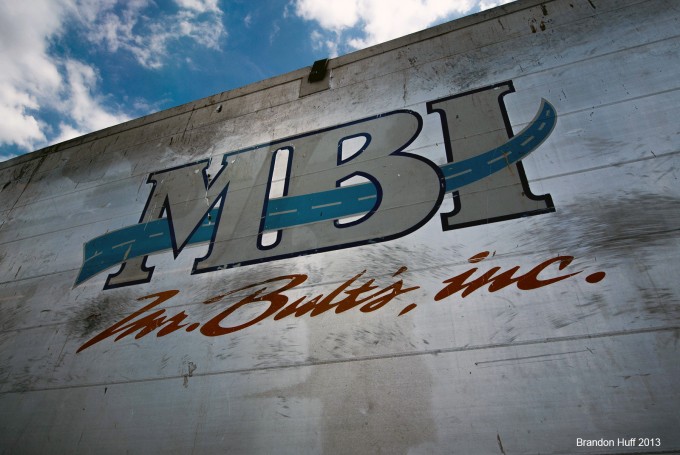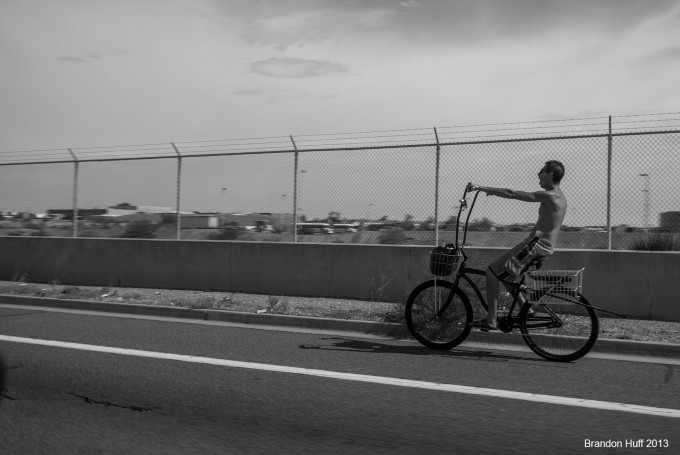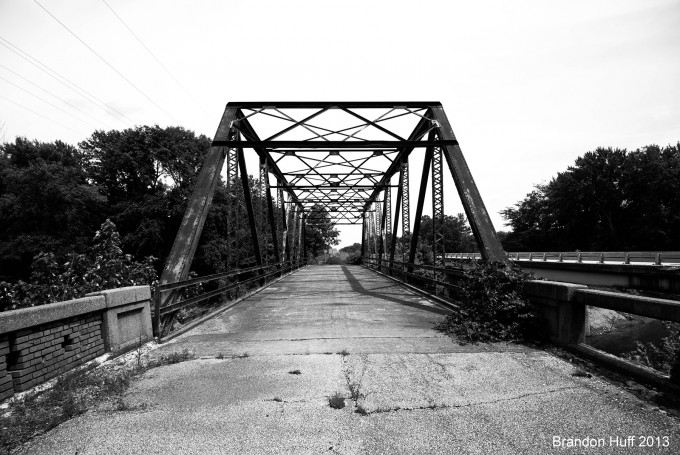 The Pros and Cons of the Nikon 6.7-13mm Lens
PROS
It is small and light!
Covers the popular 18-35 focal length
It is very smooth in operation when zooming
It is sharp across the frame
Superb color and contrast compared to other Nikon 1 zooms
Comes with hood and caps
Comes in black or silver
Great for video on the 1 series cameras
Built in VR (vibration reduction)
Sharp at 6.7, sharp at 13mm. Wide open or stopped down.
CONS
It does have distortion so must be corrected in RAW processing
Build is on the light side
No case or bag included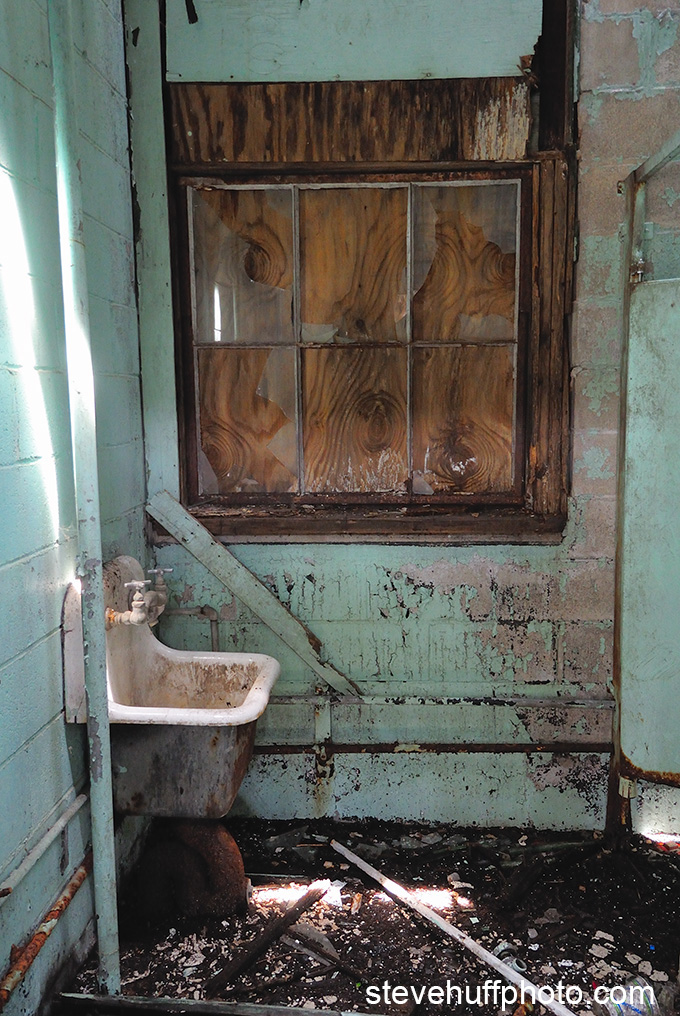 Bottom Line on the Nikon 6.7-13mm Lens 
This lens is a no brainer if you own and love the Nikon 1 system and you want a nice, small, well made and very good quality wide angle zoom. This will give you that 18mm to 35mm field of view which is a great little setup to have for tight spaces, up close shooting or when you want to cram a ton into the frame.
Wide angle lenses can be a challenge though because by shooting so wide it is very challenging to create an image that is interesting. I have seen many wide-angle pictures that blew me away so maybe one day I will master the art of shooting with a lens such as this.
In any case, it is a great lens and its only flaw is the distortion that is present at 6.7mm. But remember, this is a 6.7mm lens! So distortion will be there. It is easily fixed in software and 75% of the images in this review had the distortion fixed with one click. It really only shows up and is noticeable when shooting up close with straight lines in the image. For me, not an issue.
The lens comes in at just under $500, and when I originally heard that news I assumed it was priced too high. In fact, after using it I find that it is not priced high but probably just about right. Show me where you can get a quality wide-angle zoom covering 18-35 that is sharp across the frame, even at f/3.5 for under $500. Even the full frame equivalent from Nikon, the 18-35 (which I used to own back in the day) is $535, $40 more expensive and it is much larger, heavier and slower to focus. Nikon priced it just right for what it offers. Remember, you get what you pay for.
So one more thumbs up to Nikon for another great lens for the 1 system. This shows me that they are really committed to this system and I am excited to see what the V3 brings. I hear it should be coming soon, before the end of the year.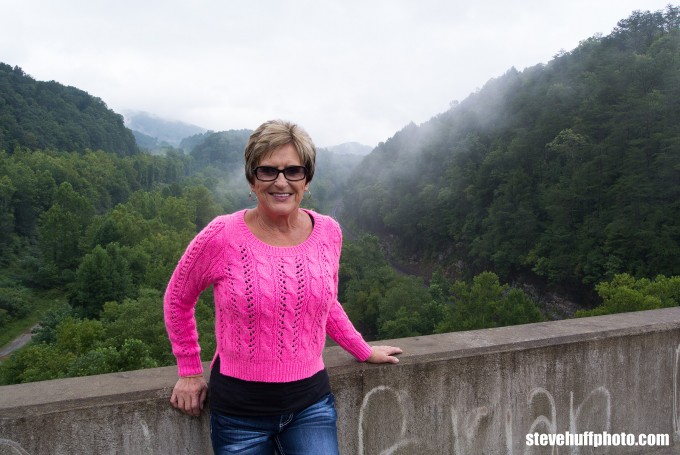 Where To Buy?
This lens is compatible with any of the Nikon 1 series cameras from the Nikon V1 and V2 to the J1-J3 and the newer S1. You can buy this lens at the links below:
HELP ME TO KEEP THIS SITE GOING AND GROWING!! IT'S EASY TO HELP OUT & I CAN USE ALL THE HELP I CAN GET!
PLEASE Remember, anytime you follow my links here and buy from B&H or AMAZON,
 this helps to keep my site going. If it was not for these links, there would be no way to fund this site (and the cost these days to keep it going is pretty damn high), so I thank you in advance if you visit these links. I thank you more if you make a purchase! I have nifty search bars at the upper right of each page so you easily search for something at either store! I currently spend 10-14 hours a day working on this site and the only way that I can pay for it is with your help, so thank you! Currently my traffic has been increasing but my funds to pay for the site has been decreasing, so any help would be GREATLY appreciated!
Even if  you buy baby food, napkins or toothpicks at Amazon it helps this site, and you do not pay anything extra by using the links here. Again, you pay nothing extra by using my links, it is just a way to help support this site, so again, I thank you in advance 

 More info is here on how you can help even if you are NOT in the USA as I have Amazon links to Germany, United Kingdom and Canada as well!
If you enjoyed this article/review, feel free to leave a comment at the bottom of this page and also be sure to join me on twitter, my facebook fan page and now GOOGLE +!
Also, you can subscribe to my feed at my subscribe page HERE and read these posts in your browser or news reader!