The Curse of Digital Photography
by John Shingleton – His website is HERE
I am convinced that digital photography is ruining the travel experience for many travellers. They are blindly snapping away and not taking in what they are looking at. Whilst on a bus tour in Lyon in France a few weeks ago a man in the seat in front of me was taking photos in every direction in a frenzy.It was as if he had a neurological disorder-his whole body twitching as he snapped left, right and centre. He took in nothing of what he was photographing.He was taking photos for the sake of taking photos.
I first really noticed this frenzied indiscriminate snapping in Strasbourg Cathedral in France last year but now I see it everywhere I travel. There I was in one of the great medieval buildings of Europe and I was surrounded by people who were not seeing the magnificence of the building. It was the same story in Notre Dame in Paris and in Chartres Cathedral. Some of the greatest buildings of Europe photographed but unseen by the multitudes. It's perhaps even worse in museums. Why go to a museum and then spend the whole time photographing the exhibits? Hooray to the museums such as the Guggenheim and the Frick Collection in New York who have banned photography. It makes it so much more comfortable for those of us who want to look at the exhibits and take them in.
It is not a laughing matter-people really are missing out on a critical part of the travel experience. They are not observing and taking in what they came to see. You may have already have seen the two photos below — both taken from the same spot in St Peters,Rome but 8 years apart. The first at the investiture of Pope Benedict and the second this year at the investiture of Pope Francis. What a difference.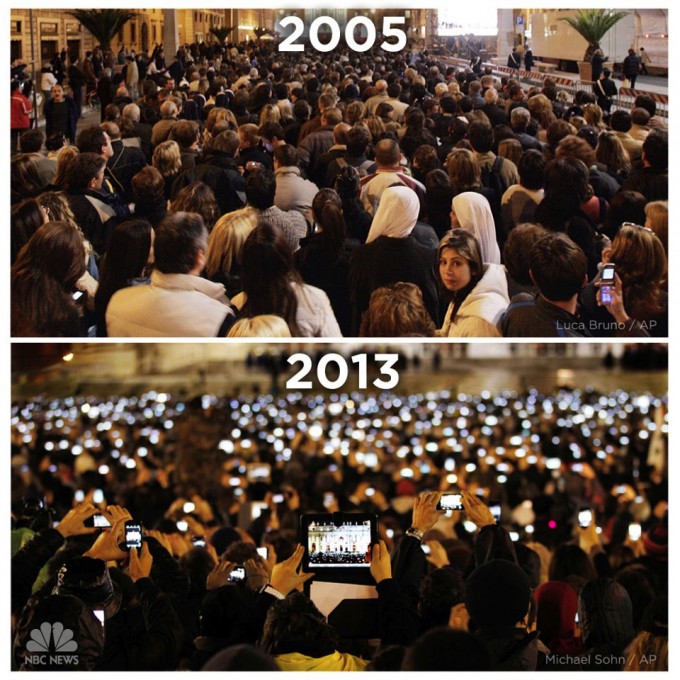 Why did all those snappers in 2013 wait so patiently to see the Pope and then just take a photo? Would they have not been better to have stayed at home and seen the Pope onTV? They missed seeing him in reality.
I went to the opening ceremony of the 2000 Olympic Games in Sydney and I was fortunate to have a seat very close to where the Olympic flame was lit but my Leica stayed in my bag. I wanted to savour the moment.My brain was my camera. No camera -not even a Leica -could encapsulate that amazing atmosphere. And it is often the same when I travel now. On a recent trip to France I saw some magnificent panoramas near the Pyrenees . I just stood and savoured them when It would have been so easy to try to photograph them.My memories are suffice.
When photography used film this blanket snapping was not an issue but now with smartphones it is even worse than when it was just digital cameras as the snapping obsessed are photographing everything and then posting it onto their Facebook page or sending the photos to their friends immediately. There surely must come a point when people say "I am being bored rigid by all these boring photos I keep being sent" and it will taper off and maybe even stop. Bring that day on I say.But it is not just smartphones the big black Canon or Nikon DSLR is still the camera of choice for many European tourists particularly the older ones. What do they all do with the photos?
Faced with this snapping overload all around me when I travel I am making a very conscious effort to use my camera very sparingly . I am just using my camera to take just a few, hopefully,interesting considered photos not as a recording device for my every move and every sight seen and I know that my travel experience and my photography is all the better for it.Just to round off this lament a few considered photos from my recent travels. All from my Leica X1.