Max HeMe-Foto Tripod Review and Give-Away!
At the end of this review there is a link where I am giving away a free MeFoto tripod on Facebook! Be sure to enter to win the exact tripod you see below!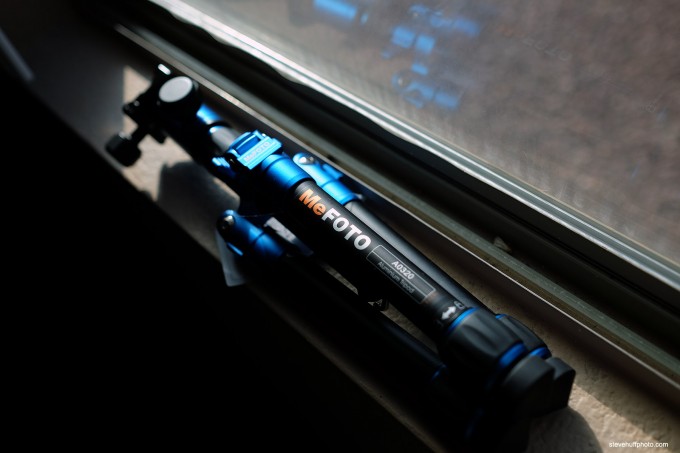 I admit..I am not a huge fan of tripods for my photography. I rarely ever use them (for photos) and in the past 10 years I probably used a tripod a handful of times and that was mainly due to HAVING to use them at specific events or for camera tests. Nope, just give me a nice light camera, a lens and some memory or film and I am off and running  – nice and light.
But even though I do not use them often I do indeed own a tripod and have had the same one for 15 years! I use it mainly for video and it has come in handy for that when I needed to stabilize my camcorder. There are times when long exposures also get me to pull out the trusty tripod as it is the only way to do such photography and get good results. Long story short, my tripod experience is limited as I just do not like to lug them and use them. I am not a landscape guy nor a long exposure guy so keep that in mind when reading this. All in all, this will be my quick thoughts on using the MeFoto tripods but remember, I have limited experience with other brands of tripod.
My intro to MeFoto
A few months ago I ran into a rep from MeFoto and he offered to send me a couple of tripods for review. I was hesitant (because I never use them) but when I saw the tripod he had in his camera bag (yes, in his camera bag) I immediately had to know more about these small and tiny wonders. As I looked at the smallest model called "The Day Trip" I instantly wanted one. Why? I am not sure but I instantly fell for the design, colors and teeny size/ease of use. Maybe the reason I never use tripods is because I did not want to lug around my beast. Hmmmm. After a demo and a few words he promised to send a couple my way and that he did.
The small and tiny "DayTrip" will  hold up to 8.8lbs and can be used almost anywhere. At $119 it is a great buy in the small tripod world and is super cool at the same time. Ball head, smooth controls and a well made feeling makes these tripods a contender for those looking for small, light and quality.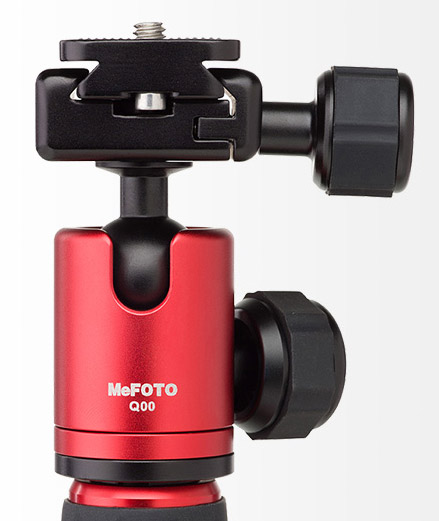 Over the past couple of months I have been in possession of three tripods from Me Foto. The Daytrip, the Backpacker and the Road Trip. All three are very nice, very well made and VERY affordable. No, these are not $1500 rock solid big and heavy tripods. Instead they are small genius designs that are light, easy to carry and they simply just work.
For tripod and landscape gurus these may not be the #1 choice but for those who are like me, and prefer a small and light tripod to stabilize their camera then the MeFoto line is right up our alley. They will not break the bank, they will work very well and they are small and attractive as well. The few times I was able to get out and use them I had no problems, issues or complications. They are simple to use as the legs pull out with a simple twist lock. Twist and the legs fall out, twist again to lock in place. The Ball Head is smooth and easy to position and the bubble level helps to make sure you are level. The #1 thing that I love about these tripods is the weight. They are light yet feel solid and they fold up nicely to be very compact. For example…
The little DayTrip tripod is TINY and will fit inside most camera bags. It is not a full size tripod but will do for those times when you just needs something to hold your camera.
The Road Trip is full size and will even quickly convert to a monopod, which I find extremely useful and cool. At $189 it is a full featured tripod that would be all many of us need. I really love this model and in Titanium it very nice to look at as well.
They are sleek, cool, fun, small, light and functional. My only gripe is that you need an allen wrench to loosen and tighten the mounting plate to your camera. The tripods come with the tool but I lost two of them already and on one occasion could not get the plate off of my camera because I did not have the wrench. Throwing on a hand tightening mechanism would be much better IMO. They do come with a carrying case to hold the tool but I always find a way  to lose small little items and I never did use the carrying case as the tripod resided in my bag most of the time.
From tripod to monobod in seconds..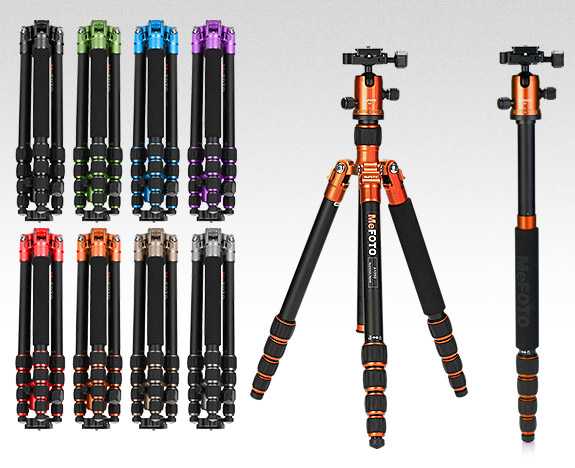 Besides that little niggle I love these things and not only are they great buys and a bargain for someone seeking a light and very portable tripod,  one of these now resides in my own stable 🙂 Good stuff and highly recommended!
Features and operation Breakdown: It is a tripod. You open the legs, attach your camera, set it up where you want it and shoot 🙂 They are lightweight, have a built in bubble level, have an included very nice carrying case, 360 degree panning capability, two leg angle positions, a hook for adding more weight to the center for stability (or to hang your bag), easy twist leg locks. Great bang for the buck. You can see feature details HERE.
In use they are light and easy to carry (as mentioned) and even has a very nice carrying case that comes along with each and every tripod. I had no issues bringing any of these along with me. My son Brandon is using one for long exposures and even for his binoculars for night sky viewing. He really loved his time with the MeFoto as well.
All in all, a wonderful product that is very functional. If it had a finger screw base plate for attaching the camera  it would be perfect!
So there you go..my quick look. There really is nothing to dislike about these.
I did take many more photos of the tripods in use but somehow the Fuji X-E2 and 23 1.4 I was using missed focus in half of the product shots. (focused behind the subject). That means I will be going back to my tried and true Olympus E-M1 for product shots in my reviews! 🙂
Specs and Cost:
Day Trip – Max Load – 8.8 Lbs. – Max Height 24″ – Min. Height 9.4″ – 1.8 Lbs – $119
BackPacker – Max Load – 8.8lbs – Max Height 51.2″ – Min. Height 17.3″ – 2.6lbs – $139
Road Trip – Max Load  – 17.6 lbs – Max Height 61.6″ – Min. Height 15.4″ – 3.1lbs – $189 (the sweet spot in the line up IMO)
Globe Trotter – Max Load 26.4 lbs – Max Height 64.2″ – Min. Height 16.1″ – 3.7lbs – $209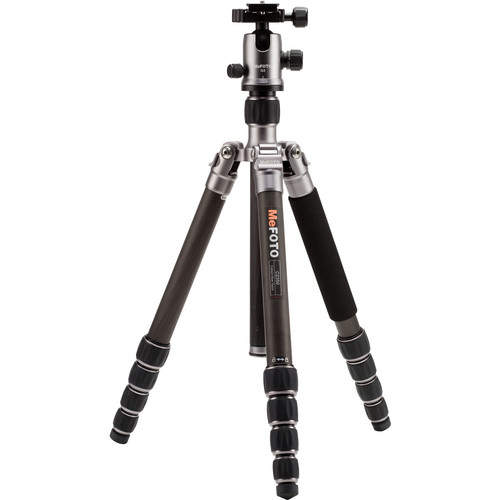 Where to Buy MeFoto and how to WIN one!
You can buy the MeFoto tripods at B&H Photo HERE
You can buy them at Amazon HERE
You can buy direct from MeFoto HERE (as well as see all of the color options, sizes and even Carbon Fiber versions)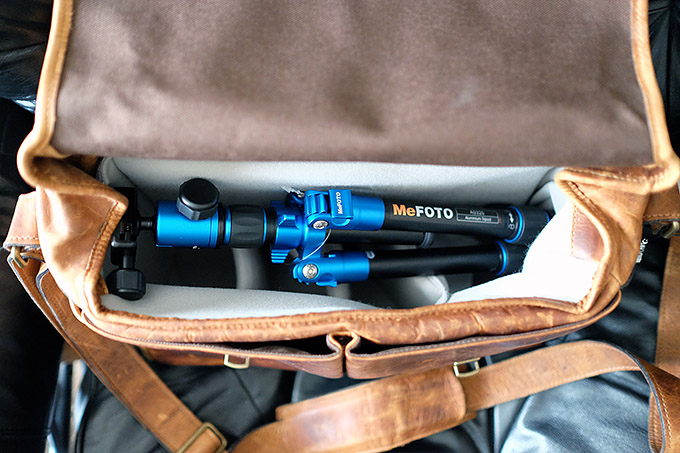 WIN A FREE DAYTRIP Tripod!
Win a free DayTrip Tripod courtesy of MeFoto and SteveHuffPhoto! Click HERE to enter on Facebook!