Selfie contest, free entry, win $20,000. Ends today!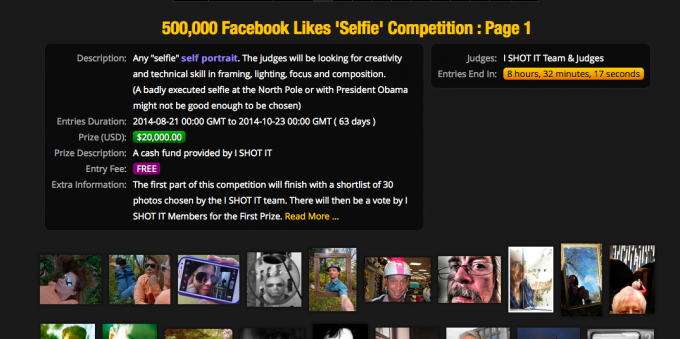 Just a heads up! I SHOT IT has been running a unique "selfie" photo contest that actually ends in EIGHT hours (as of this post on October 22nd 2014) and the grand prize is $20,000, which is a prize they have given away many times before. This time, the contest is 100% free to enter and you can do so HERE.  They are running this contest as a celebration of them reaching over 500,000 Facebook likes.
I SHOT IT has given away all kinds of amazing prizes in the past including over $25k and a Leica camera to a few winners who came from my site here after I mentioned the contests.
This one seems pretty fun and easy. A selfie that can win $20,000 with NO entry fee? Yep! I urge you to enter, even if you think it is silly. You never know who will win and this time, the judges are not choosing the winner, the I SHOT IT members are.