Is this the ultimate budget 75mm portrait lens for Fujifilm X Series users?
By Simon Kimber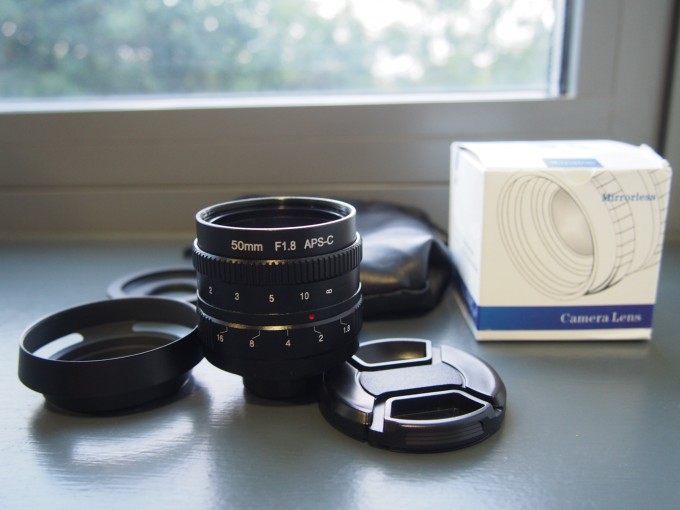 Well the actual answer if of course no, but for under £40 this 50mm CCTV lens for APS-C cameras is remarkably good and if your cash strapped, a serious contender to Fuji's excellent but pricey XF56mm F1.2 lens. Using CCTV lens or 'toy lens' is quite popular amongst micro four thirds camera users, and there are many devotees to the swirly bokeh and vignetted images they create. However, having tried one of those tiny lenses, whilst fun, I felt the fiddliness of the tiny focussing ring and lack of defined aperture stops, meant they would never be more than a fun 'toy'.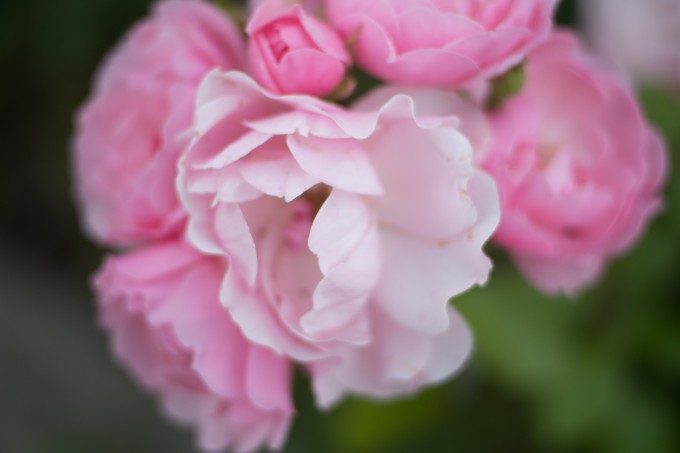 This lens however is quite a different beast, and size wise is nearly the same size as a standard Fujifilm lens. Compared with my XF35mm lens, it's a bit longer but narrower. Whilst idly searching a certain 'bay', I came across CCTV lens that fit APS-C sensors available in 25mm F1.4 (40mm in 35mm equivalence), 35mm F1.6 (50mm equivalent) and 50mm F1.8 (75mm equivalent). It's obviously a manual focus lens, but it has marked F stops and focussing distance marked on and is solidly constructed from aluminium. The lens hood (46mm) and cap are an addition I bought myself. A range of C-Mount adapters are available for Fuji, Sony, Canon and Nikon APS-C cameras. Having recently bought a Fujifilm Xpro1 in their end of line deal, I was looking to expand my lens line up currently having nothing longer than 35mm (50mm equivalent). I thought I would try this focal length to see if I liked it and then maybe in the future save up and buy the XF 60mm (I know it's not the best lens, the XF56mm is way to expensive).
So what's this lens like to use? Well it's not perfect, but you mustn't forget the price. Image wise as you can see from my not great comparison shots (I should have moved positions really for a better comparison) it's a little soft, and the colours seem a little washed out compared to Fujifilm's fantastic XF35mm F1.4 lens. But…. That is a fantastic lens, so being not bad in comparison is a great accolade for a lens costing nearly ten times less.
50mm F1.8 CCTV Lens vs Fujifilm XF35mm F1.4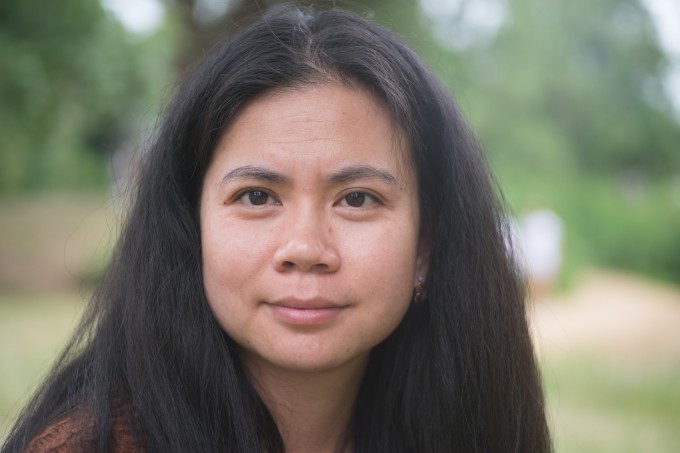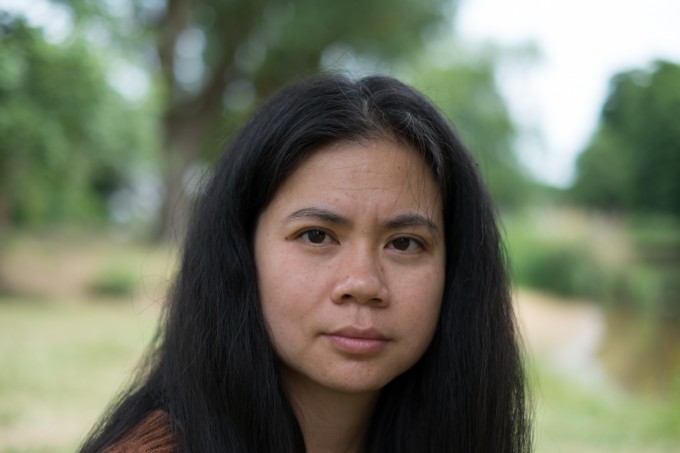 Like other CCTV lens, the only issue is that the glass doesn't appear to be coated, so the lens is very susceptible to flare, and this can be a major issue. I added a lens hood and often you need to shield the lens with your hand. In many ways it looks and shoots like a vintage lens. I have a vintage Russian Jupiter 8 85mm F2 as well for my Xpro1 and in behaves in a similar way. Focus peaking on the Fuji Xpro1 seems to work quite well with this lens. It doesn't look like a CCTV lens at all and more like a traditional vintage manual lens. I'm curious about its manufacture as it seems to be far too big for any CCTV camera. Perhaps it is made for just for digital camera using CCTV glass, but I don't know.
Lens flare in bright evening sunlight can still be a problem even shielding with your hand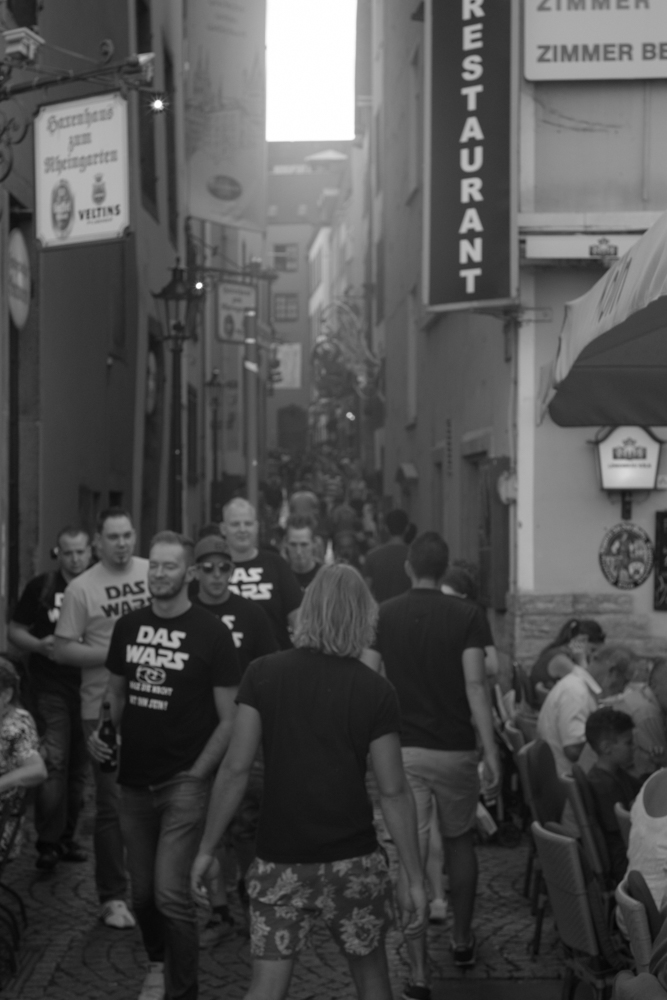 For me I find this lens works best shooting in black and white and either indoors and in evening or morning light. If you accept that it's not great in strong sunlight, you can get some nice shots from this lens. In a recent trip to Cologne in Germany, I used this lens quite a bit. I found it actually quite easy to manual focus as there is actually not much distance in the focussing ring from 10 metres to infinity, so manual focussing is quick. I will admit I'm not a great photographer, but I really enjoyed using this lens, and I got (for me) some good photos from this lens)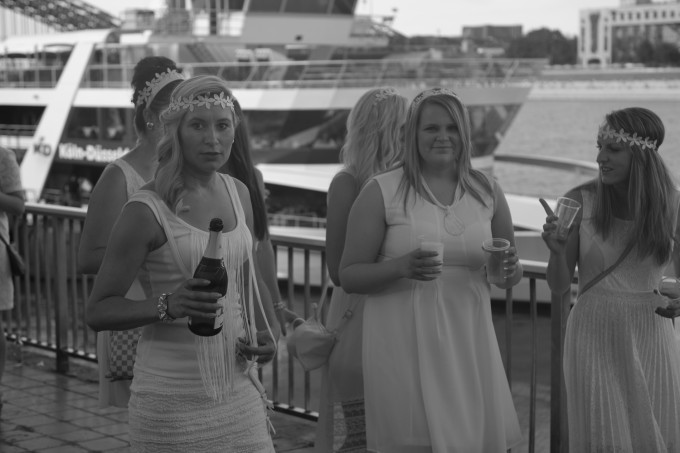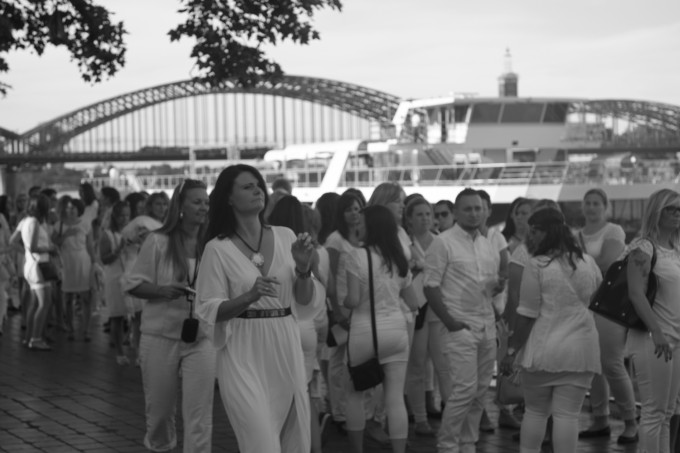 A summer party on a Rhine riverboat – everyone was dressed up in white – not sure why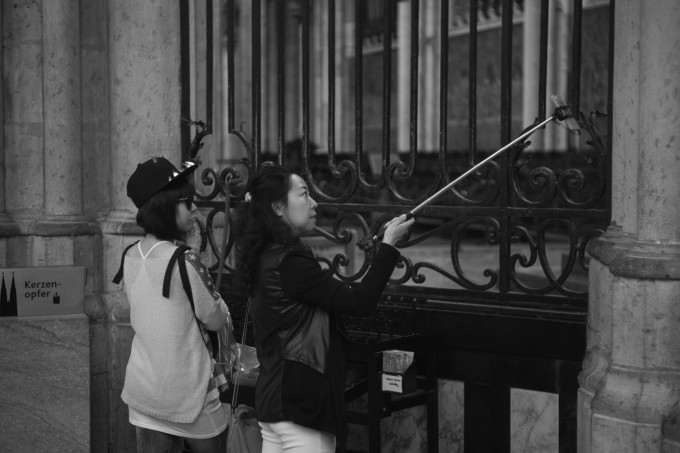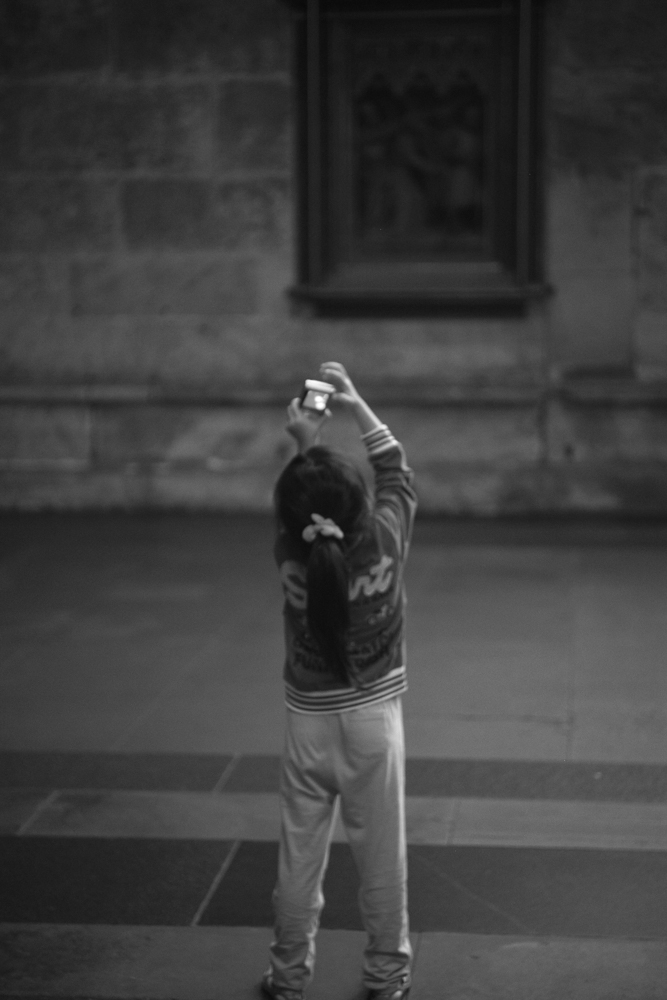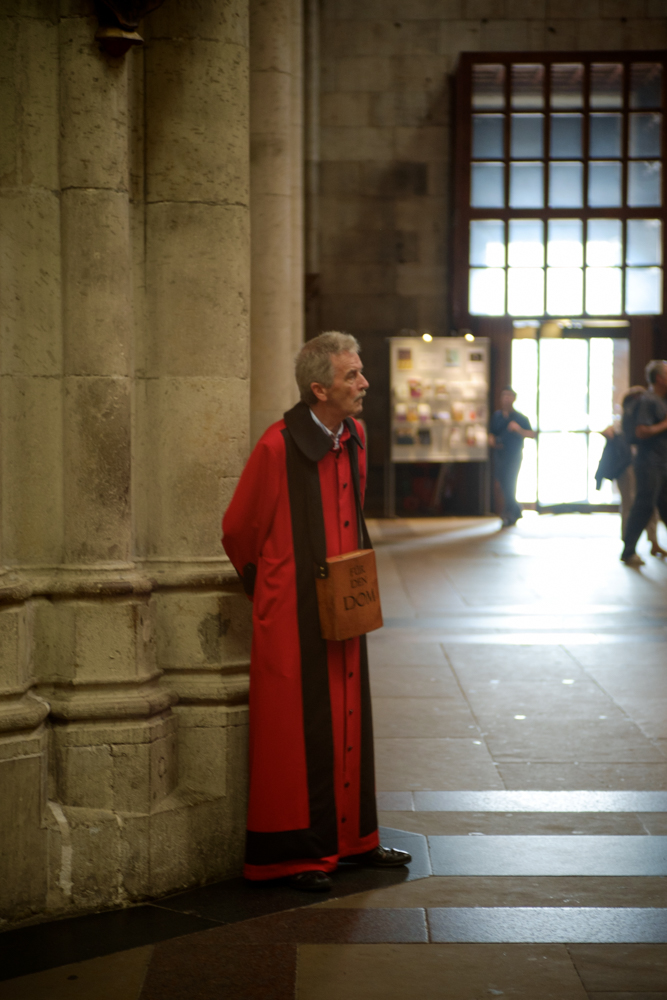 I am really pleased with this lens and think it's a hidden 'secret' that people need to know about. This is not a normal 'CCTV toy lens'! Note – the one I bought says '50mm F1.8 APS-C' on the body of the lens. It does not vignette at all and the images speak for themselves. A number of people on a certain 'bay' website sell them, but be careful as there are other lenses being sold that do not that APS-C written on them and appear much smaller. I have no idea what they would be like.
And finally, I think this lens goes quite well with my Fujifilm X-Pro1! Lens wise it has to be the best value for money around at under £40.