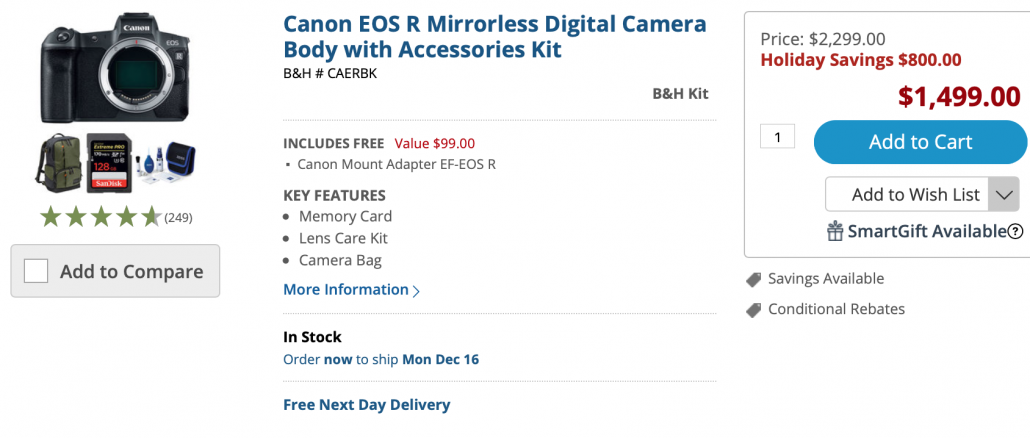 Canon 5D IV, EOS-R mega sale. Better than Black Friday Pricing on CANON!
Just got word that Canon has slashed prices on the EOS-R and 5DIV and the prices today are better than they were on Black Friday and Cyber Monday. It seems sometimes it pays to wait a little longer. For anyone looking for a deal on either of these two systems, you can find them below. The EOS-R is the full frame mirrorless option from Canon and the 5DIV needs no introduction. It is one of the most celebrated full frame cameras and has been since version 1. See the deals BELOW:
The EOS-R is on sale now at $800 off of the body only and $1000 off the body and 24-105 Kit Lens. These are great deals as they also come with memory cards and extras like a bag and spare battery! So in reality this is such more off than $800-$1000. The 5D IV deals give up to $1300 off.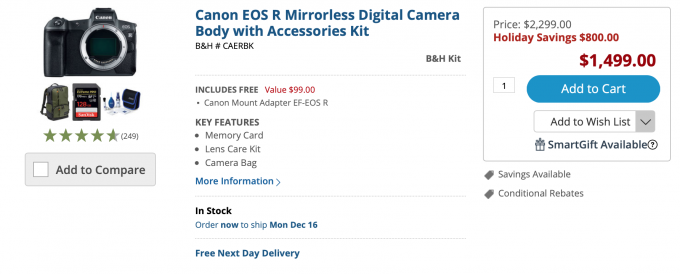 THE DEALS
EOS-R Body only Deal at $800 OFF. Holiday special at B&H Photo. See the deal HERE. 
EOS-R with KIT 24-105 RF Zoom  – $1000 OFF Holiday Special at B&H Photo. See the deal HERE.
THERE ARE A SLEW of 5DIV Deals and all are on one page HERE
Happy holidays to all!
Amazon PRIME  – THIS DEAL IS AWESOME! With the 24-120 RF lens, with the EF adapter, with two SD cards, bag, table top tripod/grip and extras. $2399 and it's ready to go shoot.