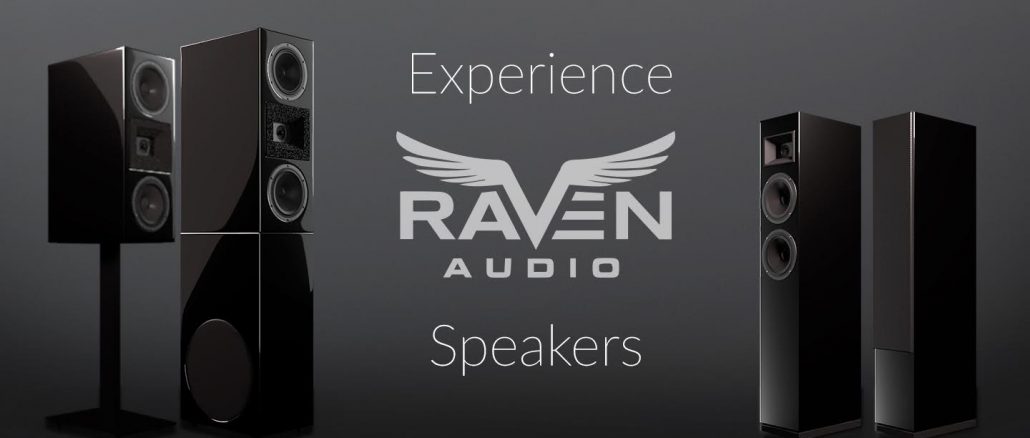 Raven Audio Celest' and Osprey MKIII Integrated Amp Review. 
By Steve Huff
After my latest speaker reviews like the little Klipsch Heresy IV, the massive Cornwall IV and the  ever so sweet but pricey Qln Prestige 3's I am jumping right into my next speaker to evaluate and review! I love my time listening to music and have set up my 2020 system as a reference system, to which I can compare other products during review. During this pandemic we are going through I have been listening to music as therapy as music can truly feed the soul. I mean two channel, high quality music that immerses you within it, helps you to become one with it and also allows one to feel emotion from it. This is not as easy as it sounds to do, as it takes careful system matching, equipment that has synergy and then there is placement and room setup, which is very important. When it is done right it's something that I feel enhances life itself.
For the last few weeks I have been listening to Raven Audios's new line of speakers and their latest all tube Osprey integrated amp, now in it's MKIII form. These Celest' Speakers are Ravens "Starter" speakers but do not confuse the word "Starter" with low end, beginner or entry level in regards to the Celest'. These tower speakers are close to some speakers I have had here in the past that cost much more in regards to sound quality. In fact, they sound similar (though different) to a set that I had here from Focal except the Focal's cost $13k. The Celeste? $3995.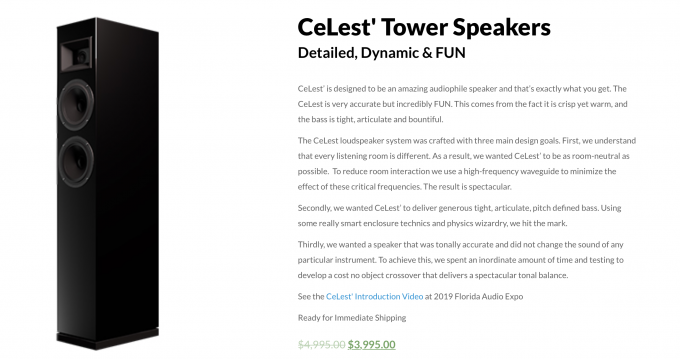 Yep, Raven Audio reached out and asked me if I would have an interest in checking out the Celest' speakers as well as their highest end amp in their "Avian" line of all tube integrated amplifiers. That integrated amplifier is called the "Osprey". In the past here I have reviewed the Nighthawk and Blackhawk, which sit under the Osprey (MKIII).
I of course jumped at the chance to evaluate these "entry level" audiophile speakers and Ravens beautiful Osprey MKIII, or actually what is the "top bird" in their Avian line of amps.  We set up a time frame and they soon shipped me the speakers and the Osprey MKIII integrated. Before I unpacked the amp, I unpacked the speakers and hooked them up to my Vinnie Rossi L2iSE integrated. This amplifier includes Vinnie's $3500 phono stage and $3500 DAC and is a "dream" piece for me ($26k fully loaded with DAC and Phono stage). This integrated is as high end as I have ever owned, and I have a healthy credit card balance due to it, yet I have no regrets.
I wondered how the under $5000Osprey MKIII would compare to my Vinnie Rossi as this would be revealing. One thing to keep in mind is that the Osprey has no DAC or Phono Stage, but it is an all tube made in the USA design with. It's an integrated amp that has the magic of a full tube design. It has five inputs, a remote control, and 30 watts of tube power. But do not let that number fool you. These 30 watts of tube power to me seems more powerful than most 100 WPC solid date designs. It uses six tubes for the pre amp, and I feel this is where the magic comes into play as when an integrated takes the pre amp seriously that is built within it, you are almost guaranteed great sound.
SET UP
I placed the Celest' speakers where I normally place most speakers and noticed there were no spikes of any kind on the base, and this caused them to be a tad wobbly on my very thick carpet and pad I have in my listening room. The speakers are of the tall and skinny variety, in piano black, and have four small rubber feet on the bottom. They do not weigh a ton but are also not cheap and hollow feeling. They have some heft and solidity to them for sure. They are about as you would expect for the price when it comes to build and style. I do feel that these should have more serious feet on them that works with thicker carpet as well as harder floor surfaces. Either way, once I had them set up they stayed in place just fine. I have no cats or children here so I have no worry of them tipping over.
Update: Raven has told me spikes can be screwed into the feet for those with carpet.
The Osprey III specs. 

With that said I do have to say that there was also some shipping damage to the speakers. Each speaker had something inside that came loose, and while it was obvious it was not the drivers, something came loose that was large as it moved around when the speaker was lifted up and tilted. Fed Ex did some damage to the shipping boxes as well so I blame shipping. Even so, there was no physical damage to the outside of the speakers so I placed them, set them up, and prepared to play some vinyl on my Michell TecnoDeck Turntable. I did contact Raven to let them know of the shipping damage and to see if there were spikes for the bases and they told me as long as they sounded right then I could go ahead with my evaluation.
I STARTED WITH MY REFERENCE AMP
To start I used my Vinnie Rossi integrated to power the Celeste even though Raven told me they are perfecto with their Osprey or Blackhawk amps. I wanted to see the differences between amps, mainly for my own curiosity. REMEMBER, my amp retails for $26k maxed out. The Osprey is under $5k for a WHOPPING $21,000 difference. Wowzers. Both are made in the USA, both use tubes but the Vinnie Rossi uses a solid state amp with 300B tubes for the pre amp section. This gives the Vinnie Rossie some of that magical tube sound, using IMO, the best tubes for voice. The 300B. The Osprey is ALL TUBE which if I can say so, usually creates a more magical sound if you do not need all out grunt, or 300 WPC.
So away I went with the Celest' hooked up and ready to listen. 
When the needle dropped I was disappointed just a little (NO worries, that didn't last long at all). The reason for this was that I was so used to the horn sound of the Klipsch Heresy IV's I had just reviewed and those are warmer, fuller, put out a massive midrange where the artists are projected outwards and well, they just have a unique sound of their own. The Klipsch are horn speakers so have a different character. Our ears do adjust to whatever we listen to over time so the sound difference was shocking at first. Also, the Celeste were not yet burned in.
Raven told me these speakers will open up after 100 hours, so I let them run 24/7 for 4 days at low volume. Then I played them for 5 hours a day at louder volume for a few more days. Then I sat down to listen, seriously.

Switching to my digital front end which consists of an Innuos Zen Mini MKIII, Power Supply and Phoenix USB Reclocker/Purifier blew me away.
As I listened I started to understand the character of the Celest' speakers. These were designed to be affordable (in the high end realm) yet have a beautiful appearance and finish with a sleek design and to also sound like a real audiophile speaker (they are). They were designed to give a taste of the Raven Audio higher end speakers that cost 3X the price and up. They were designed, according to Raven, to give a taste of reference sound for much less money than most reference speakers. Who doesn't want this in this day and age?
Bravo to Raven for offering up something in the high end realm of sound that mere mortals can afford.
The tweeter of the Celest' is the star of the show IMO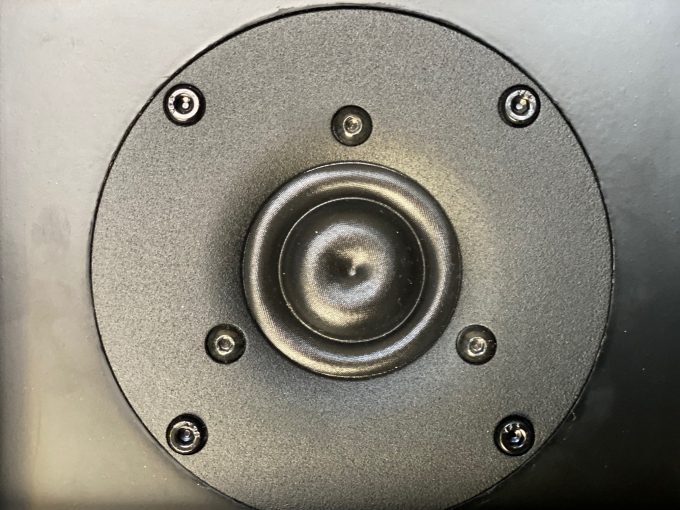 What I was hearing was big, wide open, very airy and detailed and with imaging so good it was at times…scary good.
The Heresy IV's could not muster up this level of detail or instrument separation nor provide such a wide open sound. Sure, the Klipsch are quite the speaker for what they are and offer up something no other speakers really can. A sound that is large, live sounding and energetic, all with a meaty warmth that is hard to get from most speakers but they have a unique sound. The Raven's have a true audiophile high end refined sound.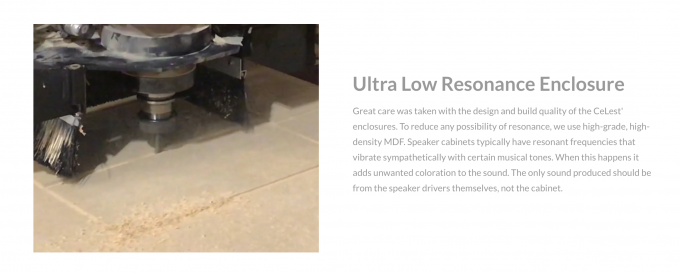 The Celest' speakers are nothing like the Heresy IV's in sound, looks or well… anything. They are instead for those who love detail and love to hear all instruments how they were meant to sound. These Raven Speakers have a timbral accuracy that I have not heard in any $4000 speaker before. These speakers make things such as a bass guitar, violin and especially piano sound AMAZING. These are neutral yet accurate. They are detailed yet have body and some oomph, and they have a treble that is extended, sweet and spreads out more than most speakers I have heard. What I mean is, the treble, IMO, is the star of this show. The air is amazing…in fact, I will coin the term "Kings of Air" here as the treble is so extended and wide open with the Celeste speakers.
The extension is sweet, yet not bright. It's open, not veiled. It brings things such as percussion and cymbals to life, it brings excitement to strings and real weight to a piano. Excellent in every way. The Celeste speakers use a unique foam waveguide on the treble driver which helps expand the sound out into the room. It really works and again, delivers a sound for $4000 that I am not sure can be replicated unless you spend more. Then again, this is with my reference amp running the show. I will hook up the Raven Osprey III in a moment.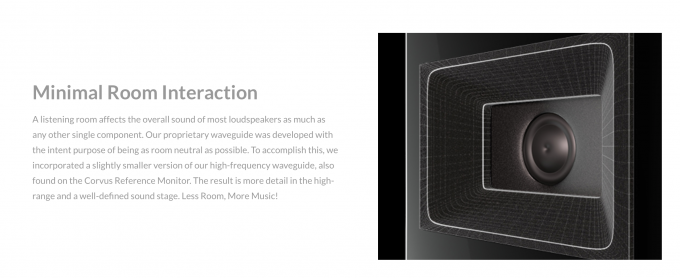 The bass of the Celest' speakers are deceiving. At times you think the bass is a little bit thin, but when called upon it comes out with authority but it is never ever boomy, at all. I have had some boomy speakers here (Sonus Faber Amati, Dynaudio C1) and with the Celeste, the bass is tight as a banana skin is on a banana. It is defined, clear and has amazing detail WITHIN the bass itself. There is no bloated mid bass warmth here or colorations but the bass that does come is proper, setting a solid foundation to the sound. Not all speakers can do this well.
The midrange for me is different that most speakers I have heard. It is not rich, it is not forward, it is not romantic. It is not smoky or dark, but rather it is sort of recessed and if I can say so, almost a little too much with the Rossi L2iSE amp. While it sounds amazing, the voices are now behind my system. With most speakers the voices are placed about 1-2 feet in front of the speakers. So it was a different presentation. More like being sat farther back at a concert. Bigger, wider, more distant. These speakers are VERY transparent and see through sound with the L2i SE.

This sound took me a few songs to get used to but when I did, and switched back to the Klipsch Heresy IV's I was saying "WHOA". The difference was drastic yet both had their own beauty to the sound yet the Ravens were far more accurate and wide open in the way they brought music into the room. The Klipsch, by comparison sounded more forward, as most Horns usually do. 
The midrange is where the main differences lie for me and the Celest' offer up the sound of more expensive speakers. They are refined, snappy, and offer up some astounding clarity. They excel with EDM music as well as any music where instruments are the main focus. These are not the best I have heard for voice (but they are superb in this area) but they excel in so many areas and offer up a cohesive sound that will wow some of you. One thing I had to remind myself of during this evaluation was that these are Ravens STARTER speakers. These Celeste Speakers have a refinement that I normally do not see in any entry level audiophile speaker.
I would say these perform in sound up there with some $5-$6k speakers I have heard. Again, the Celest' are only $3995 and this represents a great deal for a made in the USA product with a great warranty and 45 day trial as well. You have nothing to lose by giving these a try and my guess is you will be VERY IMPRESSED with these speakers.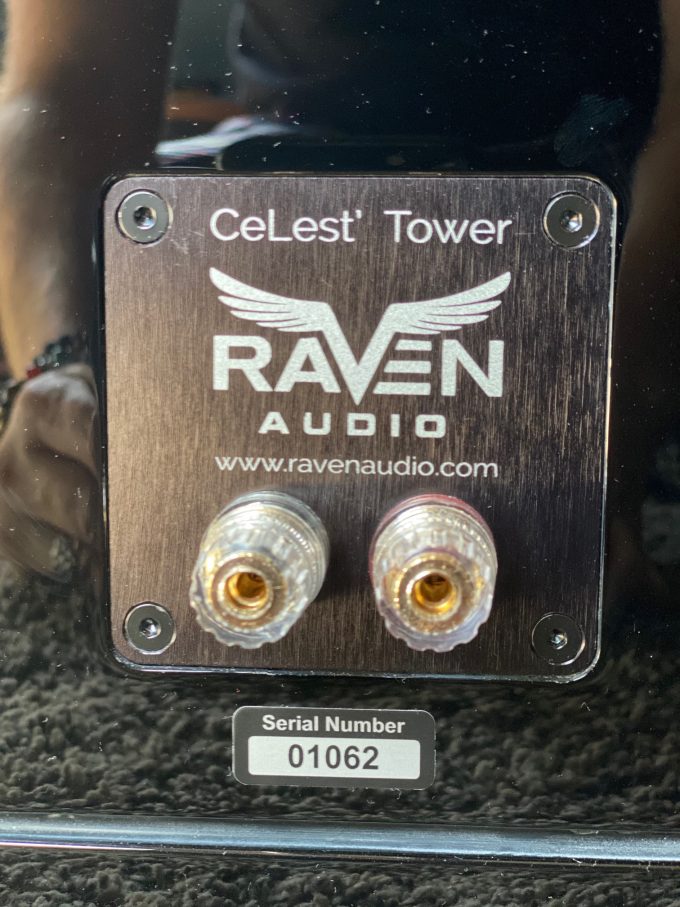 Raven Audio and customer support are top notch btw. They will talk to you, answer questions and they even have a 45 day trial period. Buy any product from them and try it for 45 days. If you do not fall in love, send them back for a refund. How many audio companies stand behind their products like that? Three year warranty? Yep. Made in the USA? Yep. Heck, one can get these speakers with one of their all tube amps designs for around $6-7k or so with some cables from Raven as well. That's crazy good for money and I doubt you could beat  the combo for those kind of dollars. Yes you can get a cheaper stereo from Best Buy or Amazon but if you want to hear what music really sounds like, and experience it rather than listen to it, you will need something more serious to get you there. These Raven products get you there AND BEYOND. These could be a lifetime speaker for you, and you may never want for more.
SWITCHING TO THE OSPREY AMP
Seeing that these speakers were made and voiced with Ravens own amps, it makes sense that their amps will be preferred with their speakers. I was excited to hear the combo that was seemingly made for each other. I set up the Osprey MKIII right next to my Vinnie Rossi. One of these is $26,000 loaded. The other is $5000 but does not have a DAC or phono stage. This means I have to use an external phono and DAC for evaluating the Osprey with the Celest' speakers. That is better in the eyes of some, who believe adding extra electronics can degrade the performance of an integrated amp. 
Using a Bluesound Node 2i into the Osprey MKIIi was all it took for beautiful music to emerge. I hooked it all up to this beautifully made and designed all tube amplifier. I expected the sound to be different with the Celeste speakers and Osprey amp as again, they were meant to be together. Yes, any great amp or integrated can make these speakers sing but there is something to system matching and synergy. Without it, your sound will suffer.
So away we go…
So instantly I hear a deference in the sound. With the Osprey III I hear a bit of a warmer, fuller presentation yet the details and wide open clarity of sound remains. Micro detail is there, delicacy is there. The all tube sound is there and what a sound it is! The midrange is not as recessed as it was with the L2i SE and the bass fleshed out some while I hear a bit more of that richness and it's a VERY 3 Dimensional sounding amp.  In fact the Osprey MKIII is quite a step up from the previous lower cost Raven integrated amps I have reviewed. This amp is a star, and is one of the best all tube amps I have ever heard in my life. I also hooked it up to some Dynaudio Emit 10's and made them sound SOOOOOO GOOD. It transformed those speakers into PURE MAGIC and sounded much better than the Musical Fidelity M2i that currently feeds them. MUCH better.
With the Celest', what I lose in all out transparency from the Rossi, I gain a more meaty presentation with the LOWER POWER 30 WPC Osprey. I can tell that these speakers are mated well to this amp, or any of Ravens amplifiers. The Osprey MKIII to me offers up a refined, mature, luscious 3D presentation with the Celeste Speakers (and others that I test it with) as if they were made for each other. The L2i SE still gave me a more audiophile layered and textured sound with more transparency, and a bit more of a solid bass foundation but remember that price difference. Is it $21k better? No. In fact the Osprey III had a more luscious sound than the Rossi. It's those tubes, all ten of them ; )
When listening to the Celest' with the Osprey MKIII I do not feel in any way that I am missing much of anything as I am NOT missing a thing! The sound is just as it should be, and with the amp and speakers coming in for under $9000 this is expensive but also sounds like a real high end audiophile system. Is it the best I heard? No, but what is "the best"? All systems at this level should sound amazing, but they should also all sound different. So what is "best" is simply persona preference. If we just go by sound quality, this setup delivers and I can not imaging anyone being disappointed for the money spent here. Can you get better? Sure, you can get better from Raven themselves but that means paying more and we do not always have to do that. It depends on your expectations and desires. What do you want from your audio system?
If you have a $100k system now, this system is not meant to replace your system. If you are running a $3500 system this would be on an all new level for you. For under $10k you can grab the Celeste, the Osprey and a Bluesound Node 2i. If $10,000 sounds insane to you for a high quality 2 channel music system, well, WELCOME TO THE WORLD OF HIGH END AUDIO! To get to the "real magic" area of audio, you do have to spend.
BTW, the Osprey III had plenty of power and grunt for the speakers and delivered sounds that were at times delicate and other times they were giving my senses a full on assault. No strain at all.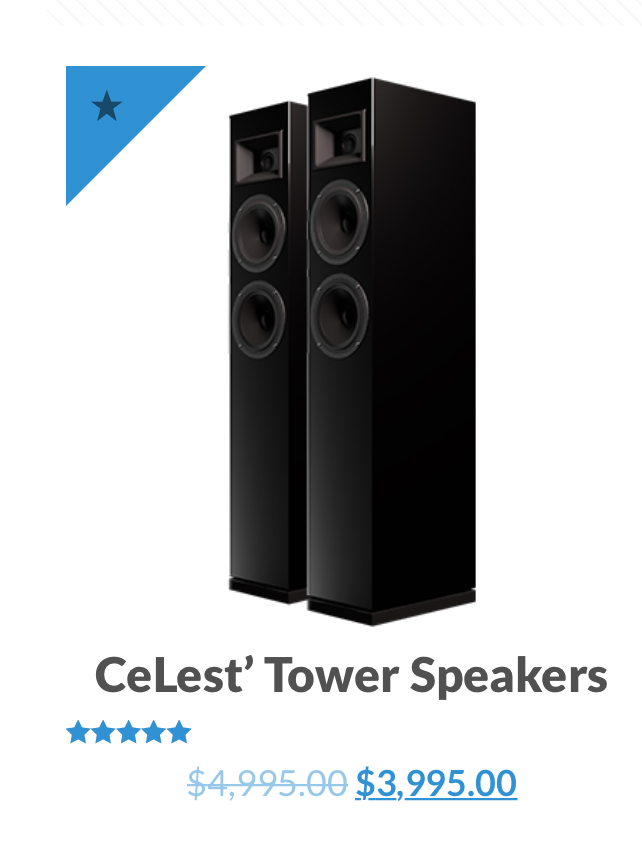 CONCLUSION
If you want a serious system but do not want to spend $20k and up, I urge anyone to take a look at Raven audio. They have many products and all price ranges. You can start with the Celest' and Blackhawk or Nighthawk amp and stay under $7k with speakers. You can check out their higher end offerings as well, that look absolutely gorgeous. You can send them an email, and they will answer. These guys are not only fantastic with what they offer the music lover but also are very down to earth NICE GUYS. My interactions with Raven have always been top notch.
The Celest' Speakers offer up a piano black tower with sound that is detailed, wide open, airy and serves up precise imaging. They are sound staging champs here in my room and "Kings of Air" in the way they image and let the sound of true instruments shine through. My only wish is that they had better feet for those who have thick carpet, like me. If you have a hard floor, these will be just fine as they do indeed have small feet. They only come in Piano Black and do ship with magnetic grilles. They are pretty easy to drive as well and come in at 90db efficient. This is a 4 ohm speaker.
The entire Raven line punches well above its weight.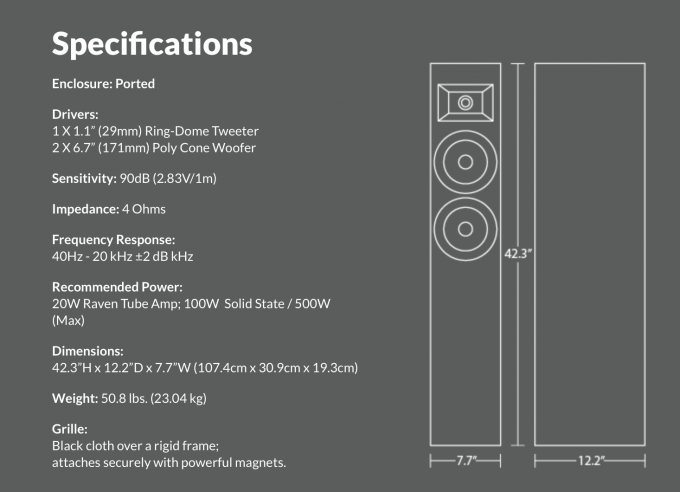 I do not do measurements here with my audio reviews just as I have never been into "scientific" camera reviews. I much prefer "real world" reviews and what that means is that it's all about the sound when it comes to music. What my ears can hear rather than what a graph tells me I should hear. Then I go to the build quality and then finally the looks (for me, it's in that order). I listen with my ears, and my heart. I know what touches my soul, and what doesn't. I know when I have a system that is a great deal here and when I have one that is a rip off (I do not review those products). If a speaker, amp or even cables help me reach that place I go to when I listen deeply to music, it has succeeded.
The Raven Audio products always surpass my expectations for what they cost. What's not to love? USA made quality all tube amplifier designs and speaker designs that are meant to sound beautiful together, and well, they do. One of the hardest parts of building a system is SYNERGY. I know many audiophiles who spent thousands and even tens of thousands trying to system match. With raven, you get it all in one spot and they will all have great synergy as they were designed together, as one.
How does this setup compare to my reference setup of Vinnie Rossi amp, Qln Prestige 3 Speakers and Innuos streamer? Well, no, it is not as refined, magical, cohesive nor does it give me the amazing micro detail and depth of my reference but get this…it gets 75-85% there for 1/5th the price. My reference system comes in at around $50k retail for all of it. The Raven setup? Under $10k yet it gets 3/4 of the way there.
It's that last % us audiophiles chase, sometimes for our entire lives. Some never find it and some give up. The solution is simple really. If you do not want to spend years chasing the perfect sound, and you do not have an unlimited budget, go for something that you know works well together. It CAN BE that easy.
I'm not sure you can find an integrated amp and set of speakers better sounding than this for $9000. It is possible I am sure, but I haven't found it yet. What this will give you is a true start in high end and not only a start, it could be with you for life. As for the Osprey III, it's a gorgeous amp in looks, build and sound. If you are just looking for a quality high end tube amp that has the ball and power to make most speaker sing, check it out HERE.
I am not the only one raving about Raven. On many Audio groups and forums you will see much praise for this American brand of HiFi.
Also, just to be clear, I was not paid in any way to review these nor do I have any affiliate links here. I wrote this out of passion for audio and the fact that Raven is a great company here in the USA.