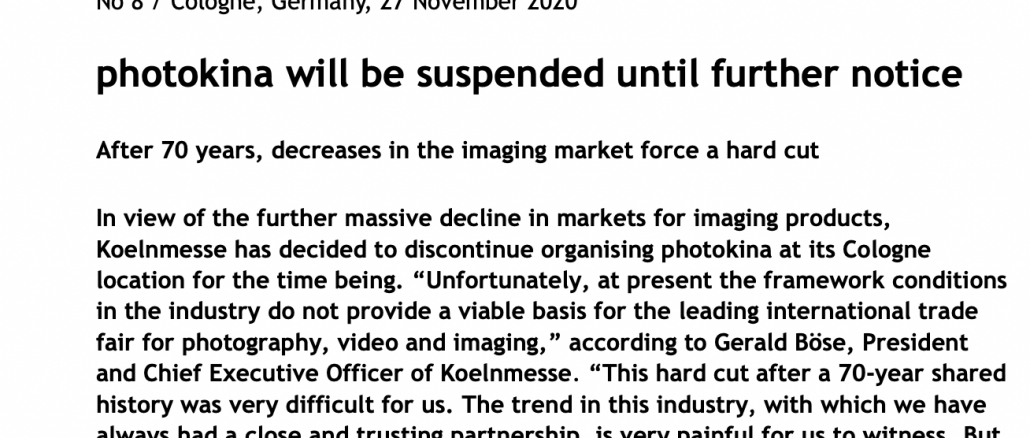 Goodbye Photokina? Seems to end it 70 year run.
Today I received an email stating that Photokina will not be going on this year, and this was 100% expected due to the Pandemic that is getting worse as the winter draws in. When I read the email I noticed how they spoke about the still camera industry, and how it is tumbling like dominoes when it comes to sales. This was also expected as it's clear to see that today we are heading into a video phase of imaging. Today all the rage is video and wether it is 4k, 5k, 6k or even 8k video is taking over where still imaging used to reign. Instead of buying new cameras for their stills capability, more and more are buying them for their video capability. For stills? Most use their phones. But video? Just look at the runaway success of the Sony A7SIII and how Sony released the FX6 Cinema Camera based off of the A7SIII. Look at the Canon C70, as they merge into lower cost Cinema cameras. Heck, just take a look at YouTube and you will see almost all (but not all) camera reviews these days talk about the VIDEO aspects over the photo aspects of new mirrorless cameras. As I said on these pages long ago, video is going to take over (and is) and the fact that Photokina is canceled (and possibly for good) tells me this is another nail in the classic still cameras coffin.
Not that real cameras will ever fully go away, they will not. What will happen instead is we will see still cameras continue to go up in price due to lower demand as we all know those big dollar execs can not take a pay cut. Rather we will pay the price, and are. Just like if you go to buy a quality turntable today to play vinyl. A really good deck will set you back $2500 minimum. They go up to $100k. It's because it's a low volume niche category. Sure you can get a cheap table, but it's not the same as like we used to get back in the day when most were built with quality. If you want that same quality of the past today, you have to pay. With cameras, I see this happening as well. Look at Leica. Their prices have shot up dramatically over the last 2-3 years. Lenses have went up, bodies have went up. An M10-P is over $8000 for a manual focus mechanical RF camera body with a standard run of the mill full frame sensor inside. A sign of the times as the less you sell, the more you have to charge but if these bodies keep going up, there will be even less sales going forward. There will be less sales IMO, as phones are where it's at for the general photo taking public.
As the email said (read it below), phone cameras have taken over duties for almost all still photos taken today. I feel the art of photography has been lost as today many of us are numb to seeing the same photos over and over. We are bombarded with images every day if we dare to venture into social media as every minute there are thousands of images uploaded, day in and day out. (I stay away from social media, even deleted FB from my phone 6 months ago). It's as if every location in the world has been photographed again and again. There is nothing new to see. People flip through photos without a thought as it has become more important to like or heart a photo rather than to really appreciate it.
Almost the entire camera industry today is promoted on YouTube where again, it's about promotion above all else. About that like, that subscription or that Squarespace sponsorship. So different from back in the day when I used to read the photo mags and drool over the B&H Ads in the back, trying to save for that new camera or video camera. I remember cutting out the B&H ads (when I was a teen) and pinning them to my corkboard in my room to motivate me to go make money so I could buy the cameras I wanted. These days those ads are video reviews, which are much more effective but even with that sales are down by 50% THIS YEAR. The Pandemic, yes…it has hurt sales even further. With food lines in some states getting larger and larger many are worried about food over luxuries but again, camera sales have been on the decline for many years, dropping year to year. Fart from what it was back in the bog boom era for digital cameras, 2009-2012.
As you can read below the email about Photokina starts out with "after 70 years, decreases in the imaging market force a hard cut". They mention that it was bad even before the pandemic, and that it is "very painful for us to witness", "Annual declines in the double digits", and  "in 2020…a decline in the 50% range".  Calling what we once knew as the photo industry a "classic market" it seems we are now in the modern day market. Cel phones that take images and video are what drive social media content. With social media being the #1 way most of us share photos all over the world, it's tough for a company to sell a $5,000 still camera or even a $2000 still camera. I remember saying two years ago here that I felt photography would be heading into a Niche market. We would see specialty cameras that were more artisan and unique. We are seeing that now. Cameras like the Hasselblad 907x, the X1D, the Fuji GFX, Leica M10-M, SL2 and even Sigma FP are all specialty cameras that are indeed in that Niche category. It's sad to see but also exciting to see where it all heads. Tech moves on, people move on and today people need visuals, motion and action to keep their attention. That means video, and video is here to stay for the foreseeable future as the way we create memories and document life. Video has become easy to film, edit, and publish and anyone can have a platform. It's not as saturated as still photography, but will get there.
I think over the next two years we will see a boom in "cinematic cameras" and companies making lower cost dedicated smaller cinema bodies. It's happening now, but I also feel Sony will change body styles in the next 2-3 years as they focus more and more on video. Same with Canon and the RF line. I think Leica and Hasselblad will become super niche (they kind of already are) and others will sadly fall behind. Just my thoughts though.
So what will happen to still imaging using real cameras over the next five years? What do you think? What will Sony, Canon, Nikon do? How about Fuji, Leica and Hasselblad? Who will survive? With camera sales going downhill fast, not all companies can survive the long term. I have my thoughts but what are yours? See the email from Photokina  below if you like. They do say it is "suspended" until further notice which means they could come back, but if you read between the lines it doesn't sound like it. To me, this sounds like a Goodbye.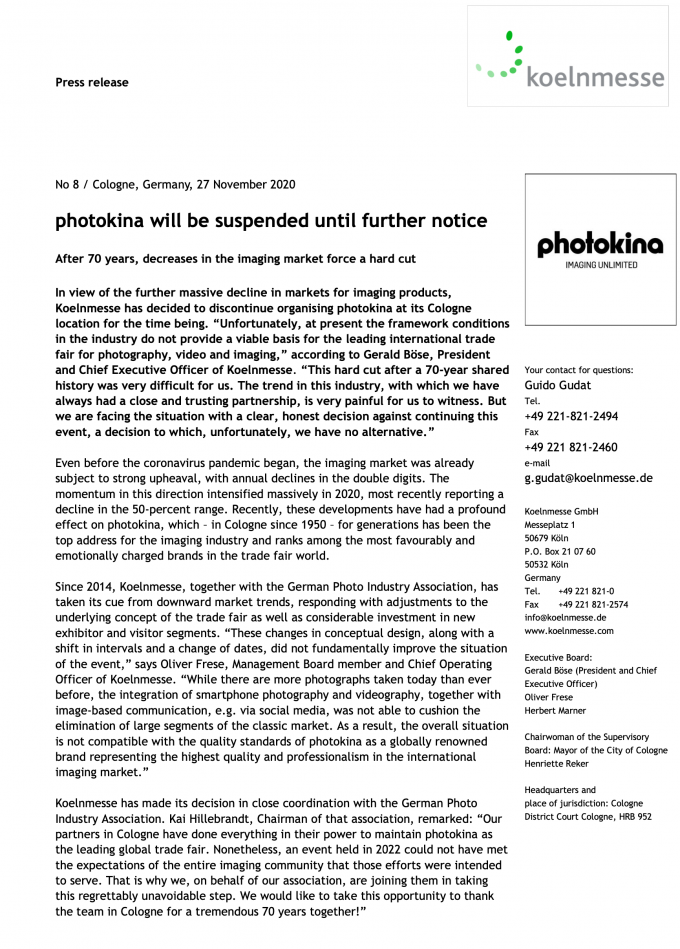 photokina will be suspended until further notice
After 70 years, decreases in the imaging market force a hard cut
In view of the further massive decline in markets for imaging products, Koelnmesse has decided to discontinue organising photokina at its Cologne location for the time being. "Unfortunately, at present the framework conditions in the industry do not provide a viable basis for the leading international trade fair for photography, video and imaging," according to Gerald Böse, President and Chief Executive Officer of Koelnmesse. "This hard cut after a 70-year shared history was very difficult for us. The trend in this industry, with which we have always had a close and trusting partnership, is very painful for us to witness. But we are facing the situation with a clear, honest decision against continuing this event, a decision to which, unfortunately, we have no alternative."
Even before the coronavirus pandemic began, the imaging market was already subject to strong upheaval, with annual declines in the double digits. The momentum in this direction intensified massively in 2020, most recently reporting a decline in the 50-percent range. Recently, these developments have had a profound effect on photokina, which – in Cologne since 1950 – for generations has been the top address for the imaging industry and ranks among the most favourably and emotionally charged brands in the trade fair world.
Since 2014, Koelnmesse, together with the German Photo Industry Association, has taken its cue from downward market trends, responding with adjustments to the underlying concept of the trade fair as well as considerable investment in new exhibitor and visitor segments. "These changes in conceptual design, along with a shift in intervals and a change of dates, did not fundamentally improve the situation of the event," says Oliver Frese, Management Board member and Chief Operating Officer of Koelnmesse. "While there are more photographs taken today than ever before, the integration of smartphone photography and videography, together with image-based communication, e.g. via social media, was not able to cushion the elimination of large segments of the classic market. As a result, the overall situation is not compatible with the quality standards of photokina as a globally renowned brand representing the highest quality and professionalism in the international imaging market."
Koelnmesse has made its decision in close coordination with the German Photo Industry Association. Kai Hillebrandt, Chairman of that association, remarked: "Our partners in Cologne have done everything in their power to maintain photokina as the leading global trade fair. Nonetheless, an event held in 2022 could not have met the expectations of the entire imaging community that those efforts were intended to serve. That is why we, on behalf of our association, are joining them in taking this regrettably unavoidable