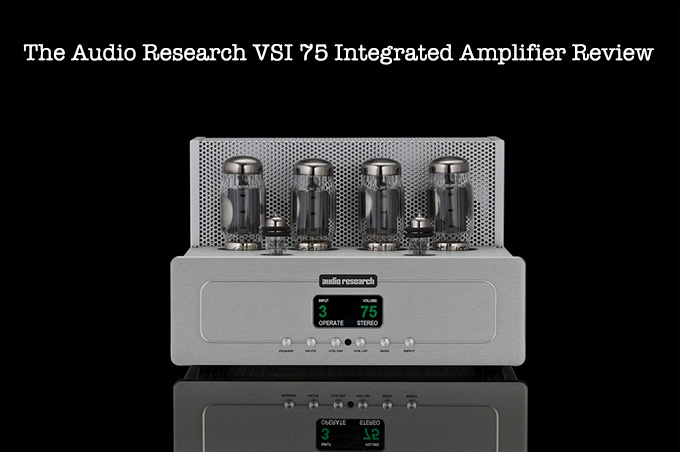 The Audio Research VSI 75 Integrated Amplifier Review
TIP: Try the 8 OHM speaker taps on the VSi 75 even if your speaker are 4 OHM. It sounds better this way. My Guarneri's sound MUCH better from the 8 ohm tap even though they are rated at 4 ohm!
Hello once again! I am back with another review in my HiFi journey! You know,  that journey that has allowed me to enjoy countless amplifiers, pre-amplifiers, digital and analog players as well as cables and tweaks. Yes, THAT Hi-Fi. Audiophile stuff that most normal folk would laugh and scoff at. Even be shocked and speechless at. Yep, the world of $10,000 and up amps, $30,000 speaker cables, $11,000 power cables and even tweaks such as feet to suspend your gear on to get that extra ounce of sound performance (for up to $400 per foot).
It is an obsession for many, a hobby for others and a curiosity for a few. Any way you slice it, those who are in this hobby are passionate about it and it is so obvious from those who I have met that it gives them pleasure in life..a quality to their life that would be gone without it. For me, that is what matters at the end of the day. Enjoying and living life the best way you can.
It is true that most everyday people who enjoy music would never even think about spending $40,000 for a two channel music reproduction system, so why is it that some of us do spend insane amounts of money just to listen to music? I really can not give a clear answer to that question but I can tell you that I have been enjoying high-end audio for the past 20+ years and it is something that I get MEGA enjoyment from. It is a big part of my life. For some, fancy expensive cars are it. Others buy boats and yachts and some spend $50k on a single watch or ring and some buy it ALL. I believe that if there is something in life that you truly enjoy then you should pursue it as much as you can if it is within your means because life is not a dress rehearsal my friends.  We only live once and we should spend this short time doing things we love to do.
For me, I enjoy my life. I am a lucky guy. I have a great simple life. A basic, rather cheap house. Two normal cars. A beautiful and amazing fiancée, a wonderful son and great friends. I run a blog on photography which is my #1 hobby that turned into a business that allows me to do what I love without stress. I have a couple of cameras and then I have my Hi Fi audio system which is on most of the day while I work. That is it. Life, Love, Friends, Family, Cameras and Audio. I am also pretty much debt free. I do not believe in credit cards so if I go out to spend money it means I must have the money to spend, as in, it has to be available and spendable. So when I have extra cash after savings and bills I sometimes treat myself to a new piece of audio gear on my debit (not credit) card. It is all part of the hobby trying and enjoying new gear, tweaks and all kinds of goodies.
Over the past year or so I have been on a new journey to build up another audio system after losing my last one 5 years ago after a divorce forced me to sell it just to survive and pay my mortgage. It has been a crazy, interesting, eye opening but fun journey that has led me to the Audio Research brand, and I could not be happier. After four years without any audio system at all in my house I am happy to have one again, and believe me, it gets used quite often as I love music. ALL kinds of music. Everything from classical to bluegrass to blues to rock to alternative to the songs of the 80s.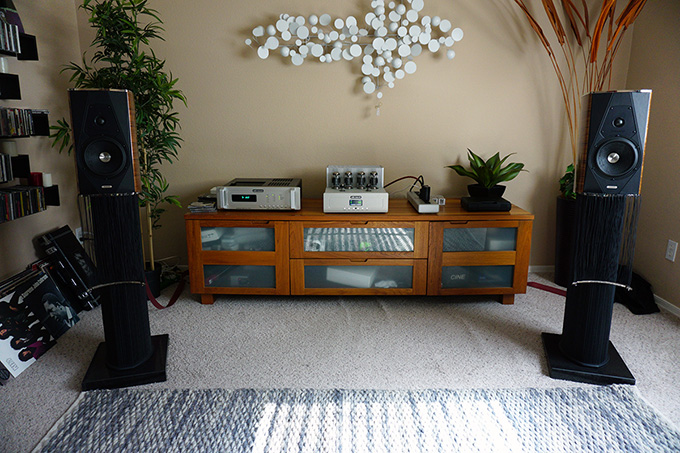 "Take it home and check it out" 
Long story short: I recently have been on an amp and digital source journey. I have went through various low-end amps thinking I could be happy with them. I wasn't. I then went through a couple of higher end amps that I loved and thought would be the end of the search, but it wasn't for various reasons. You can read why in those reviews – The Line Magnetic 219ia Review HERE and the Yamaha S3000 Review HERE. Both of those amps sounded phenomenal but both had an issue for my situation. The 219ia was gorgeous but ran much too hot for my room. I was dripping with sweat while listening/working and that just did not work 🙂 The Yamaha started out great but ended up being a dud when it just failed completely in less than month, and it was a $7000 amp!
So a day after my Yamaha blew I was in my favorite HIFi shop, Arizona HiFi. (Check out their Facebook page HERE). I mean, this is the kind of shop that you just want to go to during the day and hang out and talk about audio. The staff is friendly and super cool. The gear they sell ranges from turntables to tubes to killer amps and pre amps and speakers. They also sell Nordost cables (which has been an eye-opening journey for me as well) and accessories. You can usually find a few other audiophiles in the store just hanging out and being friendly. It's a cool place to hang and chat for an hour or so about audio or whatever. Very comfortable.
In any case, I was in the shop and spoke with the owner telling him my Yamaha blew up. He said "have you seen the new Audio Research integrated"? I said "No, let me see it"!
He then took me in the demo room and proceeded to show me the new VSI 75 and I really was struck by the design and quality of build, right down to the display on the front that not only showed the volume and input but also would be used for biasing the tubes (on the fly bias checker) and seeing how many hours are on the tubes. I then told him.."well, I recently tried a couple of integrated amps in this power range and they were awful with my speakers". For those who have not read my speaker review, I own Sonus Faber Guarneri Evolutions and yes, I have yet to hear anything better even up to $40k speakers..for my room and tastes. You can read that review HERE.
Glen, the owner of AZ Hi Fi then proceeded to tell me that Audio Research is different. Without any sales nonsense or pressure he informed me of the quality of the transformers and then just said "Take this one home and try it and let me know if you like it". Wow. What service. No money down, nothing. Just "Here, take it and try it". He even carried it to my car and let me borrow a nice high-end Nordost power cable to go with it. Of course he does know me and I have made decent purchases at his store but still, that is pretty cool.  But I really did not think that this amp would work for me.
Why you ask?
I assumed this amp would fall flat because in the days prior to bringing this demo home I bought and returned (at a 15% restock fee loss from a different dealer) a Cary SLI80 integrated and it was AWFUL in my setup. It was weak, thin, harsh and had no 3 Dimensionality to speak of. I hated it. It buzzed and was loud. I have always been a big Cary fan but the SLI-80 just could not cut it with my speakers. I bought it local and returned it after a few days as it just did not jive well with my Guarneris. I also tried an Ayon Orion III. Awful. Brittle, Thin, flat and harsh/bright. That Orion was hyped to no end telling me it would smoke anything in its class and well above from the Ayon distributor. Not even close. I returned that as part of the Ayon 15 day home trial and did get a full refund though they did not seem happy to give it to me, even guilting me saying I was the world's first return of an Orion amp. Turned me off of that dealer as it appeared they were all about making the sale and that was it. Just the feeling I got from the experience and cold impersonal email replies.
In any case, both of those were integrated amps in the same power range as the Audio Research VSi 75 and I assumed I would be bringing back the demo of the Vsi 75 saying "No thanks".  Keep in mind though, the Vsi 75 in not a cheap amp at $9000. The Cary was $3k and the Ayon was $4440, so the Audio Research is in a higher price class for sure. It is an integrated amp designed to be the centerpiece of your audio system while delivering performance that is near the higher end separates in the AR line. Still, I did not think it could power my hungry speakers and there was no way I was going to part with that kind of cash for an amp that was not perfect in my system. So in a way I felt bad for even taking it home to try. But you never know, right?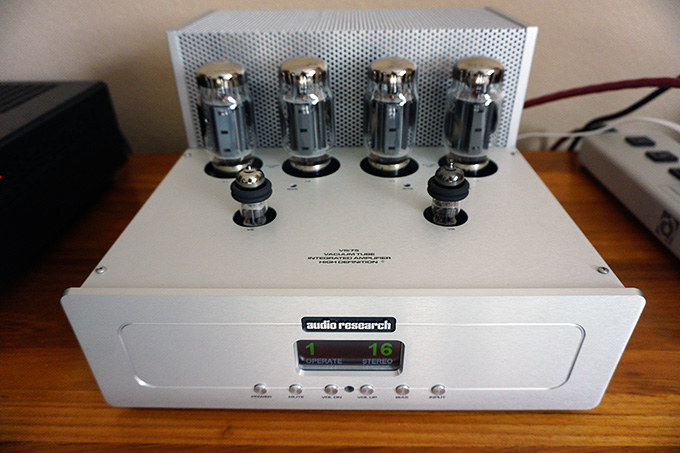 I hooked it up and …WOW
BAM! As soon as I hooked it up and listened I was immediately blown away. The demo model only had 60 hours on it and Audio Research recommends a 600 hour burn in before the amp will give you all it has got. Still, at 60 hours I was telling myself thing like "This is some crazy transparency" and "it is so 3D".
My reference for my system before this was the Line Magnetic 219ia, which is a gorgeous amp with a unique full and fat 3D sound (that had to be sold due to my small room and heat). This Vsi 75 was different but just as good in its own way. It has a sound that was hard to describe and this was right out of the gate. I immediately called Glen and said "I want it". So yes, I bought a VSi75 after just a few hours of demo. I knew it was special and it was so good that I was easily parted with my money.
Then of course Glen said "Do you want to borrow the CD9 to try with it"? Hahahahaha. A $13k CD player and DAC, NO WAY. NO WAY! The most I have ever spent on a digital source has been $5000 and I thought I was insane for that one. The AR CD9 was more than double that so I was firm in telling myself DO NOT DO IT. Long story short… I ended up trying the CD9 the same day and guess what? I now own the CD9. What does that tell you? Review soon.
Back to the VSi 75. 
After the VSi 75 played more and more and I started to hear changes to the sound. It started to become more open, more transparent and more room filling and big..more spacey (as in, sounds seeming to float in space). In comparison to the 219ia it had a little less bass, a little less mid bass warmth but an even bigger soundstage (which I did not think was possible). In fact, the soundstage width now exceeds the walls in my room, meaning, if I had more room it would be insane. When playing music with the VSi 75 I can not tell that the sound is coming from my speakers, it just sounds like the sound is appearing in the air all around the room. With reference recordings it can create goosebumps from time to time. With bad recordings it can sound much flatter but this rings true with any amp. Still, I was listening to Miles Davis, Diana Krall, Enya, KISS, Willie Nelson, James Blake and even Madonna. ALL sounded amazing.
The more I listen, the more I appreciate it
As I sat in my sweet spot chair at night I remember thinking to myself "how can it get any better"? It started to really get to me because after 200 hours on the amp it opened up dramatically and was just giving me a true effortless flow to the music. A magic if you will. Smooth, 3D, clean, effortless, REAL. There was no mid bass bloat, no piercing treble and no exaggerated sound frequency anywhere. It was so balanced that it just created a huge soundscape in front of me, painting the audible picture of whatever I was playing. I guess that is the Audio Research house sound these days and for my speakers it is a superb match.
I remember sitting there listing to Lana Del Ray "RIDE" and in past setups this track sounded good/average but not WOW good. With the VSi 75 it sounded amazing. Her sultry sexy voice was being projected into the room and it was goosebump real. In fact, I started to throw on recordings that were known to be horrible but they all sounded great on my setup of Vsi 75 and Sonus Faber speakers. Even 80's CD's sounded good and that is not an easy thing for a high-end system to pull off! Much of this is also my speakers but the amp also has quite a bit to do with it.
Let's fave the facts…$9,000 is a lot of cash for an integrated amp, even one made by hand in the USA as this Vsi 75 is. But after living with it for a while now I can easily state that this is one of those pieces that will not leave me unless something happens where I have to dump my whole system again for financial reasons. As far as replacing this with something better or newer, I have no interest as I am happy as a clam with what I have, so no need.
The VSI 75…It does not get too hot, it has plenty of power and it sounds like nothing else I have ever heard. I can only imagine the higher end separates..but I can state with authority that I do not need anything more than this Vsi 75. This has never happened before. An amp for me has never been PERFECT. This VSi 75 is as close as it gets and is delivering spooky realism in my room every time it is powered on.
I am using a Quantum QB8 with Qk1's, Qv2's and mostly Nordost cabling. This was a great investment in my system. What the Qk1's do is slight but when I take them out I have to put them back in as I do notice and I prefer them in. The Qk2's (not pictured) are even better and they add space, some warmth and seemingly better definition. Not HUGE but noticeable for sure.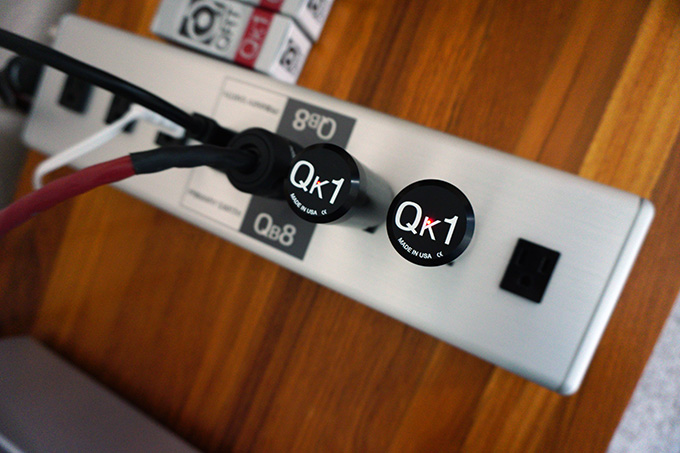 Speaking of Power
This integrated comes in at a rated 75 watts per channel. In my system it sounds like 200 watts per channel of pure magical refined buttery, but detailed sound. The amp uses 4 KT 120 tubes instead of the old favorite KT88. I believe this is what gives this amp its magic. The soundstage is like nothing I have ever heard, even beating the 219ia I raved about. The amp is so transparent and music so tangible..so reach out and touch. I can not imagine a better match for the Guarneri Evolutions. To be more specific, this amp powers my speakers with a grace and flow so addicting I have a hard time shutting off the system.
If I want to play soft, it does so with ease. If I want to rock out, it does so at deafening levels with NO distortion to be heard. It stays smooth as silk even at high volume. No harshness creeps in at all. The sound just gets bigger and bigger until it blows you out of the room. I usually listen to my speakers with the volume around 22 during the day, occasionally rocking out at 45. By 75 the sound is HUGE, LOUD, FULL and GRAIN FREE but it is much too loud to listen to. This amp is incredible.
So power is not a concern with this amp, at all. It makes the Cary SLI 80 and Ayon Orion III seem like hospital patients who are on their death-bed. Yes, that drastic. Again, in my system with my speakers. Your results my vary.
Nordost Red Dawn LS Speaker Cable with Nordost Premium Jumpers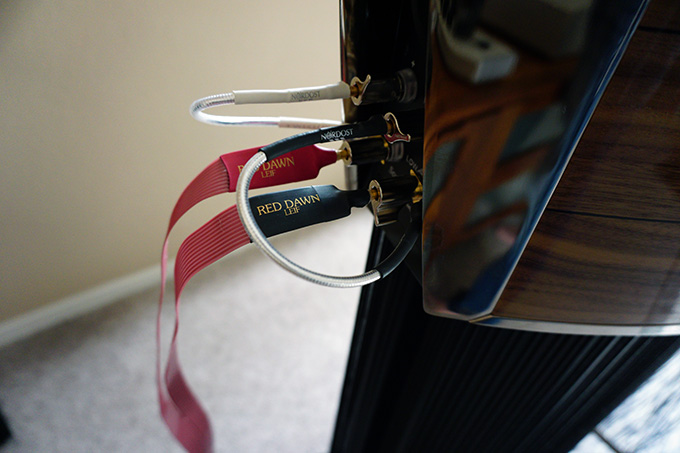 This review will be ongoing, as the VSi 75 Burns in
I now have 200 hours on my Vsi 75 and I can not imagine it getting better, but Audio Research says it will. All the way up to 600 hours. I used to never believe in burn in but I do now because I experienced it with the 219ia and Nordost cables. So I do not want to write more in this review until the amp burns in completely. Only then will I go into more details and listening session descriptions with this amp, and I am sure I will have much more to write about by the time it hits 600 hours.
For now I can state that it is all around the best amp I have ever had in my system, period. It has something magical about it that is hard to put into words but its buttery smooth performance while keeping the detail with zero harshness and throwing a soundstage that will make your head look around the room for the musicians is something to experience. Yes, it is expensive and yes I found it did even better with good cabling from power cord to speaker cable (I use Nordost) but man, if you are into high-end audio, Audio Research is one brand to check out. I have owned McIntosh, Cary, Musical Fidelity and MANY others. This one takes it over those brands easily and has overtaken my favorite amp ever, the Line Magnetic 219ia just because of the heat of the 219ia and the greater transparency and realism of the VSi 75.
UPDATE June 2014 – The VSi75 now has 250 hours on it and it has taken a pretty major turn sound wise. Between 210 and 240 the amp started sounding a bit thin and different. Not as full and relaxing or effortless. At one point I wondered what happened as thought I must have done something but nothing was new besides a Heimdall II Power cord, which should have improved the sound. In any case I kept on listing and when it hit 250 hours the amp gained a nice boost in performance. It is now fuller in the mid bass for some reason and gives me a tad more lower register thumps as well. I now feel it in my listening chair when I have the volume up at around 35. The sound is smooth, effortless and full yet detailed with a sweetness that is hard to describe. The sound is better than ever at 250 hours. Will update again at 300!
UPDATE June 16th 2014: The amp now has nearly 300 hours on it and I also changed my speakers over from Sonus Faber Guarneri Evolution to Sonus Faber Amati Futura. With 200 hours on the speakers and nearly 300 on the amp the sound continues to develop and on some days it does indeed change but one thing remains. The VSi 75 is smooth, transparent, 3 Dimensional and clean. You can crank it to 90 and never will it give you harshness in return. It stays smooth and holographic even at high volumes. The funny part is that it is so smooth at high volume that you do not realize you are listening so loud, but you really are. This amp drives the Amati Futura without problem and even drives them better  than it did the Guarneri Evolutions. No problem at all driving them. AT ALL. Next update at 400 hours!
I adore my Audio Research VSi and CD9. The matching with the Sonus Faber speakers is about as good as it gets.
Visit Az Hi Fi
If you are ever in Phoenix AZ I highly recommend checking out AZ Hi-Fi. A must own stop. They have this amp and many others on display for demo so you can sit down and listen. You can visit them on Facebook HERE or visit their website HERE. Great and honest guys who are actually out to help you get the most from your system. I've bought from many dealers across the country and without question these guys are the best I have experienced so far, and no they have not paid me to write any of this. 🙂
TIP: When I added Nordost speaker cable, jumpers, interconnects and power cables the sound opened up MUCH more. I even auditioned the $11,000 ODIN power cable which I should have never done because it was a pretty nice difference, even noticeable in a blind test. More magic, more life, more space and flow. I could never buy this cable but it was nice to experience it for a few days. In any case, cable are 100% important to the system. Just as important as your source and amp. I now use Red Dawn LS speaker cable, Frey 2 interconnect, Red Dawn power cables for the amp and CDP/DAC and a Heimdall II power cable with a QB8 power distribution system. I have two Qk1's and two Qv2's in the QB8 and find they add small enhancements but when I remove them the sound falls flat, so they stay in 🙂
I like the Qv2's the best. The newest range of Nordost cables is amazing. MUCH better than their older cables that were more lean and bright. Today Nordost has a much fuller sound while adding definition and air and space. It's pretty cool when you go from a generic wire  to a bunch of Nordost cables. It is a huge difference and I was never one who believed in cables. Most dealers will give loaner try outs of cables so you can see for yourself.
I even wrote an article on cables and the new Valhalla 2 Power Cord. You can read that article HERE.