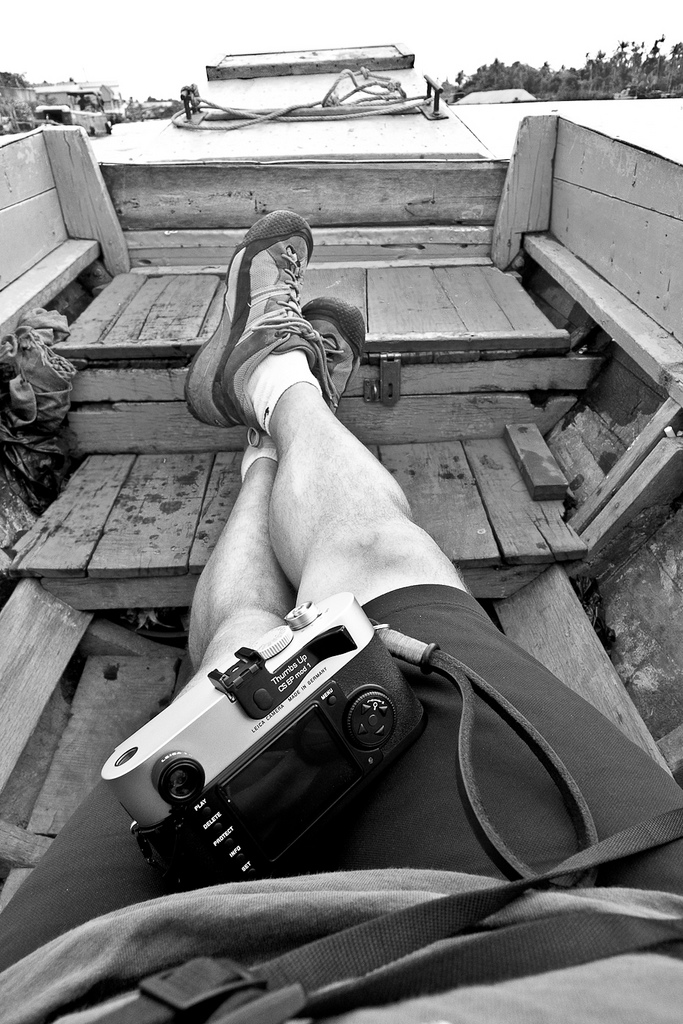 Improving the handling of a Leica M by Ashwin Rao: Hello everyone! Once again, it's a privilege to write to you,. A big thanks goes to Steve for allowing me to share a bit of knowledge that I think may greatly help any of you have may have concerns about handling your Leica M camera.
A brief background on me
Plain and simple, I am a Leica enthusiast. If you have read my prior article on Steve's website (click here to check it out), that should come through clearly. During my time owning the M8, M9 and film M's, I have endlessly tinkered with the camera's ergonomics, trying to find the ideal way to use the camera and to allow it to blend seamlessly into my photographic work flow. Over the years, this tinkering has lead me to several conclusions:
The Leica M camera is a beautiful tool to look at, hold, and handle
The Leica M camera is artfully crafted, but a times, this artfulness can make its handling challenging and even difficult
There are many tools to improve the Leica's ergonomics, and there is no consensus in which modifications are the best ones
Modifying the M to your satisfaction is part of the ownership process and part of the pride of owning a Leica. Don't be afraid to personalize this beautiful camera and make it your own.
The Thumbs Up CSEP-1 grip, fashioned by Tim Isaac of MatchTechnical Services, is one of the most elegant solutions to make your Leica M much more stable when held in-hand.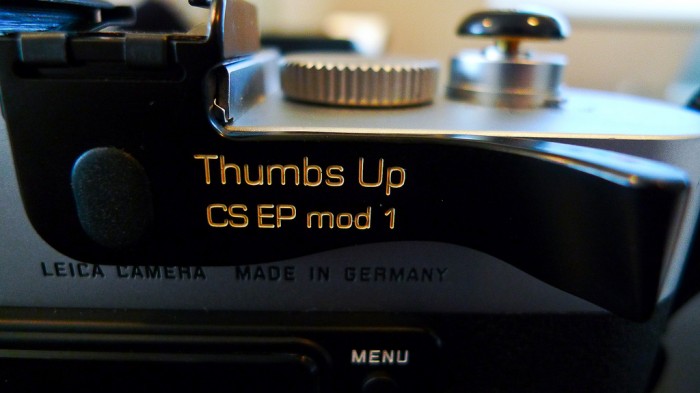 A background into handling Leica rangefinders, from my perspective
I have owned and used Leica rangefinders as my primary tool for photography for nearly 4 years. I know that's not long for some of you, but for many others who have just begun to enjoy your journey into this world and style of shooting, there is so much to learn, and maybe I can help.
As I began to shoot rangefinders, I found that handling the Leica M body can be a challenge. While Leica bodies are sleek and ergonomic, they can be a bit slippery to hold in the hand. There's not much to hold onto with grabbing an M body, with its clean lines, gentle curves, and carefully-machined structure. Many of you who are new to rangefinders may find that your shots may not be as sharp as you'd like. The little bit of blur that makes an otherwise amazing picture rather ordinary may be due in part to the challenge of holding the Leica M body.
Having come from the world of Canon SLR's, I was quite comfortable with those cameras' built-in grips, which allow for camera holding and shooting with one hand. While this adds to the bulk and profile of the camera, it is quite an elegant solution to being able to comfortably hold and shoot SLR's for a long time.
Leica rangefinders, including every body from the M3 through the M9, do not have a built in grip. Leica would claim, as do many purists who shoot their bodies "naked", that the grip is not necessary. They might say that you should simply apply the neck strap, wear it around the neck or one shoulder, and head out for a day's shoot. For 2 years, I applied this philosophy, but was never quite satisfied with that solution. I am not much of a neck strap guy, preferring a wrist strap or grabbing a camera out of a bag for the times when I shoot. And I kept coming back to disliking that slightly slippery feeling of handling the M. And so, my tinkering began. How could I improve the Ergonomics of the rangefinder?
How's I found the "Thumbs Up Grip"
About 2 years ago, I began my quest to "improve" the ergonomics of the M. I completed a comprensive search of several well known Leica forums, including the Leica User Forum (LUF), GetDPI forum, and DPReview's Leica forum. These forums are populated by many members with far more experience with the rangefinder system than I. Many of these individuals feel quite passionately about their way of shooting. In fact, this seems to be a common trait among Leica photographers: Pride in ownership and pride in their unique shooting style and experience. If you ask their opinion, they will certainly give it to you, and the advice may not always be kind or candy-coated.
Based on the advise gleaned from countless hours reading forum topics, I began to tinker and "Mod" my M. I started by trying out a variety of cases, which only seemed to add bulk to the camera. I purchased and used the Leica M grip, which did help to a large degree, but seemed a less than elegant solution, as it added substantially to the bulk of the camera.. I then took a look at a variety of Half Leather cases manufactured by Leica, Luigi Crescenzi and Artisan & Artist, all of which received very positive reviews. It was then that I came across several references to Tim Isaac and his Thumb's Up Grip. People seemed to endlessly rave about this little add-on, which attaches to the hot shoe in the back of the camera and provides a place to rest one's thumb (where the film reloading lever may otherwise be) when holding the M. It did not add much, if any bulk, to the profile of the camera. It was secured well in its hot shoe and would not inadvertently slip off. And better yet, many claimed that the additional stability that it afforded the Leica M provided shooters with at least "one stop" of hand held stability, allowing them to shoot their Leicas at even slower shutter speeds. In other words, this extra stop might allow me to shoot at lower ISO's or shutter speeds! Whoah! Cool. I had to try this device out.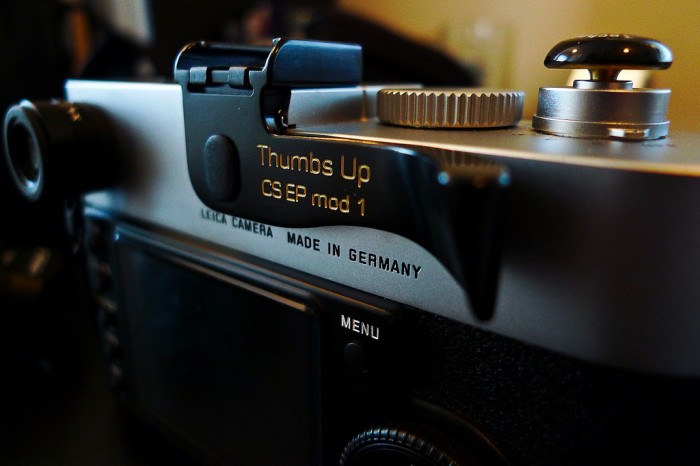 I read up more, and the more that I read, the more I became convinced that the Thumbs Up grip might be the tool of choice for me. I found that Tim Isaac had made a variety of modifications to the design of his grip over the years, and that it was nearing design perfection, according to recent reviews at the time. Luck had it that I saw a post on LUF from a Seattle Leica shooter that Tim Isaac actually had decided to travel to Seattle and was in town. Amazing! Just as I was considering this option of purchasing the Thumbs Up grip, Tim Isaac happened to be in town! So I went to Tim's website, www.matchtechnical.com, and shot him a quick email….
About a hour later, Tim had replied! He was willing to meet me locally, and see my reaction to the Thumbs Up Grip in person. It turns out that Tim loves to get direct feedback about his products, and he uses this feedback to further master the design elements of his products. Tim also wanted to show me some new models that he had worked on to improve the function of the the Thumbs Up grips. Boy, was I excited! The guy who I had heard so much about on the forums, was going to meet with little ole' me! We organized a meeting for a few days later, and the rest, shall we say, is history!
My morning with Tim Isaac
I was quite excited to visit with Tim, as I was about to leave on a trip to Vietnam with my M8 in hand. Anything that I could use to get more keeper images would be a worthy investment. Tim and his wife met me at a local eatery at Fisherman's Wharf in Seattle, a picturesque place where many of the boats that are featured in "The Deadliest Catch" use as their port of call. It's a fun place to do some photography, for sure, if you are ever here.
Meeting Tim was all that I expected and more. He and his wife are truly two of the nicest people that I have ever met. Tim brought along a series of his latest wares and designs, along with his own M8 and Noctilux! For those of you who may be interested, Tim makes a variety of items, including his excellent Beep, Bip, Bip, Bug, and Beast soft releases, His E-Cyplse viewfinder magnifiers and Eye-Cups, as well as an M-coder kit, for those of you who wish to add a 6-bit code to your older lenses, so that they can be optimized for Leica's M8 and M9 digital bodies. All of these can be seen and purchased from his website. I was there, however, to view his latest Thumbs Up Grip Designs.
As a side note, all of Tim's products are artfully packaged, and the Thumbs Up Grip is no exception. The box is artfully decorated, with a personalized note, magnetic clamp, and allen wrench provided to secure the grip to your Leica M. It's clear that the Thumbs Up is made and packaged with a sense of pride, which makes owning it even more enticing to me.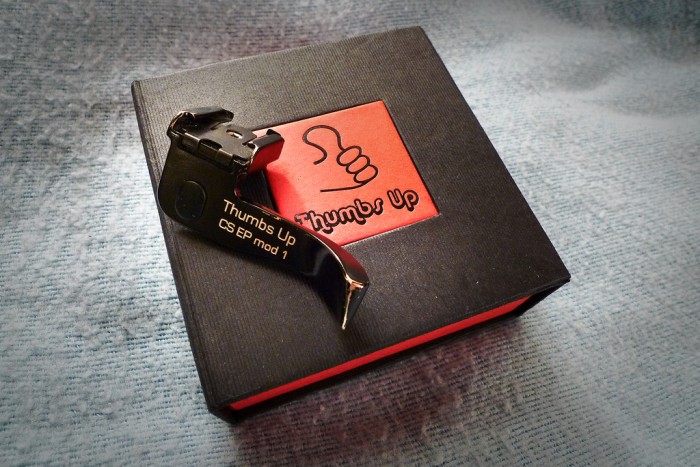 The Thumb's Up grip has gone through a series of modifications, as I have mentioned, and I was able to view 2 of his most recent designs, the CSEP-4 and CSEP-1. The CSEP-1 is pictured below, attaching to the hot shoe, and providing a stable grip for any M body
THE CSEP-1
In my eyes, the Thumb's CSEP-1 provides a very elegant solution to improving the camera's ergonomics and suited my needs perfectly. The CSEP-1 minimizes bulk while maximizing functionality. Tim has designed the CSEP-1 to blend with the camera's own classic lines, and it allows for hand placement in a way that makes shooting simple and and elegant. The protruding element of the grip is positioned to allow the photographer's thumb to rest in a fashion that further secures the camera while in hand. It is a simple and elegant solution to the Leica M's inherent slipperiness.
Below is an image of the Thumbs Up, mounted on my Leica M9: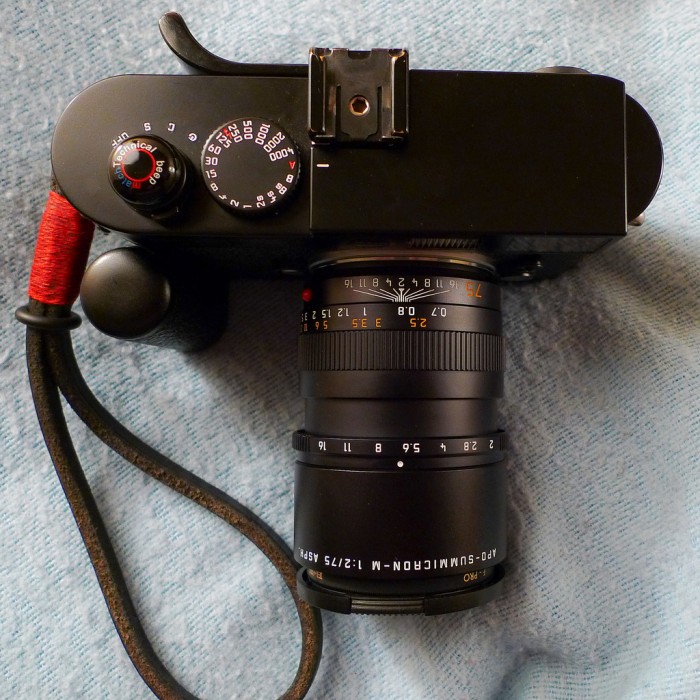 The Thumbs Up CSEP-4
The CSEP-4 takes the design 1 extra step, providing a cold shoe that is positioned directly over the camera's own viewfinder. This would help greatly for wide angle lenses (up to 24 mm on M9, and 21 mm on the M8), whose frame lines may not be visible in the camera's native viewfinder. The photographer does not have to reposition his eye when switching between the camera's viewfinder (which is still used for focus) and the external viewfinder, which is necessary for composition.
Given that my preferred focal lengths for shooting range between 35 mm and 90 mm, I didn't personally see the added benefit of the CSEP-4 as necessary to my shooting needs, though you wide-angle freaks out there may find the CSEP-4 to be better suited to your needs.
I elected to purchase the CSEP-1 for my M8 and 2 of his BEEP soft releases (one for each of my film bodies), as I discovered that these soft releases, which screw in to the shutter release, add greatly to discreet shooting function (a word on this is below). All in all, purchasing these items was one of the BEST investments that I have made in my quest to make my M8 and M9 more useable. I ultimately sold my M8 to fund my M9, but the very first items transported from 1 camera to the other were my Thumbs Up CSEP-1 grip and the Beep soft release. Tim's Thumbs Up has now traveled along with my rangefinder bodies to Vietnam, Egypt, Italy, and throughout my travels in the US. Like American Express, I "Don't leave home without it."
Applying the Thumb's Up:
Applying the Thumbs Up Grip is simple. You simply slide the unit into the hot shoe, using an included Allen wrench to tighten the lug nut at the center of the shoe. This process does not affect the electronics or functionality of your M, other than rendering the hot shoe cold, meaning that flash units won't be useable with the Thumbs Up grip in place.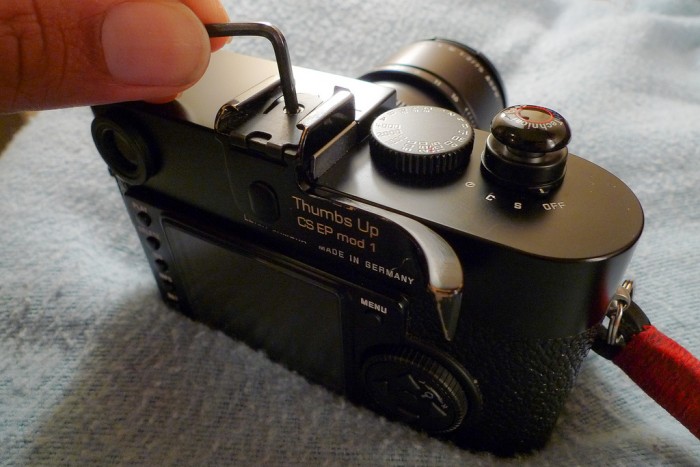 My take on the Thumbs Up CSEP-1
I have now owned the Thumbs Up CSEP-1 grip for over 1 year. As I have mentioned, it hasn't left my camera body even once, other than to be transferred from my M8 to my M9. The grip is fashioned to accommodate the photographer's thumb comfortably along the right upper margin of the camera. The thumb rest has a slight taper to it that improves the resting point of the thumb, while the remaining fingers can curl around the front of the body to provide a secure, 1-handed grip.
So what do you gain in using the Thumb's Up Grip? I think that you gain a great deal. The camera becomes much more of a pleasure to hold. Hand fatigue from contending with the Leica M body's slipperiness is greatly reduced, as the CSEP -1 allows the thumb to naturally fall into a position of comfort that aids the camera's stability. The CSEP-1 is elegantly fashioned, and its tiny profile actually adds to the camera's aesthetic. I picked up a black model, which has brassed slightly in my year of using it, which only adds to its aesthetic charm. Functionally, the Thumb's Up grip adds a fair amount of stability to the shooting experience. I would agree with the statement that one gains about a stop of hand-holdability in using the M with the Thumbs Up grip attached. Further, I am no longer nervous about dropping my M9 inadvertently. I also find that I can handle the camera well, with little hand and arm fatigue, even with the heaviest of lenses such as the Summilux 75 mm f/1.4 attached.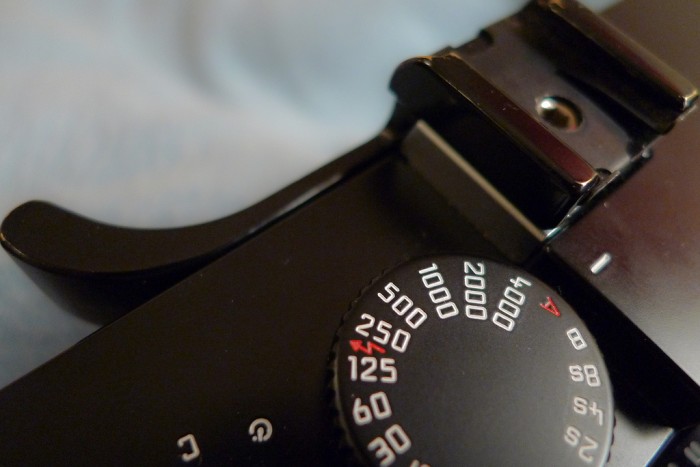 So what do you lose in applying a Thumbs Up Grip to your camera? Well, for one, you lose the function of the hot shoe. The CSEP-1 is a cold shoe (hence, the "CS" part), so adding a flash to the M is not possible if you wish to use the CSEP-1 or 4. In circumstances where you wish to use a flash, the Thumbs Up grip must be removed. For you Leica photographers out there who like to use flash, this may be a reason to consider other options in purchasing a grip. I, for one, have never used a flash unit on my Leica M, so a hot shoe is not necessary for me.
What doesn't change when you use the Thumbs Up grip? You still have a cold shoe, which can be used to attach accessory viewfinders. You can always remove the grip and add a flash, if desired. In my experience, the camera body does not get damaged in any way from using the Thumbs Up grip.
In summary, I believe that the Thumbs Up grip is an invaluable and essential tool for those using any Leica M body. For many of you, that will mean the M8 or M9. If you are interested in the Thumb's Up grip for your Leica M, www.matchtechnical.com, learn more for yourself, and consider this as a worthy addition to your Leica M arsenal. As of this writing, the Thumbs Up CSEP-1 retails for $162.38 when purchased directly through MatchTechnical.
Disclaimer
I have no received financial benefit or incentive from any source in writing this review of Tim Isaac's Thumbs Up grip. I simply love this tool that Tim has crafted and write as a very satisfied customer. I suspect that you will love this addition as well
A Brief word on Soft Releases
Soft releases are adds for the Leica M that screw directly into the camera's shutter trigger. They add a bit of height to the shutter, and provide additional stability for the finger, when placed. They are "soft" because they can dampen the shutter trigger, making that action softer. If you do a search, these items come in a variety of shapes and signs and are fashioned by a variety of manufacturers. I settled on Tim Isaac's releases and have tried a variety of his models over the years. MatchTechnical's models are fashioned from brass and seem to have more substance than others that I have tried. I find that using the soft release allows me to more gently trigger the shutter when shooting. I like the way the soft release allows me to trigger the shutter. It's mainly a feel thing, and it may be worth a try, if you are curious.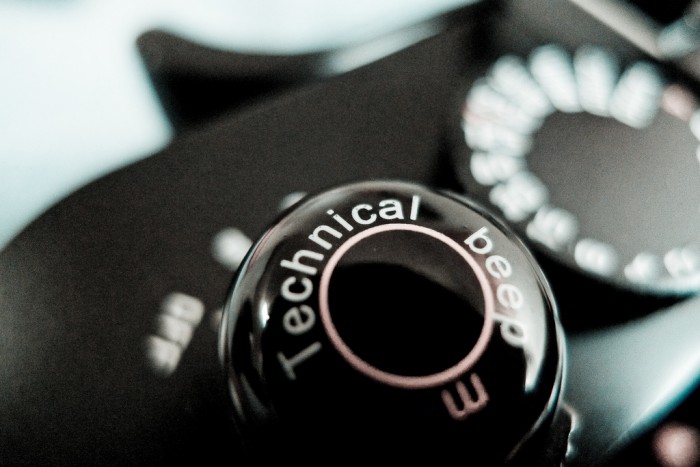 From Steve: Thanks Ashwin for this superb and very informative article! Also, be sure to check out his great photography blog HERE! You can see more of his photos at his flickr page as well!
HELP SUPPORT THIS SITE TO KEEP IT GOING AND GROWING!
Remember, anytime you follow my links here and buy from B&H or AMAZON,
this helps to keep my site going. If it was not for these links, there would be no way to fund this site, so I thank you in advance if you visit these links. I thank you more if you make a purchase! I have nifty search bars at the upper right of each page so you easily search for something at either store!
If you enjoyed this article/review, feel free to leave a comment at the bottom of this page and also be sure to join me on twitteror facebook! Also, you can subscribe to my feed at my subscribe page HERE and read these posts in your browser or news reader!  Thanks so much for visiting my site!