I'm back home after a long day of driving, walking and running for my life. Yep, I was nearly robbed today of my Leica M9 and lenses! What a way to spend a day 🙂 I was out in St. Louis, MO today just driving around and looking for abandoned buildings to photograph. Not really knowing anything about St. Louis (as in what areas are good and what areas are bad) I just exited the freeway at the first sign of something interesting. I spotted a few old factories that looked empty and run down so I headed my little Toyota Prius in their direction.
Something was odd though. As I drove in to this industrial area it looked like a scene from a movie. No one was around and this appeared to be like a little ghost town with every factory closed and run down. Hmmm. It was mid day so the light was awful, but I pulled my car into a lot and got out to walk. There was graffiti everywhere but no one to be found. I spotted the old Southwestern Railway Freight Depot and it was heavily vandalized. There was even a Christmas tree hanging upside down on the "front porch" along with other decorations.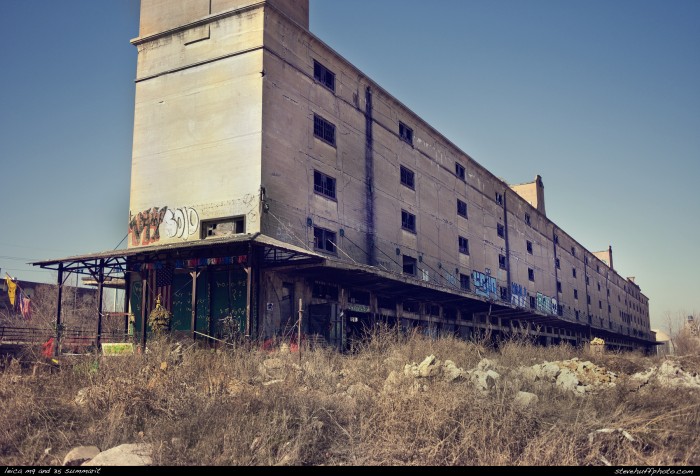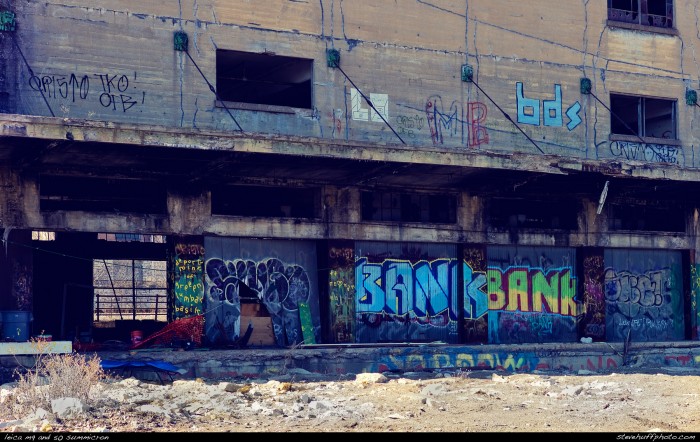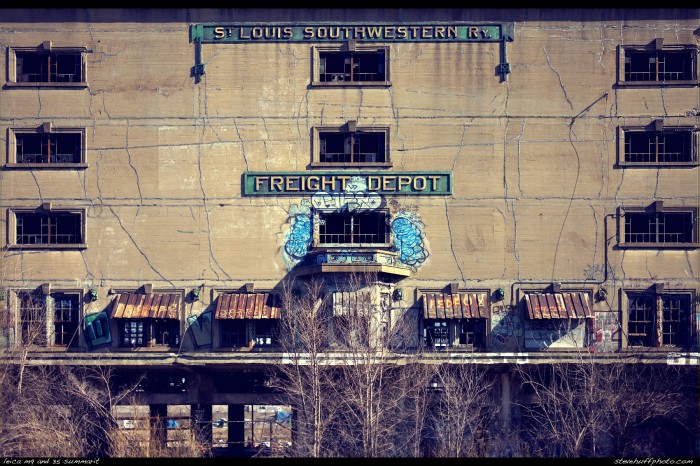 As I was taking these images I saw three men appear out of nowhere and approach me. They said "How are you today?" – I said "good". They entered in to the building ignoring me and my camera. I turned around, got in my car and drove down a block or so to the next factory.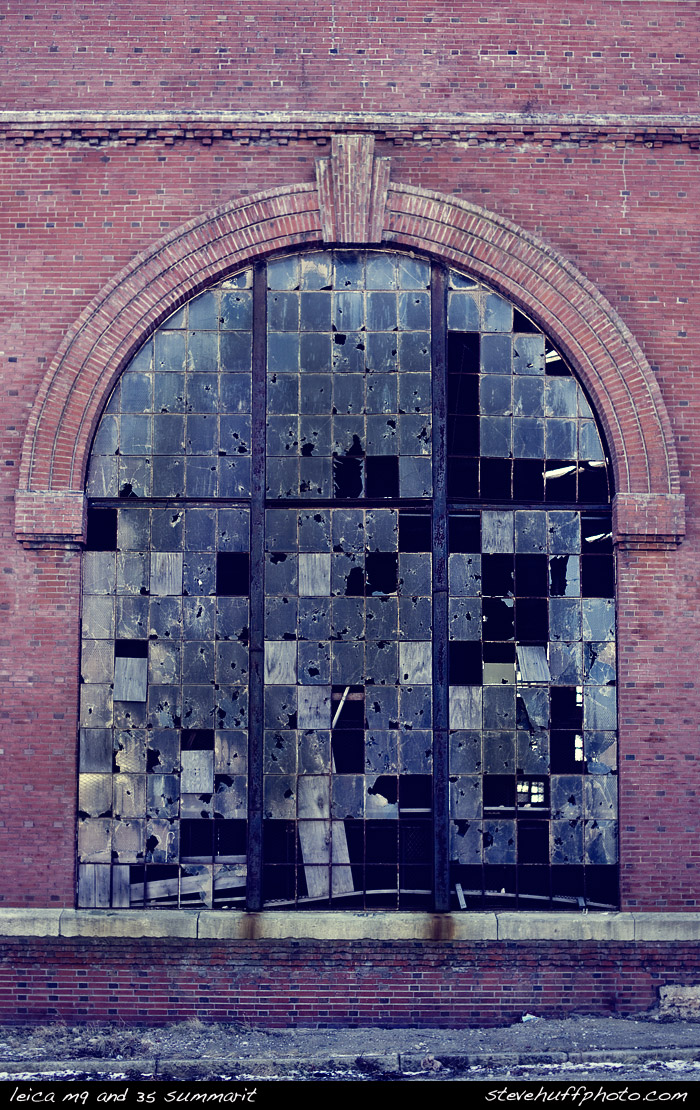 This image was taken at the Laclede Power Company. Windows were busted out and the building looked like a mess. As I looked around I saw no one. The three guys from the last stop were no where to be found so I moved on to St. Louis Refrigeration and Cold Storage where I saw these steps: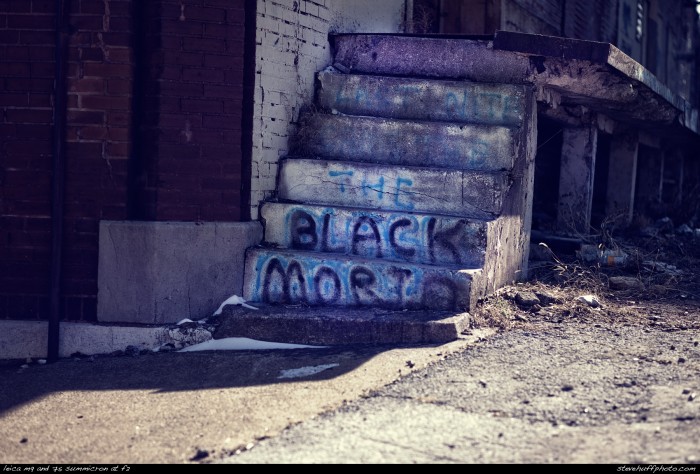 As I snapped a couple of these steps I heard someone speaking and yelling so I hopped up once again and hopped in my car to get out of the area. I was starting to get a but nervous as things did not look to safe, especially when carrying $10K worth of gear around my neck. Before leaving I did manage to grab a shot of this old brick warehouse: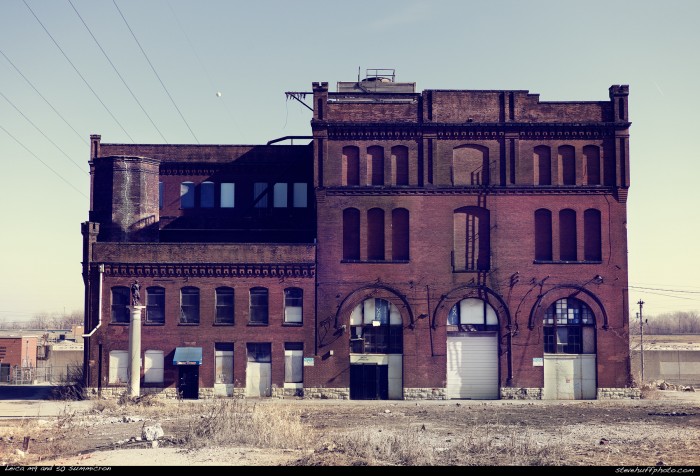 On the way out I spotted Union Electric Light and Power Company which appears to be in operation. The building was MASSIVE and looked amazing. I pulled in to the front parking lot and stepped out to get a quick shot. I knelt down and grabbed this..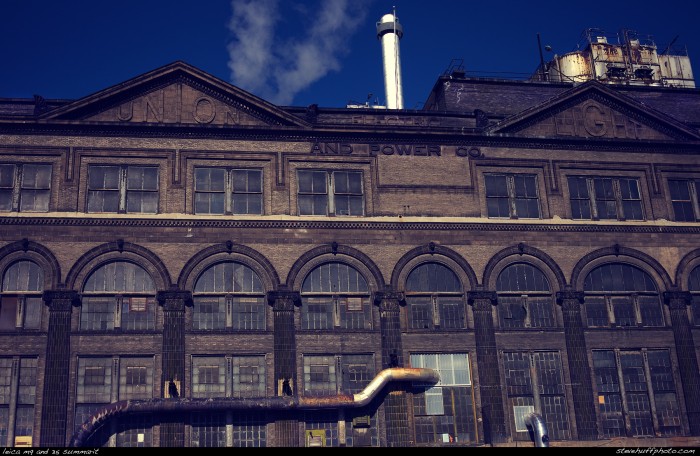 After I snapped this shot, I was going to get a few different angles. I was leaning against a wall when an old beat up 1980's car pulled up and two VERY rough looking guys get out and start to walk up to me. They said "What are you doing here Bro?" – I was thinking "OH SHIT…" and then remembered that A: My car was like 2 feet behind me and B: I left the door open, and C: I left it running. I quickly turned around, hopped in the car and was able to take off quickly. The two guys got back in their car and followed me all the way to the expressway. Maybe they were just going to engage in some friendly chat? Who knows, but I got a bad vibe from these guys. When they pulled up, NO ONE else was around, anywhere. These guys came out of there car with an attitude so I am glad I did what I did.
After I was back home I looked up some info on this area and some say it is extremely dangerous while other say it is just full of homeless people who live in the buildings. The freight depot is supposedly pretty amazing inside with all kinds of elaborate graffiti. There is also said to be a very nice man named "Jeremiah" who "manages" the building, and yes he is homeless. Maybe I will go back another day but when I do, I will be sure to bring a couple of buddies with me.
The photographs here were all processed in CS4 and were all shot with my LeicaM9 and either a 35 summarit, 50 summicron or 75 summicron. My review for the 50 and 75 will be up really soon, one of them this week. Thanks for looking!