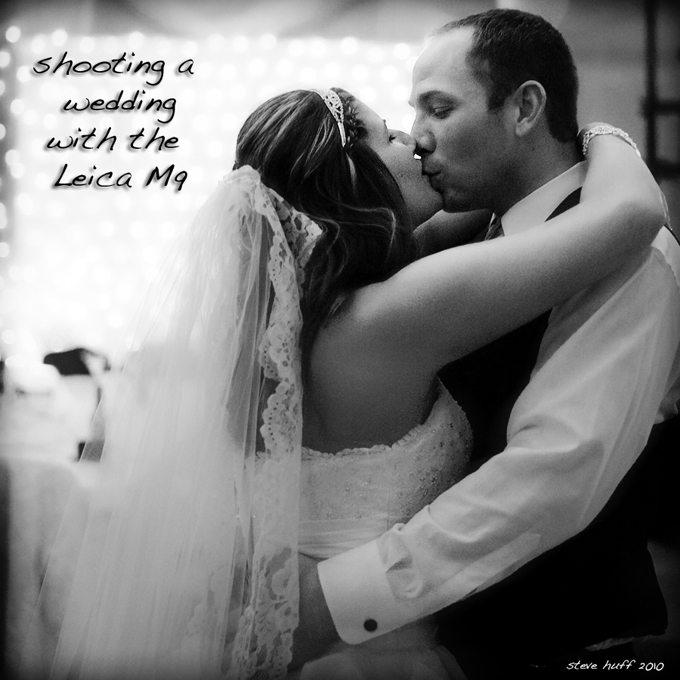 I have always been one to say that you can most certainly shoot a wedding with a Leica M9. Yesterday this site was low on the updates due to me being out shooting a wedding and yes, I shot it with my M9! I also brought along the 35 Lux and the 50 Summicron. In my bag I also had the E-P2 and Noktor lens on hand to give that a go, but the real winning images were taken with my M9. From the bright sun to the low light reception, the M9 did not let me down.
At the reception I shot ISO 2500 with B&W JPEG's. Amazing results! Of course I also shot RAW so I do have the color versions as well but the camera did so well in B&W at ISO 2500, and my whole plan was to shoot in Black and White anyway so it worked out perfect.
Many of the M9 bashers say that you can not use an M9 to shoot a wedding, and that is pure nonsense. I have been told to not even attempt it by a few of my DSLR toting wedding buddies. OK, I will be realistic…the M9 and weddings would not seem to mix to well when you look at it on paper. No auto focus, no 8 FPS, funky center weighted metering..the list goes on. But yes! I am here to tell you that not only can you shoot a wedding with the M9, you can do so with more style and pizazz than you can with a DSLR! Bold statement and maybe I am biased but shooting this wedding was so fun with this camera and with a DSLR it would have been a pain. My results would have been different as well. Yes, I was in that "M9 state of mind"  while shooting 🙂
Now I admit that I am not a wedding pro. Hell, I have not shot many at all recently (it's been a long time). But today I had fun and just wanted to write this post for those out there who say it can't be done or that it's not ideal. It can be done, and it can be ideal depending on your style.
If you want a documentary style to your wedding images and want to shoot black and white then an M9 may be just what you are looking for!
Leica M9 and 35 Summilux at 1.4 – I added grain to ALL of the shots shown here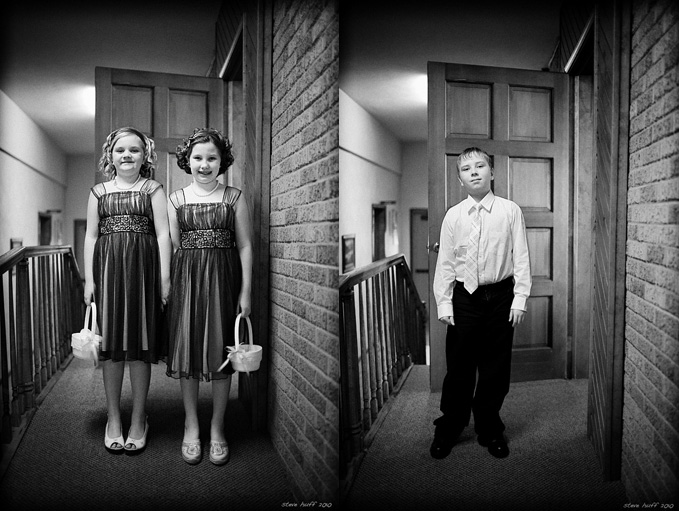 I was simply amazed at the 35 Summilux when shooting in the lower light areas. I shot the lens at 1.4 ALL day long and never stopped it down one time. My ISO range was anywhere between 160 and 2500. The best part is that not one of my images were out of focus. Not bad for a manual camera huh? My guess is that if I had a DSLR I would have had MANY out of focus images AND Missed a few shots due to focus hunting. Sure, something like a Nikon D3s would have been awesome but it may have scared those kids above and they probably would not be so relaxed, ha ha:)
35 Summilux, 1.4, ISO 640 – vignetting and noise added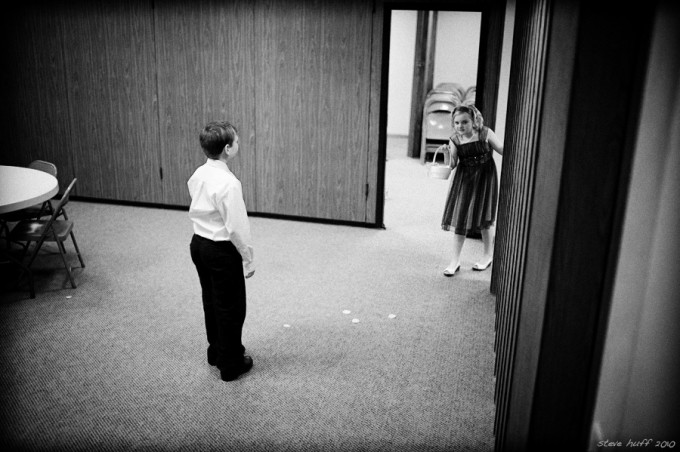 With the M9 I found it easy to grab quick moments. It was 2 hours before the wedding and I just walked around and snapped away. No one even realized I was there to photograph. I probably looked like a relative taking family snaps.
35 Summilux, 1.4, ISO 640 – vignette and noise added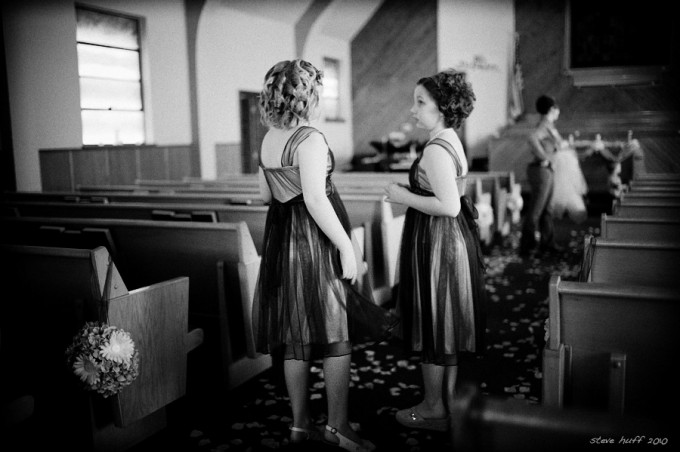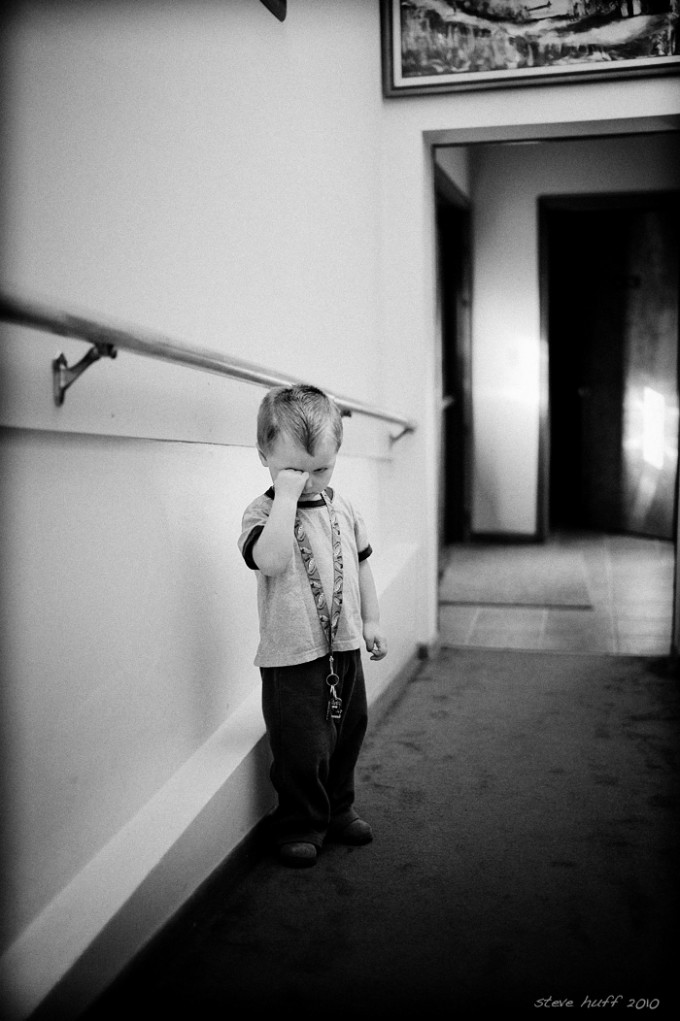 This wedding was actually shot by someone else. A girl was hired for the job but the bride was a friend of my niece and she asked me a couple of weeks ago if I could shoot the wedding. I turned it down at the time because I felt I did not have fast enough lenses. When the 35 Lux arrived I decided to give it a shot so I called and said I would do it. I was too late 🙁 I was told there was a girl hired but to come along anyway to shoot some behind the scenes type of stuff. I thought it would be fun and besides, it would give me a chance to test out the M9/35 Lux combo 🙂
35 Summilux at F2.8 – ISO 80 – vignette added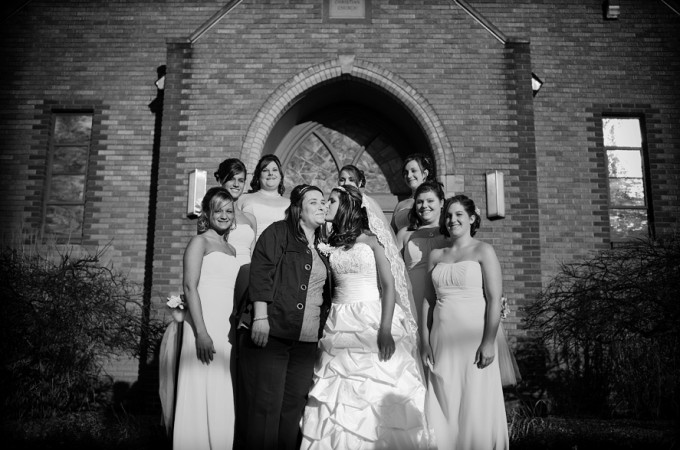 I only snapped a few shots outside because the hired photographer took care of the posed shots. I admit that I  am not a fan of posed shots anyway. I prefer to document the day as it happens…real life.
When we went inside I thought I was in for trouble. It was 5 o'clock and the sun was going down, so the light inside the church was getting  lower and lower. An ISO bump here, an ISO bump there..all was good. Remember, these images have all had noise ADDED to them as part of my B&W conversion!
35 Summilux, 1.4, ISO 320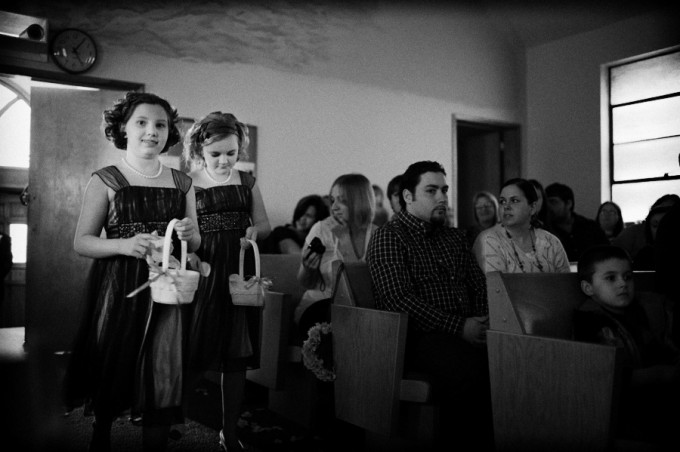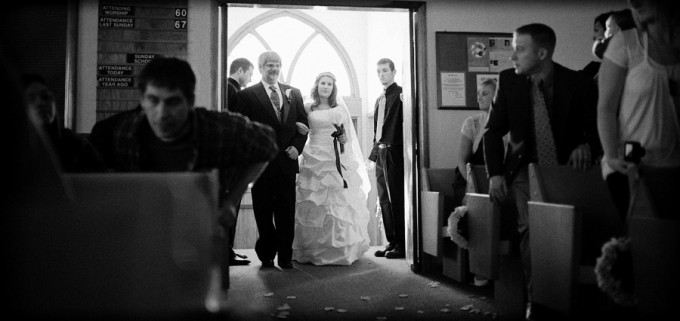 Next two shots…50 Summicron, F2, ISO 1250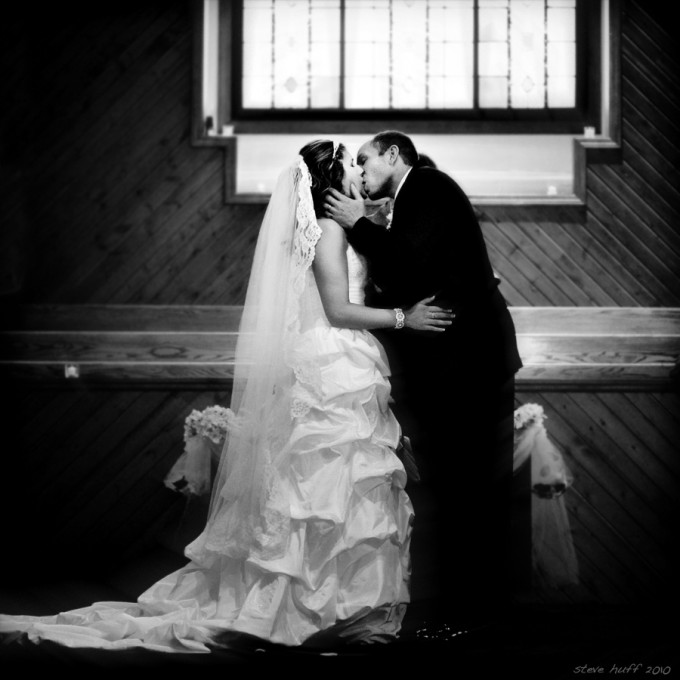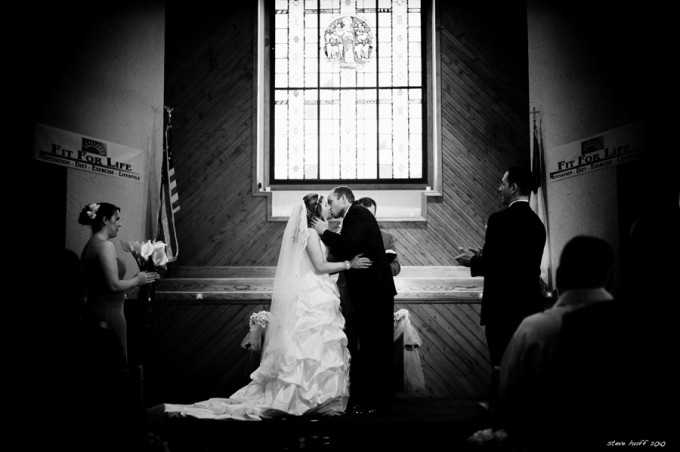 Since I was not the "official photographer" I did not want to intrude on the girl who was there shooting but I have to say, during the kiss she did not get out of her seat to get the image. I went center aisle and squatted down to get the one above just in time.
I also wanted to stay in the background and be unnoticed. Again, I did not want to intrude on the hired hand so I kept my distance for most shots.
Next two shots, 50 Summicron at F2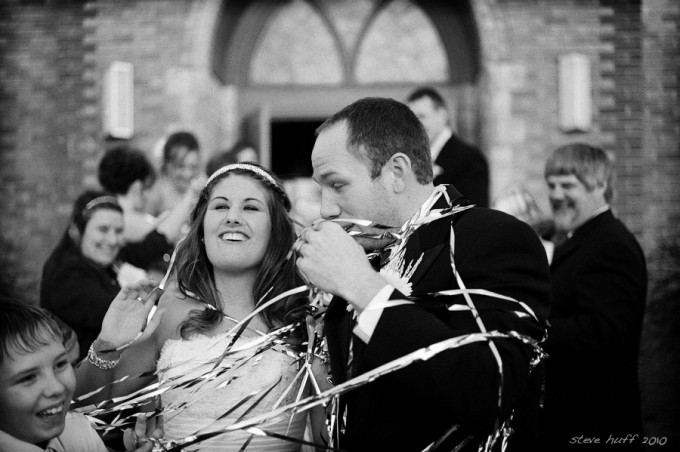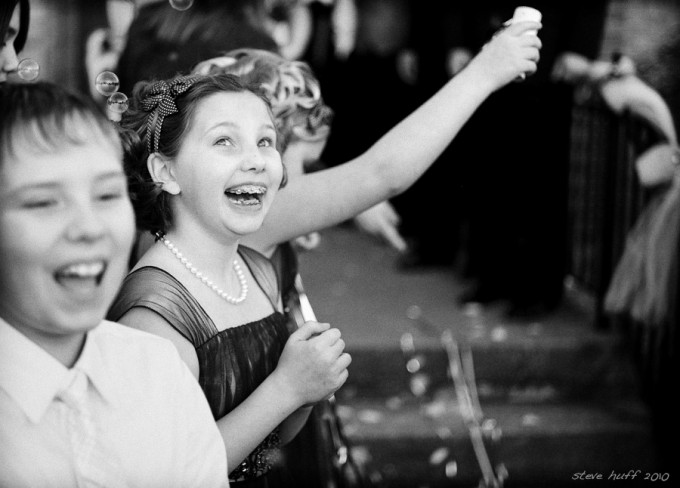 Once the wedding ceremony was over it was time to head over to the reception. When I walked it I was like "WHOA!, It's dark in here!". Yep, it was any NON Flash photographers worst nightmare. I set the M9 to ISO 2500 and did a test shot with my niece with the 35 Lux wide open.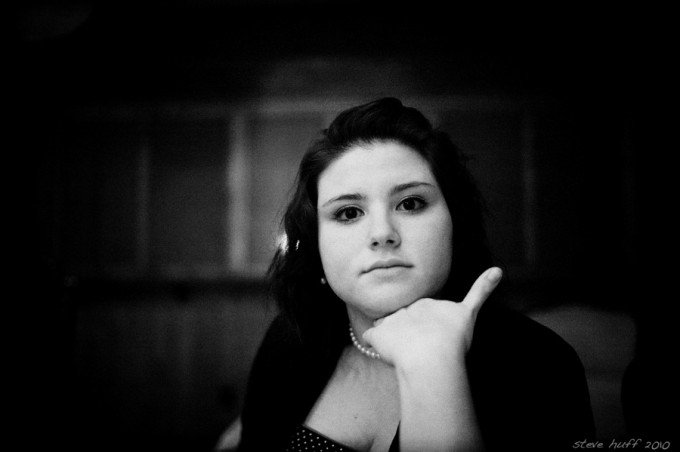 Hmm, looked good to me. The above image has no NR and was shot in camera B&W. So away I went to finish off what I could before I had to leave. I could not stay the whole night and since there was another photographer there I was not really needed anyway. For the cake cutting I had to crouch down under the other photographer but like this shot anyway 🙂
Rest of the images were shot with the 35 Summilux at 1.4, ISO 2500 and in camera B&W JPEG.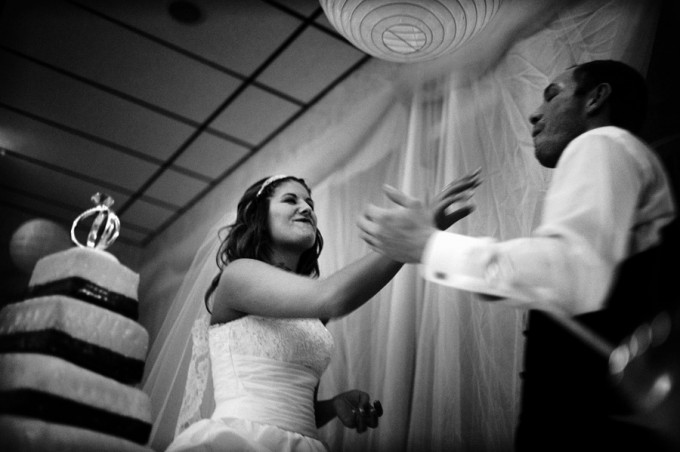 Also, while the other photographer got this shot…(they were looking at here)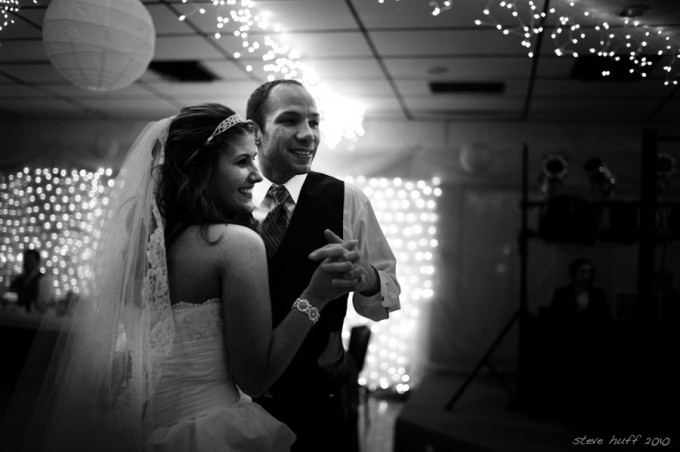 I got these…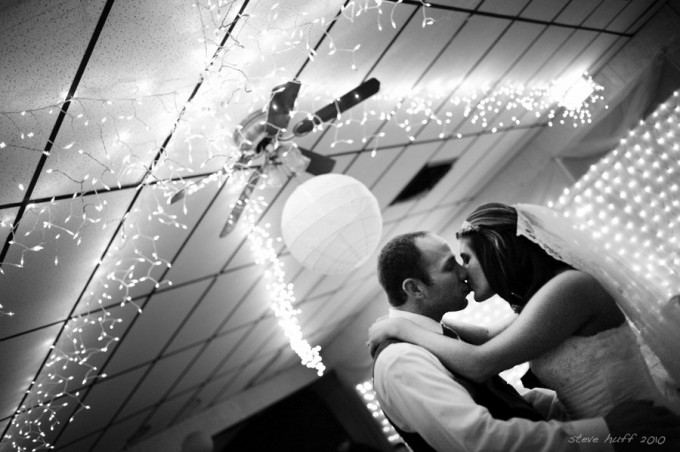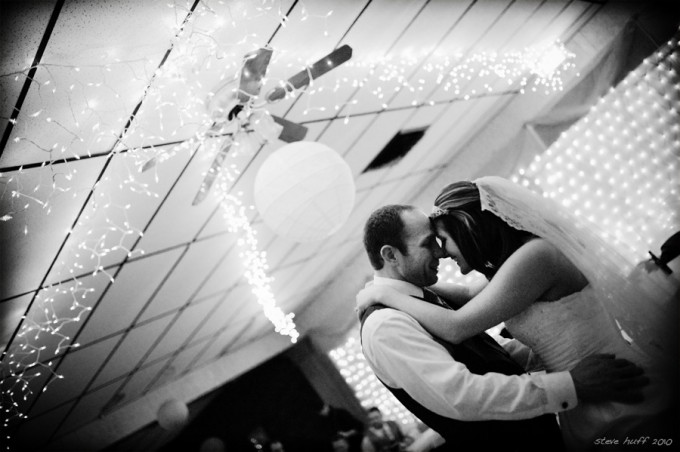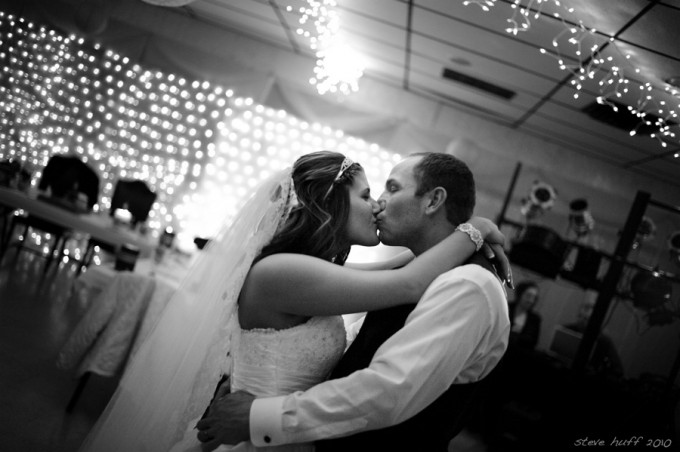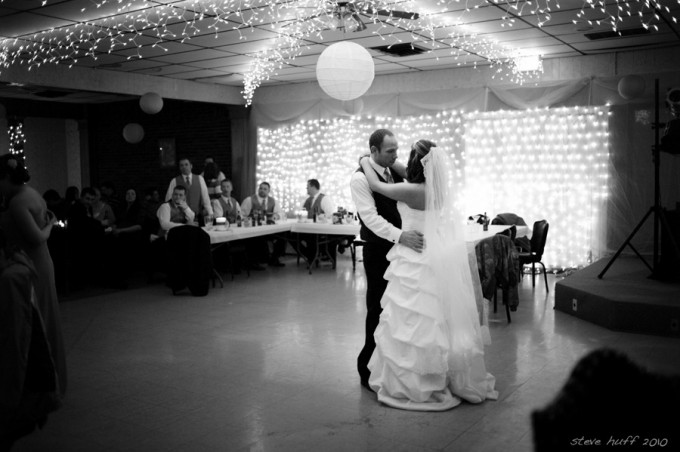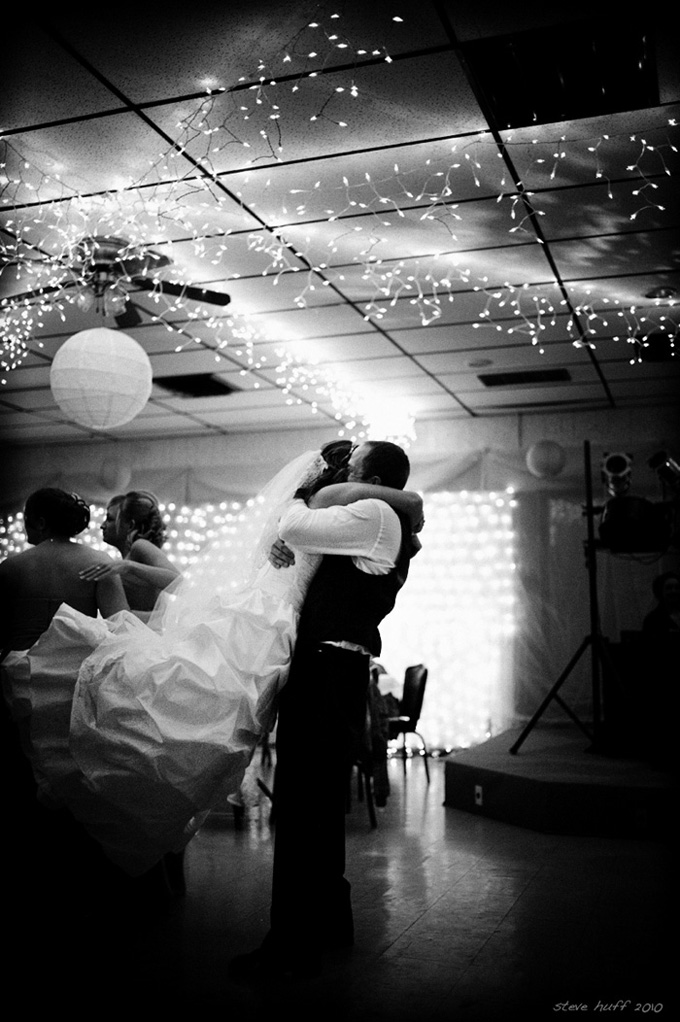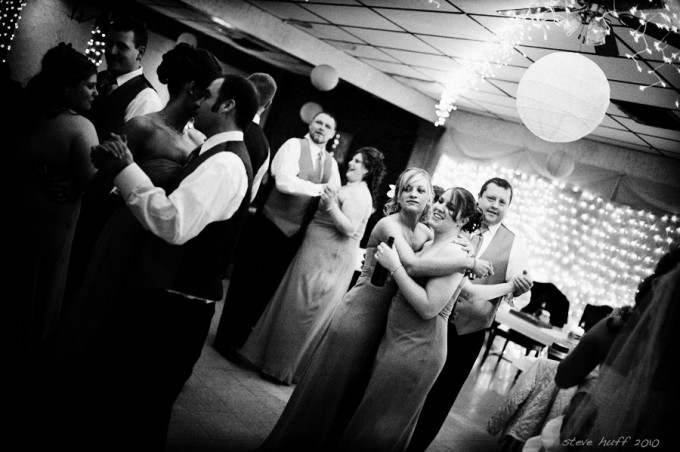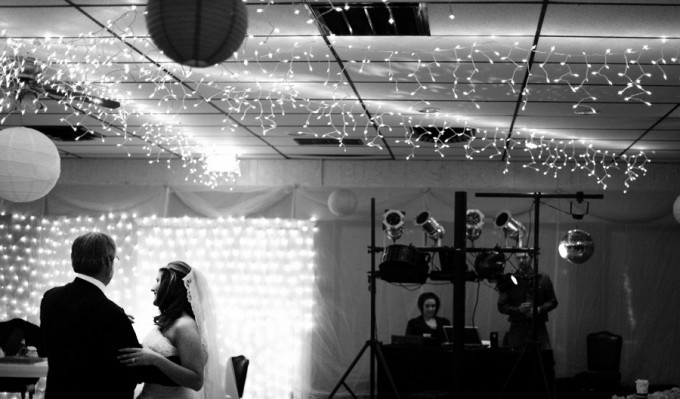 I had a blast shooting my M9 at this wedding and came away with about 50-60 keepers. Oh, and I only shot 100 frames. Again, not bad for a manual camera! Now, if your style of wedding photography is different than mine, the m9 may not work for you. If you want bright, colorful, noise free images a Nikon D3s or big Pro Canon with some nice primes would do the trick. But for those who say an M9 can't shoot weddings I have to disagree and say YES IT CAN! The last 9 images were all shot at ISO 2500 with B&W JPEGs in camera. No noise reduction! Focusing was easy and I did not miss any moments. My only wish was that I had a 50 Lux ASPH because in this kind of light, you will need all the speed you can get. Actually, the Noct 0.95 would have been simply AMAZING. I know of a few guys who shoot weddings with film M's and digital M's and at least  two of them shoot with the Noct 0.95. Their images are among the best I have seen and no, they do not use a DSLR.
Who knows, maybe I will start to take more wedding jobs. I had fun with this one and all I had one me was one camera and two small lenses and I was there as a guest really, not the official photographer. 🙂
Also, as of this writing B&H Photo is now taking pre-orders for the M9! Order now and you may be able to get one within a couple of weeks. A bunch of you have been asking me where to get one and B&H is my recommendation for the quickest way to the M9 right now. You can pre-order the black one HERE, or the grey one HERE.
I hope  you have enjoyed my little M9 wedding story. I also want to thank the bride and groom for allowing me to shoot and to also share these images on my blog. Thank you! Oh, and BTW..I also shot a few frames with the E-P2 and 50 Noktor…I will be posting those later today in my Noktor review diary!
UPDATE: Due to some e-mail requests asking me for color samples I am posting a few here. Keep in mind that the B&W samples above were not really processed. These were just out of camera B&W. Below are some processed color shots but still, no noise reduction was done on any of them. Yea, they are small size but they print nicely, even the 2500 ISO images.