It's back! Q&A Wednesday was MIA for the past few weeks but it was only due to me being super busy and up to my ears with gear! Anyway, I have received some interesting questions recently so wanted to post some of them here. If you have any questions that you would like to see next week, just use the contact link above!
Q: Hey Steve, I was wondering how you manage all of your hard drive space? I just got a GF1 and have been shooting in RAW; I'm quickly eating into my HD space on my Macbook. Should I move all my photos onto an external RAID drive? Derrick
A: Hey Derrick! Thanks for the question. Three words. External Hard Drive. When I was using a macbook pro I always had my portable 500GB hard drive with me in my bag. These days I use my Imac for my photo needs and I upped the size of my external drive to 4 TB. I now have PLENTY of space and all of my photos go directly to this external drive. This keeps my Imac relatively clean with plenty of space. So I Highly recommend an external drive for your photos if you are running out of space on your main computer. Also, always have backups! Here is a great 2 TB external drive that looks great, performs great and wont break the bank at $285. If you want auto backups this is a nice solution. Tons of options out there!
---
Q: Hi Steve, Love your website. Follow daily. I just bought my first Leica. I'm an amateur wanting to learn everything. Originally, I purchased an Elmarit M 28mm, looking to add a second lens but really don't want to break the bank. Any suggestions or recommendations would be most appreciated! Bobby
A: Hey Bobby! This one is easy. I would recommend the 50 summicron. You can buy then new for $2k or used for as little as $800 if you search around and find an older one. A 28 and 50 would be a nice set for your camera. Good luck!
---
Q: Message: Hi Steve, im new to Aperture and photo edititng . Saw your video on youtube and in your website and tried to use color on my Aperture 3 but wont work on what you did on changing the color of the sky on your video..can you pls give me a step by step instruction on how to change colors on a image…thanks. Jay.
A: While editing an image in Aperture 3 you can go down to the color sliders at the bottom left of the adjustment pane. If the sky is blue, adjust the hue of the blue slider. This will change the color/hue of the sky 🙂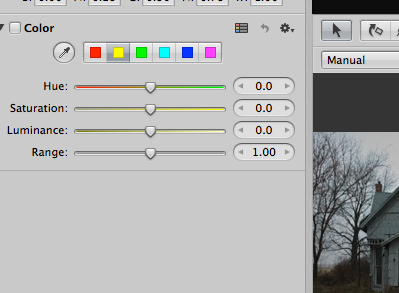 ---
Q: Message: Hi Steve, I have one question regarding storing pictures and then presenting them after some time – maybe you find it dummy but I don't see some easy solution. I have thousands of pictures (family/holiday) and they are on my backup disk which is pretty slow (2MB/s) if we talk about showing them efficiently to someone who wants to see 'my gallery'. I guess you have much more and you use RAW, you don't print them into  albums and I guess they can't even fit into your Mac. Sticking to one software (like Lightroom) is quite tricky, because as I can see – now you purchased Apperture 3 – so your Lightroom tagging/ranking has to be done again? So the question is – how to keep all pictures on one place, have them sorted, tagged, ranked and be able to browse them quickly. Maybe visitors of your site could say which solution they use…  Thank you for your answer Jan
A: Hey Jan, thanks for the great question! I have been asked this quite a bit and most people are surprised to hear my answer. I have digital images in my external hard drive dating back to 1997 from some of those first Sony Mavica floppy disc cameras that were total garbage. Over the years I have stored my images by month to my external drives. Aperture and Lightroom was not around for most of the years that I was shooting so I created folders on my hard drive by year and then months. So in folder 1998 I will have 12 folders, each representing a month. Up until a month ago all I used was Adobe bridge and Photoshop CS4. I used bridge to browse my files on my HD by year/month. To me, this is the easiest and even easier than using Aperture and Lightroom.
I love Aperture 3 but actually prefer my old way of storing and organizing my images. I will always have them on my HD, ready to browse by any year or month. Tens of thousands of images. I did not load all of them in to Aperture and actually have only been using Aperture 3 for my new images (starting a month ago). With that said, all of my old images from 1997 up to a month ago are not rated or tagged in any way (unless it was a paid job, then I have a folder just for those and know exactly where to find them).
I can easily browse my photos just by picking a year/month I want to browse. In a few more years I will be able to load up Aperture and browse them all by year/month as well. The key is to have a good external drive. Good luck!
---
Q: X1 vs D-lux4.  Steve, Thanks for your great insight & reviews!  I own a M3 & M8, but am looking for a small camera to take bike riding and skiing, quick hike with the dogs.  I have been looking into the X1, and have read many of the pros and cons. Of course I have never held a X1 in my hands.  So the quick question, is the X1 worth the extra 1k over the D-Lux 4, when I already have a great M8.  Thanks again for your help.  Jim
A: You have an M3 and M8…well, if you want to look the part get an X1. Lovely camera with amazing quality for its size. If you want more versatility then I would say get the D-Lux 4 (which also looks nice). The Dlux 4 will give you thing the M8 can not do like Macro, close focus and some zoom. For compact small sensor cameras, the D-Lux 4/LX3 is still my favorite! With that said…the X1 beats the D-Lux 4 for IQ, DR, High ISO and of course simplicity.
---
Q:Message: Hi Steve, Got another question for you. I notice there are a lot of Leica Leitz lenses on ebay and they are made in Canada. Are they the real deal? They are not cheap either. Are they any good? Cheers.
A: Yes, they are the real deal. There are a few lenses that were made in Canada. The 50 Noctilux is one of them, the older 35 Summicrons and the 75 Lux I believe. Many were made in Canada.
---
Q: Dear Steve, You are probably inundated with mail but I wonder if you would be kind enough to reply to me.  Call me, if you like, a "worried M9 owner". I have read excellent reviews on the M9 including a leading and encredibly enthusiastic article by you.  Based on this and other enthusiastic reviews (Sean Reid/Rockwell/Luminous Landscapes/Erwin Puts) I migrated from a Nikon D2x to the M9 with 35 mm Summicron lens.  My understanding was that the quality would be within a hair's breadth of the D3x.
Imagine my alarm when I read the DxOMarkIQ results yesterday which seem to suggest that the Kodak sensor is little different from the four year old Canon 5D Mki.
Are we all deluding ourselves?  Ignore the advantages of an RF camera. In simple IQ terms just how close is the M9 to the D3x?  I am really confused.  I struggle to reconcile the DXO results with those commentators who have said the M9 is at the very top of the IQ world.
I'd really be grateful to hear from you. Suffice it to say I feel a little bit concerned.  You seem to be one of the few honest ones out there (at least I think you are) so your views would be gratefully received.
Thanks and regards, Jeremy
A: I have always thought and still do think that those DXO tests are nonsense. I do not like them and I never have liked them. I do not even look at them or pay any attention to them. I could care less what some chart tells me. I go by actual results and let me tell you this…
The M9 files are the nicest, richest, and best I have seen from ANY digital camera that has come through here. To be honest, nothing has even come close. An M9 with a good lens and a proper exposure at a decent ISO will blow your socks off. The Sensor in the M9 is actually pretty much the same as the M8 sensor, just a full frame version. Sure, it is not cutting edge technology but guess what? It works and works VERY well.
If an M9 shooter is getting bad results from the camera then either the exposure is off, they are using a shoddy lens or their camera is not calibrated. End of story.
If I sound irritated it is because I am. I have received no less than 20 e-mails about this from worried M9 owners or potential buyers. My suggestion is to look at the results of the camera. If you are not happy with it then do not buy it or if you have one and this DXO test worries you then sell it! I have yet to find a digital that offers me everything the M9 does (and I do not mean features). I am talking about gorgeous image quality, superb build, no hassle simplicity, and the ability to use the best lenses ever made for 35mm.
IMO, the M9 is at the top of the heap for IQ in the 35mm arena. The D3x may have a teeny bit of an advantage in some areas but it's a damn beast! If you can get along with manual focus, manual operation, and the minimal features of an M9 you should be thrilled with it. Thanks for the question!
---
Q: Hope you don't mind me asking …. You put an insane (!!!) amount of work into your site with all that writing and testing that it keeps you busy 24/7 easily.
Your site looks more like a labour of love than an actual paying job. – Which of course is utterly impossible. One simply can't have that much fun and earn a living at the same time! So, how do you make a living?
After much thought here are the only explanations I can come up with:
1. You are wearing a red/blue spandex dress with cape underneath your jeans and shirt and moonlight as SuperSteve.
2. Either you cloned yourself a couple times over …. or you have at least a split personality disorder.
3. You are secretly the CEO of an evil empire with a large sweat shop full of underaged kids slaving away in your basement.
Either one would explain perfectly how you manage things. So, which one is it? Otherwise I am at a complete loss and can only beg for enlightenment.
A: Hey Harald! No need to beg..ha ha. Love the question. The truth is that this IS a labour of love for me. I love photography and it is a deep passion for me and now that passion has extended to this website!
I wake up at 6am, sit down, answer e-mails, have breakfast, prepare whatever I am going to post for that day and then usually go out and shoot for a while if I can. I come back home, pick up my son from school, make him some food and get back in to my "office". I then write up drafts or work on reviews. If working on a review I usually go get product pics, record some video and then get to work editing the days photos and video.
All of this takes up most of my day and some of my night 7 days a week. I am now trying to take it easy on Sundays. The 7 day a week thing was starting to burn me out so I decided to keep Sunday light with only 1 post.
I am lucky in two ways.
#1. My wife is awesome and has supported me doing this site from day one. She is in the medical field (NP) and I have been a mix of Mr. Mom, webmaster, and photographer over the past year and 3 months. She could have told me when I started this to go get a real job but she didnt. She gave me one year to try it out which leads me to #2.
#2. After 15 months of the site it has finally started to pay for itself. No more out of pocket expenses to pay for the hosting and maintenance!  This is only because of the awesome people here who help out with buying from my sponsored links to B&H and Amazon. That helps out sooooo much.
Without that this site would not be able to continue and I am always trying to find new ways to make everything here friendly, easy to understand, and loaded with cool features (like the buy/sell, lessons, daily pics, etc)
So to me, while I make VERY little money for myself with this (not enough to "earn a living"), I have a site I love with a few dedicated readers and about 10-15k visitors a day. To me, that is simply awesome.
So I want to take this space to say THANK YOU to all who come here every day or two and especially to those who help me out with your support buy using my sponsors links. If this site ever does make me a decent income I will find a way to give something back, like maybe a Leica M9 giveaway! Wouldn't that be cool? Maybe by that time though the M10 will be here!
I also want to thank my lovely wife. Without her help, support, and blessing this site would not even be here right now and I would be doing something else. Probably something that I would not enjoy nearly as much!