My thoughts on the Zeiss 8X56 Victory T* FL Binocular
You know, I was never too much of a binocular guy up until I reviewed the Nikon Monarch sets a few weeks ago. I was blown away by not only the clarity, 3D view, and build that I almost bought myself a pair to go in my bag. After all, those were priced very nice at $279/$299, especially for the quality that they provided. Up until that point they were the nicest I have ever looked through. I found no negatives viewing in daylight or night and it was pretty incredible compared to my el-cheapo Celestrons.
There seems to be quite a few readers here that enjoy a good set of binoculars so B&H photo was kind enough to send me a few Zeiss models a few weeks ago to try out. I brought them with me on my road trip to Arizona and viewed everything from birds, hawks, woodpeckers, and even some pretty interesting lizards 🙂 I also checked out the moon and stars at night (and it was breathtaking).
Before I even took delivery of them I was really curious as to how these could be so much better than the awesome Nikons I reviewed a few weeks ago. How on earth could Zeiss justify the cost of these suckers? Could they be that much better than the $300 Nikon set I tried out? I had my doubts but let me rewind a bit to the day they arrived at my door.
When I started unpacking the boxes I started to see why they cost so much more.
The models that were shipped to me:
Zeiss 10X42 Victory T* FL Binocular – $2249.00 at B&H Photo.
Zeiss 10X45 Victory T* RF Laser Rangefinder Binocular – $2699.00 AT B&H Photo
Zeiss 8X56 Victory T* FL Binocular – $2299.00 AT B&H PHOTO (at the time of this writing B&H is giving a free $150 gift card to their store with purchase) – Also in GREEN but at $2549.00 – Refurbs at $1799
Here are the Binoculars that stood out for me the most. The Zeiss 8X56 Victory. They are large but give an AMAZING 3D view through the gorgeous Zeiss glass inside.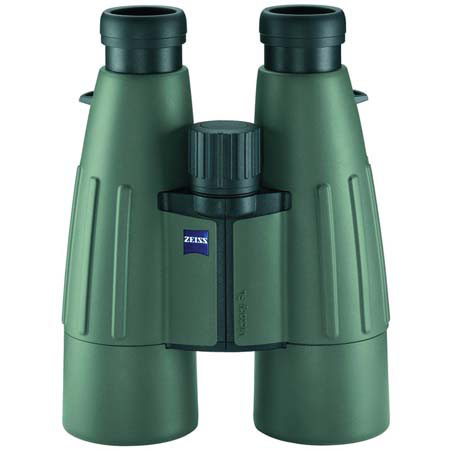 Also available in BLACK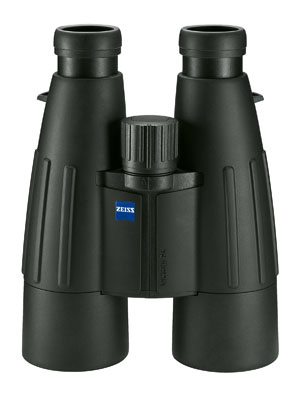 Right off the bat I was like "WHOA!!!" These things are MONSTERS! One set in particular was green and looked HUMONGOUS. My son was helping me unpack them from the shipping box and he immediately grabbed them and headed for the backyard where we have trees full of birds that are building nests. I swear they were half the size of my son. No, not really. But at first glance, especially when sitting next to my sucky Celestrons, the Zeiss commanded my attention. I knew these were SERIOUS binoculars and being a fan of Zeiss lenses for my Leica cameras I was excited to try them out.
The "big green monsters" were the 8X56 set and while they are larger than your typical Binocular, the quality of these are astounding. Now, I am no Binocular guru but I do know what I like and when I was watching a Robin building a nest in a tree I could see every detail, every feather. The dirt on her beak came through with so much detail it was scary. I handed them to my son and the words out of his mouth was "Woooooow, this is COOL".  It was pretty amazing. I almost felt like I was Superman and I just engaged my super vision.
I had taken a bunch of product shots of these but the SD card they were on was accidentally left in AZ while on my trip AND they were accidentally deleted. I did not realize this until AFTER I sent them all back so sorry for not having any cool shots of these. In any case, I did include a stock shot of them above.
FEATURES:
Zeiss' 8×56 Victory T* FL Binocular is the epitome of optical excellence. From any measurement of greatness it succeeds admirably, a tool bereft of weakness which becomes so intuitive with use as to functionally disappear from the user's mindset. This should be the goal of any binocular-to be the invisible conduit to great viewing of the subject. Its 8×56 configuration provides a compromise between a lower magnification with greater hand-holdability and a higher magnification but limited hand-held options.
The optics of the 8×56 Victory T* FL were created with elements of abnormal partial dispersion, a chunk of gobbledygook easily translating to the observer as the theoretical limit of razor sharp imagery free of color shift or chromatic aberration, the dreaded bane of bargain binoculars. When focusing upon a flat subject, the image is as sharp at the edges of the enormous viewing field as it is at the center. The broad focusing range goes from end to end in just a single rotation of the center focus dial, which also houses the dioptric correction.
The 8×56 Victory T* FL, like all ultra-premium European crafted binoculars, is not for the frugally minded. It is instead a product intentionally designed to deliver awe-inspiring optical and mechanical brilliance, and for many the lifetime of expected performance from such a device quickly amortizes its high initial investment.
• Lightweight, durable fiber-reinforced polymer body with Green finish
• Abbe-Koenig roof prisms
• Twist-lock eyecups with 4 detented stops for perfect eye placement
• ±4 Dioptric correction
• 55-76mm Interpupillay adjustment range
Warranty Coverage That Retains Value
Zeiss' Lifetime Transferrable Warranty protects the value of your investment like no other company. As long as the binocular was sold by an authorized USA Zeiss dealer they are under warranty for whoever owns them, and this makes the unfortunate prospect of parting with your 8×56 Victory T* FL a less painful experience.
THE NITTY GRITTY – Are they worth the cash?
So let's get to the nitty gritty on these. No doubt they are VERY expensive, but are they really? These days many of us will plop down several thousand dollars for a Leica lens for several thousand dollars. Others will buy a $7000 M9 or $8000 Nikon D3x which are items  that LOSE value and have short warranties. When you look at what you get for your money with Zeiss Binoculars, they do seem like a great price for those who are really looking for a lifetime set. The lifetime TRANSFERRABLE warranty is killer, they are waterproof and fog-proof, the eye relief is 16mm but very comfy, there is a tripod socket built in and they are loaded with incredible glass and the view through them is magical at times.
When I compare these with the Nikon's that cost $300 I can say that the Zeiss, build wise are built like a tank. They come in at 2.7lbs which is pretty heavy but if you want a stellar set of Binoculars that will last you the rest of your life then the entire Zeiss line is currently the best I have looked through. SO FAR. They beat the Nikons easily as they should.
The Nikons were awesome for the money and a superb "bang for the buck" but the Zeiss victory line was on a level about 5X higher. The 8X56 set is pretty large so if you are looking for a more compact binocular Zeiss also has the 10X45 and 10X25 which are VERY compact. Of course you will lose some of the quality and benefits of the larger sets.
The Zeiss Victory line, which includes the models I have in this page are the top of the heap in the Zeiss line. They have superior contrast, color fidelity, build, handling, and features that are up there with the best there is. The Eye relief was great and I had no issues when using these for the past few weeks.Unlike the $300 Nikons, the edges had no trace of softness.
Sure, $2300 is a lot to pay but again, not really. If you are someone who uses Binoculars and desire TOP quality then the Zeiss Victory line is something you have to check out. They have a LIFETIME warranty that is transferrable so that in itself tells you that they are quality. They can be passed down to your children and so on.
Let me repeat that I am not a Binocular guru but I do know what I like, and I really liked these. Alot! Would I buy them? Well, I would personally go for a compact set as it is not often that I go out with binoculars but when I do buy a new set I will seriously consider the Zeiss line. I still have to try a Leica set before I make that decision. One  thing is for sure, my Celestrons are now looking REALLY bad when I look through them! Thanks B&H for letting me try them out and thank YOU for reading my thoughts! For more info on eye relief and binoculars in general, check out this site.
Steve