Wow, after a few days on the sunny beaches of Mexico I came back home to IL and here I am, sitting in my office with the sound of thunder and rain pouring down on my house. The forecast calls for 5 days of storms and I can already tell that my shooting for the week is pretty much SHOT. So, what to do???
I decided to scour my Hard Drives and find some old images that I shot at the Phoenix Arizona Zoo over the years. I used to love walking the Zoo all day and getting images of the beautiful animals that reside within the boundaries. I know many out there are against taking photos in Zoo's but I find it can be therapeutic when you are out by yourself for a day just shooting at the Zoo. These days I do not have an SLR with a big zoom lens but I have even shot some of these with an M8 and Digilux 2 with fun results.
Yes, summer is here so if you find yourself bored with nothing to do, pack your camera gear and head for the Zoo! You can get some really terrific shots but most importantly you can have a bunch of fun doing it. I used to go to the Zoo at least one day a week, for a few hours. Just me and my camera gear. It's been a while since I have gone but I hope to get back to one soon 🙂
Some of my favorite Zoo images:
Here is an image I shot with a Canon 5D and 70-300 DO lens. Many trashed this lens saying it was soft, low contrast and had weak performance. Well, that is partly true but there is an easy fix. Photoshop works wonders and the contrast was easily boosted and a little sharpening fixed it right up. This was at 300mm through thick dirty glass. Amazing how nice it turned out considering the circumstances.
When shooting this image I sat by the window for about an hour. When I saw this guy crawling on the rock to nap I knew it would make for a cool shot. Part of the fun of photography is waiting for a moment and knowing you nailed a shot. This is one of my faves from my Zoo trips and was shot in 2005 at the Phoenix Zoo.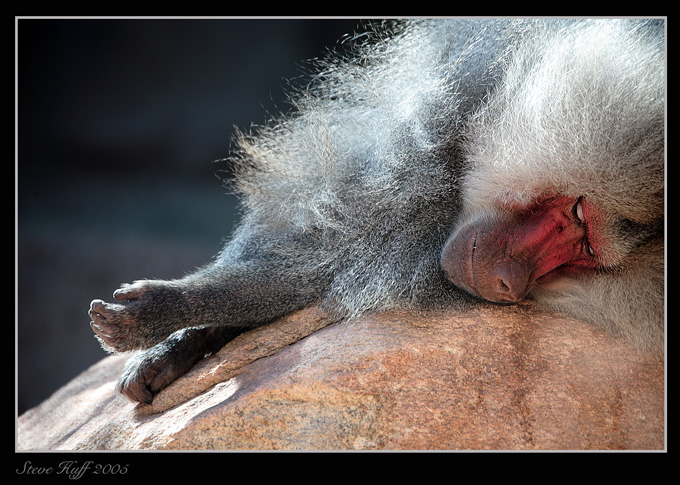 The shot of the turtles was also taken with a Canon 5D and the 70-300DO lens. I REALLY enjoyed this lens even though it was slow mainly due to its super compact size and 300mm reach. If you have nice light this lens can reward you with some nice results, especially after some contrast boost in Photoshop.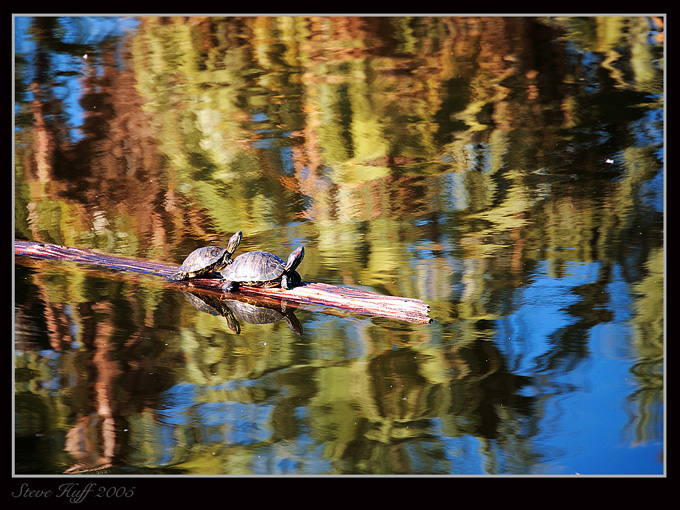 The next image was shot with an Olympus E-1, yes, the original E-1! It's 5MP resolution is laughed at today but at the time I loved this camera. Here I wanted to create a portrait of this baboon so I set the spot meter on and metered off of the face/forehead. The result looks like a posed portrait. I used my spot metering quite a bit when doing Zoo images like this. It makes sure your subject is metered correctly and the background darkens up to make the image really stand out.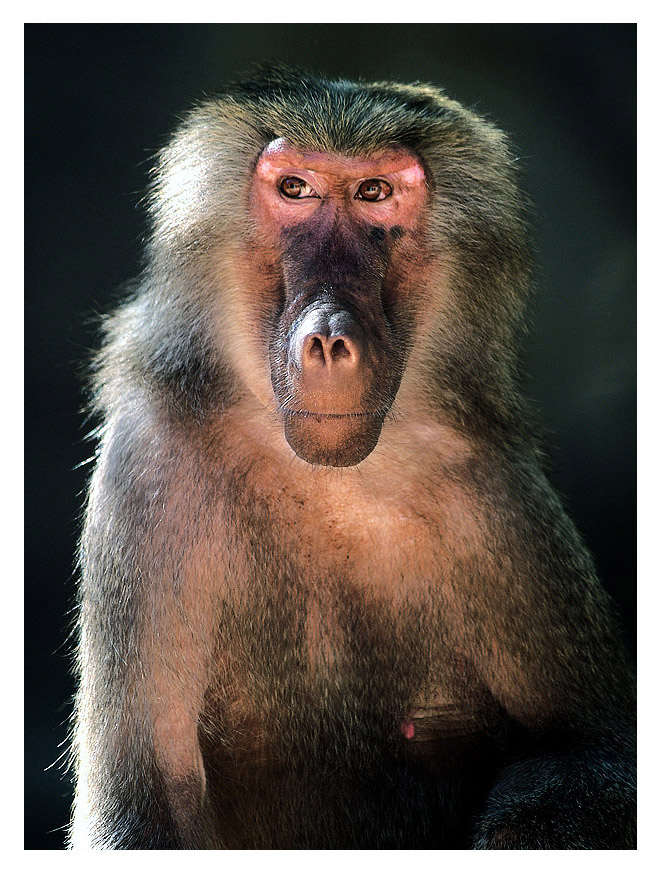 Another Canon 5D shot with spot metering. I metered off of the pink feathers and even though this Flamingo was out in the sunlight with plants behind her I was able to blacken the background with the use of the spot metering. The background was NOT blackened in Photoshop.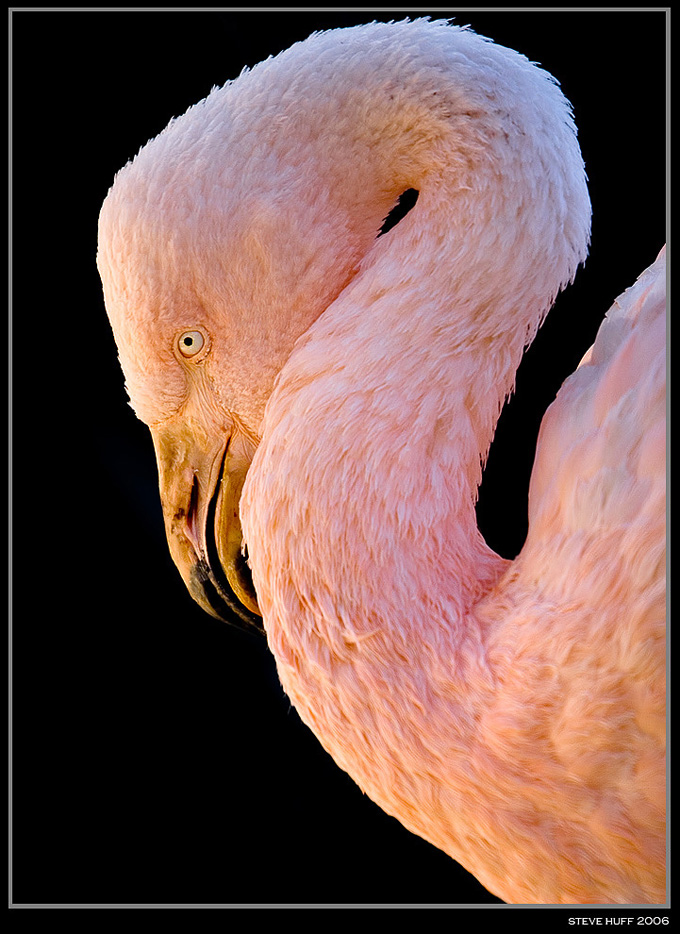 At the Zoo it's all about patience and waiting for the right moment…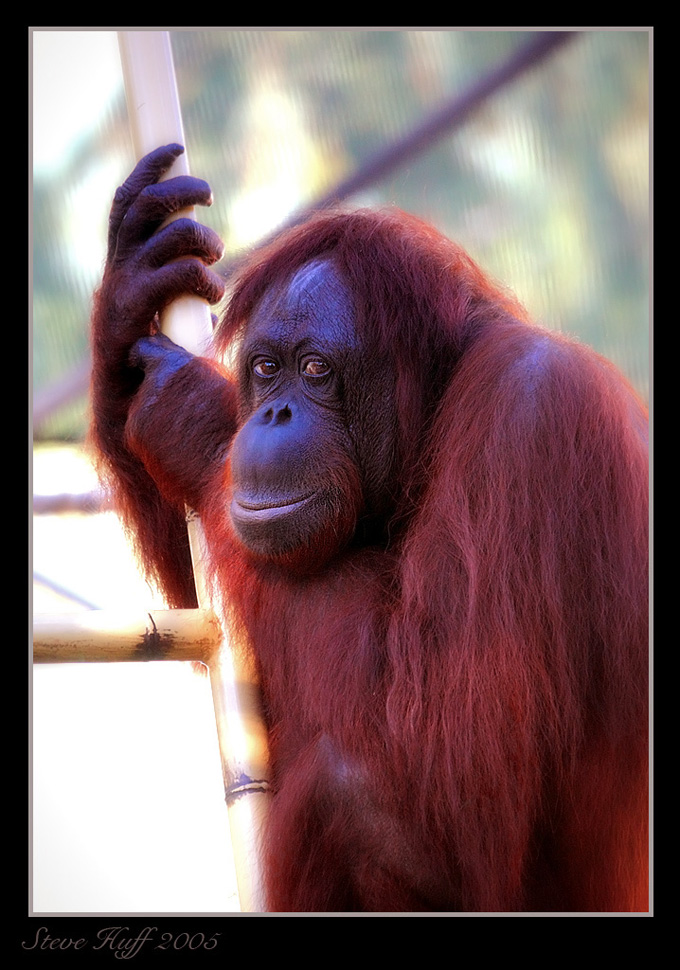 How about the Zoo with a Leica? SURE! Actually, the results can actually be a bit more "real" and I am not sure why. Just something about those Leica files, even with the M8. The images below were shot with an M8.2 and a 90 Summicron. Some of you may have seen these before as they were posted on my old site about a year ago.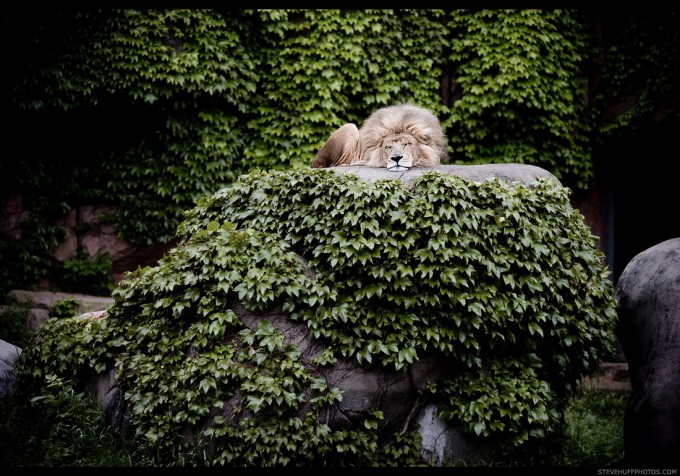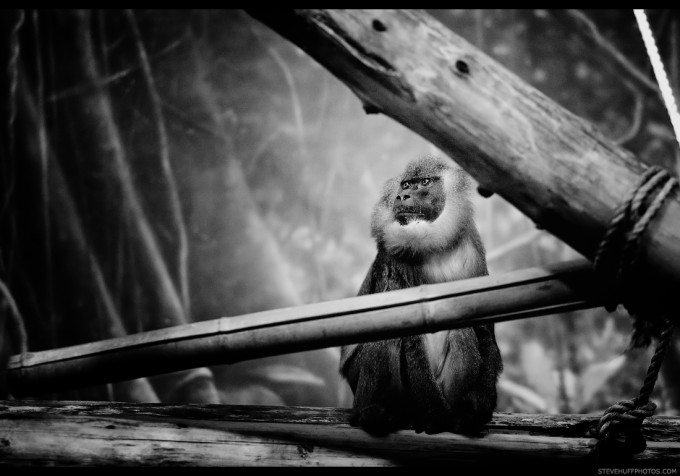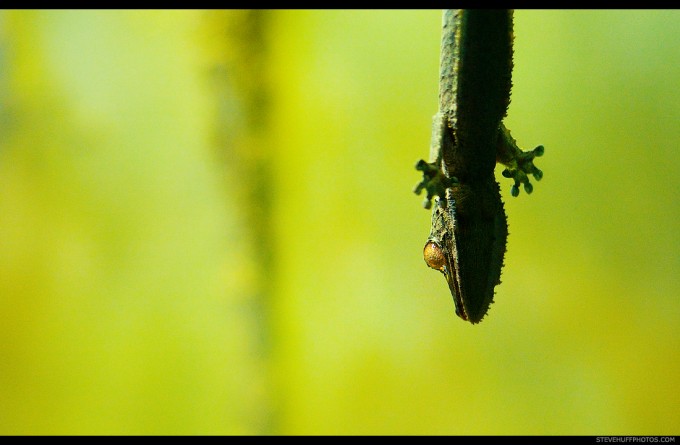 So wether you have a DSLR, A Leica rangefinder, or even a point and shoot the Zoo is full of photo opportunities and can provide you with a nice relaxing day for you to spend time doing what you enjoy. Get out there and shoot, and if you do, submit your faves for the Daily Inspiration! Have fun!
[ad#Adsense Blog Sq Embed Image]