Today I want to welcome Martin Herrera who submitted his first guest article about his travels to Havana with his Leica M9, 35 Lux and his iPad. Hope you enjoy it! Thanks Martin!
---
Three days in Havana
The travel tale of an M9, 35 lux and post processing on an iPad
By Martin Herrera Soler | Web site: www.martinhsphoto.com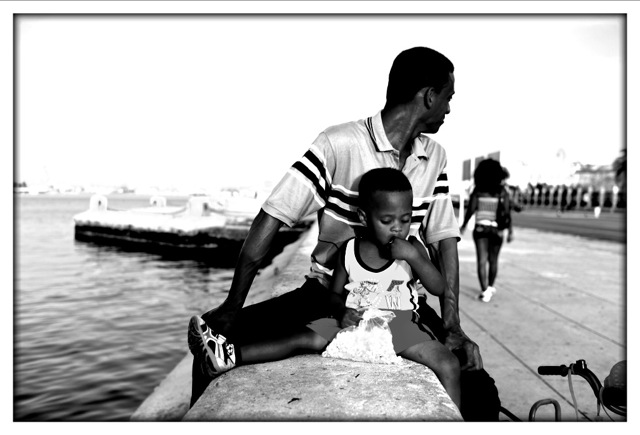 Father and son in the Havana Malecon in the late afternoon. In this hot environment, this is a great place to be, and always a hot spot to socialise and people watch (Leica M9 with a 35mm Summilux lens. JPEG image post processed in the iPad using Photogene application).
Due to a rare coincidence of events, I was able to take a few days after working in Guatemala, to jump on a plane and spend 3 days in Havana. To top this, I was able to coincide it with the arrival of my M9 and my recently acquired iPad.
On the past, I have generally traveled without a notebook and simply carried and external drive with a card reader slot to off load my images. This time I wanted to have the experience of reviewing my work while on location, and yet have a very portable, light solution.
My gear consisted of the Leica M9, a 35mm Summilux, a 75mm Summicron, an iPad 64GB with the camera kit for it, and Lowepro Classified 160 to carry it all.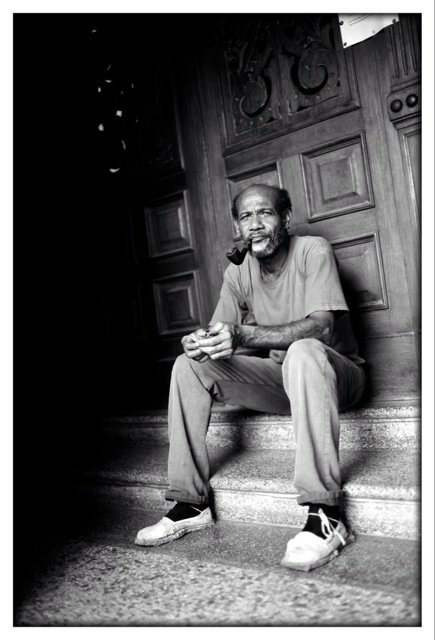 Eusebio taking a break. He is responsible of cleaning and maintaining the church of San Francisco de Asis. A quick scan of the map of Old Havana, will show you that there are at least 30 churches in a town than has few square kilometers. [Leica M9 with a 35mm Summilux lens. JPEG image post processed in the iPad using Photogene application]
Let me start by saying that the M9 has been a blessing to my photography, and I have fallen in love with the angle of view that the 35 produces on the full frame. I've been used to shooting with a 24 and 50 on my Canon system. Never could I have expected that a single lens would so effectively solve my shooting needs. I have become a 35 convert. As a matter of fact, here goes my first learning. I shot no more than 3 images with the 75, and I enjoyed so much the freedom of only having to carry the camera around my shoulder and the extra memories and battery on my shorts pocket. This light approach allowed me to leave behind the camera bag, comfortably walk over ten hours a day, and really focus on the task at hand – reaching out and getting close to people on the streets of Havana.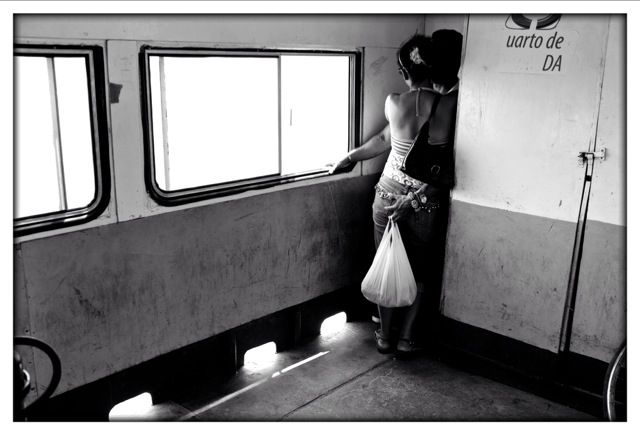 Boat to Regla. Right across the bay, facing the Old Havana port, it's the fishermen town of Regla. There is a very simple boat that crosses people over several times per day. It's an opportunity to experience a more 'local' and genuine Cuba, further from the tourists and it's infrastructure. [Leica M9 with a 35mm Summilux lens. JPEG image post processed in the iPad using Photogene application]
As for the 75, don't get me wrong, I love the lens, and it's been wonderful on the M9 (I used to have it with an M8). It's quite likely that these two lenses will do for me (even though if I am to learn from past experience, I might get tempted in the future with a 50 – yet I am loving the simplicity of having an all around lens and a especialty lens).
I put the camera to the test on many different lighting situations. Very early, low light, strong harsh mid day contrast, as well as low light late at night. It's a superb camera, and I feel it's much better than the M8. I have no scientific evidence to sustain my prior comment, it's just a feeling, perhaps having to do with the fact that on this trip it all came together with the M9, and I reached a new level on handling my rangefinder, the M8 paying the price of the learning curve.
Then it's the size and portability. I literally walked over ten hours per day, and carrying only the camera, I never even felt the weight. This in itself it's such a stark contrast to traveling with an SLR system. I traveled India and Nepal with a camera backpack that was so bulky and heavy, that it's hard to conceive in the light of this new experience.
Used to shooting with the equivalent of a 50mm in the M8, I had to get closer with the 35 in order to create the experience I was after. Rarely did I get anyone to react in a bad way to the camera, very different than when I used to take out my huge camera body and lens. I have the sense that this camera, with this look, it simply does not register in peoples' mental radar. Even when they were fully aware of me shooting – for example when I managed access into people's home – there was a quality to our interaction, an spontaneity that I was simple not used to getting in my SLR life.
Alcides is just another of the many Cubans wholove to fish. He fises every day, from sunset to dusk. [Leica M9 with a 35mm Summilux lens. JPEG image post processed in the iPad using Photogene application]
Perhaps the most important aspect of all, is that I simply love to shoot with this camera. Since I got in the rangefinder world with the M8 (about twelve months ago), I find it harder and harder to shoot with my SLR. I cannot quite pinpoint why or what's going on, but I am just not compelled to grab it. I already sold one of the bodies and several lenses to upgrade to the M9, and wonder if the time will come when I no longer have one (knowing that the rangefinder it's not designed and and does not perform well for every use).
Then came the experience with the camera bag. As much as I like this bag on an every day basis, I had never used it and tested it for such extended period of time. Learning number two, a shoulder camera does not do it for me when it comes to walking long hours. I wear it across my shoulder, and by the end of the day I would have so much tension, that would result in a headache. It's true that this particular bag it's a bit on the heavy side, as well as it has in my opinion unnecessary bulk on the outside pocket. Yet I am leaning towards changing approach for the future. I've been looking for a while at the Think Tank Change Up. Seems to be a pretty versatile bag, that works both as a shoulder bag, or you can flip out the waist belt and use it around your waist, or used the combination of both and share the load between your waist and shoulders. Size wise seems to be large enough to carry my Leica and perhaps one to two lenses, but not too bulky or large that will be heavy by days end. If anyone out there in the Leica community has tried it, I would love to hear from you.
And finally the iPad. In a nutshell, and amazing companion for the travel photographer! My self, I don't like to travel with the notebook, perhaps because it reminds me too much at my corporate travels, so leaving the notebook behind makes me connect deeper with the photographic experience. Also, I dislike the sheer weight and size of a notebook to be carrying it around while traveling – specially when my travel involves moving around often. On the other hand, that usually meant not seeing my images until I get back and have time to process them. This setup, even though not the perfect experience, was a great step forward.
A lot has been written already about the iPad and photography, so ill keep this far from a review and much closer to a summary of my own experience. The import with the camera kit works fairly well. I found that I had to limit the amount of images I would import at once, otherwise the application would crash. Beyond that, there is not a great level of flexibility in the application to move around and organize your work, but certainly enough to get by. I shot RAW + JPG, since I wanted to preview in black and white in camera. I was not able to separate the two files at import, meaning I had to work with the JPG instead of the RAW when I had both of them (not sure if this is possible, but I was unable to do it). For those images I shot in color, (only RAW) the iPad handled the file perfectly. This meant that I had to work off JPGs in most of the cases.
To process the images I used Photogene. I found the application to be great. Even though it seriously lacks functionality compared to a desktop based application, it did what I needed to create good enough work on site. Not sure if you could get by as a solution to mail back work for a publication. Probably more testing would have to be done with the RAW files processing. But sure it was a great way to preview my work, select the images that were keepers and identify areas of opportunity for the next day's work.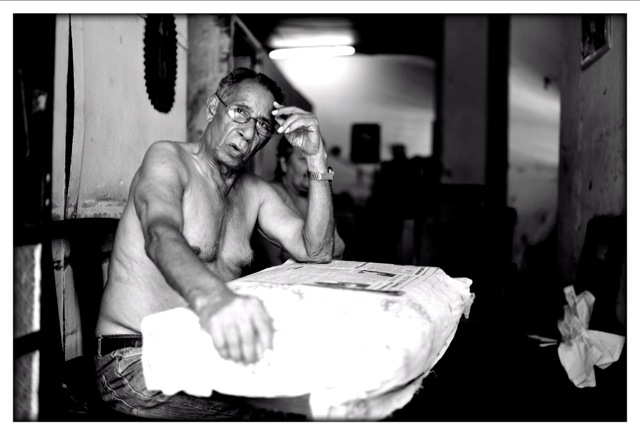 Encarnito it's a character I met as I was walking down Obrapía. I picked through the window and liked the picture. He invited me in, and we talked for a long time. He fought in the second squadron during the revolution, under Raúl Castro. [Leica M9 with a 35mm Summilux lens. JPEG image post processed in the iPad using Photogene application]
The experience of seeing the images on this device it's fantastic! Beyond the amazing screen, there is something about the size and the form factor, that somehow resembles well the experience of 'holding' the image in your hand. It was very gratifying to be able to preview my work on the field, and know from one day to the next how I was doing and where I needed to focus. On top of this, the tablet form factor allowed me to process my work without having to have a desk and a more formal setup, which worked great in the kind of conditions I was traveling.
If you want to see the actual images, processed in Aperture and Silver Efex Pro, check them out in here.
Martin Herrera Soler | www.martinhsphoto.com
[ad#Adsense Blog Sq Embed Image]