First of all, the obligatory intro… my name is Reinhard Lampano. I currently serve in the United States Air Force. My job is NOT photography related however, since recently rediscovering photography and discovering RF photography for the first time (and not doin' to shabby at it), I would like to pursue it as a means to draw income someday.
Gotta give Steve "props" for inspiring me through his site as his reviews have rekindled my passion for photography. My wife and I were stationed in Germany prior to our current assignment. Only had point and shoots to rely on and while some photos turned out okay it would have been nice to have the equipment that I currently own back then. Since I don't know how to build a flux capacitor nor do I know any doctors named Brown, I'll carry on.
In the last week of July 2010, my family and I visited my in-laws who live in Pennsylvania. We took a day trip to NYC (Lower Manhattan) on a hop-on/hop-off double decker bus tour. The photos that follow are from that day.
We arrived very early as this first photo would indicate.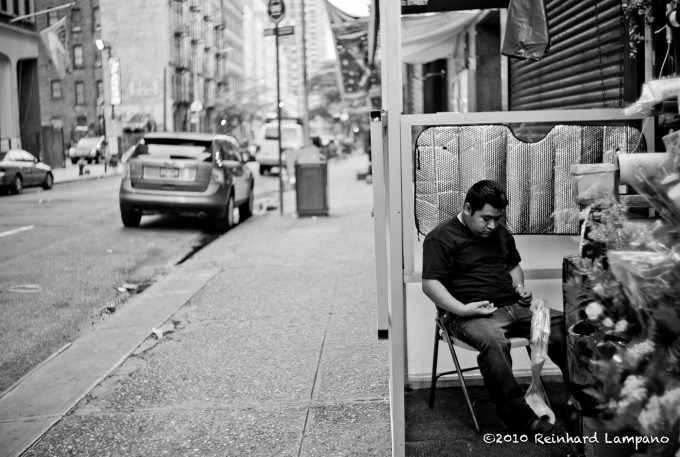 "sleeping florist" – 35mm 1.4
Around lunchtime our bus "broke down" near Battery Park. These two ladies were having a convo en Espanol (speaking Spanish). This hipshot is the result of 4 times trial and error as on the 5th attempt I finally correctly gauged the distance. NYC is the perfect environment to practice shooting from the hip.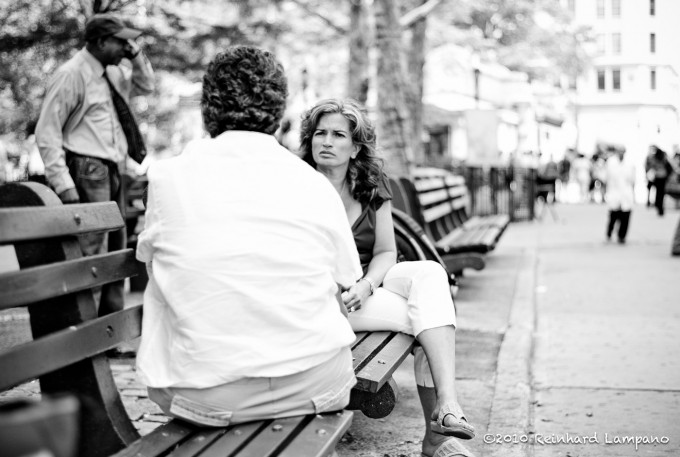 "5th time's a charm" – 50mm 2.0
You know the old Frank Sinatra song that purports this town "never sleeps"? That's garbage! Here are some photos of New Yorkers snoozin' it up! You'd think we were in Europe somewhere by the look of these frames. Where taking a nap midday is not considered poor-work ethic just an everyday occurrence. Studies have actually shown that a midday nap increases productivity in the workplace.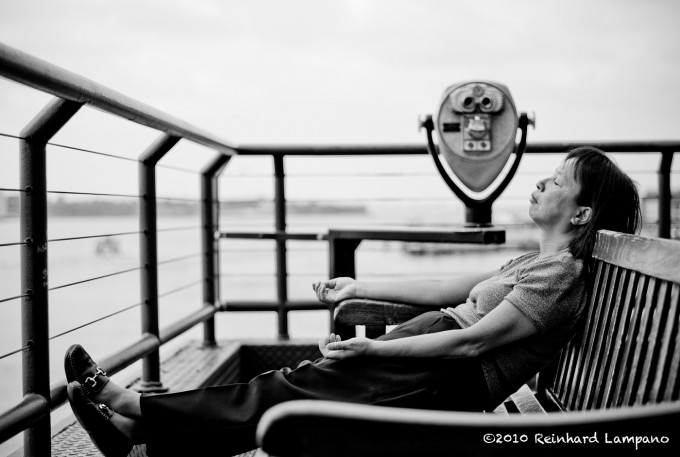 "south street meditation" – 50mm 2.0
For those who care, and I assume a few of you do, these photos were all captured with an M8, a 35mm 1.4 Nokton and a 50mm 2.0 Planar. Sold all of those and I now shoot with an M9, 50mm 1.4 Summilux pre-APSH, and 35mm 1.2 Nokton. Found a sweet deal on an M9 on ebay… $5.8K with spare battery and grip… crazy! So after applying the Leica fanboy rationalization filter to the transaction, I effectively paid $5,400 for an M9 body.
All the Leica brand gear that I've owned have all been used equipment so I urge you to take the time to shop around. You're bound to find a good deal on used gear. Just make sure you ask all the right questions, e.g. number of shutter actuations, pictures emailed to you (if none are posted), etc.
Also, !!!SHAMELESS PLUG ALERT!!!, I have made a couple of books on Blurb.com. One is of the pics from my NYC trip and the other is of the street photography from other venues in case you guys are interested in picking one up.
Thank you in advance and I hope that your NYC "field trip" goes well, Steve. Looking forward to perusing the collective pool of photos that it will undoubtedly produce.
God bless.
RCL
[ad#Adsense Blog Sq Embed Image]