Here is a quick post by Ashwin Rao that I thought would be cool to publish this afternoon…
The Leica Look
So what is the Leica Look? Does it exist? Why should we care? I have debated, on my own and with others, just what this 3 word string means. Yesterday, when speaking with a pro photographer at a sporting event, he remarked, on hearing that I owned a Leica, that he had once owned an M3 and Summicron, and felt that there was something indefineable, some clarity or "glow" or what have you, that Leica lenses impart on the images its lenses see, somthing that makes the photo uniquely "Leica". He currently shoots with Canon pro gear, as it suits his needs, but that misty far away look in his eyes suggested that he wished to have his M3 back. He went so far as to say that looking at a series of images, he could typically tell what images came from Leica.
Last night, on returning home, I grazed through some images taken earlier in the evening, and came accross this one (processed in Lightroom 3). There's a certain roundedness, a certain 3 dimensionality, a certain sharpness in the focused areas and softness in the background, that's hard to find elsewhere. By no means do I mean toi present this image as an example remarkable photography. Rather, to me, there's something here in which I clearly see the " Leica Look "….
This image was taken with modern glass, the Leica Summilux 50 mm f/1.4 Asph, on the Leica M9. It's a well corrected lens, maybe the best 50 mm lens ever produced, though it was shot wide open (thus revealing some of its slight aberrations). By no means does this lens exhibit blooming, flare, or low contrast, all of which have been ascribed as imparting the "Leica glow"….rather, there's something else here….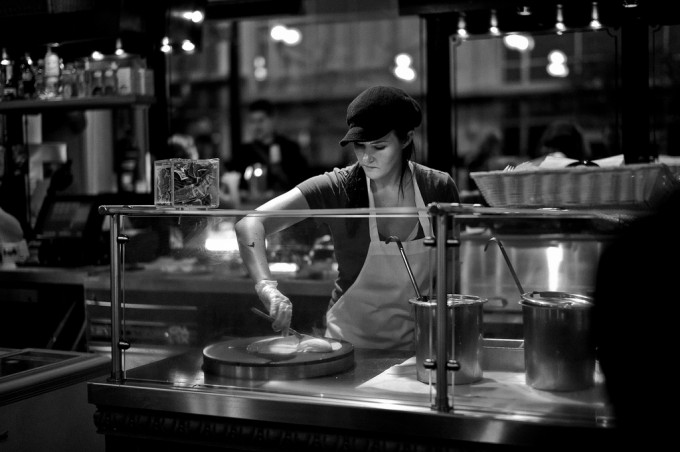 Anyways, I am surprised that, given the number of threads on this topic, that Leica hasn't embraced this concept, from a marketing perspective, to sell more gear or to further impart the mystique that is so much of the Leica logos…What a catchy phrase, "That Leica look", could be, when printed on a brochure. Maybe it's our collective mass hysteria, or our subjective over-rationalization and over-dramatization to justify our expensive purchases….I have tried to see past these things, and still feel that Leica offers something unique, and it's in the glass and how the glass interacts with film and the M8/9 sensors. It's there, hidden in the details, yet so obvious that we are drawn to it…..right?
One added complication for me….I see the Leica look accross generations of lenses….I see it in the old Leica designs of WWII. I see it in Mandler-Era lenses like the summicron 50, Summilux 50 pre-asph, and the legendary 75 mm f/1.4 Summilux and 50 mm f/1.0 Noctilux lenses….I still see it in todays Peter Karbe-designed lenses….so despite different production methods, different lens designers, despite age, it seems that Leica continues to offer something fresh and unique…something that I finds gives my photography depth and meaning.
Sooooo, what do you guys think? Any thoughts? Any examples that you wanna share? I think that there may be a chance to come up with something need here, and hope you guys have thoughts to share…
The best to you all!
Ashwin
[ad#Adsense Blog Sq Embed Image]