The Ricoh GR Digital III Review
By Steve Huff
After my Ricoh GXR review (you can see it here) I became a huge fan of Ricoh. The GXR was the first time I have ever shot with a Ricoh digital camera and I was so enamored by it that I bought one for myself. I found its build, feel, and image quality to be stellar when used with the larger sensor modules like the 28 and 50mm. The fact that its size was small and had all of these qualities is what really got me to buy it. Imagine my surprise when I get an e-mail from Ricoh asking me if I wanted to review their GRD III
. I have heard nothing but WONDERFUL things about the GRD III but I also knew it was a fixed lens small sensor camera. To me, shooting again with a small sensor camera was not exactly exciting but I was willing to give it a shot. Besides, with all of the raving by Ricoh fans on this series of camera I knew it was not going to be a dog. I love the Leica D-Lux 5 and Panasonic LX-5 so much (they also have small sensors) so I was curious to see if the GRD III could beat them or at least equal them in IQ and use.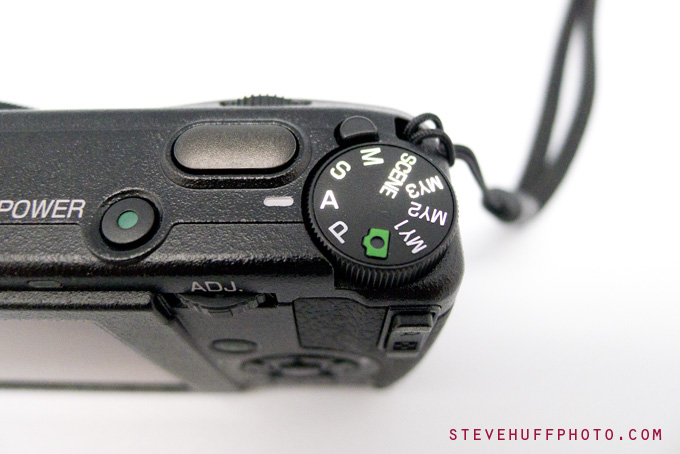 –
But before I get to this review I wanted to talk a bit about what makes me tick as a photographer and why a camera does and does not matter when it comes to getting nice photos. While everyone argues wether camera gear can make any difference in your final output, let me break it down into FACTS right now:
Larger sensor cameras WILL give you better IQ than a small sensor camera, especially if printing LARGE
NO CAMERA, no matter HOW expensive will make you a better photographer. Time, passion, and practice will.
If you know what you are doing and take one shot with a small sensor camera and one with something like a Leica S2, you will get a much better file from the Leica S2. No question on that AT ALL. BUT the photograph will be the same, just with a different rendering.
Larger sensor cameras have better ISO performance, more dynamic range and better color. They also have the capability of shooting with limited Depth of Field.
The images you create with whatever you shoot will somehow always look like YOUR Images. It's your style that will get you noticed more than the camera you shoot. Small sensor cameras can even help give you a certain style.
So now that that is cleared up we know that a camera like the Ricoh GRD III can provide you with GREAT photos if you are a decent photographer. Me, I consider myself an average photographer who is always learning more and always getting better. The photos I shoot for a review are basically stories of my life at that time. Some are snapshots and some are more than that. What makes me want to get out there and shoot is by using a camera that I enjoy shooting. If I go out with a huge brick of a camera and huge lenses then I am not having fun and I shoot less. Smaller cameras with good quality is where it's at for me these days.
For the past year I have been on a mission to find the smallest cameras that not only give the best output but are also enjoyable to use! If a camera is small but is a pain to shoot then it's no fun. Kind of like playing guitar. If you have a guitar that is not comfortable for you or not set up correctly then you have to fight the damn thing to play it. A camera is no different.
When you own a camera that you can actually bond with (yes, you can bond with your camera) then the sky is the limit. All that is required after that is your passion, your knowledge and your eye. Once these three things are developed you can perfect your photography skills over time. For me it is a lifelong journey and I feel blessed to be able to sit here every day and write about it for all of you who read what I write!
"Puppy Love" – GRD III – f/1.9 – iso 64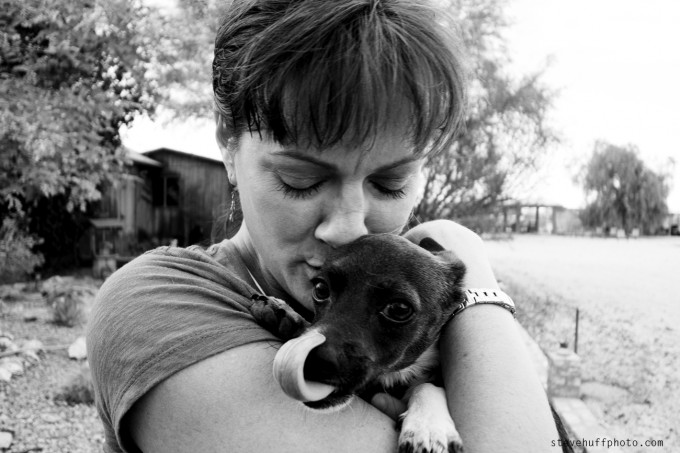 "At the barn" – Ricoh GRD III – f/1.9 – iso 64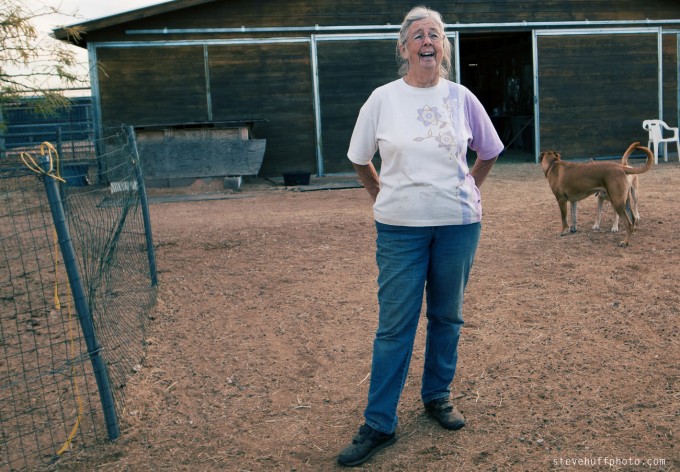 So with that out of the way let me start talking about this little GRD III by Ricoh. I received the package from Ricoh after it traveled from Hong Kong to Sunny AZ get to my door. I opened up the box to find a relatively small little camera that had the same build as the GXR body I loved so much. It felt better in my hand than the Panasonic LX5 I had on hand and from memory, the D-Lux 5 as well. It was lighter and smoother…it felt really good.
This is a 10MP camera and 10mp is plenty for just about anything these days, especially in a camera like this. I am glad Ricoh did not choose a sensor with higher megapixels as that usually degrades the image quality in these small sensor cams. Notice how most small sensor cameras have settled on 10MP? There is a reason for that.
The lens on this camera is a fixed 28mm, so its pretty wide. It will not be everyones cup of tea that is for sure. Me, I usually find 28 a bit too wide for an everyday focal length (though after shooting this camera, I am getting used to it more and more) but others feel right at home with a 28, especially Ricoh fans who have shot with the previous GR film camera and the GRI and GRII. Again, this camera does NOT have a zoom but a fixed 28mm f 1.9 lens. Yep, I said a 1.9 aperture lens! That is one cool thing about it…the speed. Previous versions of this camera had slower lenses so I applaud Ricoh for having the fastest lens on any compact camera to date.
There is one good thing about having a fixed focal length on a camera. It makes you work harder to get good shots. Using a 28mm focal length for ALL of your images can be a challenge but it can also help you grow as a photographer by forcing you to think outside the box and think in a wider kind of way 🙂
With the sensor being so small on this camera do not expect to get any shallow depth of field effects with the GRDIII (though you can if shooting up close in macro mode). Instead, as I shot with the GRD III I realized this camera was all about something else. Lots of shooters who use this camera like it for its size and its ability to be a TAKE ANYWHERE camera. The GRD series in general has a great rep for being a great B&W camera as well. I think the 1st GRD I had a gritty look t o its higher ISO images but the GRDIII has better high ISO performance than the earlier versions of the camera. In my use, this camera performed wonderfully in almost all aspects. It fit into my front pants pocket nicely and was able to go with me anywhere I went. I decided to take it with me for a while as my only camera to see what I could capture. I told myself I would shoot it whenever I saw a good or interesting shot to take. It was my one and only photographic companion so the photos here are all just snaps from my daily life while I had the GRDIII with me.
As always, this review is based more on "real world" use instead of charts, graphs, and all of the techie stuff. When I review a camera I take it out, shoot it for a couple of weeks and judge it by how it performed for me during my time with it. I test for overall build, feel, IQ, ease of use, high ISO, color, etc. If I like it I say so. If I do not like a camera I usually don't even shoot with it for more than a day or two and I send it back saying "No thanks". Usually, if you see a review here for a certain camera it means I really enjoyed it.
"Reflection" – GRD III – B&W JPEG – f/1.9 – iso 154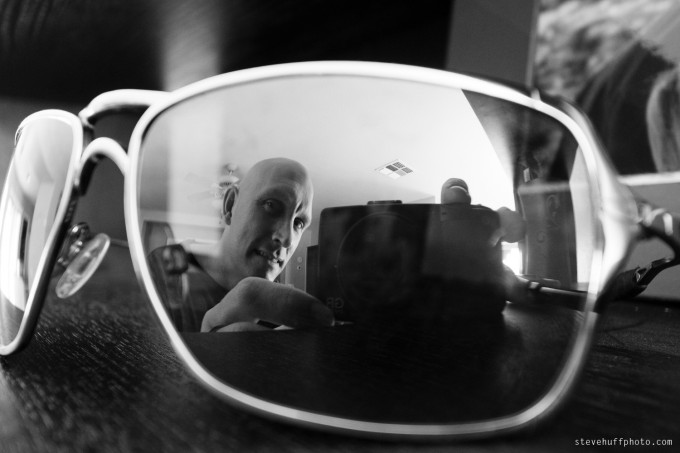 –
"Boots" – GRD III -From RAW – f/1.9 – ISO 64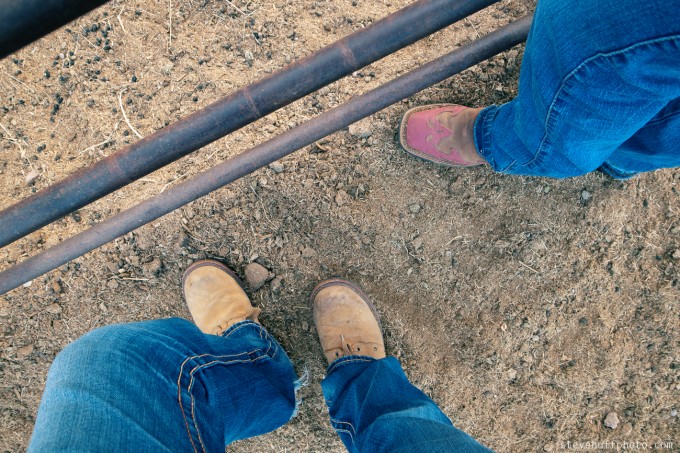 –
THE GRD III SPECS
The feature list is long but notice the camera is not filled with gimmicks. Instead the GRDIII is loaded with usable features that any photographer would enjoy! These specs and descriptions are straight from Ricoh.
Superior backlight performance
Ghosting is one of the causes of image quality deterioration. To eliminate the problem, all of the individual lenses that are part of the GR lens have been covered with the multi-coating optimum for each. To minimize the small residual reflection striking the CCD, we also ran original simulations repeatedly to determine optimum conditions for lens curvature, etc. As a result, we successfully suppressed ghosting, particularly that caused by off-screen light sources such as the sun.
GR ENGINE III for low-noise, high-resolution images
Newly developed image processing engine GR ENGINE III enables precise noise reduction by processing the signal close to its CCD-output state. Various types of noise are effectively reduced while maintaining resolution and color saturation. Color reproduction and tonal gradation performance has also been significantly improved.
10-megapixel high-sensitivity CCD and AFE
With the new CCD, rather than increasing the number of pixels, we have about doubled sensitivity compared to the previous model (GR DIGITAL II). Even at ISO 200, imaging performance is at or above the old ISO 100 level. This higher ISO sensitivity makes a clear difference in image quality.
Suppressing whiteout to create "high-reality" images: Pixel output interpolation algorithm
Control whiteout with the pixel output interpolation algorithm, Ricoh's original image processing technique. Comparing the output of each pixel, the algorithm interpolates image data in whiteout areas. This expands dynamic range by up to +1 EV equivalent. Using this extensive data to generate the JPEG, even for 8-bit (256-tone) images, it is possible to create a more "real" look with less whiteout than in the past.
Effective solution for mixed light sources: Multi-pattern auto white balance
In scenes mixing multiple light sources–such as sunlight and shadow, ambient light and flash–the optimum white balance of each is determined by segmenting the image. For both subject and background, you get well-balanced coloration closer to what you saw while shooting.
Fast AF is strong in low-light situations
Smooth, quick AF is possible even in low-light scenes where contrast detection is necessary and focusing is generally slow. The excellent focusing response enhances shooting.
Full Press Snap to grab that shutter chance
With this quick-shooting function, AF operates when the shutter release button is pressed half way, but for a one-push full-press, the photo is taken at a set focal distance. (1m/2.5m/5m/8). This distance setting can be easily changed. Since the AF does not operate for a one-push full press, you will not miss the moment.
Don't let that shutter chance get away: Pre-AF function
Even if the shutter release button is not pressed half way, focusing follows the subject's movement. The pre-AF action accelerates focusing time.
RAW evolution: Continuous shooting and high write speed
With the expansion of buffer memory, continuous shooting of up to five images is possible even for RAW. This facilitates bracketing as well as the shooting of quickly moving subjects. The RAW card write speed has also been accelerated (under 3 seconds per image). These specs will help reduce your "shooting stress."
Freedom of expression with framing and light: AE/AF target shift
Focus and exposure settings can be done at designated points on the screen. These AE and AF targets can be shifted either alone or together in order to do Spot AE and Spot AF. This increases framing and light-expression freedom in situations such as tripod shooting where the camera cannot be moved for AE or AF lock and macro shooting where precise focusing is demanded due to shallow subject depth of field.
Shutter speed priority AE newly added: Extensive exposure modes
Shutter speed priority has been added to the existing modes (program shift, aperture priority, etc.). It is useful when you want to manipulate motion, such as when stopping subject movement or creating a feeling of energy in a panning shot.
New macro mode system controls field curvature
Minimum shooting distance is approx. 1 cm. A new system was adopted in which one part of a lens group which does not move during normal focusing is shifted into a special position for close-up photography. This corrects the field curvature that tends to be a problem in close-up shooting with retro-focus wide-angle lenses. The result is superb imaging power across the entire photo.
Images with a naked-eye impression: Dynamic range double shot
This function prevents overexposure and underexposure in high-contrast scenes. For reproduction of both light and dark areas, two images with different exposures are shot in succession, and the properly exposed portions of each are automatically combined. This expands dynamic range to a maximum equivalent to 12EV, creating an image with a close to naked-eye impression.
Aspect ratio 1:1 square format mode
Shooting aspect ratio 1:1 photographs, the square format will expand your creative enjoyment with the fresh feel of the framing and the strong subject presence produced by limiting the image field. This format is also convenient for blog use.
Image quality parameters
Individual color settings have been added to the image settings. For each color (orange, green, sky blue, red, and magenta), hue and saturation can be set at five levels so you get the coloration you want. In addition, with the "vivid" setting, you can easily shoot intense high-saturation images.
Flash synchro setting
The expressiveness of a photograph can change greatly depending on flash timing. If you want to be sure to catch a fleeting portrait expression, select "1st Curtain," and if you want to create a natural light trail in a dark scene, select "2nd Curtain." Even in bright scenes, this can help you record natural-feeling movement for moving subjects.
Manual flash amount setting
Flash amount can be set at 12 levels from full flash to 1/64, enabling you to balance flash intensity for both subject and background brightness. The subject's expression and presence can be emphasized while the background is obscured. Fine tune the settings to fit the ambient light conditions and your creative intentions
Level compensation
Image brightness and contrast can be corrected in the camera itself after shooting. With AUTO, you leave the subtle adjustments up to the camera. With MANUAL, you can freely and intuitively adjust brightness and contrast using the histogram. The corrected image is saved as a new file so the original is still available, and the two can be compared.
Three types of bracketing
Three automatic bracketing functions are provided. With auto bracketing, you can select exposure intervals from 0.3EV to 0.5EV. White balance bracketing is convenient when precise coloration is important and when shooting with a distinctive light source. Color bracketing enables you to obtain color and black-and-white images for two very different impressions of the same scene. In all cases, the multiple images are generated from a single shot so you can get the feeling you are after without missing any shutter chances.
3.0-inch VGA LCD for beautiful display
LCD panel visibility was further improved with VGA high resolution and an expansive 3.0-inch size. The sRGB comparison for color reproduction range is 100%. This has significantly improved the visual reality of the image during framing, the ability to search images and check shooting data, and the ease of making function settings.
Electronic level
When shooting landscapes and night scenes, visual clues for finding the level position can be missing or hard to see. The electronic level is very effective at such times. You can quickly find the precise level position, which will give a feeling of stability to the image. When the external viewfinder is attached, the level sound can be used to determine if the camera is tilted.
My Settings
By just turning the mode dial, you can use My Settings to instantaneously switch to many different shooting functions. The number of sets which can be assigned has been increased to three so you can handle a wider range of shooting situations and creative intentions.
My Settings Box
Up to six My Settings sets can be stored in the My Settings Box. Then you can just choose the set you need and quickly assign it to MY1, MY2, or MY3. You can also name each set yourself to make it easy to choose the correct one.
Direct operation enhanced with two Fn buttons
There are now two Fn (function) buttons for one-push access to necessary functions. Assign frequently used functions to each to increase direct operability.
Operation function customization
To give the individual photographer the most natural operation feel, functions can be assigned to the up-down dial and the ADJ. lever. Increase shooting/playback flexibility by creating intuitive operations that minimize finger movement.
One-push playback enlarged view
In playback mode, you can display images at a previously defined magnification by just pushing the ADJ. lever once. This eliminates the inconvenience of having to change magnification level by level. Setting a magnification suitable to recorded image size and intended print size will speed up your image checking.
Three grid guides
In addition to the 3 x 3 grid, a 4 x 4 grid with diagonal lines and 2 x 2 grid with central visual field have been added. Choose the best grid for your subject: diagonal lines will clearly show the image center for building/product photography and a 2 x 2 grid can be helpful for capturing a moving subject.
GR Design: Excellent portability and grip feel
The GR DIGITAL III inherits a traditional design born to carry out the camera's true mission of always being ready for the next shutter chance and reliably recording the result. Keeping the same pocketable form and hand-clinging grip, careful attention was given to enhancing operability and quality.
Magnesium body for superior reliability
A light and highly rigid magnesium alloy is used for a body that has strong shock resistance and durability. It also has excellent heat radiation and magnetic shielding characteristics, important features for a digital camera. This is a camera that can stand up to a photographer's "hard use," providing both reliability and high operation precision.
"Angela and Reno" – GRD III – f/1.9 – ISO 64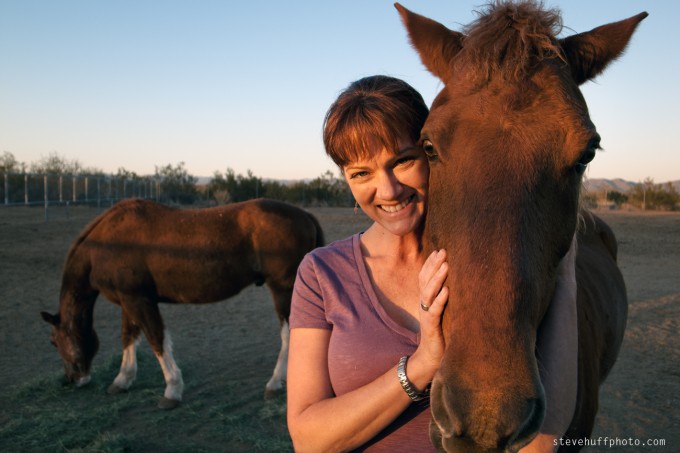 –
"Sniff Sniff" – Ricoh GRD III – f/1.9 – ISO 64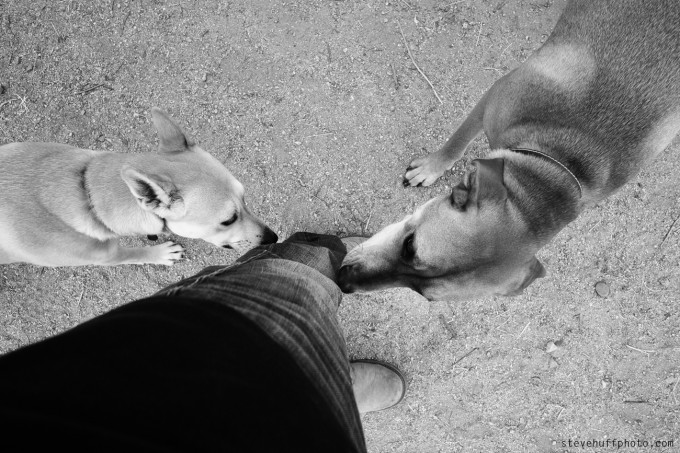 The Lens on the GRD III
One thing I noticed is that even though I was constantly shooting with the lens wide open at f/1.9 that I was getting nice sharp images. If a lens is good wide open then you can bet on it being wonderful stopped down as well. I always shoot lenses wide open and if the camera or lens can handle it and provide me with superb IQ while doing so then I know the lens quality is really good. The GRD III may have the finest lens I have come across on a small sensor type of camera. It's fast, it's sharp and provides a nice rendering with minimal distortion (I have yet to notice any in the photos I took).
The lens is an effective 28mm f/1.9 lens. In reality it is a 6mm lens but after the crop factor of the small sensor it becomes a 28mm effective focal length. The quality is wonderful. Below you can click on the image to download the full size out of camera image.
FULL SIZE 10MP IMAGES
When viewing the images below at full size you can see the limitations of a small sensor camera. The photos will have a bit of noise at 100% which you usually do not see when using a larger sensor camera. Still, the GR Digital III puts out a nice sharp image.
CLICK THE IMAGES BELOW FOR THE FULL SIZE OUT OF CAMERA 10MP VERSIONS – ALL SHOT AT f/1.9 TO TEST PERFORMANCE OF THE LENS WIDE OPEN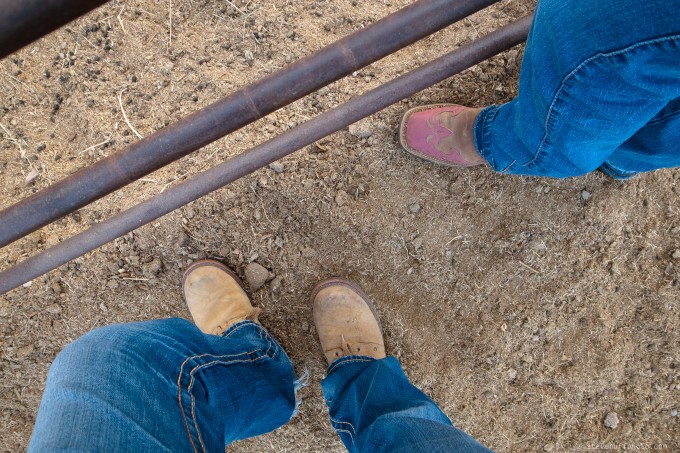 –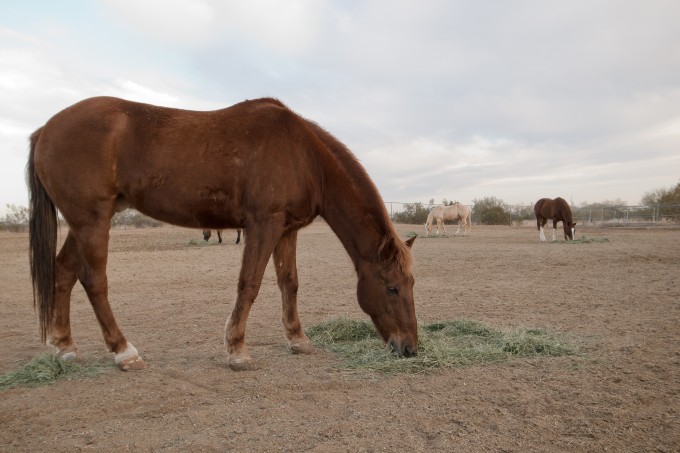 –
Compared to the Panasonic LX-5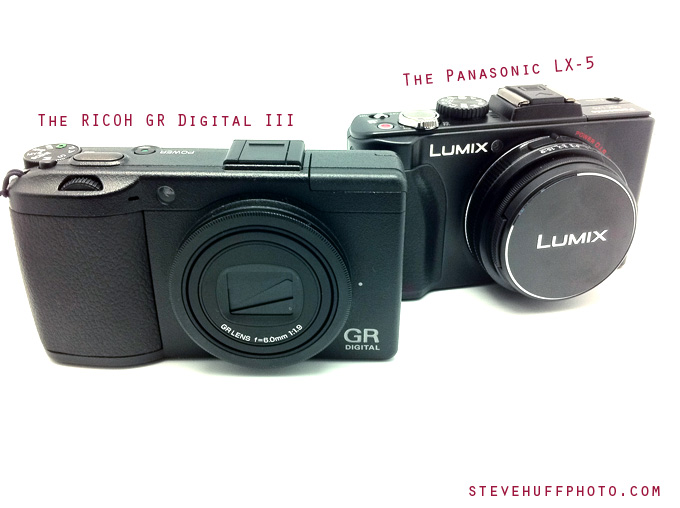 I did not get a chance to really compare the two side by side for to long but I did manage to get two shots with each to see how they stood up to each other. The LX-5 is the Panasonic version of the Leica D-Lux 5 and these two cameras have always been considered by me to be the top in the compact small sensor camera world. I like them better than the Canon S95, Canon G12, etc. They are all 10MP cameras and are all somewhat compact with the smallest prize going to the S95 but for overall bang for the buck you cant beat the Panasonic LX-5. You can see my D-Lux 5 review HERE which is basically the same exact camera made in the same factory.
As for the shots between the LX-5 and GRDIII? The first one, the GRDIII was set at ISO 64 and f/1.9 and the LX5 ISO 80 at f/2. I prefer the slightly warmer color of the GRDIII which is evident when you look at the larger image. Also take note that the GRD III is thinner than the LX-5/D-Lux 5 due to the lens sliding into the camera.
crops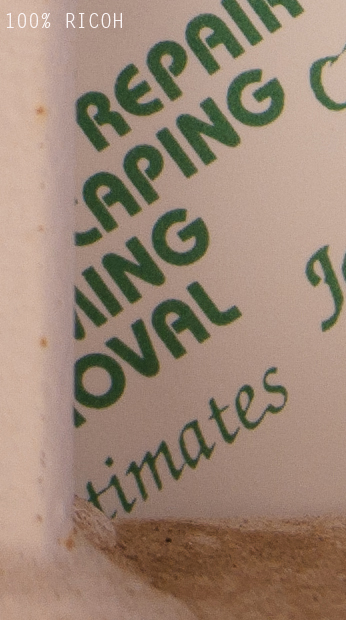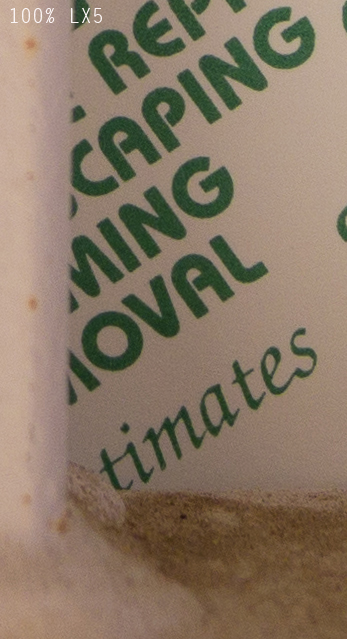 and how about a full size download from each – both were shot RAW and processed with default settings. I prefer the GRD III rendering and color here…
first the GRD III image – f/4 – ISO 100 (thought I was at 5.6 when I shot, later found out was f/4)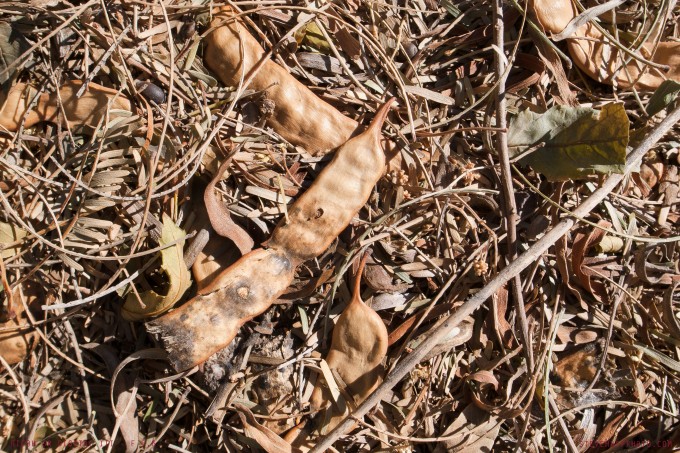 –
now the Panasonic LX-5 image – f5.6 – iso 100 (again, this was stopped down a bit more at f5.6 so should have the advantage)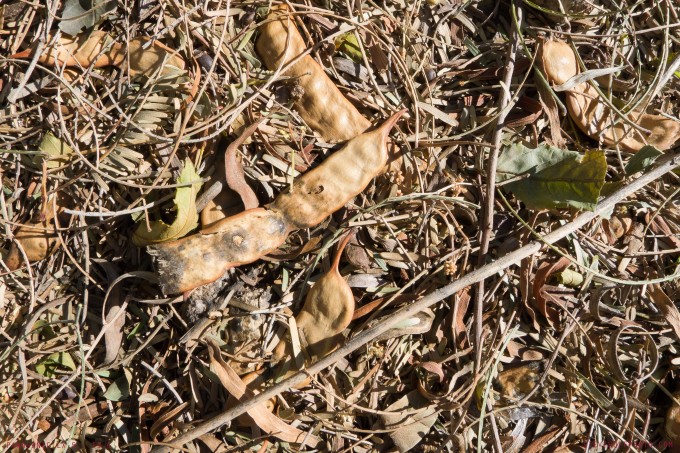 –
Black & White with the GRD III
The GR Digital series from Ricoh have always had a great rep for being really good black and white cameras. I remember seeing some street stuff shot with a GRD II and the images were raw, gritty, and very real. I guess "haunting" would be a word to describe the images that I remember seeing. I was excited to shoot the GRDIII in black and white to see if this gritty look could still be achieved. After shooting at low and high ISO with the in camera B&W modes I found that this newest generation of GRD is much better in the high ISO noise department so I did not get much grit at all 🙂
BUT with that said, even at ISO 1600 this camera could deliver some decent out of camera B&W results. I did not go out street shooting with the GRD while I had it but did go "bar shooting" at ISO 400 with the in camera B&W mode LOL. I find it interesting to sit down at the bar at Applebees restaurant, order up some food and a beer and shoot the people around me. I may even start a new series out of it. What is cool is that everyone there knows I review cameras so they have no problem with me shooting 🙂
The next three images were shot with in camera B&W at ISO 400 with the lens wide open at 1.9
–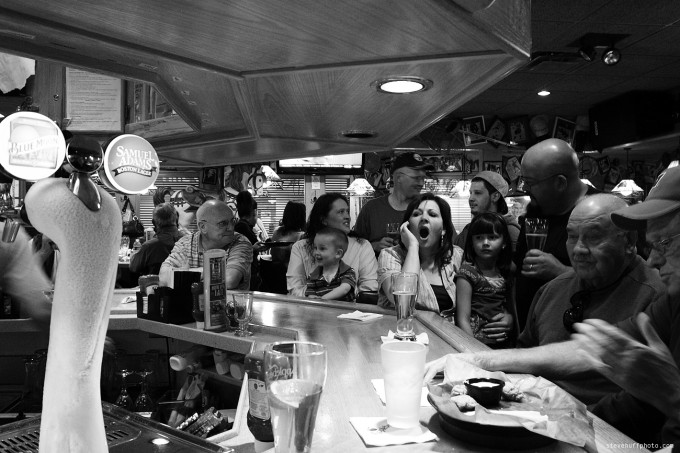 –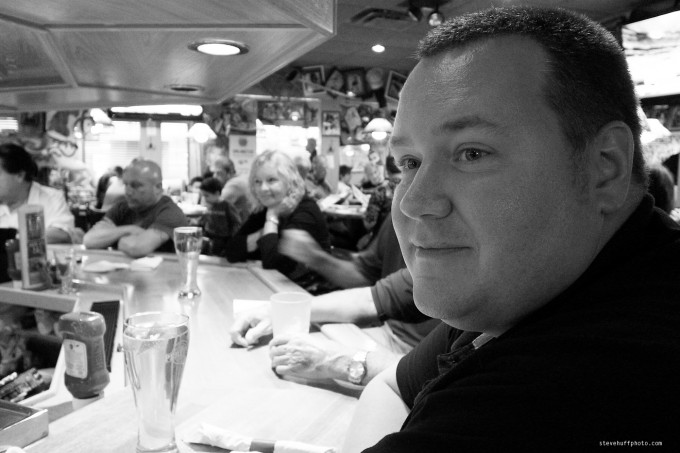 –
and a couple more B&W but these I did some Photoshop tweaks to with the vignetting, contrast and sharpness enhancements. This always adds more drama to a photo IMO.
"ASHLEY THE BLACK PUG" – GRD III – f/4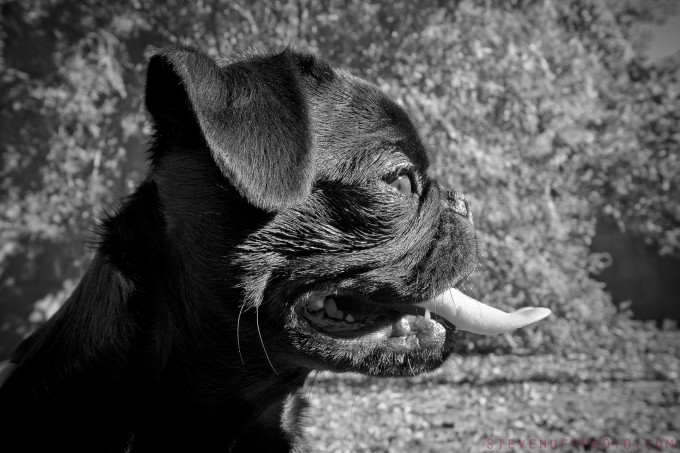 –
"Lucky" – GRD III – From RAW – PP with added vignetting and B&W conversion – f/1.9 – ISO 64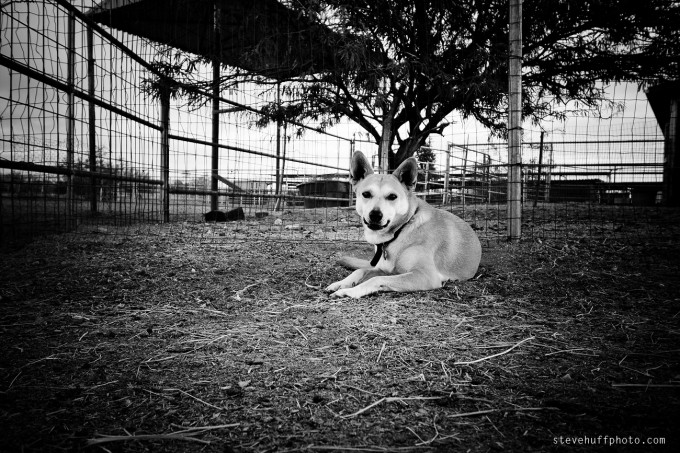 –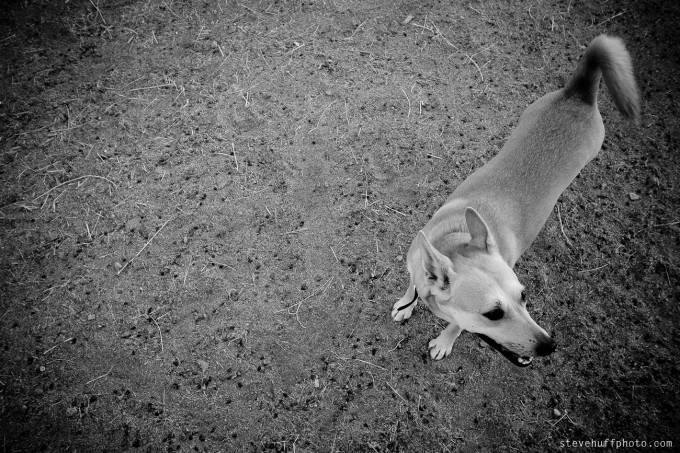 –
and one ISO 1600 shot at F9 – click image for larger version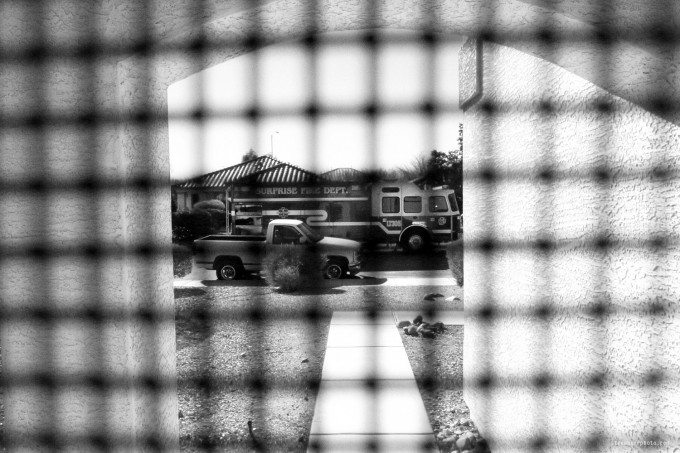 –
one more ISO 1600 image and crop – click image for full size out of camera ISO 1600 image
So all in all the B&W and high ISO performance of the GRD III was up there with the best small sensor cameras. Not mind blowing or a new experience, but it was about equal to what we see in the LX-5, S95, etc (though a bit different at the same time). I found that when using the out of camera B&W JEPGS the contrast had to be turned up a bit to get that dynamic look. When I processed the color file from the camera and converted to B&W using Alien Skin Exposure 3 I found even better results. Depending on what you shoot you may want to experiment with Alien Skin as I find it gives awesome B&W conversions and tones. One thing is for sure, even at ISO 1600 the details remain crisp and sharp as is evident in the crop above.
–
Cross Process, HDR and High Contrast B&W Modes
The GRDIII has a few cool features included so it is not as bare bones as some think. One cool mode I liked was the cross process color mode which is accessible in the scene mode.
Just a quick test of the cross process mode. My room was dark so at ISO 800 you can see the noise here but the CP effect is interesting. It also adds vignetting (this is customizable) if you want it. See, I even work while laying in my bed 🙂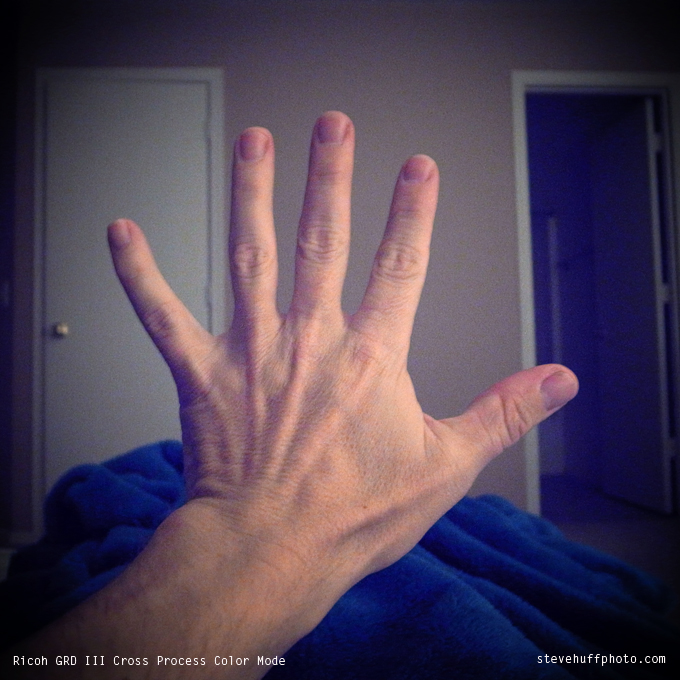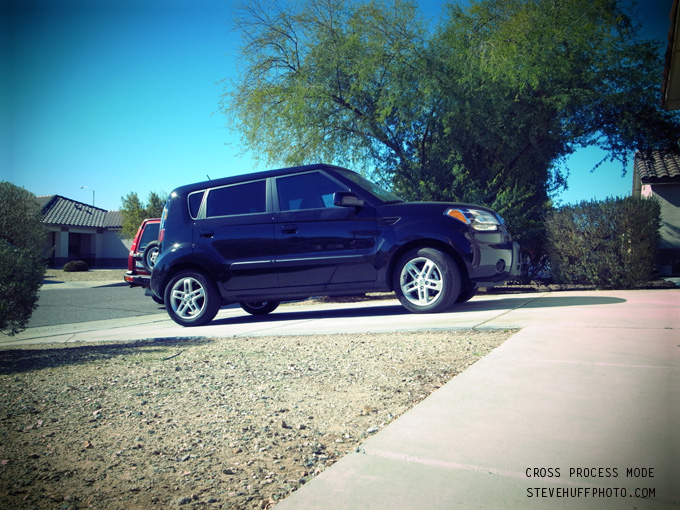 –
High Contrast B&W Mode, also accessible from the Scene mode on the dial. This mode can be VERY contrasty…very deep if you set it to the MAX contrast setting.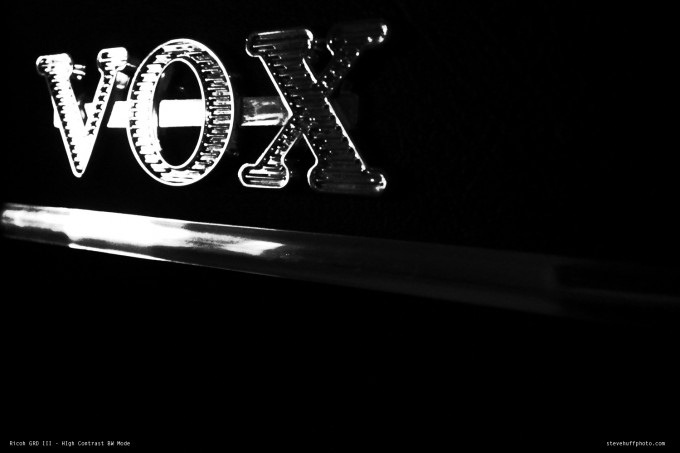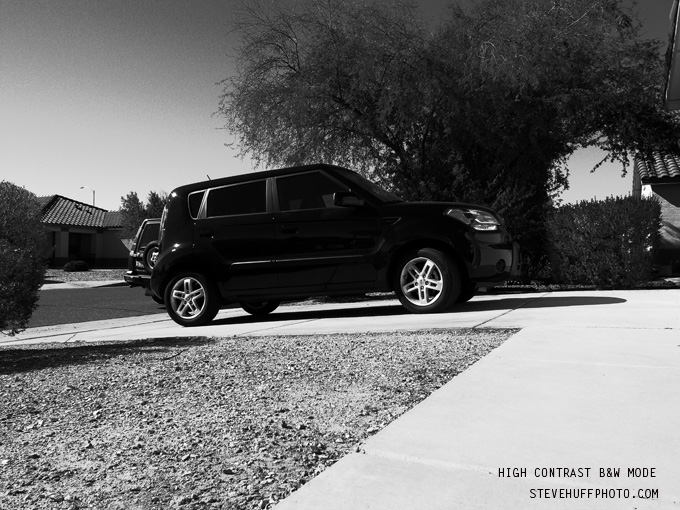 –
For the next two I dialed in -2 contrast to soften it up a bit.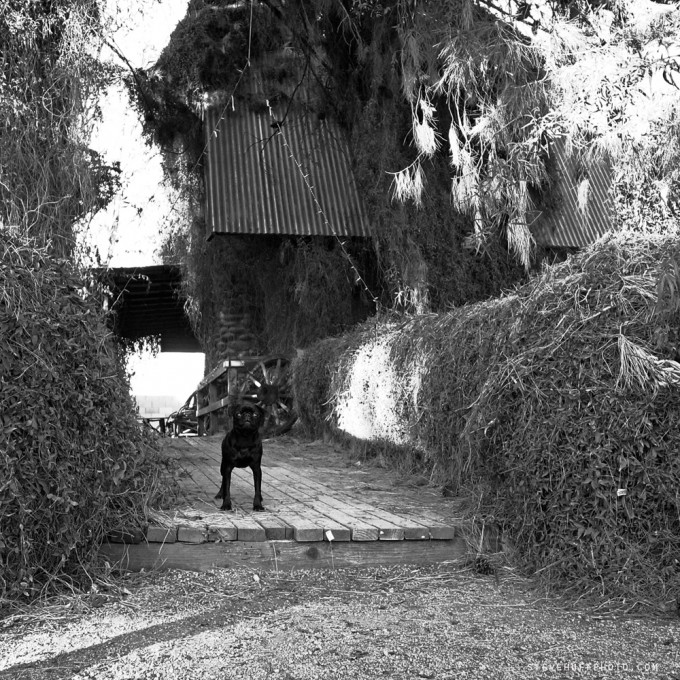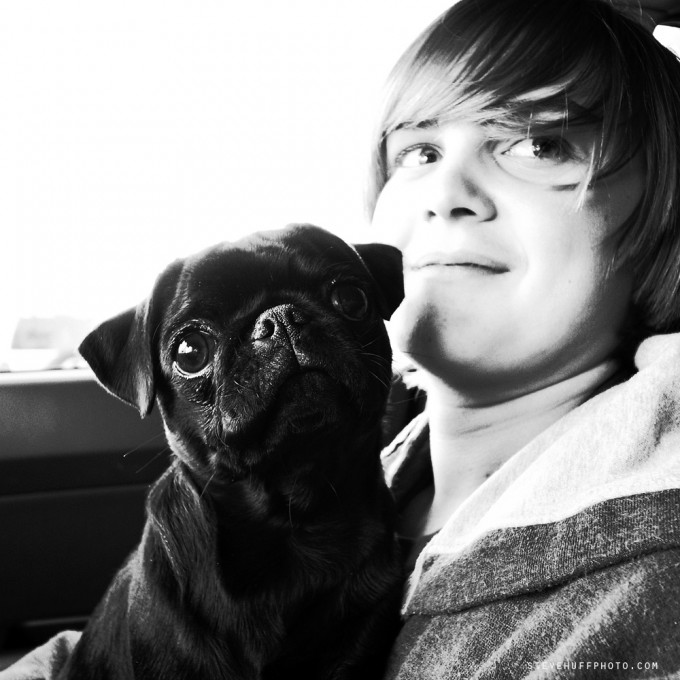 –
HDR mode in the GR is actually the 1st time I found an in camera setting like this useful. Here is a shot with the three settings of HDR turned on. I like how it is not overdone.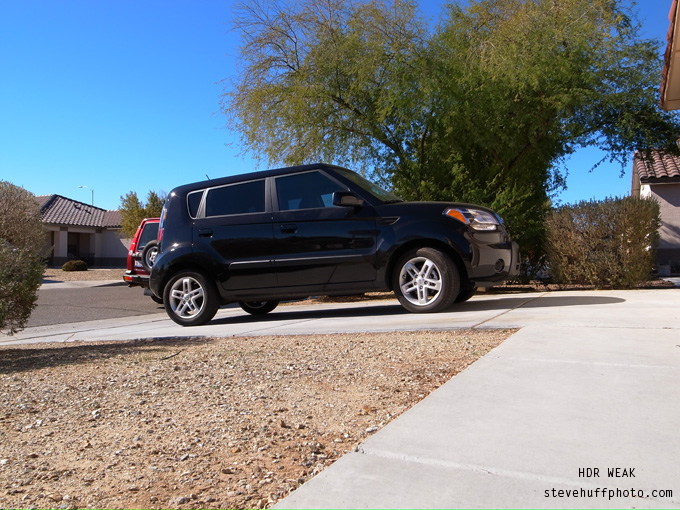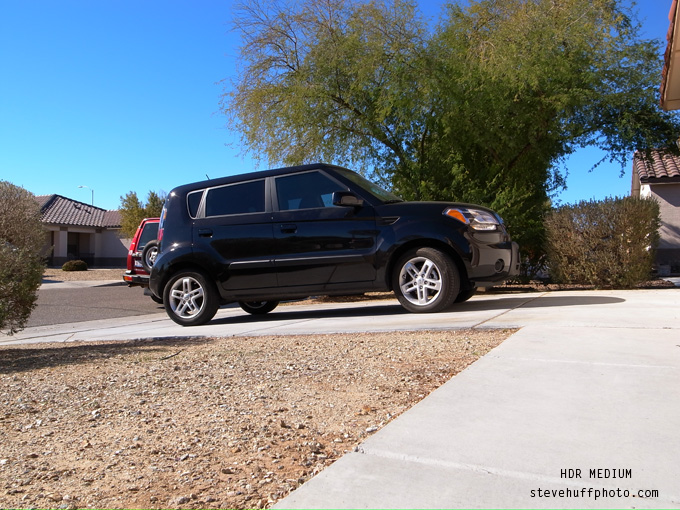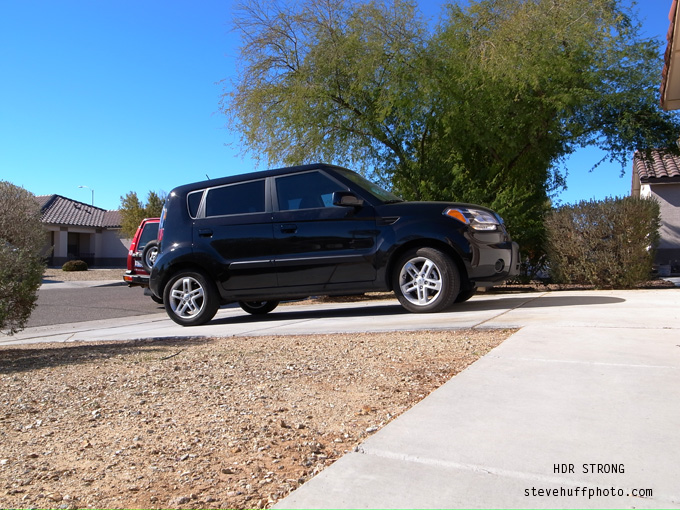 I think if I owned this camera I would actually use these modes in my daily snaps. They can be fun and in the case of the B&W, be very dramatic if need be.
–
SOME FUN WITH 1X1!
I love the 1X1 mode, especially combined with the cross process mode. This adds some vignetting and gives unique colors to the images. Here is a set of pics I snapped just before and after my morning shave 🙂 These were all at ISO 800 at f1.9 with Noise Reduction turned off.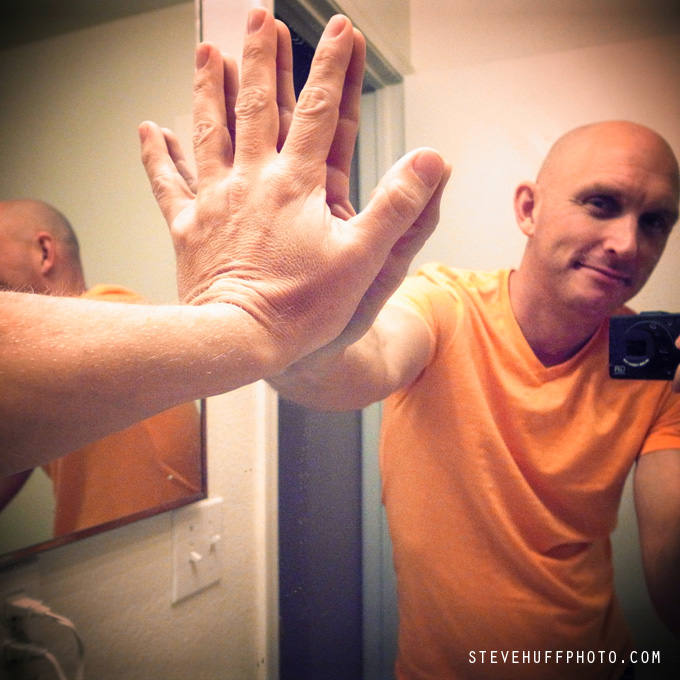 –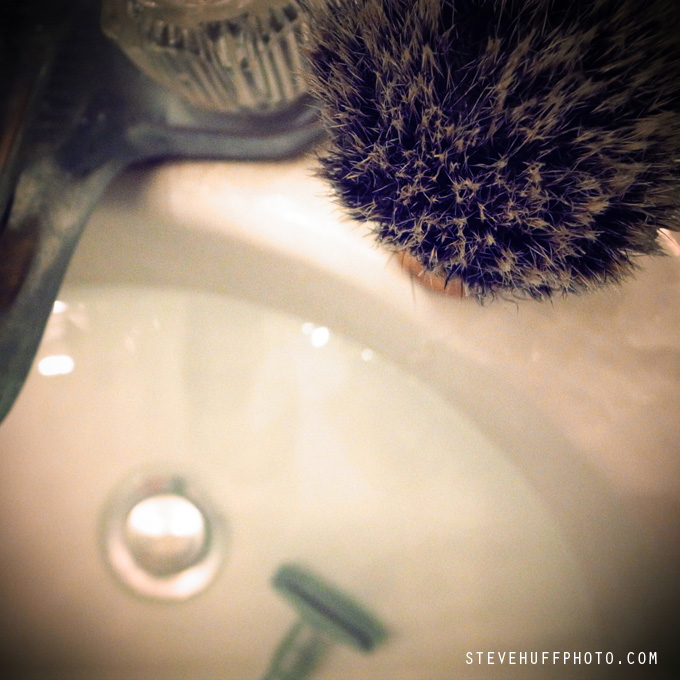 –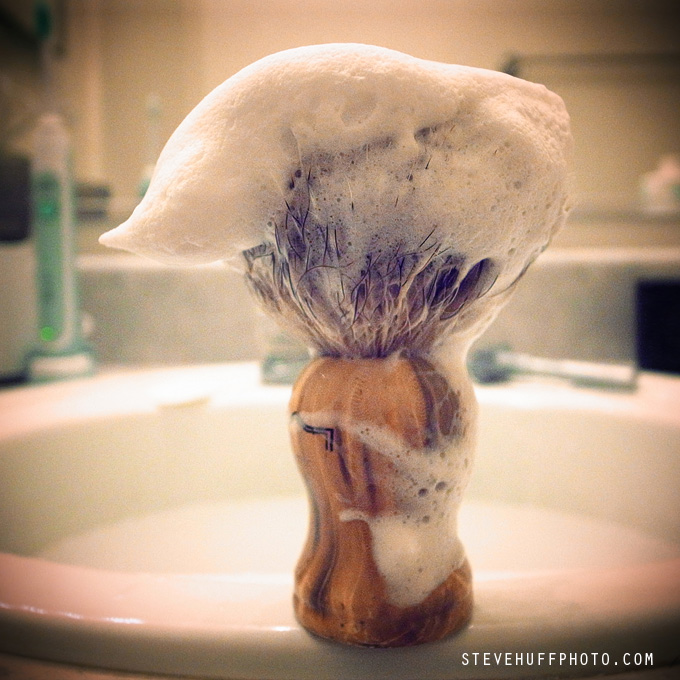 –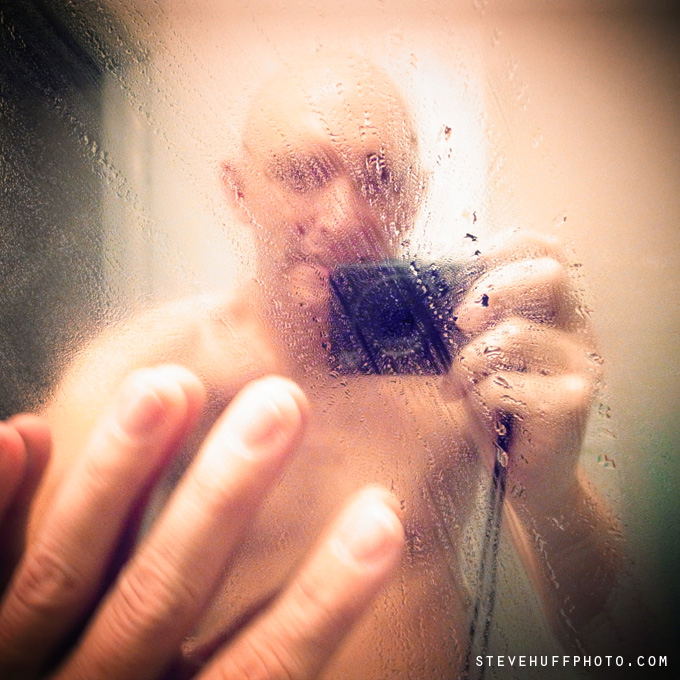 The things I liked about the Ricoh GRD III
There are MANY  things I like about the Ricoh GRD III and very few that I do not. I love its design and its feel. I enjoy its build quality but at the same time love how light it is. It's sleek, it's all black, and it feels like a photographers camera. What I mean by that is this camera has all of the features one would need if they were serious about photography. It has a great menu/user interface. Very clean, very detailed, and most important very customizable. It has the AF snap and pre AF features. If you want to use this camera for street shooting you can set your focus distance at 1m, 1.5m, 2.5m, 5m or infinity. Since it is all preset there is no waiting for the camera to focus. Just aim, and fire! Just be sure to be at the correct distance for in focus shots. This is easy due to the huge depth of field you can get with this camera. I also love its leveler that can even be set to send out an audio signal when you are level.
The GRD III gives image quality that is up there with the best small sensor/compact cameras. Head to head against the D-Lux 5 or LX-5 the GRD may fall a teeny bit short in Dynamic Range and color depth BUT the image also look less "digital" from the GRDIII. The LX-5/D-Lux 5 images seem to have a sheen about them that tells you these were shot with digital. The GRD renders images in a more flatter but more realistic way. It's hard to describe but I see it because I shoot so many cameras I can easily distinguish the qualities and ways that cameras render images. The GR Digital III puts out decent JPEGS but with this camera RAW is even better, so if you buy or own this camera I would shoot in RAW.
I seem to be on a roll lately. I loved the Ricoh GXR system and bought one for myself, I thoroughly enjoyed the Pentax K5 and have decided it is now my favorite APS-C DSLR to date, and the GRDIII with its simplicity, its size, its menus and all of its qualities has now become tied for my favorite small sensor camera ever! I still love the Leica D-Lux/Panny LX-5 for their huge amounts of features for  the $$ like the HD video, the macro, the AF speed and the image quality but I also love the GRDIII for the lack of gimmicks and over the top features. Sometimes going back to basics can help to open up your mind…free your creative eye.
Having a camera that can literally fit in your front pocket is also a huge plus. I wear Jeans and this little guy slipped easily into my front pants pocket, ready for any moment that came along. The AF was fast and snappy and always accurate. The GRD is easy to customize to your liking and all buttons are where they should be. There is a wheel in the front and a jog dial in the back, there are dedicated buttons for the most important things, and the menu system is as easy as any camera I have shot with.
For those shooting a compact and for those that want a no nonsense camera that delivers the goods for what a camera is supposed to do best, the GRD III is an all out winner. Ricoh does not get as much attention in the USA as they should. I'd like to see that change because their cameras are true photographic tools that deserve to be shot with. I will be happy to review any future Ricoh cameras or lens modules as I have had nothing but great results with them.
I know I will get asked if this is a better camera than the Leica, The Panasonic, The Canons, etc. All I can say is that the GRDIII is a camera for those who want something a bit different, a bit unique, and something that has been well designed and well thought out. It delivers on its promises and is small enough to take anywhere, especially with its retractable lens. Will it give you better image quality than a Leica X1? No, it will not. How about Ricohs own GXR with a 28 module? Nope, the GXR will beat the GRDIII when it comes to overall IQ and ISO performance but you also lose the small size of the GRDIII. Will it give you better than a Leica D-Lux 5? It can certainly equal it and give you a different "feel" to your photos. As much fun as I had shooting with the Leica D-Lux 5 I had just as much shooting with the little GRD III, mainly due to its slim size and awesome usability factor. It's a winner and makes me curious about what Ricoh will do for a GR Digital IV down the road.
All in all I kind of liked shooting a small sensor camera like this. I felt like I was using a serious camera and the "look" of the images somehow grabbed me. Like I said earlier, they look less digital than those from the LX-5/D-Lux 5 and the lens on this camera is the best yet for a serious compact.
This camera has been out for a while but since there are so many passionate photographers that come to my site I felt I needed to write this review. Ricoh Rocks!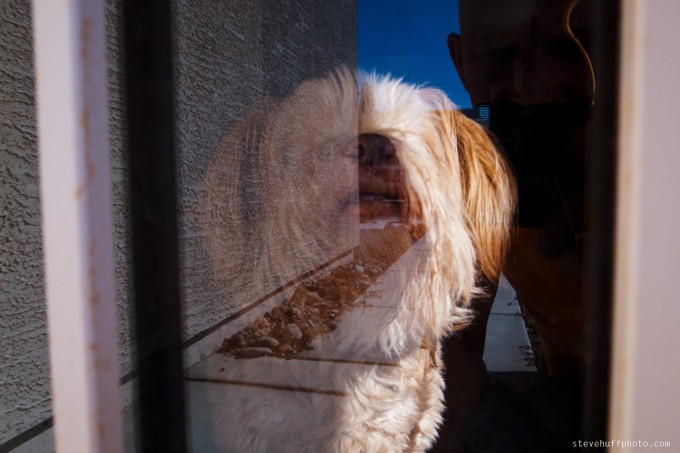 –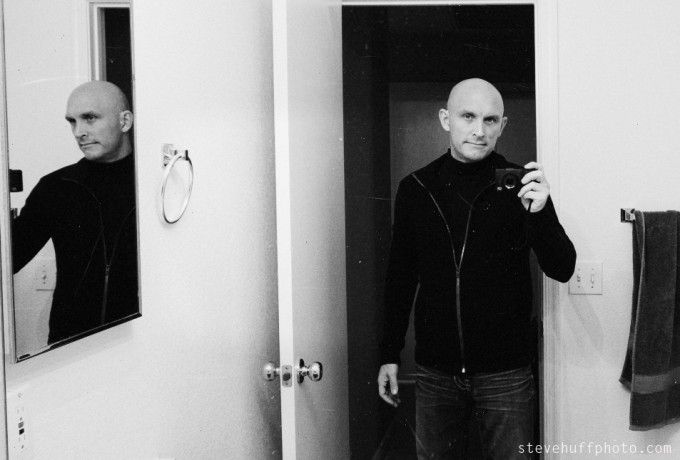 –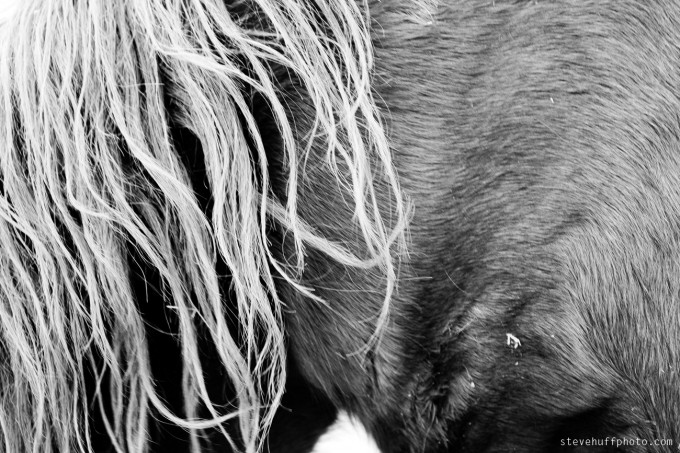 THE PROS AND CONS OF THE GRDIII
Pros
Superb size and build (Magnesium Alloy) but light! A true take anywhere high quality compact.
High ISO is up there with the best of the small sensor cameras though limited to ISO 1600 max.
Great LCD on the back, clear and crisp.
Very good AF speed, and accurate as well.
Button placements are near perfect.
Lens is fast at 1.9 and has superb optical quality.
Built in lens cover that closes when camera is turned off so no cap to lose.
Battery life is VERY GOOD. Never had to recharge for this review.
Macro mode lets you get up close, just press the macro button to engage it.
Built in flash if you need it!
Ability to use an external viewfinder.
Three metering modes that all work as they should.
Cross process and high contrast B&W modes are cool to have.
1:1 format is also an option. Great for portraits.
Ability to turn off Noise Reduction is a plus.
Auto leveler is also fantastic to help keep your horizon level.
AF confirm lamp on the back for when you use the external VF.
Cons
It's more expensive than the Panasonic LX-5 at $529-$599 vs $399
Not loaded with features like HD movie mode, smile detectors and fancy AF tracking (but some may see this as a plus)
Fixed 28mm lens may be too wide for some.
Dynamic range is limited due to small sensor size.
Out of camera images can be a little "flat" at times.
The Video is not that great and not as good as other compacts which have fantastic HD video modes.
No image stabilization. Some say we wont need it with a 28mm but it does help.
JPEG output seems a little on the soft side, so shoot RAW for best results, or crank up sharpening in camera.
Where to buy?
Amazon sells the GRD III and even with viewfinder as a package
. Adorama also sells this camera and you can go direct to their page HERE (they have it for $529). These are the shops I use and trust myself along with B&H Photo but B&H does not carry Ricoh. The GRD III sells for $599 and is an all in one, pocketable compact camera that will deliver the good if your main priority is taking photographs. You can take it anywhere due to the size so it is yet another camera I can
easily recommend. What you choose to buy should be based on your needs and what you shoot. If small and compact is your thing but you still want high quality images the GRDIII gets an A+!
Extra Stuff
To read more about the GRD III you can visit Ricohs page for it HERE. If you want to really see what this little guy can do in the hands of a great photographer who owns this camera you can visit this blog and see some great real world shots. Seeing what he did with the camera makes me want to buy this review sample for myself so I can get some quality shooting in with it. I hope you have enjoyed this review of the Ricoh GR Digital III! As always, thanks for reading!
Steve
[ad#Adsense Blog Sq Embed Image]
I NEED YOUR HELP! YOU CAN HELP SUPPORT THIS SITE TO KEEP IT GOING AND GROWING!
Remember, anytime you follow my links here and buy from B&H or AMAZON,
this helps to keep my site going. If it was not for these links, there would be no way to fund this site, so I thank you in advance if you visit these links. I thank you more if you make a purchase! I have nifty search bars at the upper right of each page so you easily search for something at either store! I currently spend 10-14 hours a day working on this site and the only way that I can pay for it is with your help, so thank you! Currently my traffic has been increasing but my funds to pay for the site has been decreasing, so any help would be GREATLY appreciated!
Even if  you buy baby food, napkins or toothpicks at amazon it helps this site, and you do not pay anything extra by using the links here. Again, you pay nothing extra by using my links, it is just a way to help support this site, so again, I thank you in advance 

If you enjoyed this article/review, feel free to leave a comment at the bottom of this page and also be sure to join me on twitter or my new facebook fan page! Also, you can subscribe to my feed at my subscribe page HERE and read these posts in your browser or news reader! Also, the new forums are NOW OPEN on this site so get involved if you like! Thanks so much for visiting my site!