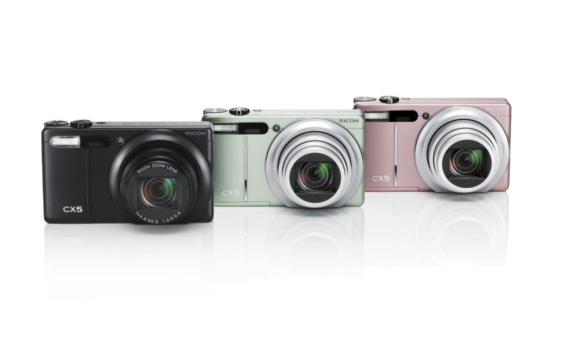 PRESS RELEASE – NEW RICOH CX5
26 January 2011
Offering High-speed Focus with a Hybrid AF System Compact digital camera with 10.7 optical zoom (28-300 mm)
Introducing the new CX5
RICOH COMPANY, LTD. (helmed by president and CEO Shiro Kondo) will be releasing its newly developed CX5 digital camera model with its wide-angle, high magnification 10.7 optical
zoom (28–300 mm) lens, which has a higher autofocus speed due to the use of Ricoh's new hybrid AF system.
With the new CX5 model, AF focusing times are decreased to as low as 0.2 sec. for both wide-angle 28 mm and telephoto 300 mm, up to half as short compared to the CX4, using Ricoh's unique new hybrid AF system. This ensures that you reliably capture the image you were waiting for, never to miss another good shot again.
Using super-resolution technology, the CX5 also allows (1) recording of images with improved resolution using the "Super-resolution" setting and (2) telephoto shooting at up to 600 mm equivalent with minimal degradation in image quality using "Super-resolution Zoom."
Furthermore, in addition to the new Cooking, Fireworks, and Continuous Golf Swing scene modes, the CX5 has improved features that make shooting photographs even more fun through the use of super-resolution zoom during Zoom Macro mode shooting and other functions. The CX5 is an even more enhanced compact digital camera that was designed based on t he concept of it being "a tool that you will find yourself wanting to use every day."
Available in three colors: Black, Silver, and Pink.
1<Main Features of the New CX5 Model>
1. High-speed autofocus using the unique hybrid AF system developed by Ricoh
• Equipped with Ricoh's unique new hybrid AF system in combination with a passive AF sensor that continuously measures the distance between the camera and subject using an area sensor together with Contrast AF (a system in which the imaging elements search for the peak location for contrast on the subject and focus on that location).
• Enables AF focusing times to be shortened to as low as 0.2 sec. for both wide-angle 28 mm and telephoto 300 mm, up to half as short compared to the CX4 model. Ensures that you capture the image you were waiting for over the entire zoom range so that you never miss another good shot again.
2. Improved image resolution through use of super-resolution technology
• Enables amazing photographs with high resolution to be produced using the CX5's new super-resolution technology, which discerns outlines, details, and gradations in the image automatically and processes the image based on the optimal settings for each. The level of super-resolution can be set to OFF, Weak, or Strong.
3. Super-resolution zoom equivalent to up to 600 mm in addition to the 10.7 28–300 mm optical zoom
• Allows a wide-angle, high-magnification 10.7 optical zoom lens to fit into a compact body with a thickness of 29.4 mm using Ricoh's unique retracting lens system.
• Equipped with super-resolution zoom that enables magnification of up to 2.0. Enables telephoto shooting at up to 600 mm equivalent with minimal degradation in image quality. • Enables even greater magnification of the subject from super -resolution zoom with use of
digital zoom. Allows photographs to be taken with ultra-telephoto zoom at up to 2880 mm.
4. High-quality photography that widens the range of image expression
• Offering reduced loss of detail in highlights using an output pixel interpolation algorithm residing in dedicated logic circuits in the Smooth Imaging Engine IV imaging engine to allow high-contrast scenes to be reproduced more faithfully, exactly as they appear to the naked eye.
• Reduces noise without affecting resolution, tone characteristics, or color using a noise reduction algorithm to process the image signal as it is output from the CMOS image sensor. Enables sophisticated variance-estimation type noise reduction processing in which the sensor image data's noise variance is analyzed and the optimum processing is done for each region when the noise reduction level is set to MAX.
• Equipped with a back-illuminated 10.00 million-pixel CMOS sensor. Ensures that beautiful images can be captured even in dark scenes.
5. 14 different types of Scene Modes providing easy access to whole suites of photographic techniques specifically adapted to the subject
• Comes with a new Cooking mode that is perfect for shooting photographs of food. The new Cooking mode setting enables the brightness and color tone of the scene to be adjusted while the subject is checked.
• Includes a new Fireworks mode that works great for taking shots of fireworks as they flash across the sky.
• Comes with a new Golf Swing Continuous mode that displays grid lines during shooting and playback. Perfect to use for checking your golf swing.
• Enables super-resolution zoom to be used in Zoom Macro mode, which optimizes the zoom position automatically to allow the subject to be shot even larger than with normal macro shooting. Allows the subject to be shot even larger without any degradation of image quality as with normal zoom.
6. Creative shooting modes that allow you to enjoy shooting creative images
• Comes with six different types including Soft Focus, Cross Process, Toy Camera, and Miniaturize that can be selected to fit the subject and type of scene. Allows you to enjoy shooting images with a variety of effects.
7. High-definition 3.0-inch, 920,000-dot LCD monitor
• Equipped with a large, high-definition LCD monitor that has a wide viewing angle and high contrast. With a fluorine coat to prevent soiling, a hard coat to prevent scratches, and an anti-reflection (AR) coat designed to protect the screen against dirt and damage and guarantee excellent visibility even outdoors in direct sunlight.
• Reproduces image colors vividly with sRGB comparison of 100% for the color re production range.
8. Awide variety of functions based on the concept of the CX5 being "a tool that you will find yourself wanting to use every day" • Equipped with new HDMI terminals. Allows high-definition (HD) movies with a frame size of 1280720 pixels to be viewed on an HD TV using an HDMI cable (sold separately).
• Comes equipped with macro shooting functions that allow you to get as close to the subject as 1 cm for wide-angle (*) and 28 cm for telephoto. (*) Equivalent to 31 mm for 35-mm film equivalents.
• Enables high-speed continuous shooting at speeds of up to approx. 5 frames/sec. • Equipped with Scene Auto Mode, which automatically switches to the optimal shooting
settings for the scene when the camera is merely pointed at a scene. • Comes with Subject-tracking AF, which continuously tracks and focuses on the subject
automatically. • The CX5 is compatible with Eye-Fi cards (X2 Series), SD memory cards with built-in
wireless LAN functionality, which enables captured images to be transferred wirelessly to a computer or online image sharing service automatically. An icon will appear while an Eye-Fi card is being used to display the communications status.
*Focal lengths indicated in this news release are 35mm film camera equivalents. *MP files listed in this news release are Extended MP files that are compliant with the CIPA-standard
Multi-Picture format. (The file extension is MPO.) With MP file images recorded by the CX5, a selected frame can be extracted and saved as an individual JPEG image within the camera.
*AF focusing times were measured under Ricoh measurement conditions. * This product is not guaranteed to work with all Eye-Fi card features (including wireless data
transmission capability). * For more information on Eye-Fi cards, visit the Eye-Fi webpage http://www.eyefi.co.jp). * Eye-Fi cards are approved for use in the country of purchase only.
<CX5 Main Specifications>
No. of Effective Pixels (Camera):
Approximately 10.00 million pixels
Image Sensor:
1/2.3-inch CMOS (total pixels: approx. 10.60 million pixels)
Lens:
Focal length: f=4.9–52.5 mm (Equivalent to 28–300 mm for 35 mm film cameras. With Step Zoom set, option of any of eight fixed lengths: 28 mm, 35 mm, 50 mm, 85 mm, 105 mm, 135 mm, 200 mm, and 300 mm)
F-aperture: F3.5 (Wide)–F5.6 (Telephoto) Shooting Distance: Normal shooting: Approx. 30 cm–infinity (Wide), approx. 1.5 m–infinity (Telephoto) (from the front of the lens) Macro: Approx. 1 cm–infinity (Wide), approx. 28 cm–infinity (Telephoto), approx. 1 cm–infinity (Zoom Macro) (from the front of the lens) Lens Construction: 10 elements in 7 groups (Aspheric lens: 4 elements and 5 surfaces)
Zoom Magnification:
Optical zoom:10.7 (Equivalent to 28–300 mm for 35-mm film cameras) Super-resolution zoom: 2.0, up to 21.4 (Equivalent to 600 mm) when used with optical zoom Digital zoom: 4.8, up to 103 (Equivalent to 2,880 mm) when used with optical zoom and super-resolution zoom Auto resize zoom: 5.7*1, up to 61.0*1 (Equivalent to 1,710 mm) when used with optical zoom Focus Modes: Multi AF / Spot AF / Face-priority Multi AF (Contrast AF method with AF auxiliary light) /
Subject-tracking AF / Multi-target AF (Contrast AF method) / Manual Focus / Snap / ∞ (Fixed focus method)
Image Stabilizer
Image sensor shift method image stabilizer
Shutter Speed: *2 Still Image: 1/2000–1, 2, 4, 8 sec. / Movie: 1/2000 sec.–1/30 sec.
Continuous Shooting:
Continuous Shooting Speed: *3 Approx. 5 frames/sec. (10M 4:3F; continuous shooting speed is approx. 3 frames/sec. for the 12th picture on) Continuous Shooting Capacity: 999 pictures
Exposure Control:
Metering Mode: Multi (256 segments) / Center-weighted light metering / Spot metering Exposure Mode: Program AE
Exposure Compensation: Manual compensation (-2.0 EV–+2.0 EV, 1/3EV steps), Auto bracket function (−0.5EV, ±0, +0.5EV)
ISO Sensitivity (Standard Output Sensitivity):
AUTO / ISO100 / ISO200 / ISO400 / ISO800 / ISO1600 / ISO3200
White Balance Mode:
Auto / Multi-pattern Auto / Outdoors / Cloudy / Incandescent 1 / Incandescent 2 / Fluorescent / Manual / White balance bracket function
Flash:
Built-in Flash Mode: Auto (During low light and when the subject is backlit) / Anti Red -eye / Flash on / Slow Synchro / Flash off Built-in Flash range: Approx. 20 cm–4.0 m (Wide), approx. 28 cm–3.0 m (Telephoto) (ISO AUTO, auto ISO with up to ISO1600, measured from the front of the lens)
Flash Compensation: +/−2.0EV (1/3EV Steps)
Monitor:
3.0-inch Transparent LCD (approx. 920,000 dots)
Shooting Mode:
Auto shooting mode / Movie mode / Scene auto mode / Scene mode (Portrait / Discreet Mode / Night. Portrait / Night Landscape Multi-shot / Sports / Landscape / Zoom Macro / Pets / Skew Correct Mode / High Sensitivity / Text / Fireworks / Cooking / Golf Swing Continuous Mode / My Settings mode / Continuous mode / Creative shooting modes (Dynamic Range Double Shot / Miniaturize / High Contrast B&W / Soft Focus / Cross Process / Toy Camera
Picture Quality Mode: *4 Fine (F) / Normal (N)
No. of Pixels Recorded:
Still image / Multi-picture: 3648×2736, 3648×2432, 2736×2736, 3648×2048, 2592×1944, 2048×1536, 1728×1296 (Multi-Picture only), 1280×960, 640×480 Movie: 1280 x 720, 640 x 480, 320 x 240 Text: 3648 x 2736, 2048 x 1536
Recording Media:
SD memory cards, SDHC memory cards (up to 32 GB), Internal memory (Approx. 40MB) Compatible with Eye-Fi cards (X2 Series)
Storage Capacity (Pictures/Time): *5 (Internal Memory Approx. 40 MB): Still Image / Multi-picture: 36482736, F: 10 images, N: 17 images; 36482432, F: 11 images;
27362736, F: 13 images; 36482048, F: 13 images; 25921944, F: 15 images; 20481536, F: 24 images; 17281296, N: 58 images (M-Cont Plus); 1280960, F: 43 images; 640480, F: 169 images; 640480, N: 283 images (Ultra-high-speed Continuous)
Movie:*6 1280720, 7 sec.; 640480, 22 sec.; 320240, 54 sec. Image File Format:
Still Image: JPEG (Exif ver. 2.3) *7 Multi-Picture: CIPA DC-007-2009 Multi-Picture Format Movie: AVI (Open DML Motion JPEG Format compliant) Compression Method: JPEG Baseline Format compliant
Other Major Shooting Functions:
Continuous, Self-Timer (Operation time: Approx. 10 sec. / Approx. 2 sec. / Custom self-timer), Interval Timer (Shooting time: 5 sec.–1 hr., in 5 sec. increments), Color Bracket function, Focus Bracket function, AE/AF Target Shift, Histogram, Grid Guide, Electronic Level
Other Major Playback Functions:
Grid View, Enlarged Display (maximum 16×), Resize, Level Compensation, White Balance Compensation, Trim, Flag, Slideshow, DPOF Setting
External Interface:
USB 2.0 (High-speed USB) / Audio-Visual (AV) terminals(Mass storage compatible*8 AV Out 1.0 Vp-p (75)), HDMI Micro Output terminals (Type D)
Video Signal Format:
NTSC, PAL switchable
Power Supply:
Rechargeable Battery (DB-100) 1 Battery Consumption: *9
Based on CIPA Standard: Using the DB-100, Approx. 280 pictures When Sleep is OFF*10) External Dimensions:
101.5 mm (W)  58.6 mm (H)  29.4 mm (D) (24.4 mm at thinnest part)
Weight:
Approx. 197 g (including the supplied battery and SD memory card) Approx. 176 g (Camera body only)
Operating Temperature Range:
0oC–40oC
*1: VGA image size. *2: Shutter speed upper and lower limits vary depending on Shooting Mode and Flash Mode. *3: Values measured under Ricoh measurement conditions using a Panasonic PRO HIGH
SPEED 8-GB SDHC memory card. The continuous shooting speed and number of pictures will vary depending on the shooting conditions, the type of recording media used, the condition of the recording media, etc.
*4: The picture quality modes that can be set vary depending on the image size. *5: This is the estimated number of shots that can be recorded at one time. *6: Up to 4 GB of data can be recorded per shooting for movies. When shooting movies of 1280720 size, up to approx. 12 min. can be shot, for 640480 and 320420, up to approx. 29 min. can be shot.
*7: Compatible with DCF and DPOF. DCF is an abbreviation for the JEITA standard "Design rule for Camera File system." (Full compatibility with other devices is not guaranteed.)
*8: The mass storage driver is compatible with Windows XP, Windows Vista, Windows 7, and Max OSX 10.1.2–10.6.4. *9: Shooting capacity was measured using CIPA-standard parameters. This is only an estimate. Actual performance may vary according to usage conditions.
*10: Approx. 300 pictures when Sleep is set to [10 sec.].
CX5 (Black/Silver/Pink) Windows and Windows Vista are registered trademarks or trademarks of Microsoft Corporation in the United
States and other countries. *Mac OS is a trademark ofApple, Inc. registered in the United States and other countries. Eye-Fi, Eye-Fi connected, and the Eye-Fi logo are registered trademarks of Eye-Fi Japan, Inc.