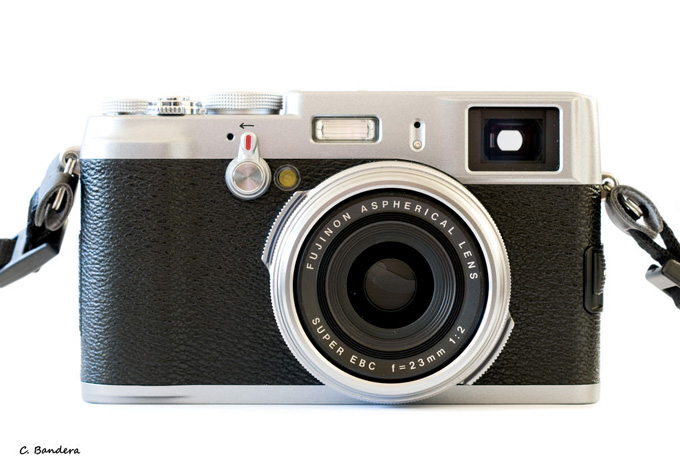 (Steve's full and thorough X100 Review can be seen HERE)
The Fuji X100 – Quirky but fun.
By Chris Bandera – Chris's Flickr
large?
I bought an X100, took it for a test drive, and am now debating on returning it. The camera is beautiful physically, but the interface gets in the way more than anything else. A camera should never get in the way. This camera for some reason already has a huge cult following, so I'll probably get some flack for highlighting the negative points, but…I bought it and thought I should share my experiences thus far.
1.. It freezes, requiring a battery pull (specifically, after previewing images taken through the EVF with the main display turned off and trying to get back via a half-shutter press). A problem when a case is attached, covering the battery compartment. This is a minor point though… I mean, the X100 isn't gonna replace a Nikon D3 in terms of dependability and continuous shooting, but still…for $1199 and in 2011?
2. Oh, speaking of the battery, it can be inserted backward by mistake.
3. Manual focus is useless. Three full rotations from min to infinity. Even though it's electronic, it works and is smooth. But I was really hoping this would be implemented with a shorter throw, like on a Canonet.
4. ISO can only be set in small increments (200, 250, 320, etc., instead of 200, 400, 800)…sorry, I'm used to the full-stops I get from other cameras. Believe it or not, this actually slows things down a tad.
5. TIP: A $50 adapter is needed to screw on a UV filter. BUT, a 49mm filter can be screwed on backward to bypass this. Yay! I quickly discovered that shooting macro extends the lens from the body though, hitting the UV filter. Aha! That's why the adapter is needed. Anyway, a 49mm can be stacked atop another with glass removed to fix this.
All of these are minor points, and the camera has more pros than cons. Honestly. For one, the image and lens quality is superb, which is why it's so hard to return the camera. It's also dead-quiet, and most importantly extremely light (the reason I bought it in the first place!). But I guess it's just easier to nitpick and complain when you're used to the slick, perfect interface offered by Nikon on everything including their cheapest dSLRs.
–
Here's the showstopper:
6. The optical viewfinder is tiny and 'blurred' depending on viewing angle, regardless of diopter setting. It gives me a headache.
I'm honestly bewildered by almost every review having nothing but positive things to say… But then, maybe that's because I unknowingly ignored any negatives when I placed my preorder months ago! Bottom-line: considering the price, I was honestly at least hoping for an interface on par with my Nikon D40 and an optical viewfinder at least as good as my Canonet QL19 (it's more 'consistent' and not 'blurred', thus not headache-inducing).
Someone, please, just 'digify' an old Canonet or Hexar, and forget all the fluff. This type of camera is being sold to the same niche that uses the old rangefinders, so we don't care for any extras. Get rid of autofocus, even the LCD screen for that matter (I exaggerate)! Just don't sacrifice the viewfinder and focusing mechanisms. In the meantime, this was a hellafun experience, and will only mean a better camera the next go around. Thanks, Fuji. I'm still on the fence, but more than likely I'll be waiting for your X200 while I shoot with my $5 Goodwill Canonet.
update: decided to sell it…the small viewfinder being the deciding factor. Oh well. Waiting on an improved version!
[ad#Adsense Blog Sq Embed Image]