Hey Steve,
I'm a longtime reader of your site and have finally decided to make my first submission.
I chose to send you these three photos principally to show your readers the versatility of the M9. Whether I'm shooting street, fashion, portraiture or even party snaps, the M9 performs flawlessly each and every time. This camera has literally changed my life. I can't emphasize that enough.
All photos were taken with my M9 and (I believe) a Voigtlander 35 f/1.4 (the horse may have been with a 50mm Zeiss but I'm unsure).
Photo 1 – Horse: I found this guy deep in a teak farm while traveling through Costa Rica. I've since made a 40×60 print of it and the quality is incredible.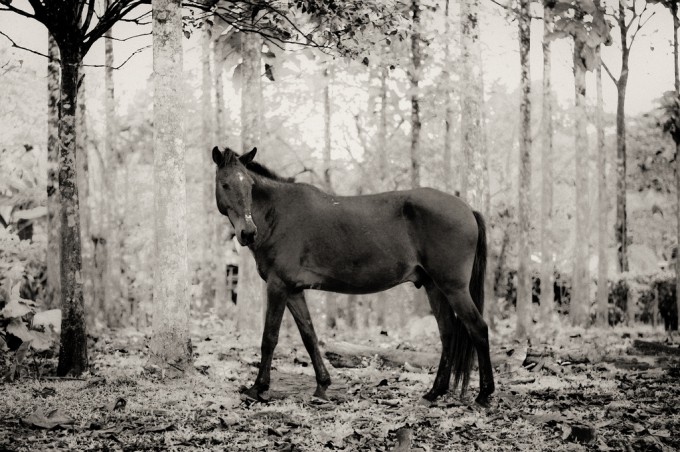 –
Photo 2 – Guitarist: I was doing a behind-the-scenes type shoot of this musician's music video in Central Park when it suddenly started to absolutely piss rain. He had a crowd of people following him as we escaped and I was lucky enough to snap him crossing the street.
I should also mention that at this point in time my camera was entirely soaked. I had the fear Steve. I saw my investment crumble before my eyes and was terrified that my little rangefinder would drown. It didn't. Snap snap snap, wipe wipe, snap snap snap. It never faltered once. I once even dropped mine in the mud around the Omaha Beach landing site in Normandy. I picked it up, gave if wipe, and off I went. Just incredible for a camera with little or no weather sealing.
–
Photo 3 – Zuza: This photo shows what you can do with the loathed SF 24D flash and an off-camera cord. The amount of hatred for this little flash across the various Leica forums is incredible given its real-world results. It's lightweight and it works. Even Seal agrees. I use mine as often as I can.
Thanks for taking the time to review my submissions and please keep up the great work.
-David Reeve