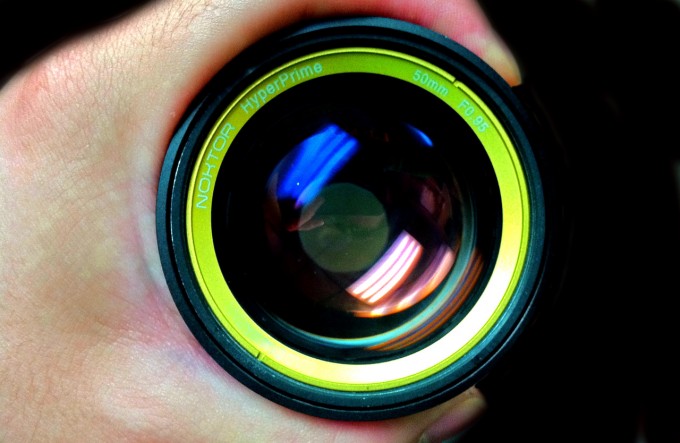 FULL FRAME 50 0.95 from Noktor. Coming soon.
So this new lens is on the way from Noktor…you remember Noktor. They were a new company over a year ago, released a micro 4/3 0.95 25mm and them faded away. Well, Noktor was recently bought by SLR Magic and they are dedicated to creating more new lenses and this one will be a doozy. Now, I do not have confirmation on anything here but I was told that this lens is NOT for Nikon. NOT for Canon. It is an all new lens made by NOKTOR and the image above is their prototype.
AGAIN, it is an ALL NEW LENS and is getting ready to be announced SOON. It is not an E mount, not a micro 4/3 mount as they already sell a lens in that mount. THIS is a different beast altogether. I have spoken with SLR Magic and Noktor, so this I know.
Hmmm. What do I see? After studying the image for a while I think I see a slide out hood much like the Noctilux 0.95. Could this be a Leica M mount 50 f/0.95? If so, this can be very interesting as the price for this lens would probably be way way less although the quality will also be less.
If it is an M mount, I'd drop the green ring and replace it with black AND if you are listening Noktor, give it a scalloped focus ring. If you remember Noktor was toying with the idea of creating a 90 F/2 M MOUNT lens for a few hundred dollars a while back. Key word is M MOUNT…would they make this for Sony full frame DSLRs? Unlikely. They have already confirmed it is not for Canon or Nikon. That leaves Leica. This could get VERY interesting! Also, check out the rounded aperture blades!
If I hear anything with details or confirmation of mount I will post it here 1st! If it is for Sony, well, that could be interesting too but if I were a betting man….
Whatever mount I really hope the quality is there and the price is reasonable. It's always cool to have an 0.95 in the bag without spending $10k to do so. Lol. If and when this thing is released I will be reviewing it no doubt!
[ad#Adsense Blog Sq Embed Image]