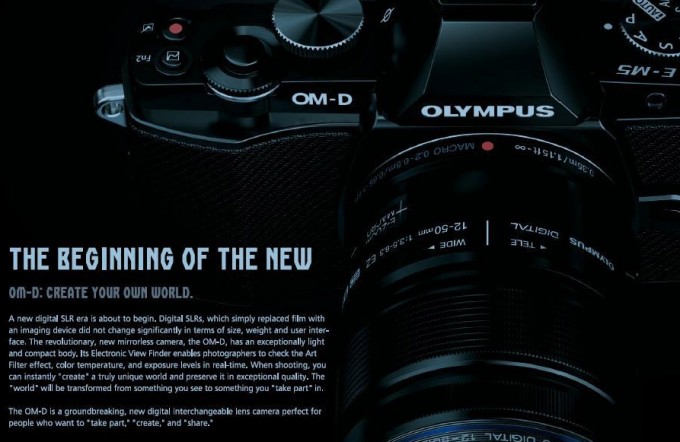 Not sure if the photo above of the new Olympus OM-D is legit or not (I call fake, but maybe not) but I have to say that if the camera looks like the one above I will be in heaven…and I think that the rendering above is pretty damn accurate to what we will be seeing in a few days. This will be the camera to replace my PEN for all of my Micro 4/3 lenses and I have no doubt that this will be the best Olympus to date.
It's no secret that I love the Oly Micro 4/3 cameras, namely the E-P series. The OM-D IS IN FACT that "Pro Pen" many of us have been waiting for. Weather sealed body, 16Mp sensor, built in EVF, classic OM looks with a modern flair, speed, speed and more speed, manual dials and buttons, swivel LCD….this one seems to have it all for $1200. The big "official" announcement is less than a week away and I am sure that pre-ordering will be available that same day.
2012 is already gearing up to be the year of the camera. NEX-7's are starting to ship, the Fuji X-Pro 1 is coming soon, the new Pentax I posted about yesterday is also arriving soon and now the Olympus OM-D. Wow. We haven't even heard from Leica yet but my senses tell me they are planning something soon. I mean, they have to be. If they sit back much longer they will be losing more and more of their X1 customers who will move on and buy one of these bad boys. Time will tell!
Oh and Kenko-Tokina also announced a new 300mm f/6.3 mirror lens for Micro 4/3 and I must say, it is looking mighty fine on the white E-P3…