Hi Steve,
I'm an aspiring social documentary photographer and wanted to share 3 images with you from a personal project that I've been working on for a year and a half now. I met Krystal Whitaker when she was 17-years old and had already been homeless several times in her young life. What drew me to her was the quiet presence and strength that she has, despite having experienced hardships that I never will and would not wish on anyone.
Starting in 2010 I documented her pregnancy, the birth of her daughter, and her eventual departure from Missouri. She's now returned to the town where I live and I've resumed my coverage of her life as a young mother.
Three images can never sum up her life or fully show the strength that she possesses.I have an extended portrayal of my time with her on my website, although it too is inadequate in capturing the complexity of her life. Currently I'm working with audio and video to try and give a better sense of who she is as a person.
I'm only at the beginning of what I hope will be a life-long project. My goal is to photograph her at least once every year no matter where either of us live. I believe every human being has a story worth telling. I'm humbled that Krystal has let me into her life as a photographer and I will continue to make images as long as she allows me to.
The three images I have submitted might also be of interest to you and your readers because they were all taken with the new Fuji X-Pro 1 and 2 of the 3 new lenses (the 18mm and 35mm). I purchased the camera and lenses from Japan in case anyone is wondering how I got ahold of them.
Lastly, I don't want to turn this into a review but I know people are anxious to hear about the gear. I'm not a reviewer, a pixel peeper, or even much of a gear head but I really love this camera in the short time I've had it. Previously I shot with the Leica M9 and M-glass for nearly two years (virtually every photo on my website was taken with the Leica) and I have to say I prefer the file quality of the little Fuji hands down. Yes, the build quality is nowhere near the Leica but what I really care most about is the file that comes out of the camera. Things are outstanding all the way up to ISO 6400 and all three lenses are a joy to use. Things are sharp, sharp, sharp! Autofocus is a mixed bag but I'm learning how it functions and am coping. For the images I make it works. Manual focus isn't useable in my opinion and I don't plan on messing with it (yes, I'm sad about that having come from the joy of using M lenses). I'm sure Leica will answer with something amazing but for now my Fuji set-up fits my budget and allows me to make the images that I want with my 3 favorite focal lengths (28, 50, and 90). Is it perfect? Nope. But unless I win the lottery I doubt I'm going to be tempted by another set of gear anytime soon.
Image #1: Krystal Whitaker smoking a Newport cigarette outside of a friends apartment.
Settings: Fuji X-Pro 1. 35mm lens, f/5.6, 1/500th, ISO 800.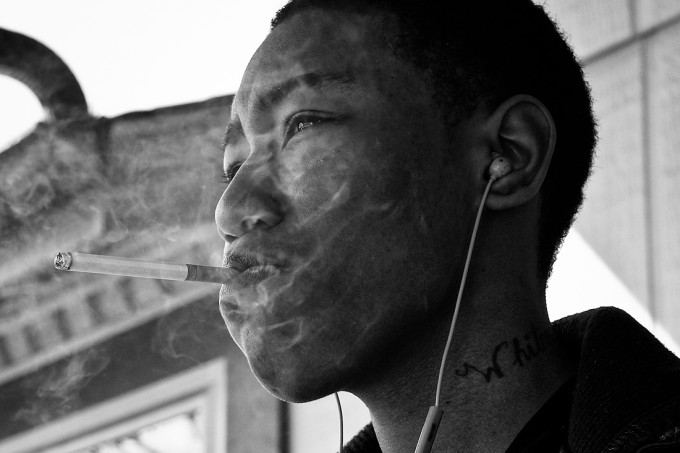 Image #2: Nearly 1-year old, Kyah Whitaker looks for her mother.
Settings: Fuji X-Pro 1. 18mm lens, f/2.0, 1/60th, ISO 200.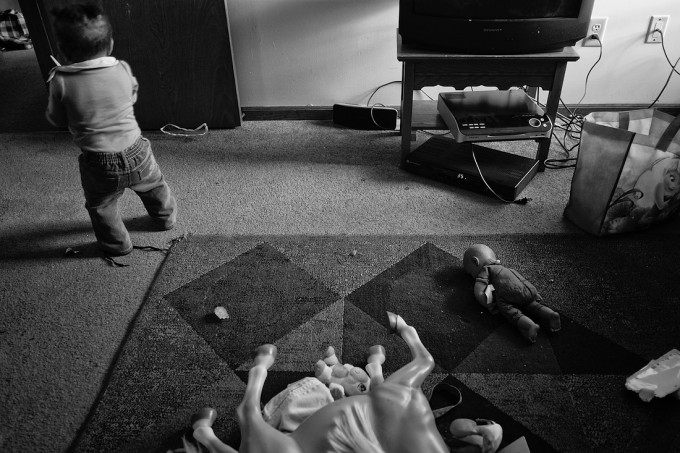 Image #3: Krystal and Kyah leaving to eat dinner with friends.
Settings: Fuji X-Pro 1. 18mm lens, f/2.0, 1/60th, ISO 400.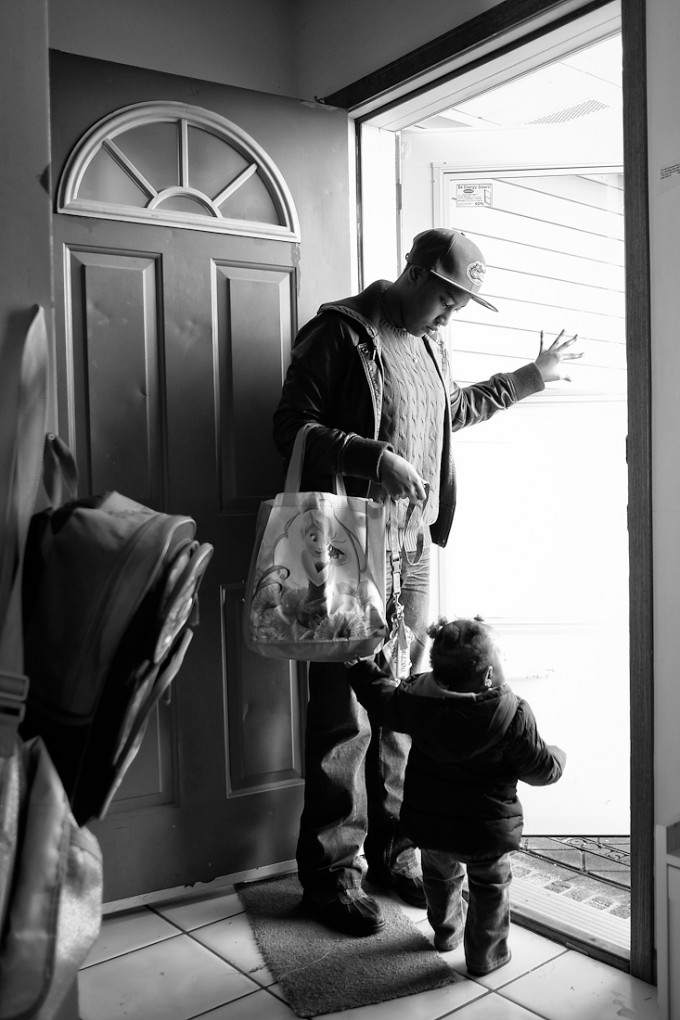 Thanks for taking a look!
Jon Cook