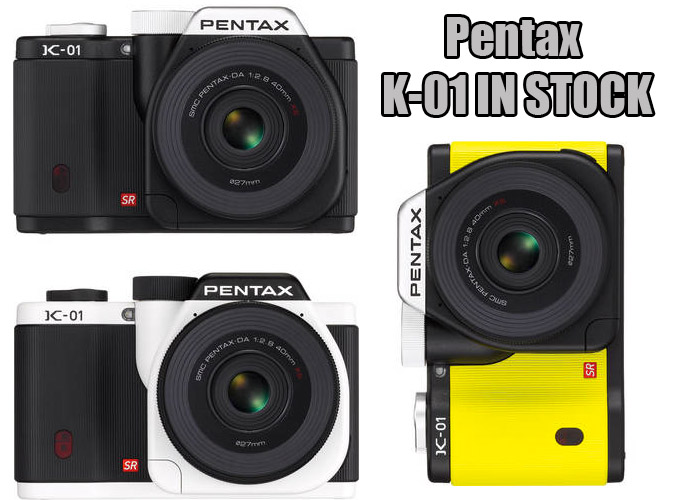 Pentax K-01 in stock now, review in about a week
You know, I was not going to really review this one..this little funky looking Marc Newson designed Pentax …and why? Well, I wanted to concentrate on the new Fuji, the new Olympus and other things that I thought would be more relevant to the readers here. Then I remembered my Nikon V1 experience, where I was not going to even touch the V1 or J1, then ended up reviewing it and buying one for myself. Then I realized…THIS IS WHAT I DO! So yes, I will be reviewing the K-01.
This Pentax may look funky, but maybe in use it is a great, fun, sweet little camera? I was not expecting to be blown away but you never know right? In any case, my review of the Pentax K-01 will be up after the weekend. I guessing about one week from today. The review will be with the camera and the new super slim 40mm 2.8, the new tiny pancake that is shipping with the K-01 body.
Oh, and also, check this out. Pentax is re-releasing the limited edition Silver K-5. How do you re-release a "limited edition"? Easy! By simply changing the lens that ships with it! Seriously though, The K-5 is awesome and I missed out on the silver edition last time around but maybe I will grab one this time if I can.
But for now it is all about the new mirrrorless from those crazy people over at Pentax…yea, the same ones that brought us the lovely little Q.  The new K-01 doesn't seem to be everyone's cup of tea but for some it could be! You can visit the Pentax K-01 Website HERE.
You can buy it now in BLACK, YELLOW or WHITE – ALL are IN STOCK now for immediate shipping through B&H Photo.