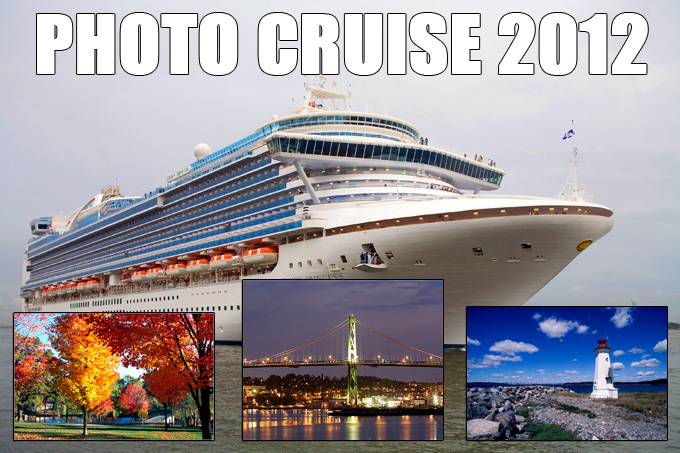 HOw many times have you said to yourself…"Instead of buying new gear, I should take a trip to get some great photos with the gear I have'! Well now is your chance to do just that!
Book your photo cruise with me ASAP if you want to go! Prices are going up!
Just a note to let everyone know that the prices of the Photo Cruise 2012 have just gone up a bit. We have booked a few rooms already and Princess just upped the cost of the rooms and the longer you wait, the more chance they will go up. I will post new prices below but you will save quite a bit if you bring a guest, spouse, family member or whoever you want to bring. You can bring ANYONE along and yes, they can come along on all photo walks, dinners or whatever we do!
Only a deposit is required to set in and lock the prices so if you want to attend this cruise we already have had a few sign up from all over the world! Should be a blast! You can check out the official cruise page HERE but below you can see the new updated prices. Costs for a single person are quite high and the last two I booked I LOST money on due to a misunderstanding of prices on my end, but that is OK. You can save some money by bringing a guest as the total cost is only a little bit more. I am telling you, this will be a GREAT time for an ENTIRE week of fun on the seas!
UPDATED PHOTO CRUISE 2012 PRICES – lock in with a deposit!
The room selection and pricing is as follows, make your choice! Prices shown below are the TOTAL cost to me for the entire cruise, food, room, tax and all shooting time! No other costs to you besides tipping on the ship, which is all up to you. Also insurance is optional for you as well.
Basic Interior Room – $1700 TOTAL  for SINGLE, $2250 for TWO so bring a guest and save! – I have 5 of these available.  3 of these are still available! 2 are on hold awaiting payment. $300 deposit required or pay in full. Balance due by June 15th 2012.
Obstructed Ocean View Room (Life raft may be in front of your window) – $2000 TOTAL for SINGLE occupancy or $2600 for TWO! – I have 4 of these available (cost for spouse would be $600 extra so $2600 for TWO) – 3 still available! – $340 Deposit required or pay in full. Balance due by June 15th 2012.
Ocean View Room  – $2400 TOTAL for SINGLE or $3200 for TWO – Only have 2 of these available in this group!  – Both of these are sold out, awaiting payment but can get more if you really want this room! $460 deposit minimum, or pay in full. Balance due by June 15th 2012. 
Balcony Room, the creme of the crop!– $2700 TOTAL for SINGLE and $3500 for TWO! and I have 5 available! – Still have 4 of these left, one is on hold awaiting payment! $500 Deposit or pay in full! Balance due by June 15th 2012.
Deposits are NON refundable! This is the cruise policy, not mine.
Also, if you want to purchase insurance in the case of a cancelation where you would get a partial refund, that is an option as well. Without it there are no refunds. Only a deposit is due now with balance du by June 15th, or you can pay in full.