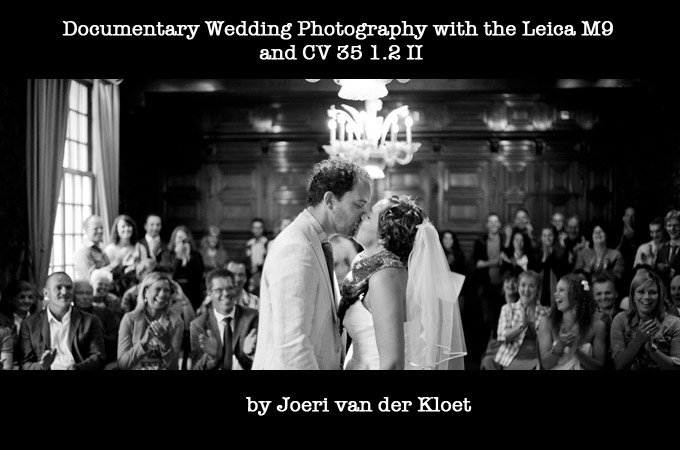 Documentary wedding photography with the CV 35/1.2 II by Joeri van der Kloet
Hi Steve,
Thanks for giving me the opportunity to contribute something to your site! Many of the things I use every day were bought after reading reviews on your site. (from Steve: Thank YOU for reading and stopping by here)!
I'm a wedding and documentary photographer from the Netherlands and I shoot as much as I can in a documentary style. That means I won't give any directions to the wedding couples I work for. I'm just there to capture whatever happens. The funny thing is that couples will hug, smile and kiss on a wedding, so there is no need to give directions how and when they should do this. The trick is to be there and be ready. As far as I'm concerned, this approach delivers true images and couples always say to me they really relive the day as they're watching the pictures. For me, it makes my work one of the most rewarding disciplines of photography. I can really do what I like the most: observe and capture. I always say: the best training for documentary wedding photography is street photography. If you can do streets, you can do weddings.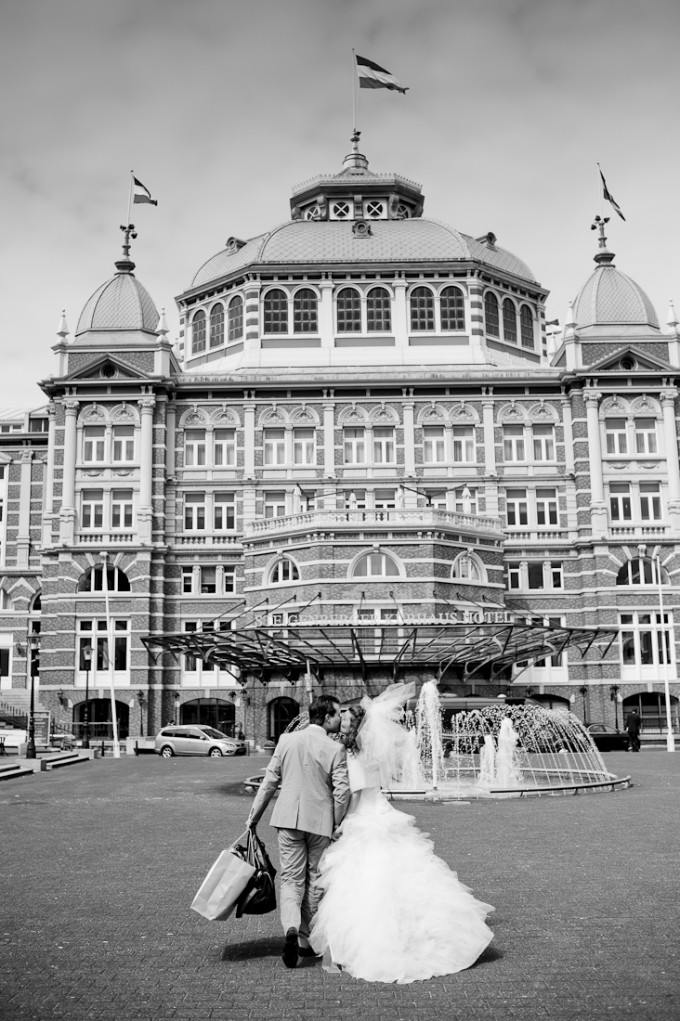 [ad#EMBED]
I always liked to keep my equipment as basic as possible for documentary work: no zoom lenses, no flash, just fast primes and a couple of 5D2's. One and a half year ago I switched to the Leica M9, after having played with a secondhand M6 for just a week. I totally fell in love with the simplicity of the camera and I figured it would be a great tool for my documentary wedding style. I practised for a number of weeks before I took it to my first wedding. The focusing was of course the hardest part. On the 5D2 I always worked in manual mode, so that did not change with the M9. For my first wedding I was pretty nervous, but the result was good. I didn't miss a single shot and I loved the images.
I started with a simple kit: a 35 and 50 summicron and – an old, but very sharp – 90 tele-elmarit. I loved the simplicity of working with this kit and the look those summicrons gave me, in combination with the sensor, was a lot more pleasing than what I was used to. With the 5D2's I mostly worked with two bodies and had a wide-angle attached to the first and a 50 to the second. Working with just one camera gave me some peace of mind and I liked that.
After a while I decided to buy the Voigtländer Nokton 35/1.2 II. At first, I bought this lens as some kind of 'in case of emergency lens'. The M9 can be used up to 1600 ISO, only with very proper exposure, so that is about three stops slower than the 5D2 I used to work with – I'm counting 12800 in for the 5D2, though it gives much less detail than the M9 does at 1600 –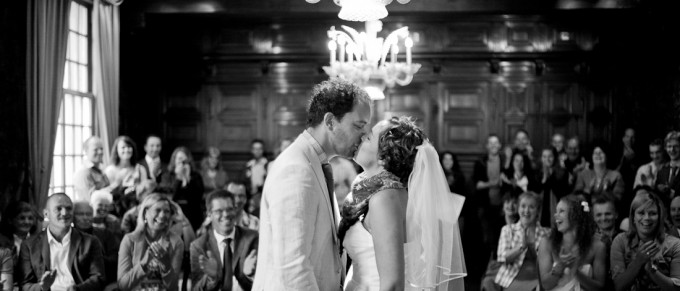 Buying a Noctilux was out of the question, so I turned to the new Voigtländer Nokton 35/1.2. It had good reviews and I was lucky enough to find one that focused perfectly on my M9. More importantly, low-light situations on weddings are generally also situations where you need a lens that is not too tight. For example, most brides get into their dresses in a slightly dim room. They don't want their neighbours to spot them in their underwear of course. The first meeting between bride and groom is also quite often in a rather dark place: on the stairs, or in a hallway: both situations where a 50 would be too tight.
A fast 35 also makes a very versatile lens. You can use it for portraits, because the subject can easily be isolated. You can stop it down and get everything from the foreground to the background perfectly sharp. Moreover: it gives a very natural and 'honest' perspective. I can see why the Canon 35/1.4 is so popular. It is a very usable and interesting focal length and the 1.4 aperture only adds to this.
I have to say: the Nokton is quite heavy, but feels very good. Even better, it doesn't block too much of the viewfinder, even with the hood on. The focus ring is smooth, but stiff enough. The aperture ring feels more solid than my summicrons and the sound of the clicks is lovely. I know, this doesn't have any effect on the photo's, but I think a lens should give you the idea you can rely on it. And this one does.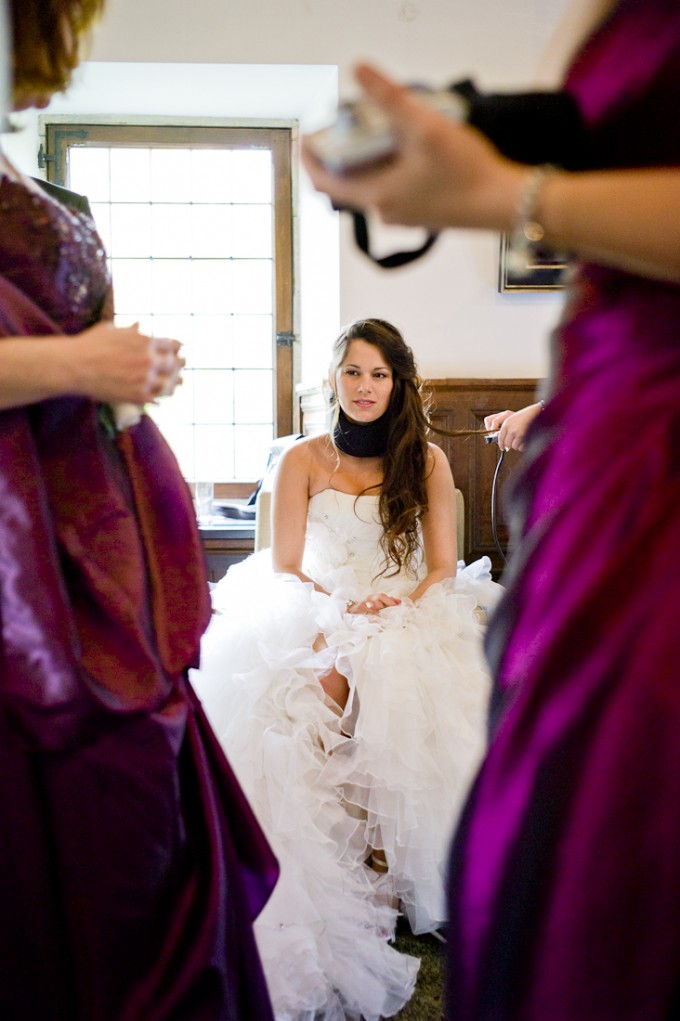 On the M9 and M8 it is a little heavy, but the balance is still good. If I use it a lot during the day, I really feel the difference with the 35 cron, but you could solve that with the grip that can be fitted on the M9. When used on the M8, a UV/IR filter should be fitted to prevent black colours turning into purple.
The Nokton 35/1.2 is quite sharp, even wide open. Sure, it isn't summilux sharpness, nor summicron sharpness, but when used properly, sharpness is pretty good. Using it wide open requires precise focusing and makes it hard to recompose afterwards when the subject is rather close. Portraits taken on 1.2 should therefore have the eyes somewhere in the middle of the frame, or you should take into account that recomposing alters the focus a little. For me, it works perfectly. Sharpness is good in the center, but in the corners, it is a lot softer. Stopped down, center sharpness and corner sharpness improve.
For me, sharpness is good enough and I almost never stop it down further than 1.4, because I love the way the lens renders wide open. Also, I bought it to use it on 1.2, so why stopping down? Whereas in portraits sharpness is critical, in my documentary work, sharpness is less important than being able to get the shot and create a mood, look and style that suits me and the one that pays me.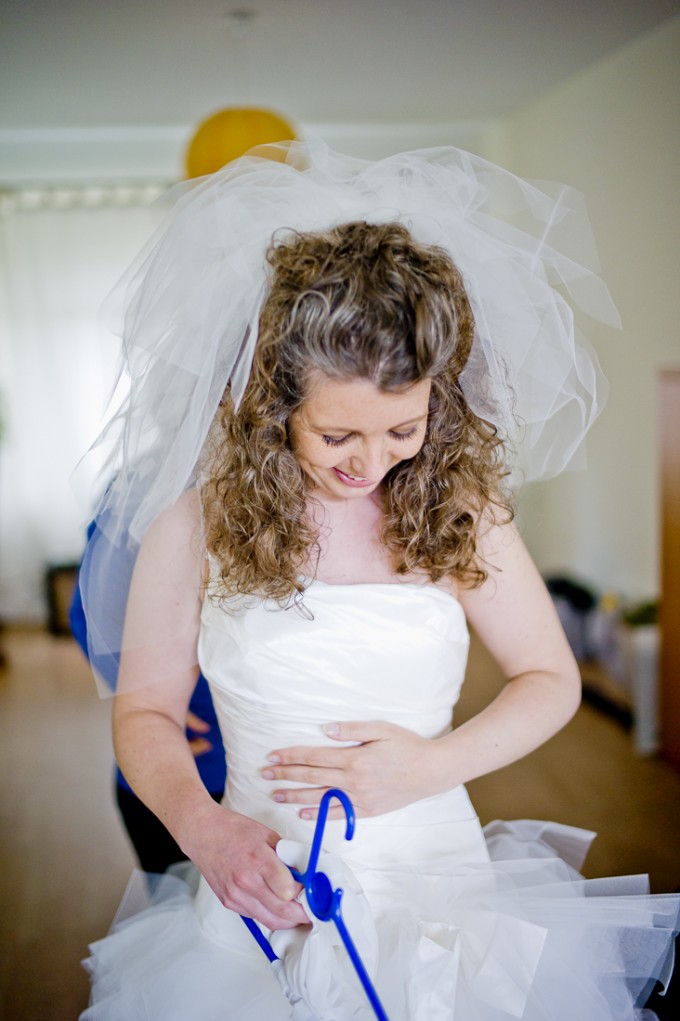 Talking about its look, I just love it. The Nokton images show a dreamy, romantic rendering, with a beautiful soft background and plenty of sharpness in the center. The mild vignetting only adds to the mood: it makes the subject shine even more. Great for wedding work!
I bought the Nokton for situations where light would be so dim, my summicrons couldn't do the job. After a few months of use I can say that the Nokton does its job very well and it has become more than a emergency lens. If you want razor thin depth of field- although you can't compare to the 50/1.1 as far as DOF goes – creamy bokeh, dreamy moods and little vignetting, the Nokton is your lens. As a bonus it does not focus shift, is built very well, is cheap – Leica cheap, not really cheap – and has good sharpness.
However, for walking on the streets an entire day, I would prefer the 35 summicron, because of its weight, dimensions, better corner to corner sharpness, better hood, higher micro-contrast and the fact that it can be used in combination with my 50 cron and be processed similarly with the 35 cron files.
I haven't stopped using the Nokton for weddings only. I have been using it for other documentary work where I wanted that specific look, but I also used it for portraits and street photography. The picture of the bike for example, was shot in the middle of the night, with just a bit of weak light coming from street lightning. It was shot on 1/15th at 640 iso, wide open at 1.2. Good sharpness and lots of mood and nice bokeh. Whereas the M9 is not regarded as the number one nightphotography camera, the Nokton might change things a bit. Heck, it even makes my M8 suitable for night photography!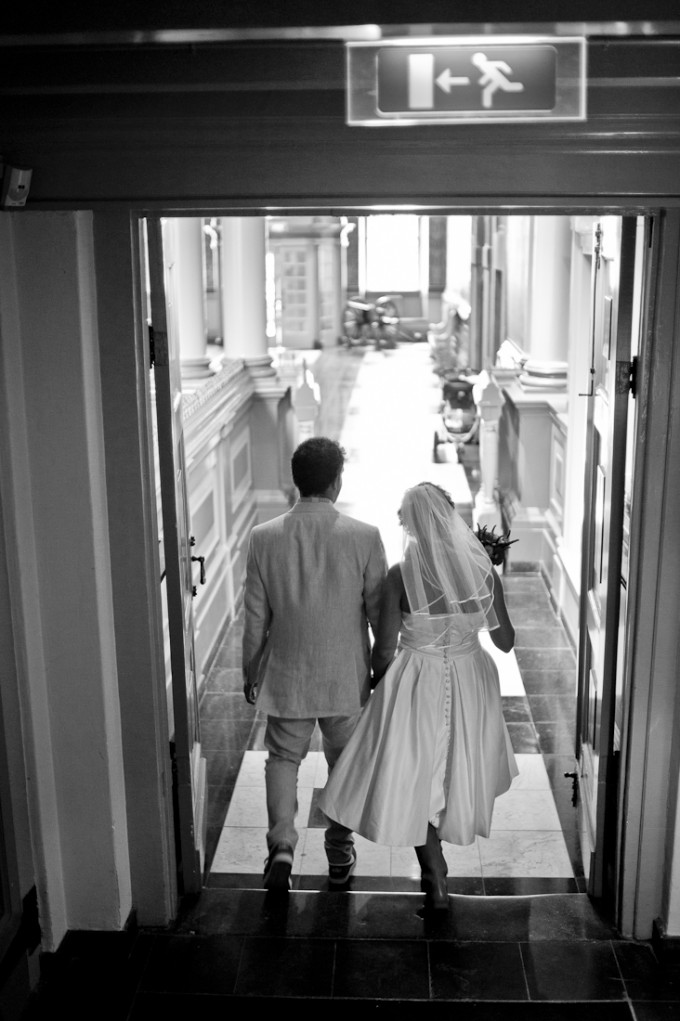 Using a rangefinder for wedding photography is not a very common thing I have noticed. Sometimes people ask me whether I'm going to use that 'point and shoot' all day… Some older people know Leica from the old days and they all know how expensive it used to be. If I tell them what a M9 costs these days, they usually don't believe me. The good thing however is that I get a lot less attention than when I was walking around with two big camera's. I can get closer to people without being noticed and during ceremonies I appreciate the silence of the camera. For me, a rangefinder makes my work a bit more fun and that, I think, is very important.
You can see more of my work on my dutch website www.luta.nl