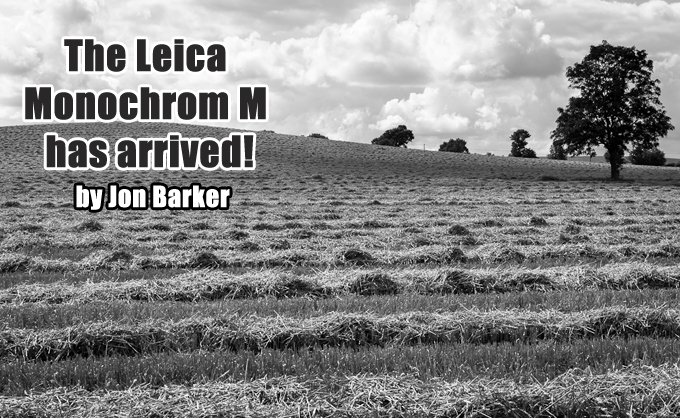 The Leica Monochrom M has arrived!
By Jon Barker
Hi Steve,
The MM arrived a bit less than a couple of weeks ago. I had been going to order an M9 until I saw the sample monochrom files on the web. I've spent 3 months wondering if I had made a huge mistake, but the quality of the monochrom has not disappointed. (The quality of the photographer is another matter of course). There are birds in some shots I hadn't realised were there when I pressed the button. I can zoom in to 1:1 in lightroom and identify them as pigeons. It has really quite astonishing resolution.
I've attached some pictures for you to look at. All taken in the wilds of Leicestershire, UK. All shot with an MM plus Zeiss Biogon 35mm f2 and B&W 22 Yellow filter. (The split toning is, hopefully obviously, not that serious an attempt…) The light today was not hugely inspiring, but it hasn't been for weeks to be honest and I had to get out today when I had the chance.
The two big realisations for me today were that I have a lot to learn, but also that this camera will allow me to learn. It's so very easy to use. Now that I have genuinely direct access to aperture and speed adjustments and can see the results of changes I make in real-time in the meter I have finally twigged how the zone system works. I knew all this technically before, but it didn't make intuitive sense until I was shooting with such a transparent bit of kit. Transparent is definitely the word for it. My OM-D is lovely, but I hadn't understood quite how many decisions it had been making for me (and all the other modern cameras I've owned have done this too). For me, until I have to do it I don't learn it, and now I am doing it. I also finally understand what people mean when they say the camera gets out of the way. This one certainly does. Negatives? Well, yes it is easy to clip highlights irreparably. But it's not hard to check the histogram and take another shot. It's only monochrome, and although I am currently deliberately taking out only this camera until it's become familiar it is likely that I will carry the MM and an OM-D in future, particularly when all the red berries come out in a month or two. Can't think of any other negatives to be honest, and I can't think of many things that an OM-D and an MM wouldn't be able to handle. However, I could see my OM-D being traded in for the next model in a year or two. The MM is looking like a companion for life.
Cheers,
Jon Barker