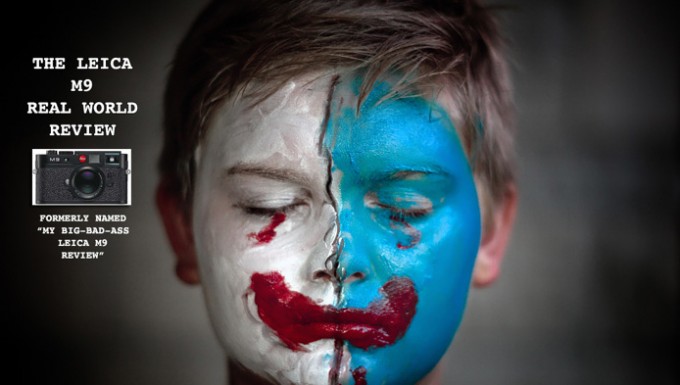 This review will basically be a republished version of my original M9 review from October 09 at my old site. I wanted to move it here to the new site as well as update it with new thoughts, new photos and more info on this wonderful camera that so many of of love and lust after. Hope  you find it enjoyable, and yes, I was VERY excited when I wrote this because, well, it was an M9! Ha ha… Nearly 10,000 words and loads of real world images taken over the last 9 months! Enjoy!
Steve
Leica M9 Review. Just like Uncle Sam in the picture above as soon as I heard about the Leica M9, I said, "I WANT YOU!!" to that Leica M9! Man, I have been shooting the Leica M8 and M8.2 rangefinder cameras for 3 years and EVERYONE thought that a full frame sensor M9 would be a 2012 release. Even Leica themselves said it was nearly IMPOSSIBLE to get a full frame sensor in to the M8 body. BUT, Leica took us all by surprise by not only announcing the M9, but also releasing them for purchase on 09/09/09! While not many were actually released on that day, a lucky few were able to snag one and put this camera through its paces.
UPDATE: You can now read my all new review of the 2013 Leica m 240 HERE!
As you will soon see, the Leica M9 has invigorated me, and I feel this review is my best yet (but not as good as my new 2013 M 240 review, lol). I decided to lay out this review with a clear plan of action and with maximum user friendliness. Yes my friends, the Leica M9 has taken my inspiration to the next level, above and beyond what the M8 did to me three years ago!
So now…ONTO my big, BAD-ASS, real world Leica M9 review! Woo Hoo!
Seventeen months ago, I started this very website due to my love for the Leica M8 camera. For three years, I shot the M8 and to me, once I really learned its shortcomings and its quirks, I sort of mastered it. I pushed it to its max with its limited high ISO, but it always delivered for me. With that said, deep down I always dreamt of a FULL FRAME Leica M9. Man, what a beast that would be! Super creamy files, higher resolution, lower noise, and NO MORE IR ISSUES! Pretty much the PERFECT digital M. Well, after I heard about it, I knew I had to have one. So, 2 months before it was announced, I told my favorite Leica dealer, KEN HANSEN to put me on the future Leica M9 list. He did just that and I AM STILL WAITING for one.

BUT!
Leica shot me an e-mail with an offer I could not refuse! It went "something" like this:
Leica: "Hey Huffmeister! Do you want to shoot the M9 with some lenses for a few days?"
ME: HELL YES! Send 'em my way!
Leica: They are on the way!
ME: THANK YOU! THANK YOU! THANK YOU!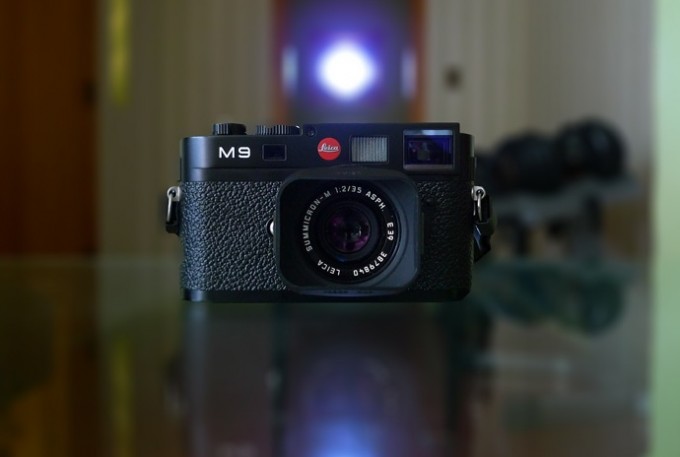 So it arrived and my very first impression was, "HEY! THEY SENT ME AN M8.2!" – But nope, it was a legitimate Red Dot Leica M9 and it was the same size as the M8! Fantastic! EVERYTHING looks the same as the M8.2, besides a few things like the top LCD, the new ISO button, and the small design change on the top plate. Oh yea, and the red dot instead of the black. It's the same weight, the same size, and has the same look and feel. On the outside, it pretty much is an M8.2. What is cool though is that they offer the M9 in Black Paint with the Vulcanite covering, which is one sexy color, as well as the new color STEEL GREY PAINT. I must admit, they sent me a black, but the STEEL GREY is one fine looking camera and would be my choice if both were in front of me. The new GREY is not like the old CHROME M8. It is a GREY PAINT, meaning after years of use, your M9 will look like a well-worn classic. I do wish they kept the black dot on the black paint model like the M8.2. It just looked so sexy and stealthy, but hey, I also love the red dot so I can't complain.
Before I get to shooting this black beauty, let me recap some of the more important specs of the M9. I am sure most of you know them, but some may not, so here we go, direct from the B&H PHOTO M9 description:
• Full-Frame 35mm Sensor
The proprietary CCD sensor in the LEICA M9 boasts 18 megapixel resolution and allows for full utilization of the 35mm format. Utilizing a newly developed cover glass to eliminate infrared light contamination, the sensor provides stellar performance with Leica M lenses. The use of external UV/IR filters is not required.
• Bright and Clear Viewfinder
Unlike SLR cameras, where light transmission to the eye is limited by the lens, Leica rangefinders provide fast and precise focusing through a constantly bright, oversized viewfinder – regardless of which lens is attached.
• Quiet Shutter
The shutter of the M9 is exceptionally quiet. In Discreet Mode, the shutter is recocked only after the photographer's finger is removed from the shutter release. When longer exposure times are required, Soft Release Mode limits vibration for all-around sharper photos. 2 FPS.
• Intuitive Controls
Concentrate on taking pictures, not the controls. Time exposure is easily selected from an analogue dial atop the body. Aperture is set on the lens. The M9's intuitive four-way controller and dial provide easy navigation of menus and custom functions. ISO, playback, and exposure information are all available at the touch of a button.
• Classic Rangefinder Design
Born from the great lineage of Leica M System cameras, the M9 maintains the classic form, control placement, and durability of its predecessors. Crafted from a high-strength magnesium alloy, with a brass top deck and bottom plate, the body provides excellent protection for its internal components.
• Advanced Software
The Leica M9 ships with a download license for Adobe Photoshop Lightroom. This professional digital workflow solution is available for both Mac and Windows based systems.
My crazy son with his hair all up being goofy – Leica M9 and 50 Summilux ASPH at 1.4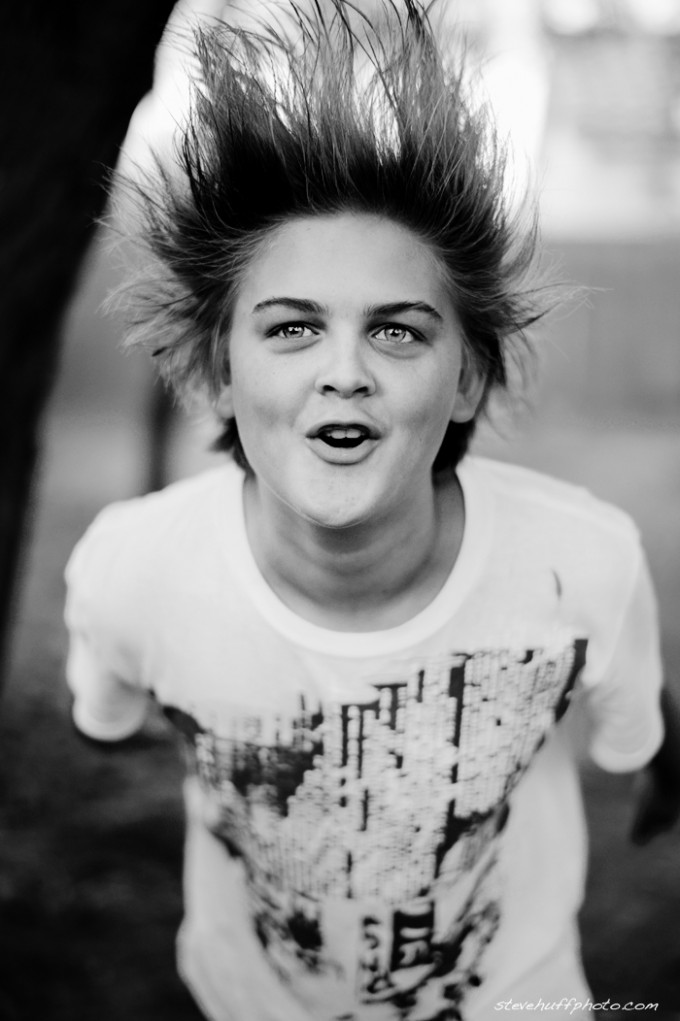 So as we know, the big deal here is the full frame 18 MP sensor as well as the improved high ISO performance, which oddly is not mentioned in the feature list at B&H. Well, it should be as it is an improvement over the M8, and I will PROVE that later on in this review. Oh yes, trust me… I now have no fears of using ISO 2000 or 2500, EVEN IN DARK situations! Also not mentioned in that list is the new EV compensation menu selections. This is a very cool new feature that I will get into later on.
Also, as many of you may know, I am a HUGE, HUGE fan of the Leica M8, so the M9 will have to be damn good for me to claim the M9 as vastly superior. With the M8, I enjoyed robust RAW files, great dynamic range (others may differ on that but I thought it was fantastic), and a very, very good sensor with amazing detail retrieval from those beautiful M lenses. Many of you know how I gush over the M8 so I was happy to hear the sensor is basically the same, just a full frame version! Yea!
I must admit though, that was a big worry of mine…the new sensor. I am talking file quality here. Will the M9 files be as robust? Meaning, will they handle my abuse in processing? Will the color be as good as the M8? How about the detail of that M8 sensor? Will the Leica 35 Summilux lens still show a focus shift on the full frame camera (UPDATE: the new 35 Lux II does NOT!) This is what I wanted to know and you are about to find out all of those answers and more, so keep reading!  This review took me a total of 58 hours to create, so I hope it is helpful to all who read it. It may not be the most in depth review around, but you can get more technical reviews at a number of other sites.
(UPDATE: Many of the images in this review are newer and have been taken over the past 9 months)
So what about the new features and what do they mean? Basically, what do you get for the extra $1000 over an M8.2?
FULL FRAME SENSOR – What this boils down to is now you will get to use all of those beautiful Leica M lenses to their full potential. Instead of the cropped sensor of the M8/M8.2, which ended up only using a part of the lens, with the M9 you now will be seeing your images in the way they were designed to be used. Your images will be using the ENTIRE lens. This is important because, well, because it is! Your images will have an even more unique look. If you like shooting fast glass, like a 35 Summilux ASPH at 1.4 wide open, then you are in for a treat. You can now achieve an even creamier look with your images. Yes, full frame is a blessing to shallow depth of field shooters. I shoot ALL of my lenses wide open 98.6% of the time, so I am loving the idea of a full frame 35mm sensor.
Imagine…your 35 Summilux will act like a 35 Summilux! It will not be a crippled lens appearing to be a 50mm. The results can be magical, but simple. Pure, real, and almost spookily tangible.
Here is one of my fave M9 images, shot at a SEAL concert in Europe. Shot with the 50 Noctilux ASPH f/0.95, this camera/lens combo captures EMOTION!
You can click on the image for a larger version.
IMPROVED LOW & HIGH ISO SHOOTING – With the Full Frame Sensor in the M9, you also get better high ISO performance over the M8/M8.2. What you will not get is the high ISO of a Nikon D700 or Canon 5D. While it has improved greatly over the M8.2 (from my experience), it is not up there with the better DSLR's. For me and many others, the ISO 2500 of the M9 will be all we ever need. I went out AT NIGHT and shot some images with some street lamps and even without. All at ISO 2500, which is the MAX ISO of the M9. The results were great and I was a happy man. I will NEVER shoot in complete blackness, nor will anyone else for that matter! If you think you need to then you need a flashlight, not a camera. When you see my ISO test page, you will see that the M9 is much improved over the M8.2 and that is due to this Full Frame Sensor and some software tweaks by Leica. We also get a "pulled" ISO 80 now, meaning it will be easier to shoot your fast glass in the daylight.
NEW SHUTTER MODE "SOFT" – The M9 continues with the M8.2 shutter upgrades and adds a new feature called "SOFT". When I saw this, I was like, "COOL!!! A new shutter mode!" – BUT, after shooting with it for 2 days, I still prefer the STANDARD mode. With SOFT release, the shutter is ultra-sensitive and the slightest touch fires off the image. You also lose the exposure lock with the half press. I can see using this when speed is an issue. If you want to get the shot off as fast as possible, then use soft. Leica says it helps reduce vibration for slower shutter speeds. If this is true, then I would use it in that situation as well. It is definitely sensitive and I will need more than three days to really know if I prefer it to the Standard mode.
RESOLUTION BABY!! – The M8 and M8.2 were both 10MP cameras. The M9 ups the ante to 18MP and when shooting as uncompressed RAW your file sizes are quite large (18-36MB). My Macbook Pro was not used to these larger files and started to sweat. Honestly, the 10MP of the M8 was really all I ever needed as those were some DAMN good megapixels. The M9 and its 18MP gives you more of that and some cropping freedom. Want to crop out more of the image? Now you can with the M9 and it's increased resolution. But is the 18MP of the M9 = in quality to the M8 10MP?
NO MORE TOP LCD, HELLO "INFO" SCREEN – Many are complaining about this one. Leica took away that nifty little circle display on the top of the M8/M8.2. On the M9, it is GONE. That little display showed us the battery life as well as the number of images left. I am one of the guys who applaud Leica for removing it. Why? Well, the battery indicator on that top LCD was usually not very accurate. The new way is to press "INFO" on the back of the camera and you will get an instant readout on the back LCD with the exact battery life left and EXACT number of shots remaining on your SD card. I find this better, as its so quick and easy to check the stats. The cameras looks are a bit cleaner with the top LCD removed. More in the line of film M cameras.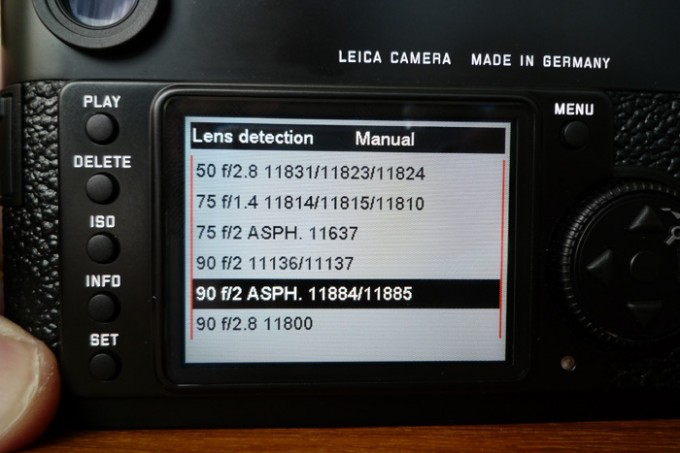 YES!!!! NO MORE UV/IR FILTERS REQUIRED! – THIS IS A BIG ONE! With the M8 and M8.2, you had to buy and use special UV/IR filters as the M8 would shoot blacks as purple without it. The M9 does not require the filters and this is a godsend. It's as it should have been from the beginning. Some say the M9 still has some IR sensitivity, but I say BOOOOOOO to you because it sure as hell does not affect the images in any way that normal people will see. I appreciate those who test these things, but you see what you see, and what I see is that the M9 produces wonderful, VIBRANT color (sometimes too vibrant), without turning blacks to purple like the M8. Bravo Leica.
NEW EV COMPENSATION – With the M8.2, Leica introduced a new way to choose your EV compensation. Lightly pressing the shutter activated the EV comp wheel. Spin the wheel on the back and you could adjust it in the viewfinder. With the M9, they take it to a new level and it works great. You can set the camera to where all you have to do is spin the wheel and you will see the EV compensation change in the viewfinder. You no longer need to do that light press of the shutter and this feature ROCKS.
BRACKETING – Yes, the M9 gets bracketing! Just turn on bracketing in the main menu, set the number of frames (3, 5 or 7) and EV steps and you are set! I never use bracketing, but I know many welcome this new addition.
Some things change, some things stay the same…and some things are downgraded!
So, while $7,000 USD buys you a full frame digital M, you also get a downgrade from the M8.2, and it is one of the things that irritate me a little about the M9.
THE NOT-SO-NEW PLASTIC LCD SCREEN – Yep, we lose the Superman-like, unscratchable, Sapphire glass of the M8.2 for the super-scratchable M8 plastic screen. Now, I thought for sure that the M9 would have the better glass. It would've been a statement like, "Don't mess with me, I am the all-mighty Leica M9! The Ultimate Digital M!" or "Look, it's a bird, it's a plane, no it's SUPER-M9! Able to be dragged across a bed of rocks without a scratch on its LCD!" Instead, it is back to the original M8 plastic and it can scratch… so I suggest one of those handy dandy screen protectors.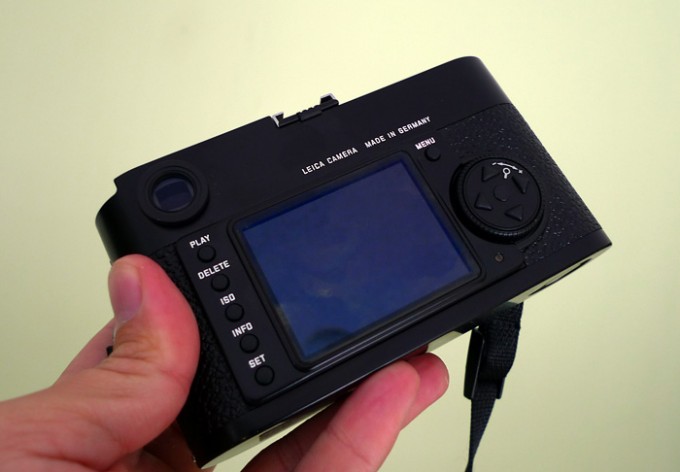 Is Full Frame Really That Much Better?
So with the M9 being priced about $1000 more than the previous M8.2 is it $1000 better? Ummmm, that would be a big fat black painted, red-dotted YES! Will it make you a better photographer? Sadly, the answer to that one is NO, but on paper, it's image quality has the potential to beat the M8.2 and yes, in my opinion it certainly does. When shooting Full Frame you get a certain look in your images, and I loooove that look. Here are some samples that demonstrate the full frame creaminess, and even a sample with MOIRE, which I rarely saw in my M8 files.
TECH-HEAD DISCLAIMER – *Keep in mind, since day one with this website I have shown MY RESULTS with the cameras I have used or tested. When I say MY RESULTS, I am telling and showing you what I was able to accomplish with said camera! I am a photographer, not a gear head reviewer or techno geek. So many of the samples you will see in this review have been processed in Adobe Camera Raw where I adjust exposure, white balance, color, etc. Sometimes I also add some vignetting which seems to bother some people. When I do this I always state what I have done and I also offer full size untouched images for download. This way you can see my final results as well as out of camera results. The best of both worlds.*
In this review I have dedicated PAGE 9 to untouched out of camera samples, so some of you will be happy to see this page and you will see exactly what you can expect out of the M9. It's funny but with this being my biggest review to date, I wanted to name it "MY LEICA M9 BIG BAD ASS REVIEW" but decided against it last minute (WELL, I DID RENAME IT, SO NOW IT IS MY BIG BAD ASS M9 REVIEW) Ha ha. Now on to some images…
On the streets of NYC with my M9 and 50 Noctilux f/0.95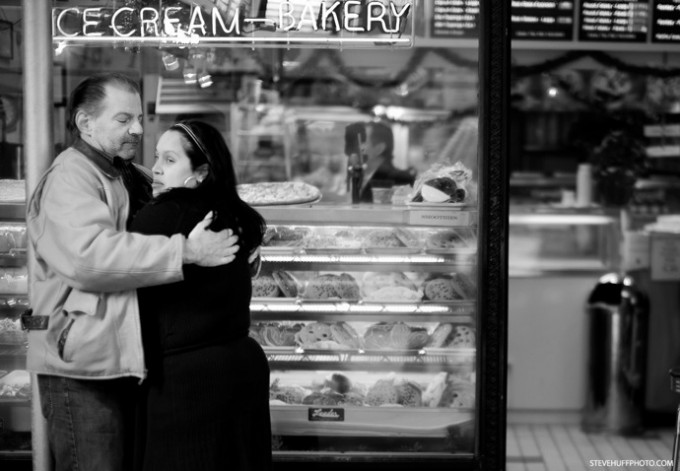 When it comes to camera reviews, I couldn't care less about charts, graphs, or numbers. When I use a camera, all I care about is the USABILITY FACTOR. Also, the quality of the files the camera produces and the quality of the camera and lenses overall. The M8.2 had all of that and more. How about the M9?
"USABILITY FACTOR: A camera that you can not put down. One that you want to take with you wherever you go. A camera that will not weigh you down and break your back. A camera that will sleep next to you on your nightstand. A camera that produces exquisite image quality while making YOU look good as well as it hangs from your neck! A camera that will improve your skills and one that you just love shooting day in and day out!"
Well, since the M9 is basically a Full Frame M8 the usability factor is still there in spades, if not a little better! Why better? Well with its improved high ISO and full frame quality it makes you even more motivated to go out and shoot! As for quality of files, well, I am happy to say that the M9 not only keeps the M8 "look" but it also keeps the sharpness and detail and it may be even a little more detailed than the M8. Let's just say the M9 is an upgrade as the files are so smooth and rich with the full frame sensor. It's pretty amazing really. Check out this old Amoco station I found while driving the hills of Kentucky…
Leica M9 and 35 Summarit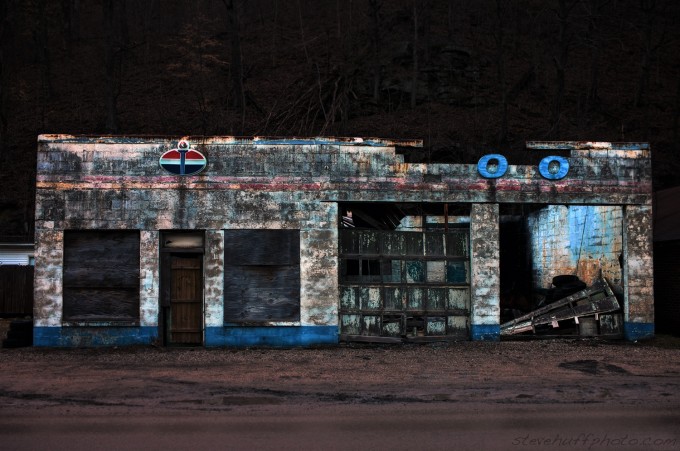 With the M8 and over 50k images taken with it I have seen one example, maybe two of MOIRE in my images. Well, with the M9 I have seen it twice in 200 images! Why this is I am not sure and I will need more time with the camera to see if it was just a fluke or if the camera is more likely to show MOIRE than the M8 was. It is exaggerated here due to web resize but even the original shows it where my M8 very rarely did. The reason there is MOIRE in the M9 is due to Leica omitting the anti-aliasing filter. This leads to much sharper images but I am wondering if the M9 is more prone to this. I will need more time with the camera to find out.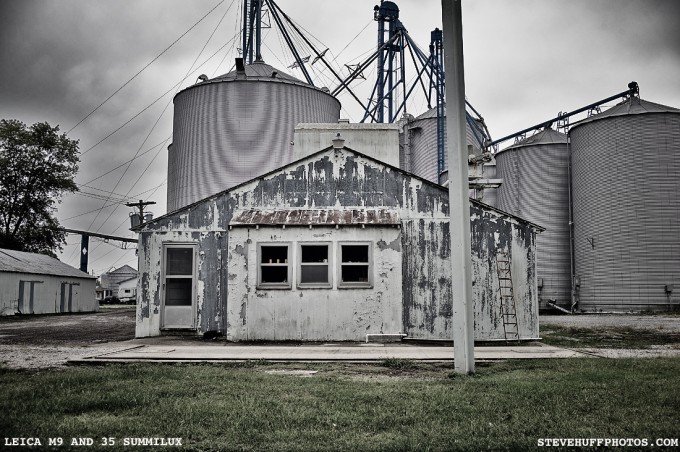 Moire on the Leica M8: Here is a sample taken with an M8 a few months ago that should show the same pattern, but it does not. This leads me to believe the M9 may be more susceptible to it. Again, if I had more time with the camera I could of shot more samples so when I get my own M9 I will test this further and add to this review with my findings.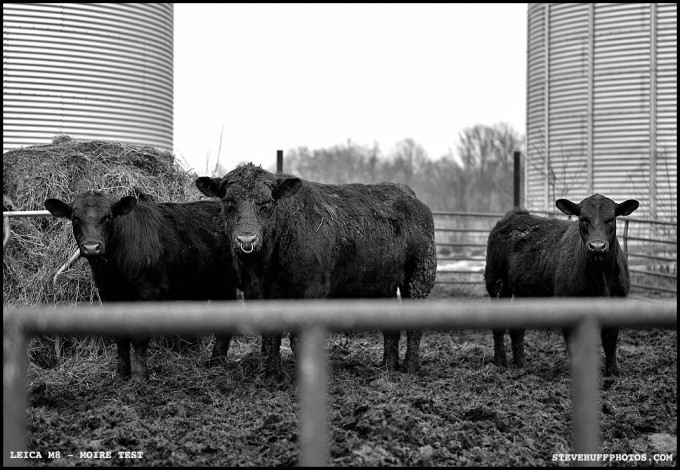 UPDATE: Never had issues after this review with Moire on the M9. Never. So this to me is a non issue after months and months of use.
Since I knew I was  going to be writing this review, I purposely tried to stay away from the early M9 reviews (though I did read one, as well as look at others images) so I would not have any bias for anything going into this. I wanted to write about my REAL experience with the camera and files and tell the truth, the whole truth, and nothing but the truth.
So after my first shots, I was seeing the benefit of Full Frame with the AMAZING quality of the new sensor. The 90 Summicron APO just rocks on the M9 as does the 35 Summilux ASPH II. As a matter of fact, all of the lenses I have tried flat out look SUPERB on this camera!
It is kind of like going from a Canon 20D to a 5D for all of you SLR users. Or a Nikon D90 to a D700 or D3. There is just something about a full frame sensor that gets me. As much as I loved the M8 and M8.2, I have to admit that the M9 does put out a nicer, richer image. It has the same qualities of the 8 ,but even more, hence the "9"! ha ha…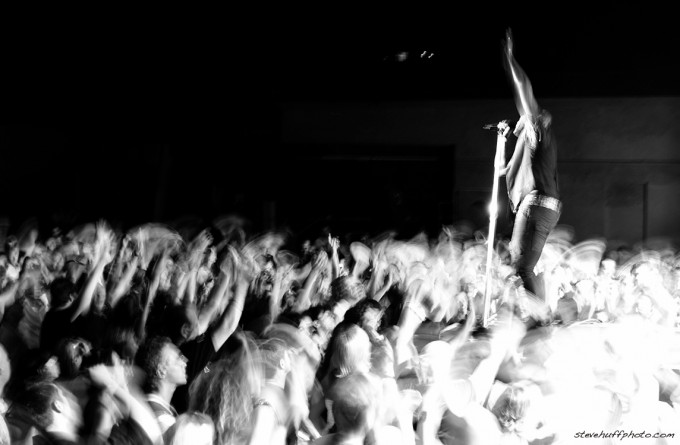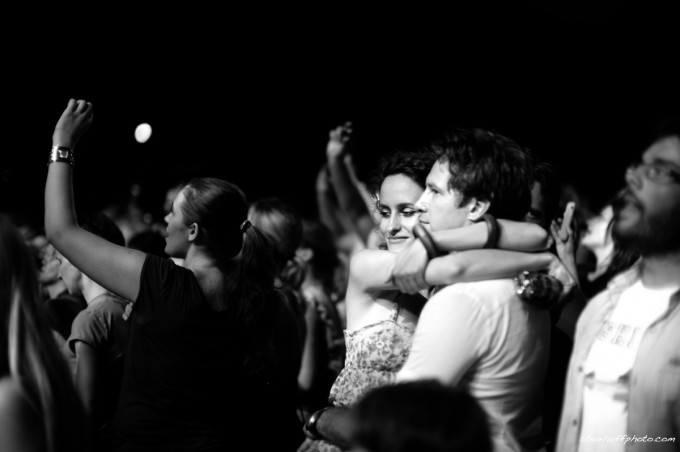 The above images were shot with one of the most amazing lenses EVER created for ANY camera system. EVER!. The Leica 50 Noctilux ASPH f/0.95. This lens is insanely expensiev at nearly $11,000 but this is the one lens that can make your images stand out from the crowd. I am telling you…if I had a spare $20k, I would buy an M9 and 50 Noct along with a 35 Summarit and call it a day. It renders on the M9 in a beautiful way. This lens can render your subject in such a sharp 3D way while making the background seem dreamy and magical This is a KILLER combo but will also kill your wallet!
IS IT SHARP?
How about that detail and sharpness of the M8? Does the M9 continue this tradition? YES IN-FREAKING-DEED! Click the image below for a larger size version. The 100% crop is below the image. As you can see, the detail is AMAZING, and this was shot at F2! Try that with a Canon or Nikon F2 lens.
It is actually very cool to have the 18MP of the M9. I wonder how many Canon 1ds MK whatever or Nikon D3 shooters will trade for a M9? I would in a heartbeat.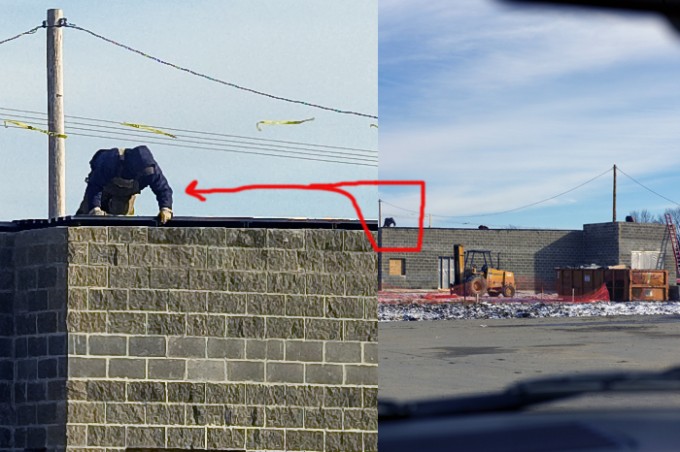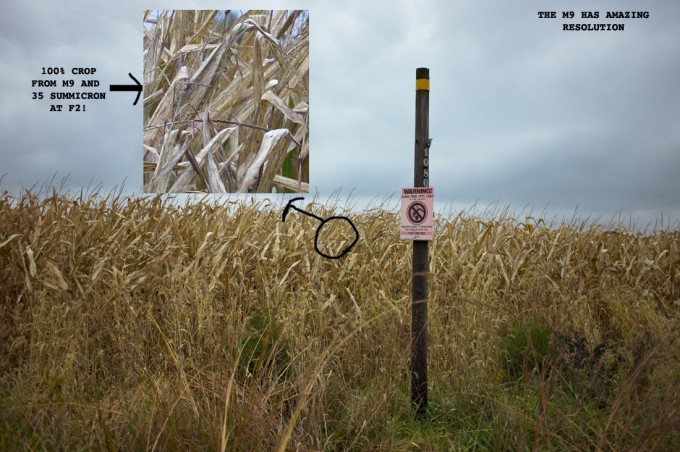 High ISO Photography With The Leica M9
One major complaint with the M8 and M8.2 was the HIGHER ISO performance. Trying to shoot the M8 in low light and high ISO meant trouble in most cases and many shooters would never go any higher than ISO 640. As for me, I shot at ISO 1250 on many occasions and had wonderful results, but I knew some trickery 🙂 I feel if you can nail the exposure of the M8, then you can get acceptable ISO 1250 performance. I have some ISO 1250 images from the M8 and M8.2 that look like ISO 640 shots. Again, it's all in the exposure and learning how to use the center-weighted metering of the M8 and M9. But, it did not ALWAYS work and many times it was frustrating.
Speaking of center-weighted metering, even when I shoot a fancy high tech DSLR full of gizmos and gimmicks, I usually use center-weighted metering as it is just what I am used to. With the M8 and M9, I look around the scene, pick the best spot in that scene to expose for, and then recompose for the shot. I also ALWAYS shoot in RAW mode. This way, if my exposure is a bit off, I can adjust it with the RAW processor.
With the M9, I had HIGH, HIGH hopes. When I first heard of an M9 coming, I thought YES!!! ISO 6400 with an M! I then found out the max ISO was 2500 and was like WTF? THEN, I found out the high ISO of 2500 was actually usable and acceptable. This made me happy and due to the M9 being a rangefinder, and having the ability to use the fastest lenses in the world, all you will ever need is ISO 2500.
Look at film! When shooting an M7, what is the highest speed color film you shoot? 400? 800? How about black and white? 1600? You can shoot the M9 at ISO 1600 or 2000 all day with great results. Even 2500, if you nail the exposure. Want proof?
Here are some high ISO shots. The first image was taken in the old factory I often visit for my photo tests. On this day, it was early evening and it was actually MUCH dimmer in this room than it appears. I jacked the M9 up to ISO 2500 and took this shot. Click on the image for the larger version and look at the 100% crop. It holds the detail, the color, and the noise is not an issue at all! This looks like ISO 640 on the M8 to me.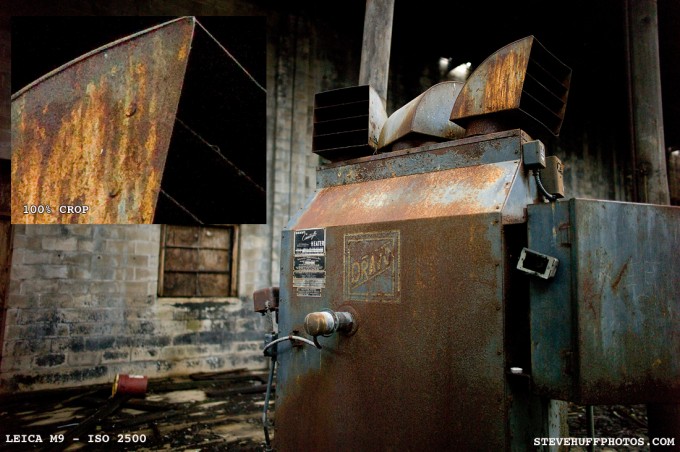 BELOW: Here is an ISO 2000 shot I took when it was getting late and dark outside. Here, you can click on the image to see the FULL SIZE original image so you can see if it is acceptable to you. This is ISO 2000 folks and when you view the original keep in mind it is untouched and has no processing. It is straight from the camera, unlike the one you see on this page. But still, it holds the detail. This is ISO 2000 in evening light.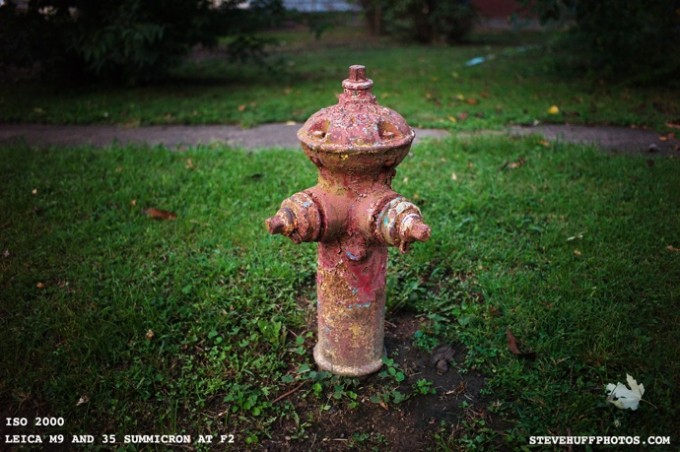 BELOW: How about a near dark, crazy low light wedding? For the image below, I set the M9 to ISO 2500, turned my 35 Summilux aperture dial to 1.4 and set the color to B&W JPEG.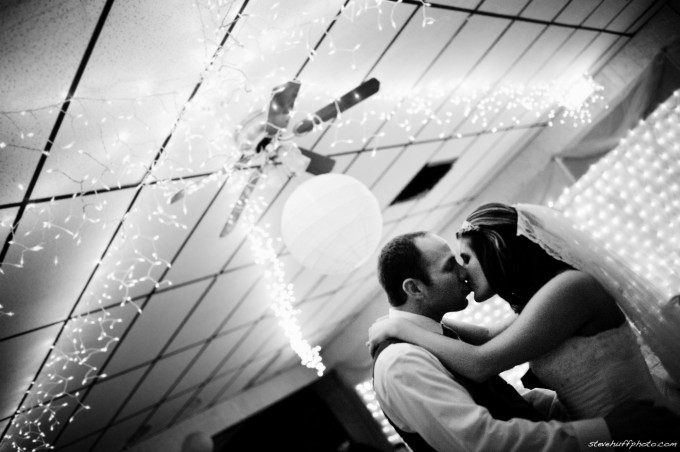 BELOW…and one more at ISO 2500, at night. Click on image to see full size 100% crop.
BELOW: Taken at the same time as the image at the top of this page as I was taking a walk late at night I saw what appeared to be BATS flying out of a chimney. I could barely see them but decided to see if the M9 could capture the bats in flight. I set the camera to ISO 2500 and snapped off a few frames. I converted this to B&W as it made the bats easier to see.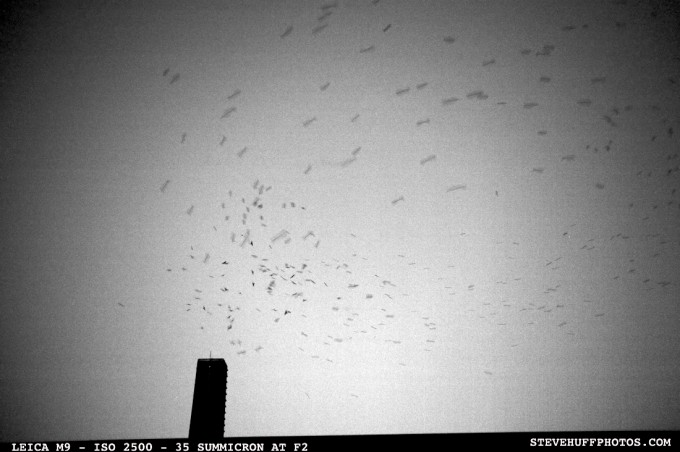 BELOW: Here is one that was taken by accident at ISO 2000 during the day. I had the 24 Summilux set to F8 and the ISO to 2000. As you can see, shooting at any ISO in daylight will give you great results. This is why I also tested it at night, in VERY low light with the samples above. That will be the test of any camera and its high ISO capability. DARKNESS. Daylight and the M9, (or any digital for that matter) at high ISO = no problem.
The 1st image, while not any kind of a great image, can be clicked on to see the full size original ISO 2000 image. What I find interesting is the detail is still pretty amazing for ISO 2000. Also, you can clearly see NO vignetting on the 24 Lux at F8.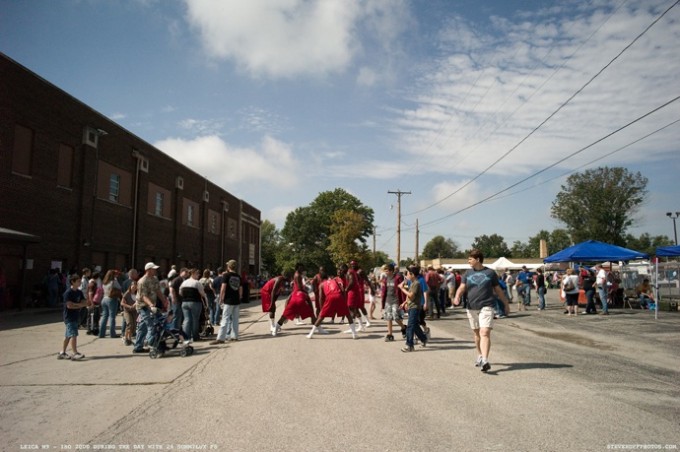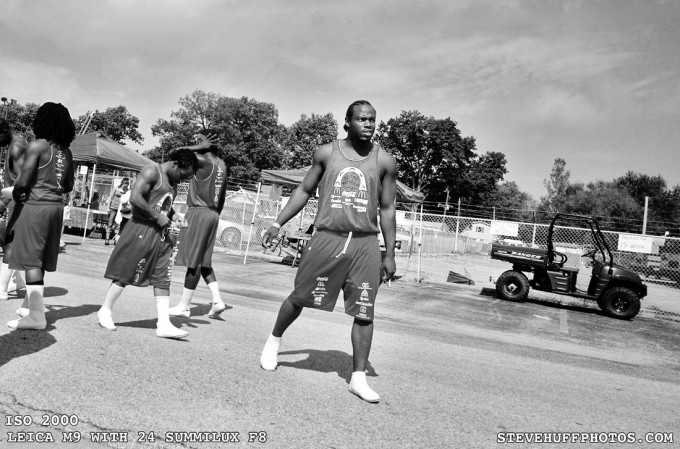 With these tests, I hope to put to rest that the M9 is not improved over the M8 in regards to high ISO shooting. Expose properly at night with high ISO and get some great results, even at ISO 2500. Shooting at 2500 on the M8 led to color loss, dynamic range loss, and extreme noise. With the M9, low light shooting just became much easier for M shooters. To me, this is a worthy upgrade! I also appreciate the extra ISO stops as well as the PULL ISO 80 option. We can now shoot at wider apertures in bright light with that ISO 80 option!
In past reviews, I took shots of a clock to show the ISO range and noise at each ISO. I realized that I needed to shoot more REAL WORLD examples at HIGH ISO. I mean, when will I be shooting a clock at high ISO? NEVER! When shooting in the dark at ISO 2500 and showing great results…that is all the proof I need. Hope you agree.
NOW, DON'T GET ME WRONG! The high ISO performance is not a HUGE improvement, as in ISO 2500 will not be silky smooth or clean. But compared to the M8/M8.2, I find it much much better, and yes, perfectly usable for most situations. In the REAL WORLD at least 🙂
Again, to get the best results with high ISO.
SHOOT RAW and nail the exposure! To minimize the appearance of noise, slide the black level slider up a bit if using Lightroom or ACR. Not so much where you crush ALL blacks, but you will be amazed at what your images can become with this little slider if you use it correctly.
COLOR! The M9 CAN Pack A Punch!
With the M8 and M8.2, I often had drab color right out of the camera. I usually had to have my saturation set up a notch or two when I shot, as I always shot RAW + JPEG. With the jacked up JPEG, I could get some punch in the images. When I started shooting the M9 in some bright outdoor light, I noticed the new JPEGS pack some serious color punch, and if you want the color, it is there in spades. If you want to tone it down, no problem, just take it down a notch in camera if shooting JPEGS.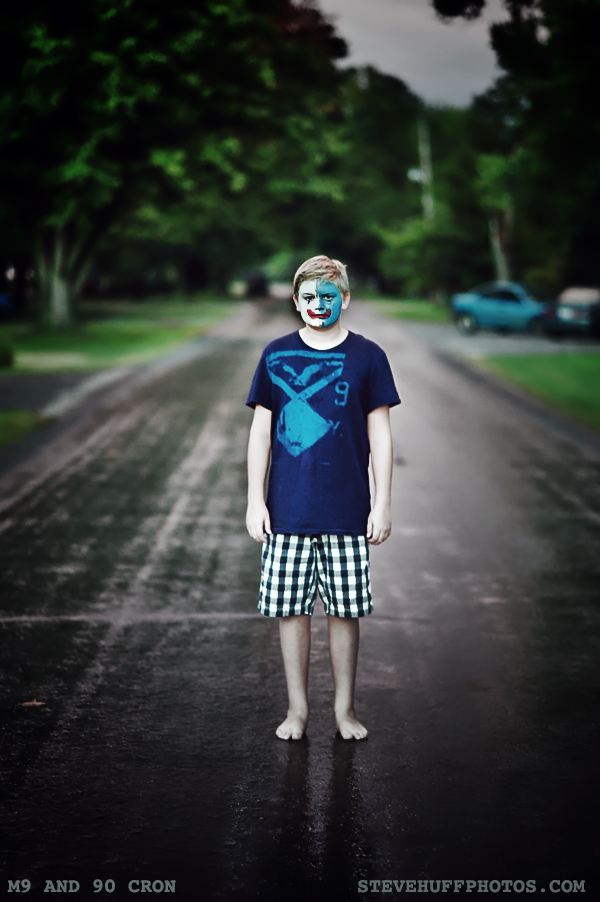 Now, I must confess that the shot above was processed in Camera Raw, but below I have supplied a few images that are STRAIGHT FROM CAMERA UNTOUCHED JPEGS. Click on any of them for a larger view, but keep in mind, these are untouched and unprocessed. What you see below is what you can expect from an out of camera M9 JPEG with all settings on standard. Hopefully these will be helpful and as always, I recommend shooting RAW with the M8 and M9 for best results. With that said, I find the JPEGS of the M9 to be better than the M8 JPEG's. Yes indeed, the JPEGS are not bad at all thanks to the new improved color.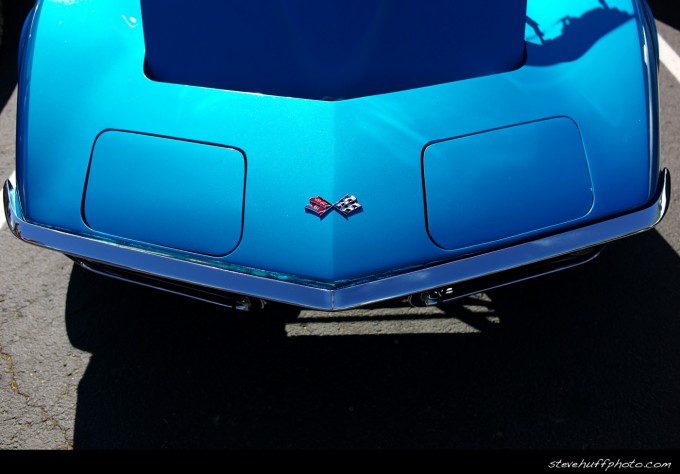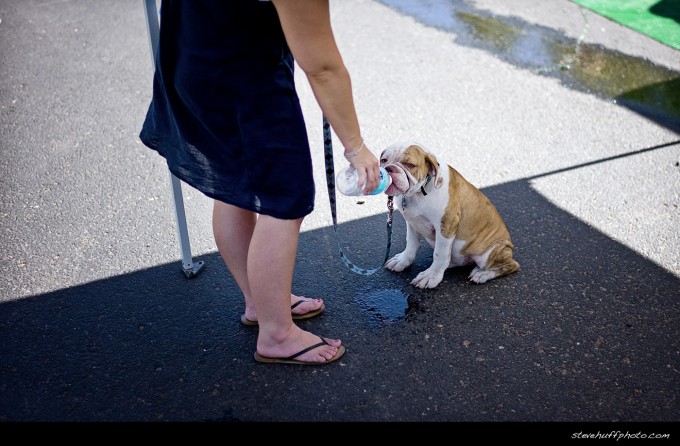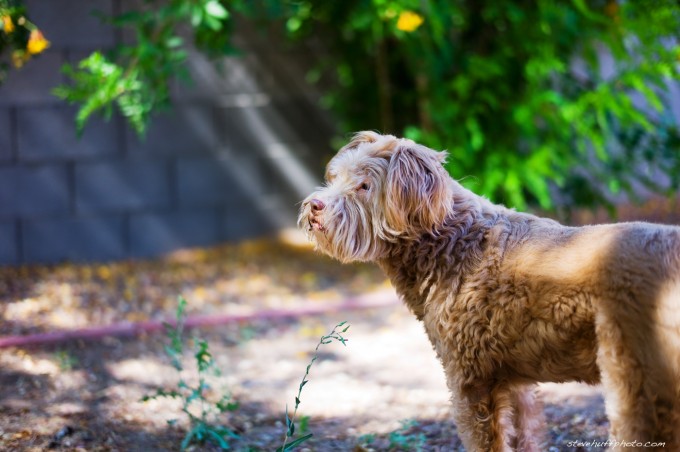 BIG BAD REDS! Here the camera blew the reds. In the processed version, I fixed this when converting the RAW file. In this straight from camera JPEG, the red was blown. Saturation was set at STANDARD in camera. Maybe Leica can turn down the saturation a notch with a firmware update? Until then, if shooting JPEG in bright light, you may want to take it down a notch.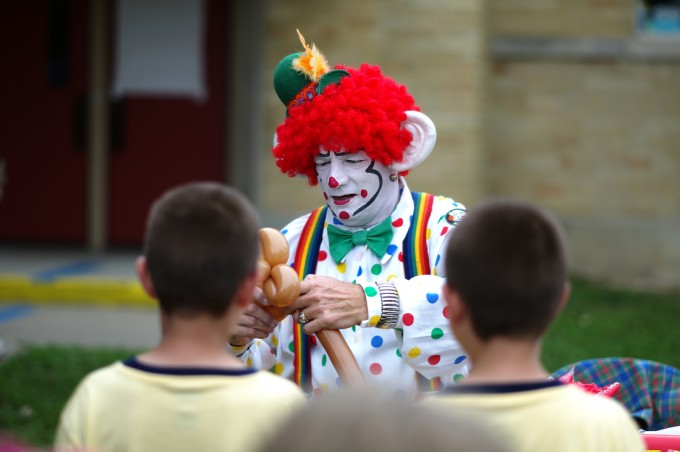 BELOW: Here is a JPEG straight from camera. In bright light, I have been having some issues with the M9 blowing out the color in reds and oranges. Again, the color was set to "Standard" and this is what came out. Even the RAW file cannot be fixed as the flower is so blown out. I guess I should have dialed in some exposure comp for this one. Many other flower shots were blown but it could be user error and once I have more time with the "9" I can experiment further.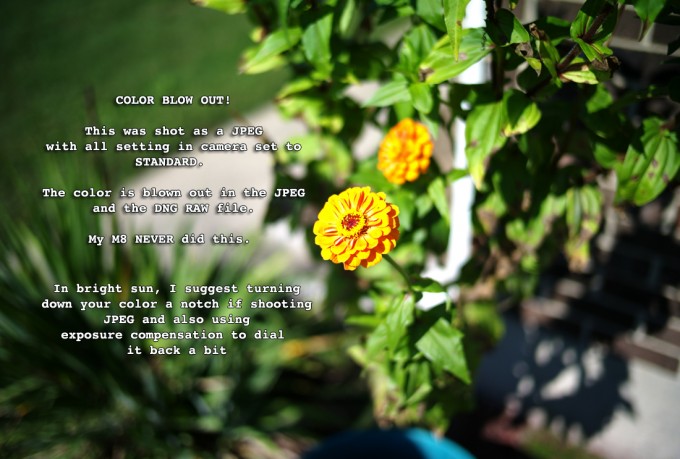 BTW, in regards to the M9's dynamic range, after nearly a year of use I can say that the M9 seems  to have a little but better DR, but I have not done any "scientific" testing so take that with a grain of salt. I used to get more blown highlights with the M8 though, so that tells me something.
What About Shooting The M9 Like and M7? For Classic Black & White?
Leica M cameras have a reputation as "the" reportage camera and those who shoot film M's like the M7 and MP know that throwing in some Tri-X or Neopan will bring you timeless results. So many famous black and white photos have been taken with a Leica M camera so it is only logical to expect great B&W performance from the digital M9.
Some of you have e-mailed me saying that some of the early black and white M9 samples floating around the web have not been as nice as those from the M8 and M8.2. I wanted to see what was up with this, so I set out to shoot some images to convert to B&W. Yes, convert. I sometimes shoot IN CAMERA B&W JPEG which can be fantastic at higher ISO's on the M9 but I feel I get better results shooting color and then converting to B&W using software.
While converting the following images, I did the same exact thing that I would always do to my M8 files. I either used NIK color efex pro. Below are some of the M9 images that I converted to B&W. In my opinion, the M9 can do black and white just as good as the M8 and M8.2, and in some cases even better.
BELOW: This image was converted from color to B&W using Alien Skin Exposure. I used the Delta 100 preset and then lightened up the face using the dodge tool in photoshop. This livened up the image and made the one man band dude stand out. This image has a 3D feel and to me has that rich full frame quality.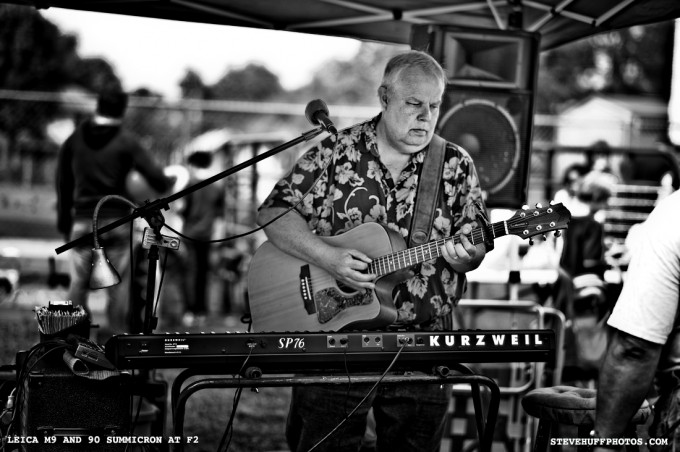 The following images below were all converted to B&W using Nik SIlver Efex Pro. THE BEST B&W conversion software on the planet IMO. B&H Photo sells it here.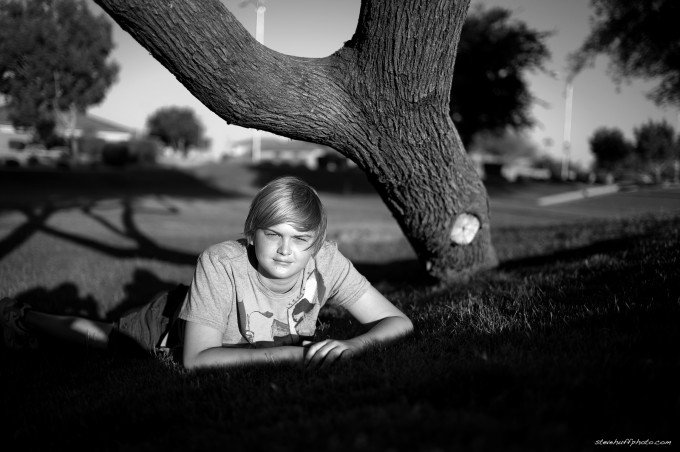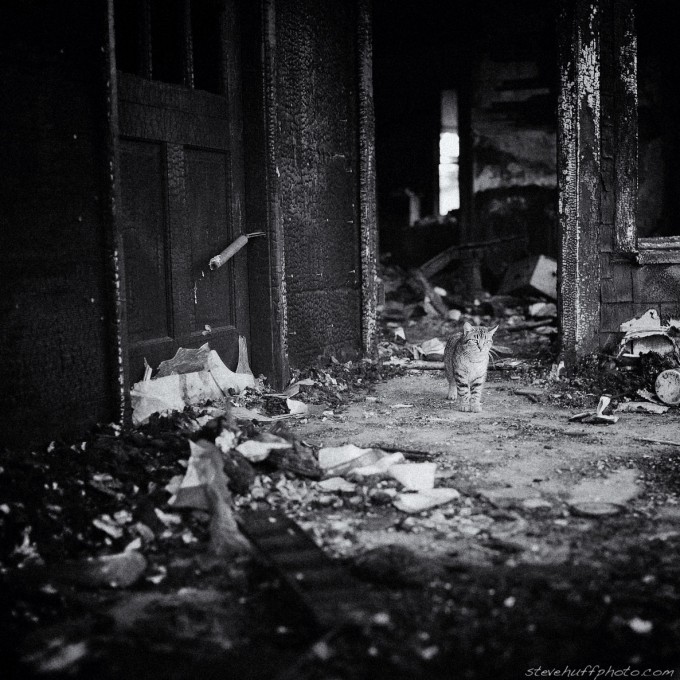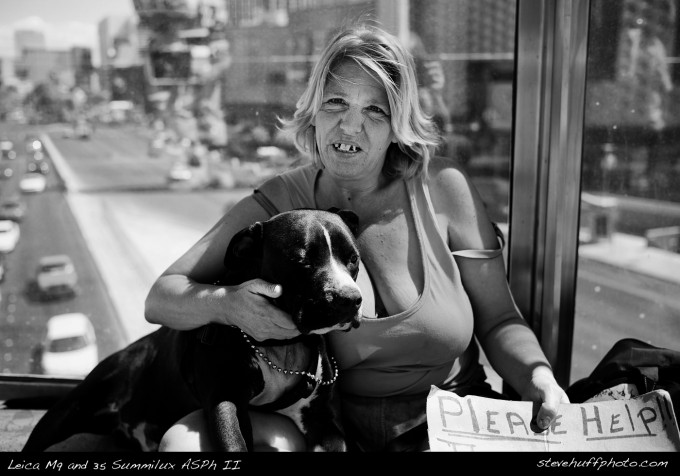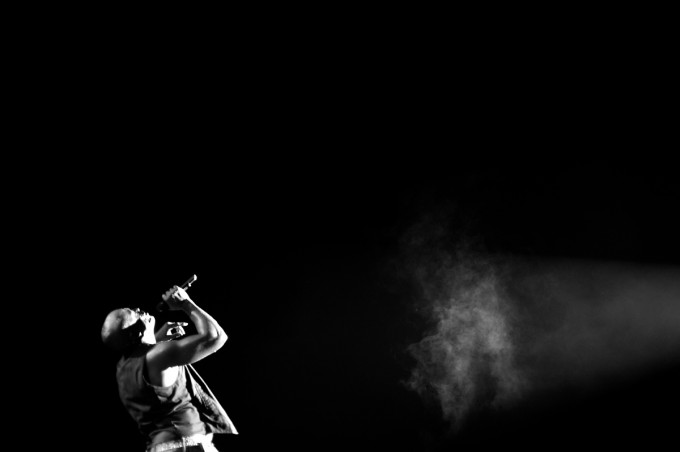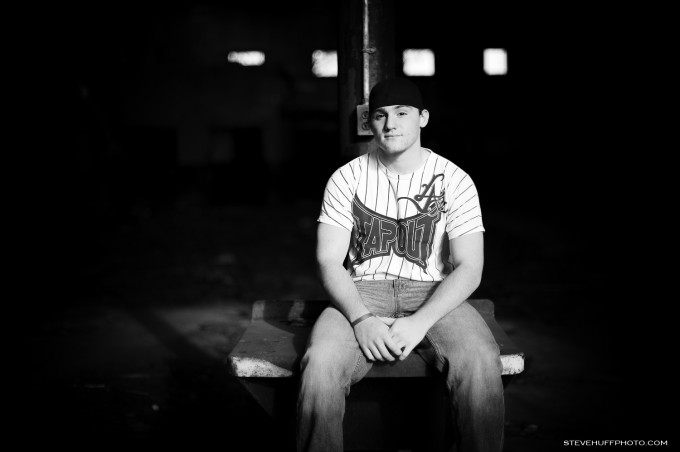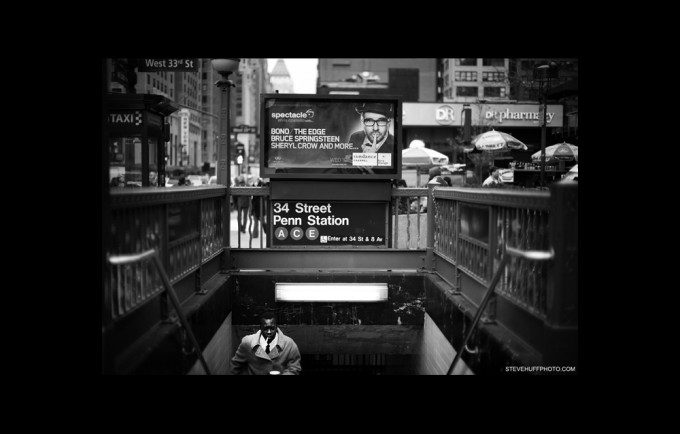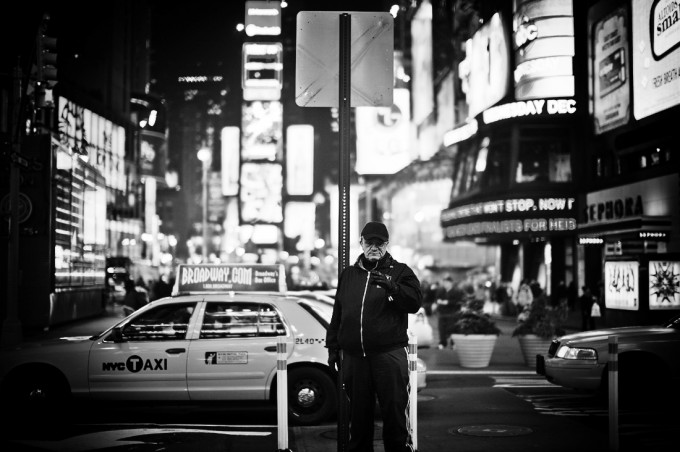 So what do YOU think? They look pretty good to me! So rest easy, the M9 can also do B&W and can do it very well. No complaints from me at all!
Vignetting On The M9?
With the new sensor in the M9, one issue Leica had to tackle head on was vignetting. Imagine shooting the W.A.T.E. at 15mm and getting minimal or ZERO vignetting from the camera. Well, Leica did it and it works well. When you use a 6 bit coded lens, the camera will automatically fix the vignetting/cyan corners. If your lens is not 6 bit coded, you can go in and enter that lens manually into the camera. If you forget to do this like I did a few times, then you will be rewarded with some vignetting when using fast, wide lenses!
Me, I like some vignetting every now and then and feel it adds a pleasing look to some images. BUT, sometimes I get carried away with it and go a little overboard. Still, when I do want it, I like to add it myself. I like the fact that you can shoot wide angles and fast glass on the M9 without any real vignetting issues. I did find the 24 Summilux still has some vignetting wide open at 1.4, but this is actually normal for a wide, fast lens like this. With the camera's built-in software, it keeps it under control, even at 1.4.
Here are a couple of samples using the 35 Summilux and the 24 Summilux…
In this first sample, I had the 35 Summilux ASPH attached and the Lens Detection was on AUTO. My lens is 6-Bit coded so the camera recognized the lens and fixed the MINOR vignetting.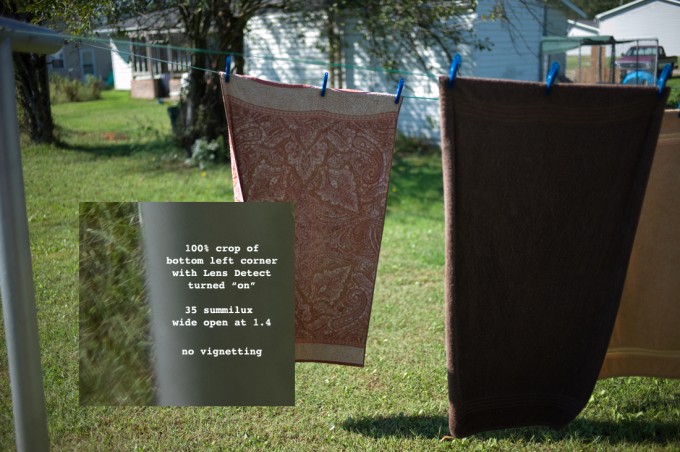 Here is the same image, but this time I set the lens detection to OFF. The camera did not correct the slight vignetting in the image. These were shot at 1.4 and for full frame, this tells me the 35 Lux is a great performer.
But, even with lens detection ON and shooting with a blue sky in the background at wider apertures, I did get some slight vignetting in the corners as you can see in this image, shot at F2: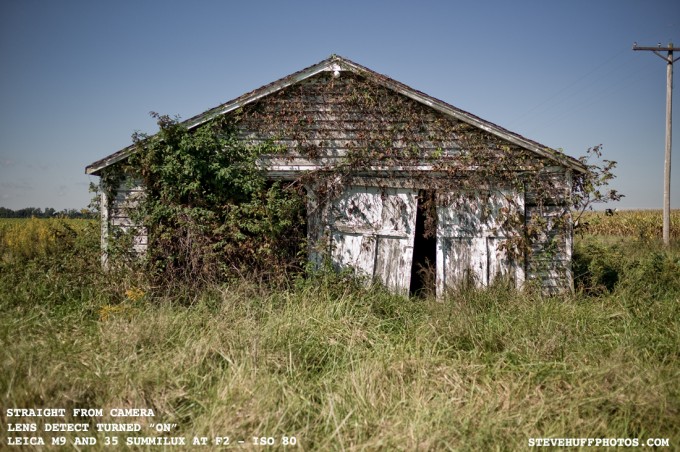 Still, the vignetting I have in the above image is easily fixable in photoshop if needed and remember, this was shot at F2. If I would have stopped down to F5.6 this vignetting would not of even been here.
So how about the 24 Summilux with and without correction? I will let the samples speak for themselves. If you own an M9 and 24 Summilux you will have the lens detect set to Auto to minimize vignetting.
The 24 Lux will have some slight vignetting, even with Lens detection on Auto. Remember though, this is a wide fast lens and this amount of vignetting is MINIMAL.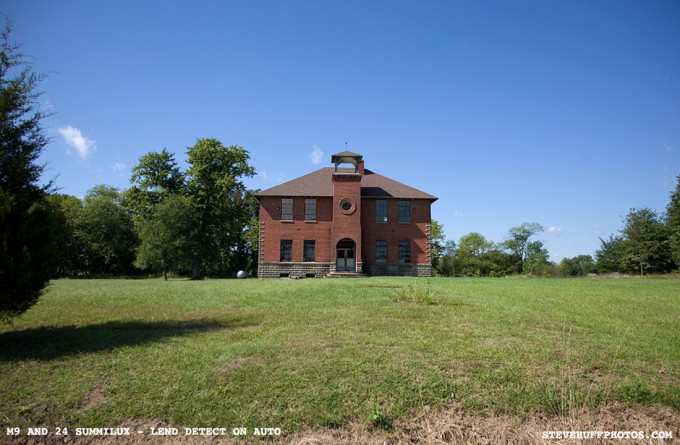 If for some reason you forget to turn on the Lens Detection you will get some slight vignetting with the 24 Lux but this could actually be used for some images to add to the "mood". Even with no correction, the 24 lux exhibits just a small amount of vignetting.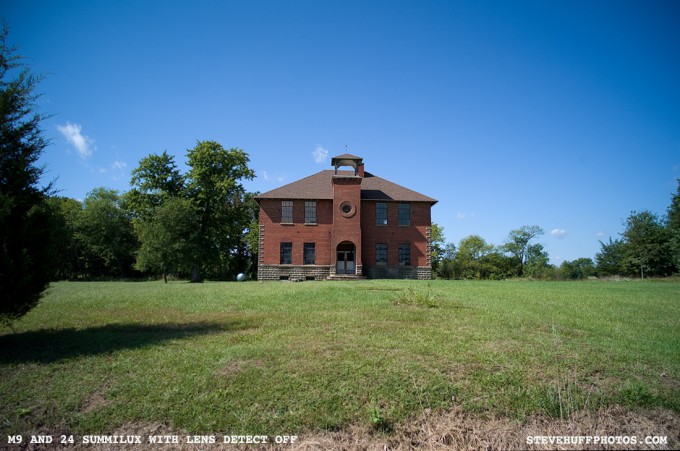 I love the 24 Lux and while it was PERFECT on the M8, it does show some very minor vignetting on the FF M9. BUT you get to use it as it was meant to be used, as a 24mm! I am hoping to get a hold of the 24 again when I have my own M9 so I can spend more time with it.
As for other Leica wide angles, I have seen samples with the Wide Angle Tri-Elmar on the M9 and saw NO vignetting or distortion. The above shots with the 24 were shot at F2. The WA Tri Elmar is usually shot at F4-F5.6 so this is probably why I saw no vignetting in the M9 images with that lens. (UPDATE: You can see my WATE review here).
Some Untouched Full Size Samples From The Leica M9
While I like to provide my real world "final result" samples in these reviews, I do know that many of you enjoy looking at untouched, full size samples so this page will have a few full size M9 images you can download. These are UNTOUCHED and straight from the camera. They are not the most exciting images in the world, but should provide some variety so you can judge tonality, sharpness, etc. for yourself. Also, these are not the full 20+MB file sizes as I had to save them as a "10" JPEG in Photoshop to cut down the file size as my bandwidth is limited.
24 SUMMILUX AT F2 – ISO 400 – CLICK FOR ORIGINAL 18MP FULL SIZE SAMPLE
BELOW: 50 SUMMILUX PRE-ASPH AT F8 – CLICK FOR ORIGINAL 18MP FULL SIZE SAMPLE
50 SUMMILUX PRE-ASPH AT 1.4 – CLICK FOR ORIGINAL 18MP UNTOUCHED FILE
50 Summicron at F2 – Focus was a little off….
FULL SIZE UNALTERED 18MP SAMPLE. 50 SUMMILUX PRE-ASPH AT F8.
Some of My Favorite Shots From The Leica M9
Here are a few more of my "real world" finished results that I liked with the M9…
50 Noctilux f/0.95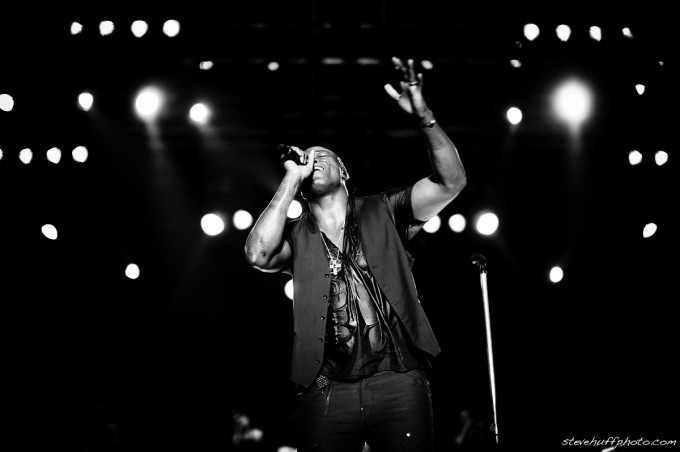 35 Summilux ASPH II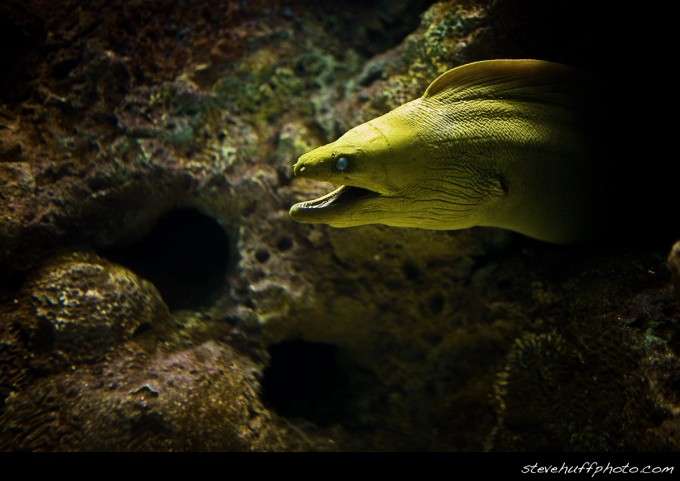 35 Summilux ASPH II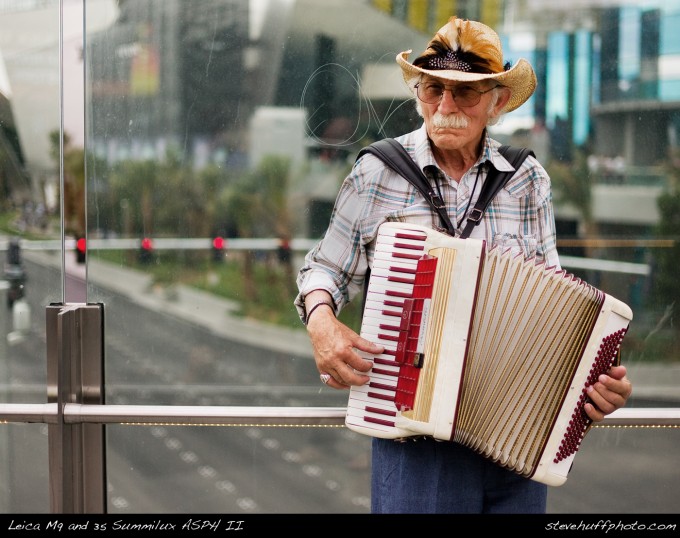 35 Summilux ASPH II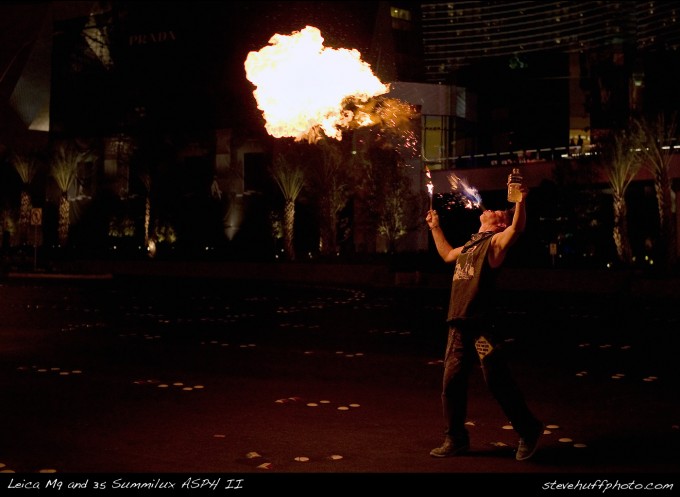 35 Summicron ASPH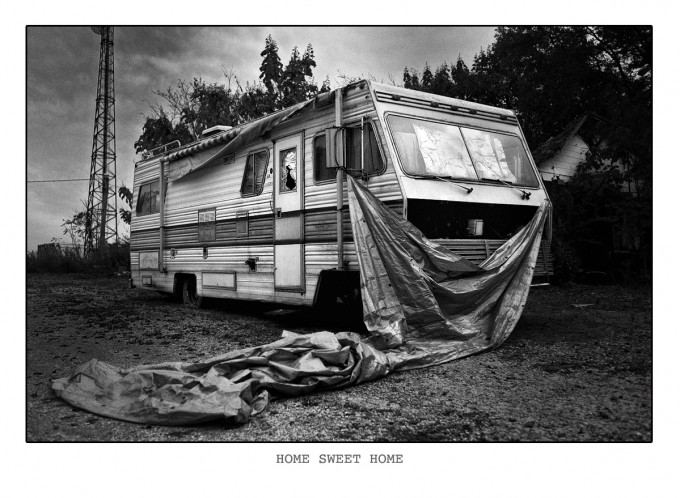 50 Summilux ASPH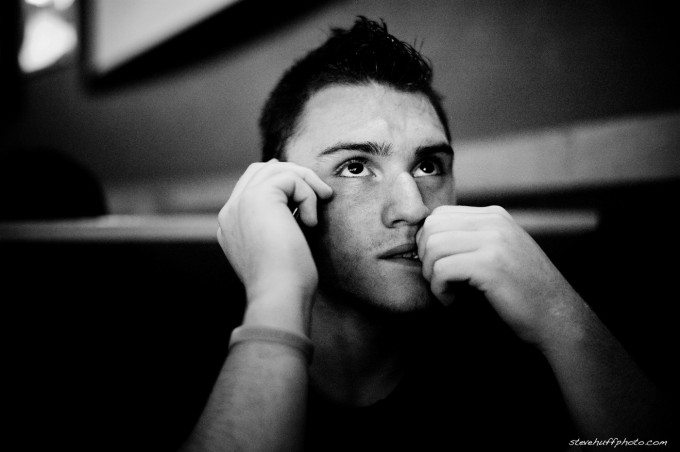 My Updated Final Thought and Conclusions on the Leica M9
So here I am, almost one year since the M9 was released. The M9 is a camera like no other. Sure, it is expensive. But it is a Leica. Leica has always been the brand that many photographers lust after. Leica is the brand that defines excellence, design and usability. Simplicity. The M9 is my favorite digital camera EVER. I did have to sell mine a few weeks ago when I found myself in a bad situation over some personal issues, but I am saving for another and hope to buy one again soon.
Leica has had a year of attempting to keep up with demand for the M9 and they are STILL having a hard time. It seems that M9 fever has spread across the world and people are shelling out $7k per camera and waiting up to 3-4 months to get one! CRAZY! I feel the M9 will become a classic as it has everything the Leica M7 has besides the film expense. It has that fantastic M body, the gorgeous M looks, the M simplicity and damn, those M lenses are the best in the world. You just can not beat them. Nikon, Canon…nope. Not even close.
I often get asked if I could only have one lens with an M8 what would it be? My answer is usually a 35 or a 50, which one depends on your desires and needs but I feel the M9 and 35 Summuilux make a great team, as does the M9 and 50 Summicron. The truth is, the M9 seems to do well with just about ANY lens, even the older lenses like the 50 Summitar that was given to me by a fantastic guy who reads and writes for this site on occasion.
The M9 is good. But what are its drawbacks? Well, most of you already know but the M9 does not have auto focus, it does not zoom, and you set the lens aperture and shutter speed manually. It's a true photographers camera and one that you can treasure for many many years. Does the M9 have any flaws or issues? Well, some have had problems with the rangefinder being off, which results in out of focus images even when they appear to be in focus in the camera, and I have heard of a few M9's that had a problem with the sensor glass cracking, but those were in the earlier batches. Others have complained of a yellow cast to the images and some SD card errors have been reported.
Overall, the M9 has been problem free and that makes me happy. Happy for Leica who is now making a comeback and actually reporting a profit this year. Even 11 months after its release, I can easily say that the M9 is one awesome camera. It has soul, it has magic and it has the ability to INSPIRE you. I know it does me, which is why I can not wait to get my hands on one again. I miss it soooo much!
Only for the filthy rich: If you want an absolute magical camera/lens combo, and have the cash to spare, grab an M9 and 50 Noctilux f/0.95. Nothing else like it in the world. I could never afford that combo but for those who can…you will be amazed. Close to $20k…but man oh man!
LEICA M9 PROS and CONS
PROS
1. The full frame sensor!!
2. 18 MP – more resolution, more freedom. Same fantastic detail of the M8 but more of it.
3. Improved high ISO performance (IN MY OPINION..I know others disagree here.)
4. New INFO screen shows you the real battery level and pic count with the touch of a button. Me like 🙂
5. Uses the same battery as the M8 (good, because I had two here ready to go)
6. It seems the battery life is either the same or improved over the M8. All of the photos you see in this review were taken on ONE battery charge and it still had some juice left. Not bad!
7. No more S mode! Yea! Well, its in the menu system somewhere, but I am not looking for it!
8. Black Paint or Steel Grey Paint. Killer finish.
9. Same size as M8, not bigger as many predicted.
10. Minimal vignetting with wide angle fast lenses when you use the Lens Detect with a coded lens, or put a non coded lens in manually.
11. A bit faster in processing/writing images and previewing images (but still not DSLR fast, and still slow)
12. Colors are improved. Richer and more vibrant when shooting JPEG.
13. New "soft" release mode.
14. New EV compensation method which is superb!
CONS
1. Same small LCD as the M8 (this does not bother me as I am not an avid "chimper")
2. Leica went back to the plastic LCD cover – Boooooo! Bahhhhh! Ok..I will stop complaining, it's out of my system now and I accept it.
3. Red/Orange color can sometimes get blown out if shooting in bright light, even on standard color mode.
4.A few people have reported problems with freeze-ups during continuous mode shooting.
5. Sometimes AWB is not the best resulting in some odd color casts.
more thoughts…
If you love rangefinders, if you love Leica, if you are passionate about photography, the M9 is a great camera for you. If you shoot with DSLR's and want a lighter camera that will become an extension of your mind and go with you everywhere, the M9 is a camera you will love. I can go on and on but I will stop here. The bottom line…
Many are saying that the M9 is basically an upgraded M8.2, but isn't the M7 an upgraded M6? The full frame sensor is the big deal and to me that alone is worthy of the upgrade cost. Let's not forget we now have 18MP. During my time with the camera, I had no issues at all. It never froze, it never failed. But I do not do rigorous "torture" tests as my reviews are "real world" so I will leave that testing to others. I do have a tip though: If you shoot in continuous mode, DO NOT have the camera in DISCREET mode. If you do, you may have a freeze-up. To fix it, take out the battery and put it back in. Also, the full size 100% files from the M9 are not as nail bitingly sharp as those from the M8. The M9 has more of a smoother, richer signature w/deeper color as well and many will love this. It is a step up from the M8. More refined.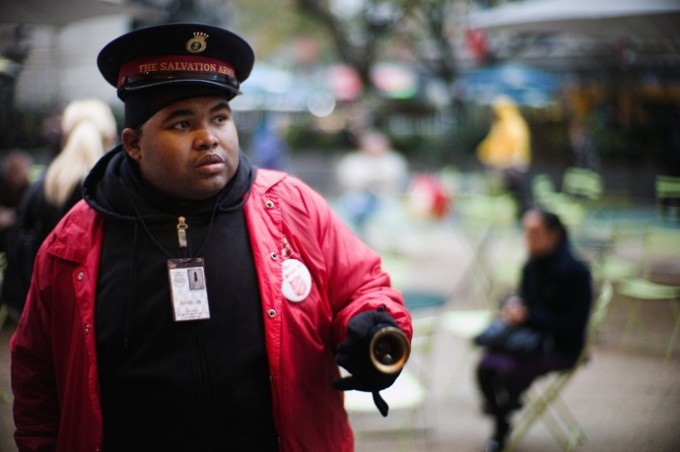 So, am I a Leica fanboy? I can already hear the Leica haters calling me a fanboy for giving a positive review to this fantastic camera. HOW DARE I! If being a fanboy means enjoying the hell out of photography more than I ever have in my life then sign me up. That is what the Leica M7, M8 and M9 have done for me over the years. Even the Epson RD1 was a favorite of mine.
In this review I have told you how I feel about the M9 as then backed up the talk with images. You can draw your own conclusions about the camera BUT…
I can easily recommend the M9. Hell, I LOVED the M8 and M8.2 and had a few of them over three years, all PROBLEM-FREE. The M9 is a superb photographic tool that takes the M8 to the next level with even better image quality, improved overall color, and improved high ISO shooting. Add the little things like the new EV compensation method, the new ISO button and INFO button, and the M9 is a definite winner.
If you have the funds and you want an M9, you may get lucky at B&H Photo. They do not do pre-orders so it is first come, first served. I have a feeling they will be getting some M9's VERY soon. You can click the links below to go to their M9 pages and check stock status. If you happen to see it IN STOCK I would BUY IT before someone else does.  Click here for their Leica M9 page in black, or steel grey.
B&H is TOP notch and I have been buying from them forever. Also, if you follow my links to B&H from this site and make ANY purchase, I will get a small commission. Just pennies on the dollar that will help me to keep this site running. I thank you in advance if you make a purchase at B&H or Amazon through the links at this site.
I hope you have enjoyed this Leica M9 review! Now go get your Leica M9 and take it everywhere with you. Shoot it and you will soon never want to be without it! I know I won't be! Also, let me know how you liked the review! I always love to get feedback. Email me here, or you can leave comments on this page.
Why I Love Shooting With A Rangefinder Camera
It all started when I bought a Leica M7 (before the M8 was even produced) and a 50 Summilux lens. I was hooked on the sleek, thin, small, but solid body. It felt so well made, like I could use it to knock someone out if I had to (for self defense, of course). The controls were simple, solid, and easy to manipulate. I always shoot in "A" mode and choose the aperture I want on the lens, which for me is usually 1.4 or F2. I do shoot at F5.6 when I shoot barns, buildings, or landscape stuff, but most of the time I like shallow depth of field. A Leica excels at this due to the amazingly high quality lenses they offer, and that M7 was such a beautiful camera. It is the camera that started my love affair with rangefinder photography. I wish I still had it, but it was eventually sold to fund my 1st Leica M.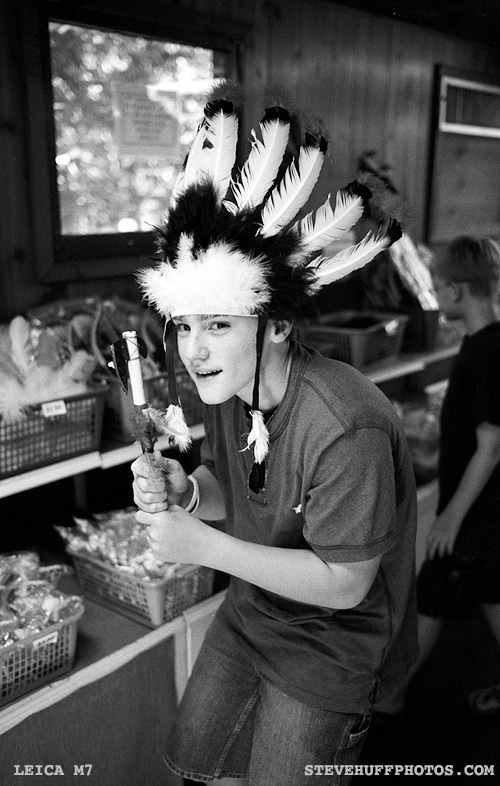 While not cheap, a Leica 50 Summilux ASPH lens is breathtaking. Perfect in every way. You can shoot this lens at 1.4 all day and your focus point will be pin sharp. This 50 just slaughters any other 50 made today. End of story. You can only shoot this lens with an M mount rangefinder camera. Rangefinders are so much different than a DSLR. With a DSLR you have a bulky, somewhat large body and when a lens is attached, it is even bigger. A Leica M with a 35 Summicron attached is small and sleek. It can be wore around your body with a strap and could easily sit under your jacket without even being noticed. Mine usually goes with me everywhere and I mean EVERYWHERE! I sometimes hear my wife at 3 am saying "Honey, your M8 is nudging into my side!" – Just kidding, I do not sleep with my M 🙂
With an M camera, everything is decided by you. You control the focus, you control the aperture or shutter speed, and you can go all manual if you wish and control the exposure. Easy and quick using the dial on the top of the camera.
With its simple center weighted metering, I find it easy to get bang-on exposures. No more hoping that the exposure is spot on as once you learn how the center weighted metering works, it's a piece of cake to use. Focusing is NOT like a normal SLR. When you look through the viewfinder of an M7, M8, M9, or any rangefinder for that matter, you will see frame lines. You compose within these lines and when you focus you use a patch in the middle of these frame lines. Just line up the image inside the patch and bingo, you are in focus.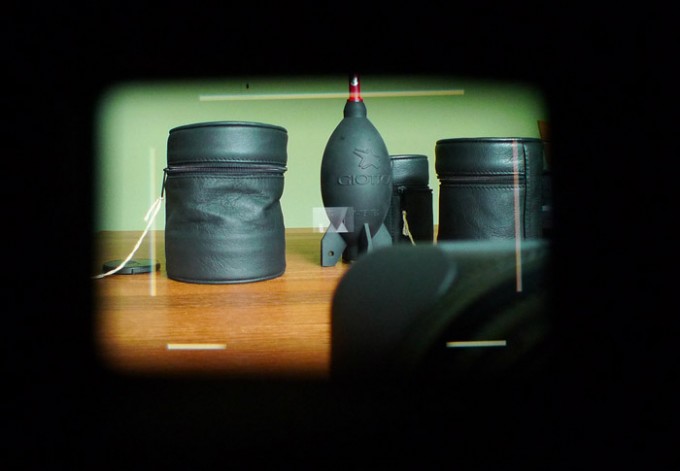 The quality of the M9 is nearing Medium Format, so imagine that quality in a small, thin camera that can rest against your body without even realizing you are carrying anything. When you are ready to shoot, you lift it to your eye, focus, and shoot.
The M is not meant to be a speed demon. It is a thinking mans camera and therefore makes you think a little. Instead of lifting some blazing fast auto focus DSLR and firing away sloppily, when you lift the M to your eye you think, you compose, you "feel" the process and press the shutter. After a while it becomes second nature.
I see many people asking to see images that can only be taken with a rangefinder. What I say to that is many of my images could have only been taken with a rangefinder. Why? Because if all I had was a Nikon D700, I would have missed out as I would have left it at home half the time. A big DSLR = LEFT AT HOME. A Leica M = WITH ME EVERY DAY.
The experience of shooting a Leica M is refreshing. You feel free and you feel like you have no limitations. The size does not scare off your subjects and the quiet shutter will make most wonder if you even took their image at all.
I will probably never go back to a DSLR mainly due to all of  these qualities. It is not necessarily a Leica thing, but more of a rangefinder thing. I felt the same about my old Epson RD1 I had years ago. If you have never shot with a rangefinder and try one out, it may take a few days to get used to it. Once you do though, you may never go back to those big, heavy, bulky DSLR's. All I really need is a Leica M9 and a 35 Summilux. That is camera happiness for me.
The cost is high, but here is the way I look at it. You can buy a used M8 for $2000 and a used 35 Summicron for $1400. $3400 for a camera system that you could be happy with for a long, long time. The M9 is even better, but of course, the price is higher, but worth it. When I started shooting the M8, any desire for a DSLR vanished and today I have ZERO desire for a DSLR. I do not need one, so I will probably never buy one again. When I used to shoot DSLR's, I usually sold them after 2 months as I would always find something I did not like about them. I was never happy!
A Leica M system to me, is the holy grail of cameras. Just lovely!
I NEED YOUR HELP!
Remember, anytime you follow my links here and buy from B&H or AMAZON,
this helps to keep my site going. If it was not for these links, there would be no way to fund this site, so I thank you in advance if you visit these links. I thank you more if you make a purchase! I have nifty search bars at the upper right of each page so you easily search for something at either store! I currently spend 10-14 hours a day working on this site and the only way that I can pay for it is with your help, so thank you! Currently my traffic has been increasing but my funds to pay for the site has been decreasing, so any help would be GREATLY appreciated!
Be sure  to visit the new forums on the site as well!
You can also be sure to join me on twitter or facebook! Also, you can subscribe to my feed at my subscribe page HERE and read these posts in your browser or news reader!  Thanks so much for visiting my site, and check back often!
[ad#Adsense Blog Sq Embed Image]