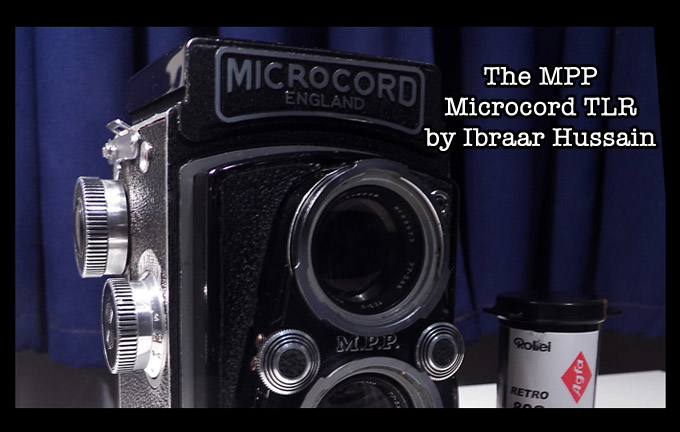 The MPP Microcord TLR by Ibraar Hussain
Dear Steve, I thought I'd send you this article and a sort of inspiration too for those (like me) turning their noses up at the punitive and extortionate prices Leica want to charge us for their Leica M Monochrome. Sure it's a great camera, but
Photography is about the Photograph, not gear….
….but I admit I do like old vintage camera's, and their quirks, use and enjoyment is part and parcel of the whole process.
Why spend 1000's when you can spend peanuts?
The 1950ies, a time when Britain was still an ailing Super Power, The Suez Crisis and The Malay Campaign were testament to this.
It was a time when the E-Type Jaguar was first designed, probably the most beautiful car ever to grace tarmac, The English Electric Lightning was first flown, in my opinion the most beautiful aeroplane ever to have reached for the skies, it was a time when Britain still had a manufacturing industry and in a small workshop in Kingston-upon-Thames in Surrey just outside London, Micro Precision products engineered their Microcord and Microflex TLR camera's.
MPP were famous for their Micro press Camera's, based on Linhof designs and they also took inspiration from Franke & Heidecke with their TLR (Twin lens Reflex) designed Rolleicord and Rolleiflex.
I'm not going to go into the rise and fall of MPP, its history or relate the story of the Microcord and Microflex TLR cameras – this information is readily available from the Internet.
The week before last I was passing by a Camera shop behind the British Museum near Russell Square and decided to pop in.
My gaze instinctively fell upon the TLR's the chap had in a glass cabinet, a Rolleiflex and a Rolleicord – they gleamed like jewels, the twin glass lenses twinkled and reflected the daylight from the shop window and they looked gorgeous, much smaller than I at first thought (I had never really seen a TLR before close up, and I had assumed they were probably the same size as a Medium Format SLR such as the Hasselblad or a Bronica) and I knew then I had to get one for certain!
I, being a Rollei lover was on the lookout for a Rolleiflex TLR, and seeing the expensive prices for these I sort of lowered my expectations and sought out a nice Rolleicord, at the same time I was also (and still am) on the look out for a nice 5×4 Press Camera to get me started in 5×4 Large Format photography, and that's when I struck upon MPP. Upon further investigation I discovered that MPP also had a Rollei TLR 'clone', and that's when I first read about and came to admire the Microcord TLR.
I then decided to, after reading some reviews of the Microcord (the Microflex is extremely rare) treat myself to one, I found a lovely example at ffordes and bought it!
My MPP Microcord is a mk II with a working and fairly accurate Prontor SVS shutter, and a super fast top shutter speed of 1/300 😉 It has a 4 element Ross Express f3.5 77.5mm lens (which I have read is said to be of higher quality than the comparable Tessar in a Rolleicord)
It has its Microcord brown leather ever-ready case with neck strap, and a twin lens cap (a Minolta one) but the ground glass is clean as a whistle, relatively bright, with crystal clean optics and it all has been well oiled CLA'd and looked after.
It's easy to load, by opening the hinged (removable) back 'lid' and simply winding a roll of 120 Film in, the cover is then replaced and secured.
You then have to wind the film on by depressing the button on the film wind knob, until the window shows '1' and then have to do the same for every frame – press the button, wind the knob, focus using the forward knob, and then cock the shutter (located under the Ross Express) – press the shutter release and the shutter depresses with a snick – very quiet!
The Microcord is like a Rolleiflex 'lite' rather than a full blown Rolleicord type – as Aperture and Shutter speed are changed using the Rolleiflex type wheels (and the values are viewed in a small window on top of the viewing lens).
Anyway, the camera is beautifully made, everything about it is of very high workmanship, Rollei makes no junk, and neither did MPP.
The camera takes standard Bay I Rolleicord Filters and is very cheap to buy.
I spent £120 on the camera (from ffordes with a year warranty), £10 on two rolls of Rollei Retro 80s and £10 on a Rollei Gelb Hell Yellow Filter.
I then, (with my Missus) on Thursday (6th October) took the Tube to Embankment, forded the Thames by crossing the Golden Jubilee Bridge, made my way to The South Bank, turned left, walked past Gabriel's Wharf, Festival Pier, and The Tate Modern, walked past The Millennium Bridge and towards Borough, past The Shakespeare Globe Theatre, the many Thame's bridges, Francis Drake's Golden Hind, around Southwark Cathedral, then over London Bridge toThe Monument and then the Tube home again. All the while I was under the watchful eye of St. Paul's Cathedral – iconic landmark and Wren's masterpiece; a building which is the most beautiful in England and the views of it are spoiled by ugly modern eye sores such as 'The Shard' and 'The Gherkin' and other sky scraping office block monstrosities.
I took along two rolls of a Film I have never tried before – Rollei Retro 80s, an asa 80 super-panchromatic sensitised Film, with high Red sensitivity all the way to 750nm. It comes on a clear base which makes it almost Agfa Scala like, but as i discovered it is also very E6 like when it comes to exposure and can be very unforgiving in regards latitude and highlights. It is a very contrasty Film, very fine grained and smooth but it's a case of you'll either love it or hate it. Shadow detail isn't great and even with a Yellow Filter the photo's look 'Infrared – ish'.
I loved it, I shot using a Rollei Yellow Filter (as always, Don McCullin shoots with a Yellow permanently attached and he's the Don) I metered the light using my Minolta Autometer III (Incident) and on the odd occasion I used the excellent spot meter on my iPhone 'Light Meter' app.
I had a great few hours, the camera is a real head turned, most people walking past noticed it, people looked and stared and quite a few people made friendly comments, a few photographers stopped and chatted about the ancient contraption around my neck.
Forget about being inconspicuous, everyone notices this baby – but I did notice that the nature of the camera, with the Waist level viewing, people aren't too concerned about it, I'm no street shooter so my Street Photography and Reportage is at a minimum. I do however like the sights of London and love the Bankside of the Thames.
Anyway, I shot two rolls, and luckily most of the shots were keepers, I include a selection here – these were scanned with an Epson 4990 as Jpegs using Epson Scan – quick no nonsense scanning. The negative was developed in Rodinal 1+50.
The only Post Process I used was to clone a few spots of dust off and resized in Photoshop – ok, they're hardly Leica Monochrome shots, a 60 year old camera is ultimately a 60 year old camera, but I wouldn't get any better results with the Leica, I can only photograph as much as my capabilities and creativity dictates, (not very good) and I reckon it is the same for everyone else.
Tower Bridge with HMS Belfast, viewed from London Bridge.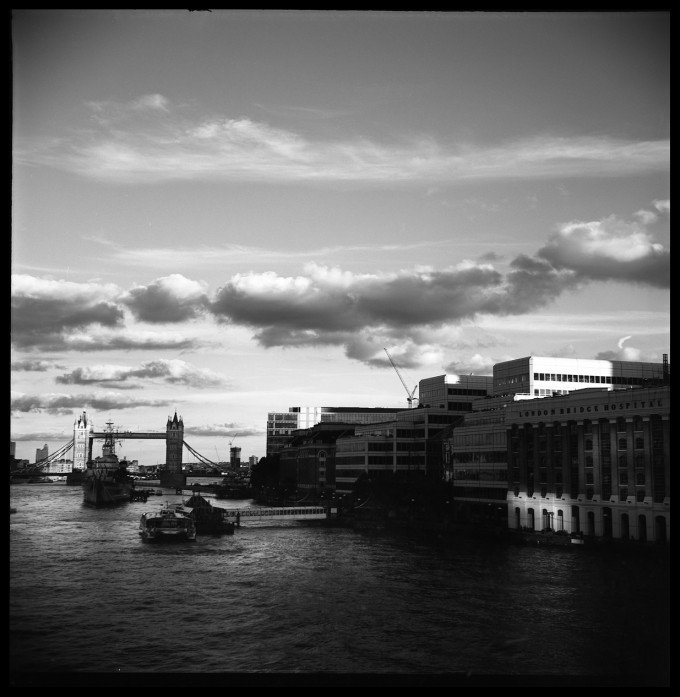 –
Southwark Cathedral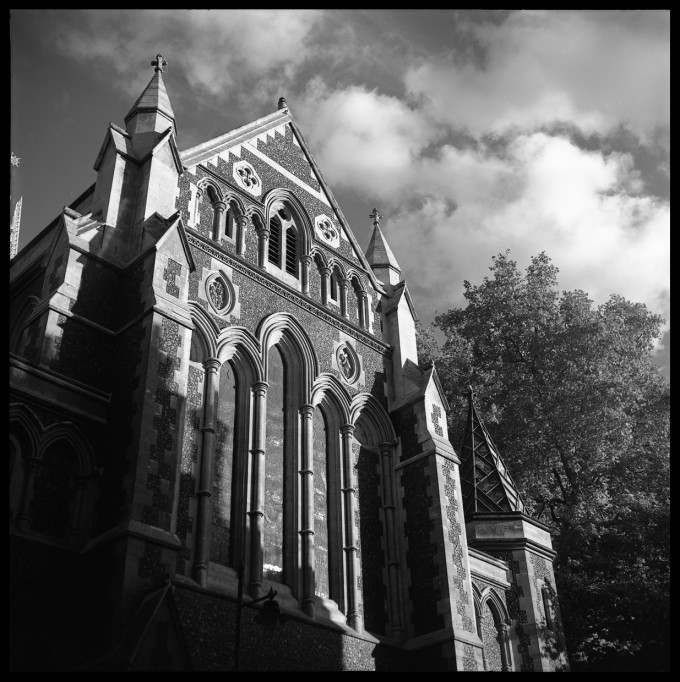 –
Pier at Gabriel's Wharf. With St. Paul's Cathedral. South Bank.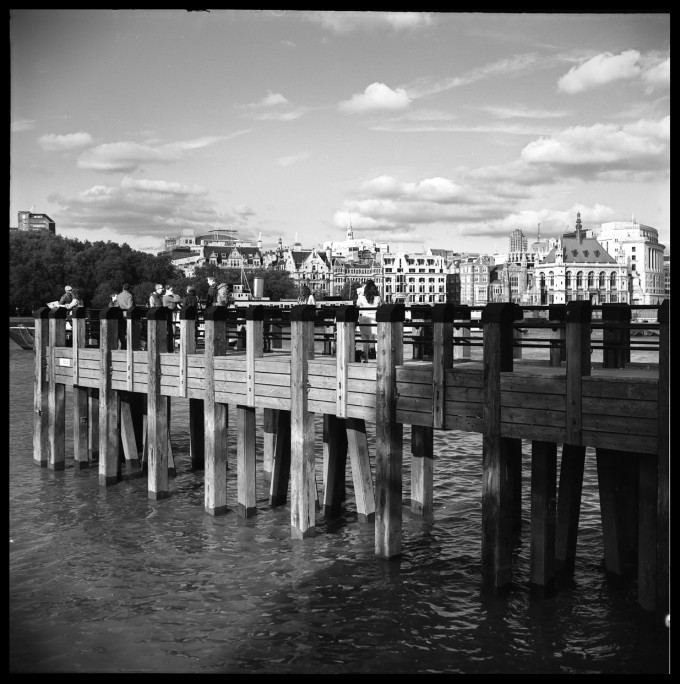 –
From the Golden Jubilee bridge, Eastwards towards St. Pauls. Embankment.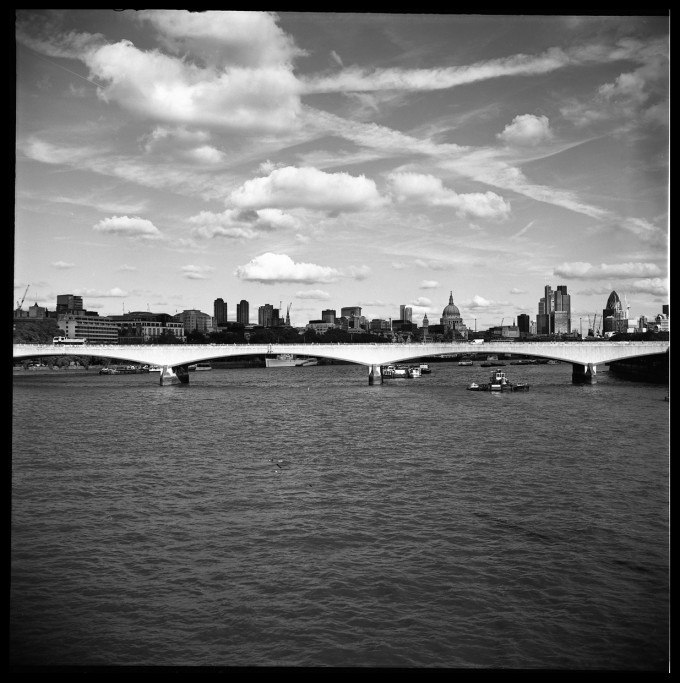 –
The Millennium Bridge towards St. Paul's.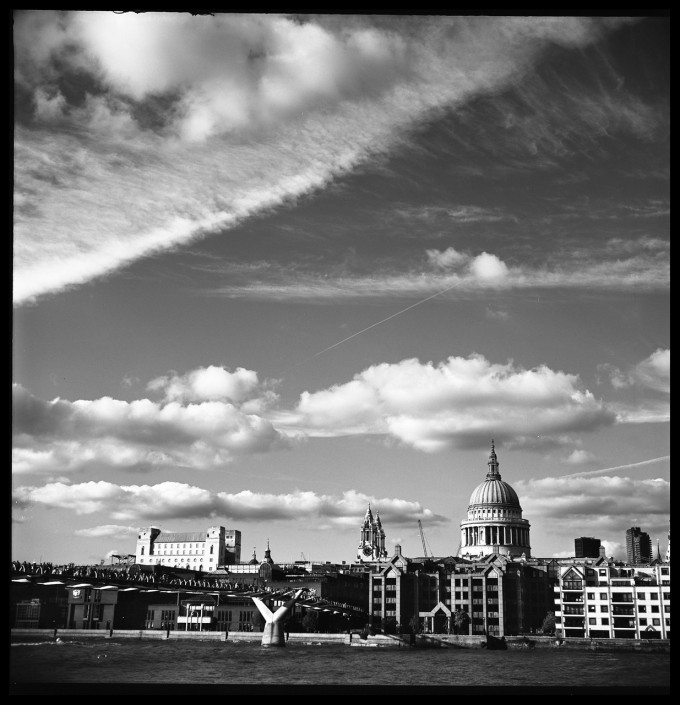 –
Buskers, South Bank. Out of Focus, but I quite like it.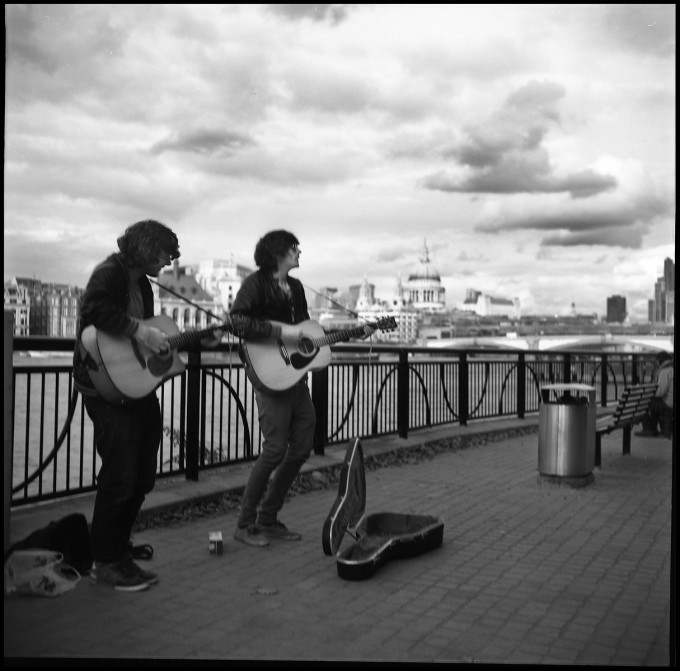 –
Jazz Band. Under Blackfriars Bridge.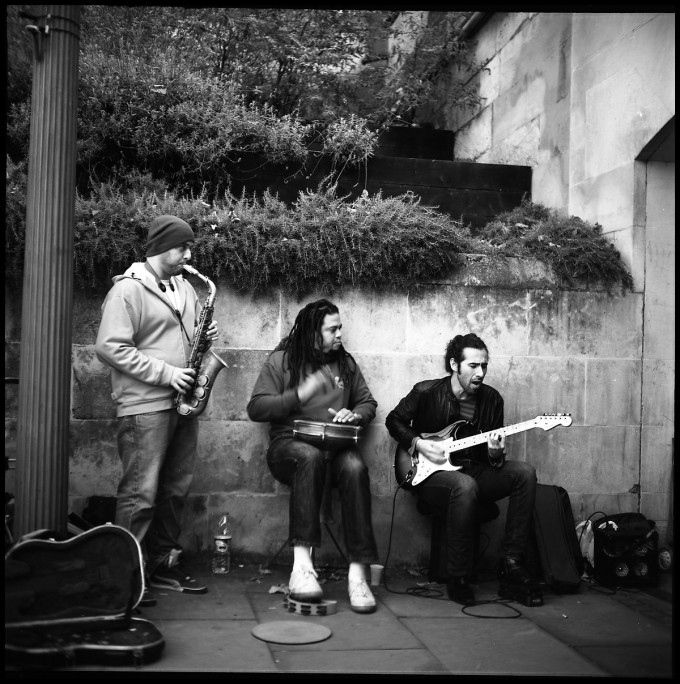 –
Outside Shakespeare's Globe Theatre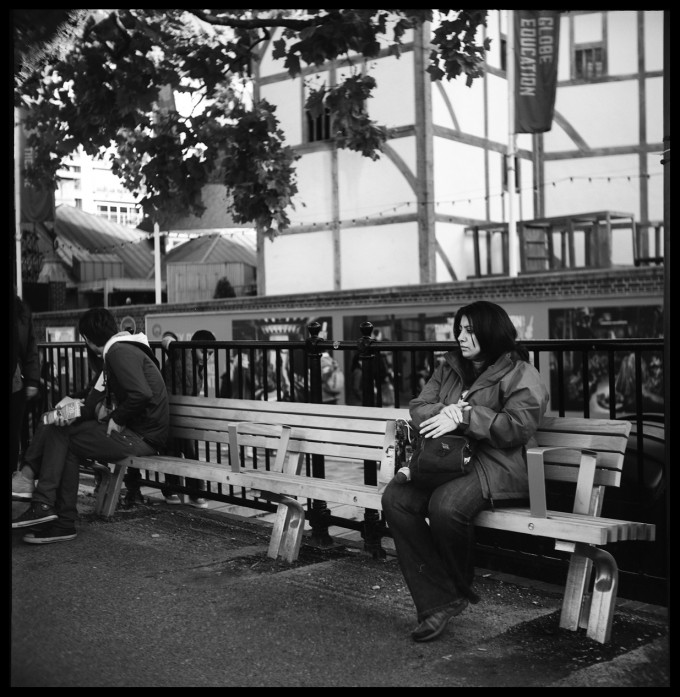 –
Band on the Millennium Bridge, by The Tate Modern.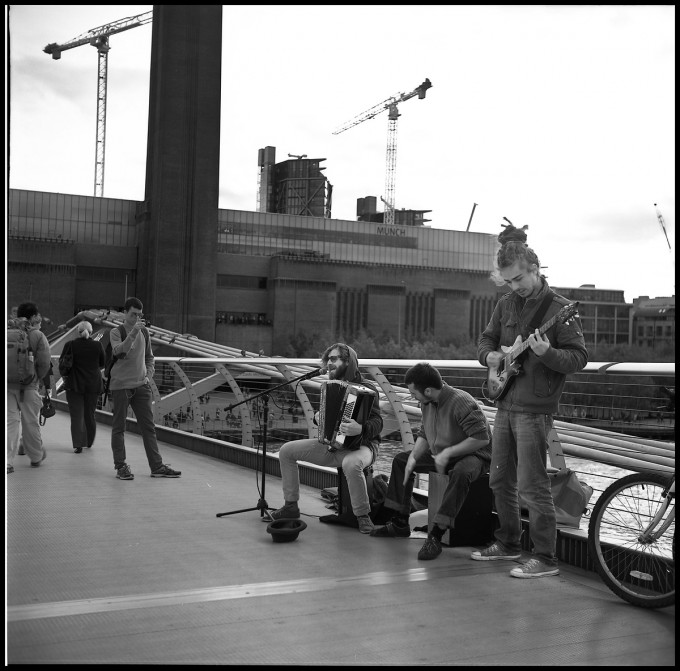 –
Self Portrait, St Paul's.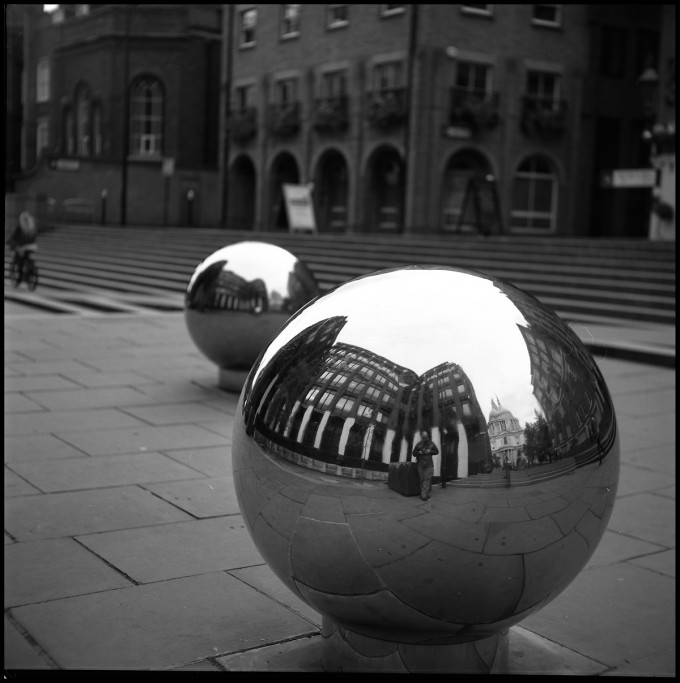 –
Under the Millennium Bridge. Tate Modern, Towards St. Paul's.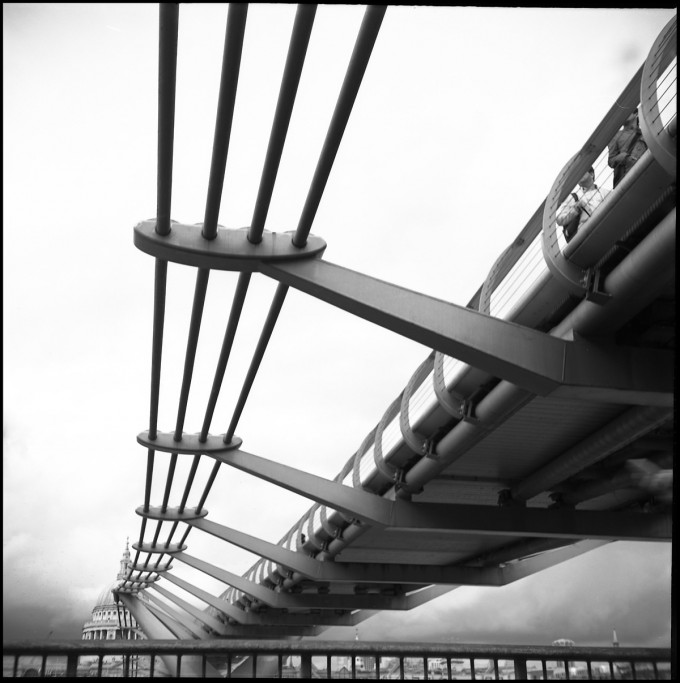 –
Another one of the many Pier's.